Fairies, boots and rad tunes in Perth's Supreme Court Gardens.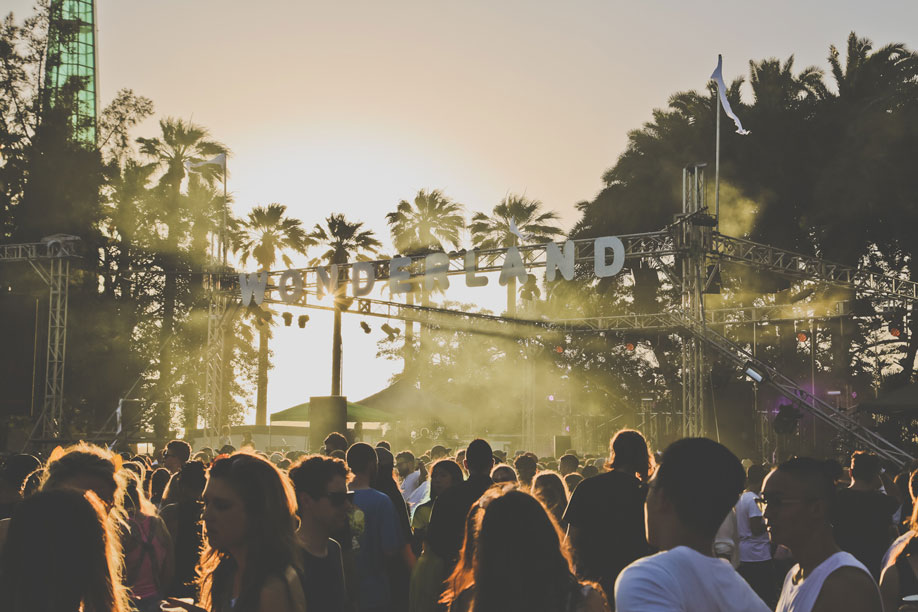 The inner-city Gardens transformed into straight up summer magic for Wonderland festival this Saturday. Whether you were sipping on molly water, or just the good vibes of the no-agro crowd and fantasy decor, you were sure to have an absolute ripper at this tripped-up, fairytale of a festival.
The acts themselves could not have been better picked for a festival self-styled as one to "lose your shit at". Early in the day, hometown boys Slumberjack impressed with a set that sizzled in the heat of the day. The duo rocked a set perfectly balanced with their own original sounds and crowd-pleasing remixes. The young dudes caused such a ruckus with the early crowd it would be no surprise to hear of them headlining in years to come, especially with their booming popularity.
It was uncle and niece combo Willow Beats that kept things cranking mid-day with huge bass-laced energy and a frisky set. Kilter followed on and banged up a mad mix, knocking away on is electronic drum kit like the Mad Hatter himself. His remix of Duke Dumont's 'I Got U' got the swelling crowd bouncing particularly hard.
All Day came straight after and changed things up in a big way – breaking up the electro-focused lineup with some welcome hip-hop. His unmissable accent emanated through the gardens accompanied with feel good production and an awesome live persona that had the whole festival smiling.
Next up was Motez, playing a set crunchier than Milo cereal, no milk. His deep, lush and rolling bass proved to be a sick contrast to the energy and tempo of the rest of the line up. Motez was the perfect predecessor to my personal favourite set of the day; Wave Racer. The Sydney-sider drew the now packed out crowd in like a magnet. His signature sound of a candy-flipped 90's video game did wonders for the already hyped crowd. Synths and some high-energy bass meant his hour cranked harder than any other.
Headliner RÜFÜS gave the fantasy send-off to what had been a mystical day. Angelic vocals from Lindqvist and quality live performance from George and Hunt on keyboard and drums lifted us up and out of the rabbit-hole. The trio were clearly stoked to be back in Aus after touring internationally and this sentiment showed in their performance. The crowd got lost in their good vibes as they were encouraged to shoulder-surf along to the melodic, tropical grooves.
Besides the obvious talent on the main stage, Wonderland kept providing in the best of ways. Revellers could rinse out at a wild silent disco from the Animal House crew, complete with a beach ball battle and three ridiculous non-stop DJ feeds. A massive bar, cocktail slushies and a couple great grub trucks meant punters were never too far from whatever was needed to keep the day going as hard as it did.
All in all the Wonderland journey was as epic as the Carroll tale itself. Highlights were clearly the pure quality featured on an unbelievable setlist, but it was the overall raving energy of this great summer party that made sure we were exposed to just enough magic to last until next year.
RÜFÜS – Atlas (Light / Dark Deluxe Edition)