Words by Abbey Steanes //
Here's where we go to get our vintage fix in Sydney.
We all know that feeling when you find an absolute gem while out op shopping, a piece that you can just tell is gonna fit into your wardrobe perfectly. It's a beautiful feeling, a high that you just can't explain to someone who hasn't felt it. Recent years have seen second-hand and vintage clothing make a huge resurgence, with stars and influencers from every corner of the globe sporting dope used threads. It's safe to say vintage and used threads are on fire right now, and if your wardrobe doesn't have something torn, used or from a completely different era, what are you doing?
Sydney is host to some beautiful hot spots for used and pre-loved clothing, with areas like Newtown, Surry Hills and Marrickville being extremely reliable for all your clothing needs. We decided to visit a couple of them (picking up some cool ass outfits for ourselves while we were at it). We managed to put together a list of our favourite places, check it below.
317 King St, Newtown & 32/277-285 Crown St, Surry Hills
You've probably heard "Cream On" if you're from Sydney or Newy. It's an op-shoppers dream, filled with second hand 'upcycled' pieces that are as stylish as anything you'd find in a Sydney boutique or urban streetwear store. Cream takes a special approach to clothing, resizing already worn shirts and recycling textiles to give pre-loved pieces a new home.
By doing this, Cream are able to produce quality clothing whilst minimising the impact they have on the environment, a balance you don't find all too often in the fashion world. The legends behind Cream have stores on King, Crown and Darby. Be sure to swing by for some beautifully upcycled 80s/90s garments, as well as some dope vintage Harley tees.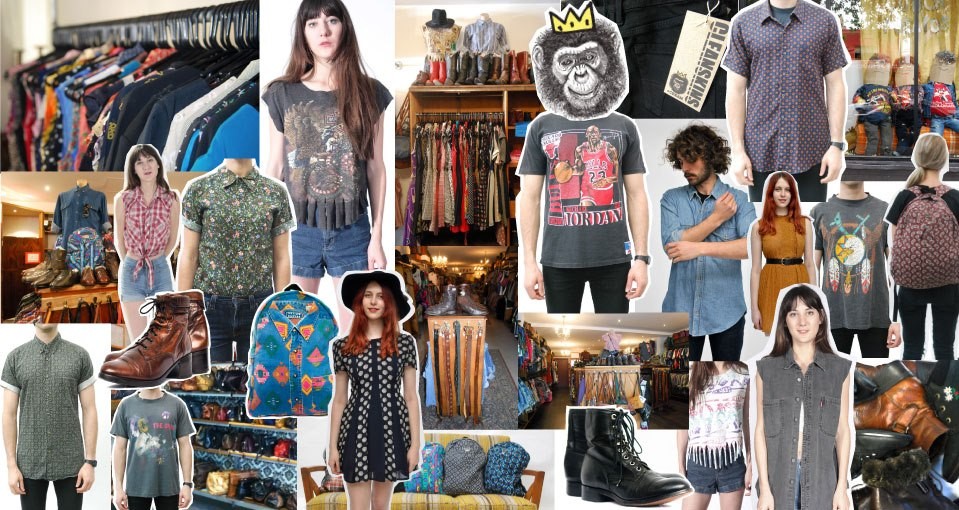 500 King St, Newtown
If you've ever made the rounds down south King Street in Newtown, you've definitely walked past The Wilde Merchant. Their aim is to 'curate a globally-sourced selection of vintage, salvaged and handmade items for everyday life', and it's fair to say they're definitely succeeding.
They're a bit more focused on rare finds from the 40s and 50s, but they still source pieces through to the 2000s, so there's a little something for everyone. From collecting some stellar vintage accessories and clothes, there's no doubt the Wilde Merchant will be able to satisfy all your wardrobe needs.
Being a staple in the Sydney clothing game for over a decade now, U Turn are a go-to stop for vintage and second-hand clothing lovers. Their motto is a simple one, and perhaps why they've been able to thrive for so long.
They believe that everyone should have access to amazing clothes through an affordable, sustainable & creative way to shop. Let's be real, who's gonna disagree with that? They've got stores in Bondi, Surry Hills, Newtown, Rozelle and Marrickville, so they've got you covered no matter where you are in Sydney.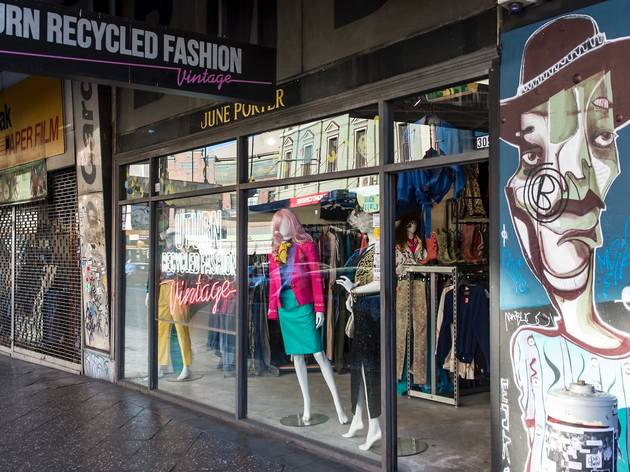 316-318 Crown St, Surry Hills
One of the premier vintage stores in Sydney, Storeroom Vintage is a one-stop shop for vintage lovers. Every piece of clothing is handpicked and ranges from the 70s, 80s, 90s and 2000s. They have a mad range of pieces, stocking everything from sport jumpers, band tees and everything in between.
You can now also find it in General Pants retailers, which is even better. They have a store on Crown Street in Surry Hills, so make sure to swing by the next time you're in the area.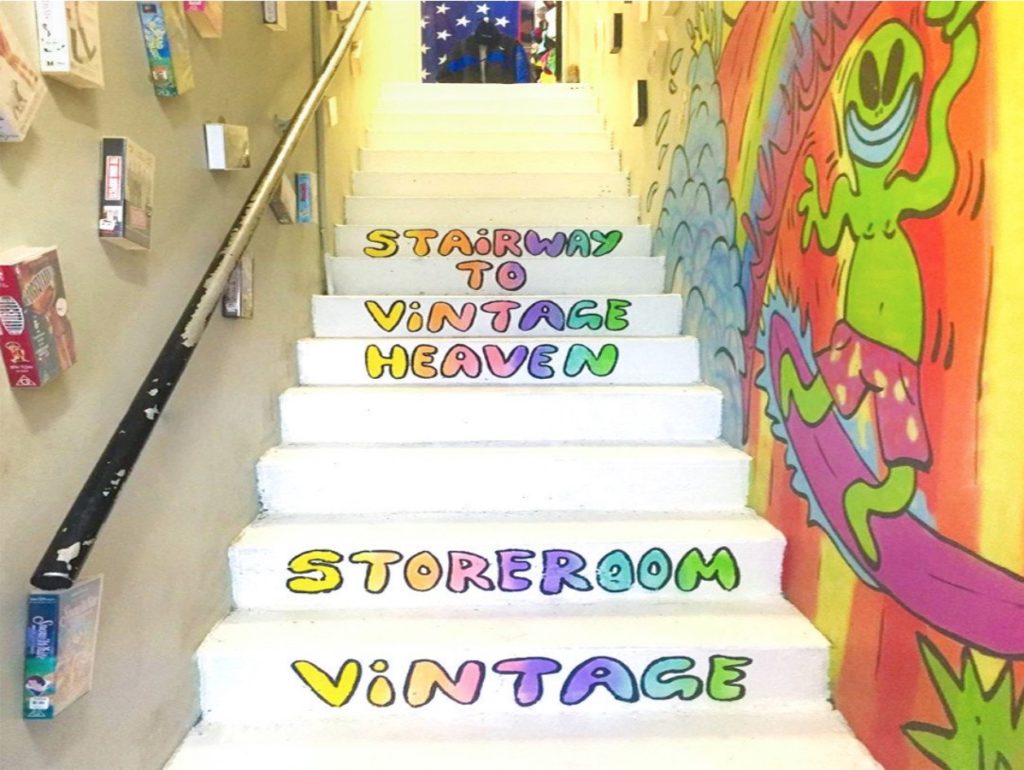 332 Crown St, Surry Hills
Another big name in the vintage scene, Miss Brown Vintage is an essential visit if you're a fan of 1970's Boho Chic Style clothing or ethical fashion. Miss Brown upcycles old pieces of fabric to recreate styles and looks from the 50s, 60s and 70s, keeping some of the greatest looks from that era alive and well.
They're also known for their extensive vintage denim collection, so you'd be hard-pressed not to find some vintage Levi's to add to your wardrobe. If you want to be able to create your own style whilst choosing an environmentally friendly and sustainable way of shopping, Miss Brown Vintage is for you. They have stores across NSW, Queensland and Victoria, and are ready to cater to all your vintage needs.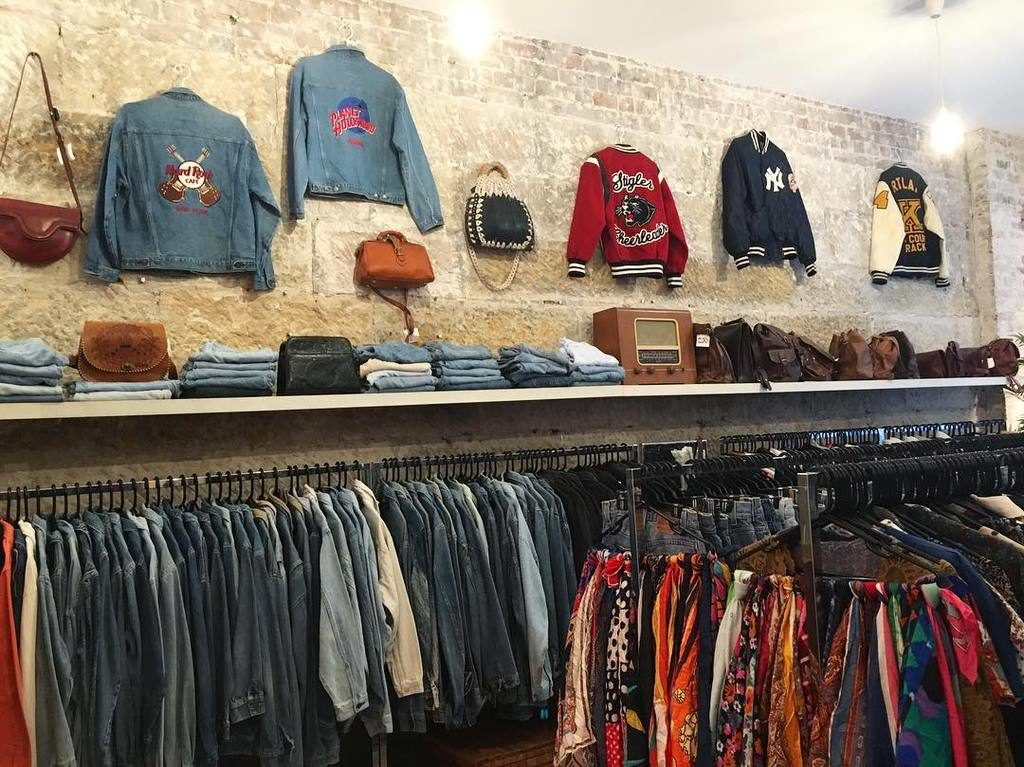 101/35 Doody St, Alexandria
Gone Tomorrow Vintage is a true sanctuary for vintage and pre-loved fashion. Offering shoppers a global selection through pieces sourced from LA, NYC and Europe, the world is literally your oyster when shopping inside this absolute gem.
Always pushing the boundaries, Gone Tomorrow Vintage is always finding new vintage suppliers and expanding their product categories to stay ahead of the curve, and that's is a reason why they've managed to remain so relevant since its inception. They have a store in Alexandria, so make sure to add an extra stop to your trip the next time you visit the Grounds of Alexandria for a cheeky feed.
247 Bronte Rd, Waverley
The Sleeveless Society in Bronte sources one-off vintage designer pieces, accessories and homewares from all eras. They also bring about high end and internationally branded designer threads, all second hand of course. They're all about recycling those special designer pieces to give it life again with their new owner.
One person's trash is another person's treasure, right? They're based on Bronte Road in Waverly, which means you can have a chilled day trip in The East and score some beautiful vintage threads.