With Tony Hawk's Pro Skater getting a revamp, including a new soundtrack, we thought we'd get a heat check on the original soundtracks with some of our favourite artists.
Remember sitting on the ground in front of the TV playing Tony Hawk's til your ass went numb? It feels like the controls, graphics and location of all the secret tapes is embedded somewhere in a deep cavern of my mind, waiting to be reawoken like a dusty relic in an Indian Jones film.
Naturally we're excited to hear that there's remastered versions of 1 and 2 coming out on PlayStation 4, Xbox One, and PC September 4th, which will allow us to relive the glory days of The Warehouse, School, Mall, Burnside in Portland AKA the classic locations from THPS.
Along with the re-release is a new soundtrack that will feature plenty of Aussie acts like Alex Lahey, A Swayze & The Ghosts and DZ Deathrays which is straight-up rad. It will also have a more rap-heavy feel to it, reflecting the current musical climate as opposed to the hard-hitting punk anthems that were the staples of the OG games.
Ahead of the release, we thought it would be cool to see if any of our muso mates felt like sharing some of their favourite tunes from the original soundtracks. Check it below, along with the entire remastered artist list: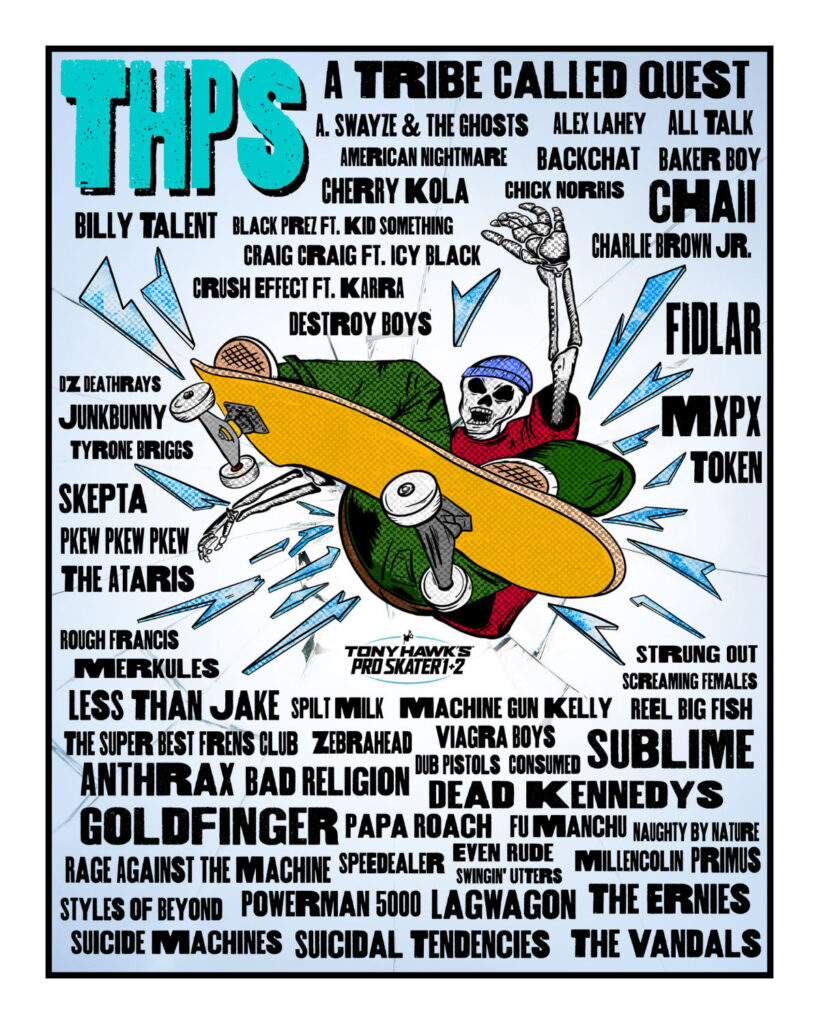 Angus Stone/Dope Lemon – Millencolin – 'No Cigar' (THPS 2)
https://www.youtube.com/watch?v=OChjVLHlkVE
Winston Surfshirt (Bustlip) – The Ernies – 'Here & Now' (THPS 2)
https://www.youtube.com/watch?v=I_jNwrGMNBg
SAFIA – The Ramones – 'Blitzkrieg Bop' (THPS 3)
https://www.youtube.com/watch?v=3FwCTlljJxk
The Kite String Tangle – Bodyjar – 'Not The Same' (THPS3)
https://www.youtube.com/watch?v=eP2YYjcxSxw
Greatest Hits – Suicidal Tendencies – 'Cyco Vision' (THPS1)
https://www.youtube.com/watch?v=mFRasClyYOM
Peking Duk (Rubin) – Motorhead – 'Ace Of Spades' (THPS3)
https://www.youtube.com/watch?v=pWB5JZRGl0U
Hockey Dad (Billy) – Primus – 'Jerry Was A Racecar Driver' (THPS1)
https://www.youtube.com/watch?v=EbB–asH2D0&list=RDEbB–asH2D0&start_radio=1&t=38
Hockey Dad (Zach) – Dead Kennedys – 'Police Truck' (THPS1)
https://www.youtube.com/watch?v=AW-BVeZ6hIU