Image by Angus Bell Young //
Gigs have returned to Sydney venues, but they're not quite the same. We sat down with members of Baby Beef, Georgia June, Papa Pilko & The Binrats, and Flight To Dubai to chat about their comeback performances.
As COVID-19 restrictions were eased across New South Wales a few weeks back, it seemed that the music industry was one of the first to react. Artists, venues and promoters quickly announced that they'd be returning with limited-capacity, sit-down shows – the kind of thing you'd associate more with a jazz band than a mullet-toting post-punk act or a new-wave pop outfit. It's not the ideal situation but for many acts, not being to earn money from performing during the lockdown meant making sacrifices.
"We had to give up our rehearsal studio for a couple of months which was devastating," indie rocker Georgia June says. She and her band played at The Vanguard last weekend. "As a band, you are so reliant on income from shows to pay for recordings, releases and content, which meant that a lot of those things took the backseat," she adds.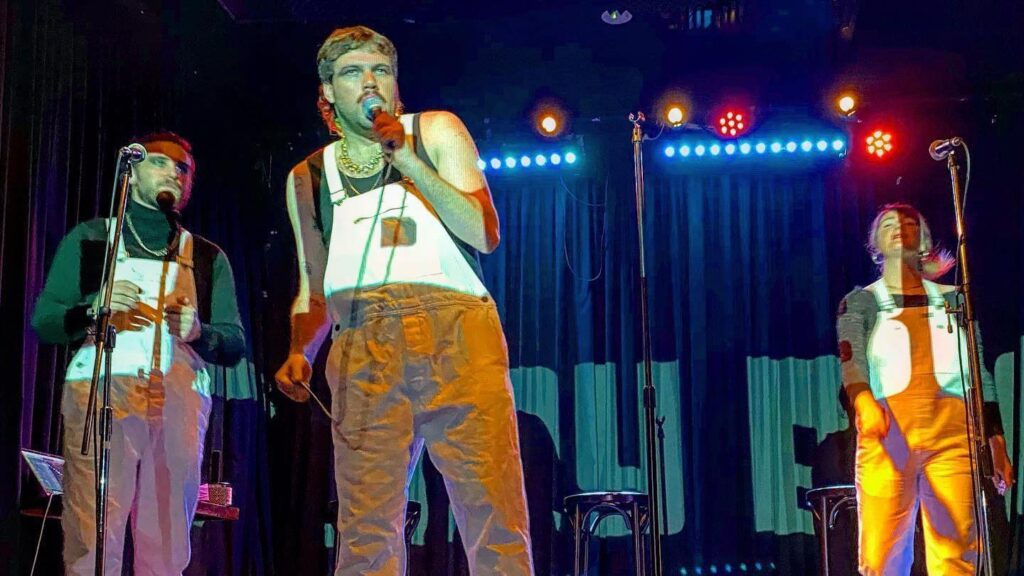 Baby Beef @ The Vanguard.
'80s-flavoured electro-popsters Baby Beef similarly felt the financial effects of the coronavirus, though their money had been funnelling into some unique merchandising. "We had to halt production on a number of March items we had in the pipeline. When we finally made our own relish, it was out of our individual pockets," frontman Hewett Cook says.
From a punter's perspective, it's fair to say that we were chomping at the bit to satisfy that live music craving. It's something that, despite best intentions, couldn't be quenched with the acoustic live streams or new 'COVID releases' that we were bombarded with during lockdown. We want the real thing and the ferocity at which tickets were gobbled up was a testament to that – none of the acts interviewed went much further than a Facebook event and a couple of posts before selling out their shows.
"It felt like people cared to be there, they weren't just rocking up for a bit of fun, they rocked up to sit down and watch us," Wayland Harty of garage band Flight To Dubai says of their show.
"I would much prefer to play seated shows than none at all so I was just grateful to be holding a mic in front of people," Georgia June adds. "The only awkward thing is that we're up there getting sweaty and gross while the audience is max relaxing, looking very neat!"
The seated arrangement couldn't stop the audiences from grooving at Papa Pilko and The Binrats' Lansdowne show. "It was magic! The vibe in the room was awesome as was the vibe on stage," guitarist Tom Wilkinson says. "The seated format and it actually turned out really cool. Plus, there were people who had a dance, can't fight the feeling!"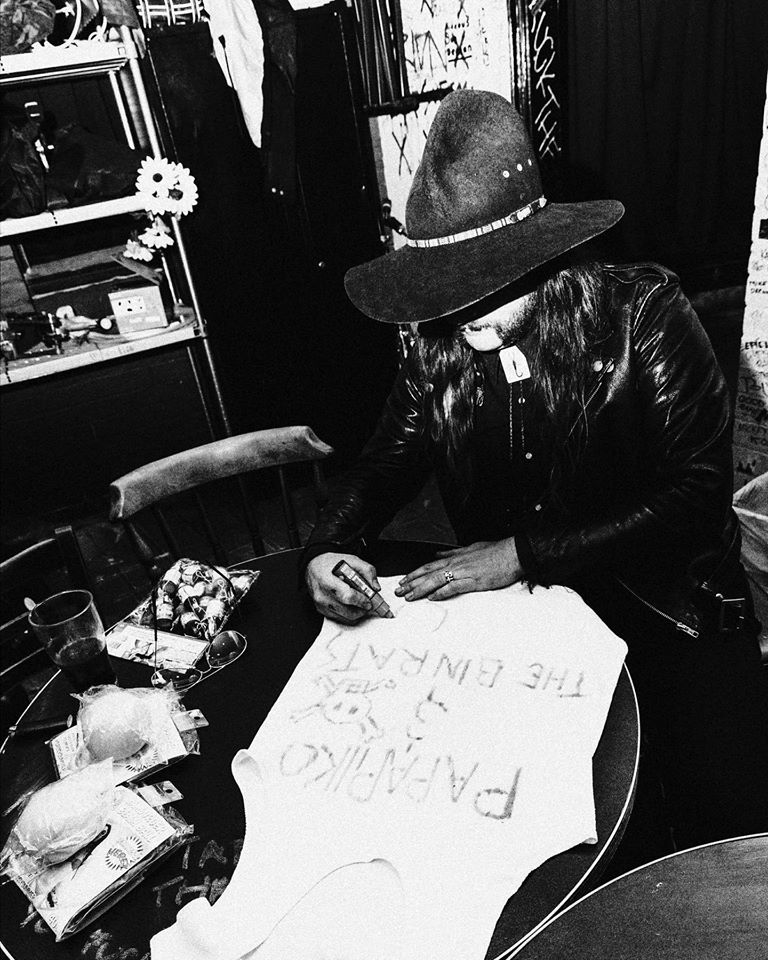 Papa Pilko making giveaways. Pic by Tom Wilkinson
People attending the Baby Beef performance had a similar response. "It felt strange for approximately 5 seconds of our first set," Hewett says. "From then it was a total non-factor. The audience was having blast bopping in their seats, the energy shared from them to us was beautiful."
The different format also offered new avenues to experiment both with sound and with space, and it probably won't shock anyone who knows these acts that they went the extra mile to make the experience a less run-of-the-mill for the punter. "We taped some fun little giveaways under a few chairs which worked out really fun," Tom says. "I think it really helped create cohesion between the band and the limited capacity crowd!"
Outside of launching the only relish endorsed by the Sydney music underground, Baby Beef shared new tunes with fans. "We played our longest sets ever, because we correctly assumed our fans would be hungry. Baby Beef managed to be very productive in lockdown so there was a bounty of new songs to populate the set," Hewett says.
"I love running into the audience and wigging people out with intense eye contact. So I just tried to amplify that," Georgia says. "I also switched to a wireless mic and ended up on the balcony for a boogie at some point… We did our best to add as many new songs as possible and talk more as well!"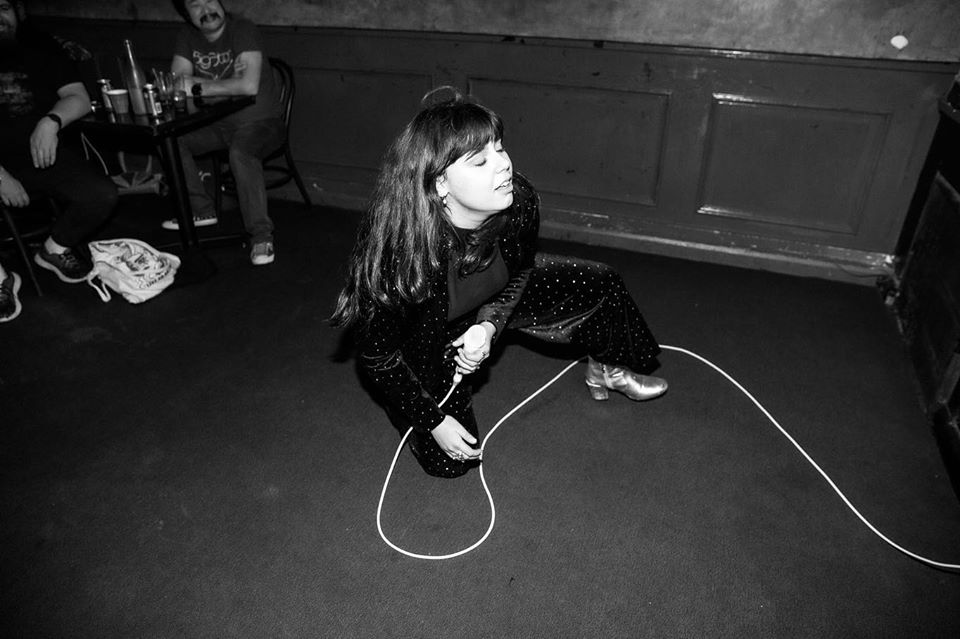 Georgia June, by April Josie.
Predicting when things will return to "normal" in Australia feels a little like pissing in the wind at the moment. And though musicians are eager to return to the days of sweaty moshpits, unrestricted dancing and general gig theatrics, there may be a place for sit-down shows in the restrictionless future.
"For us at least, this was an opportunity to give something greater than our usual shows," Wayland says. "If there is an opportunity for this format to continue then I'm sure there'd be a whole other audience for it. I quite liked the dual show arrangement. That's how Elvis would have done it!"
Well on behalf of the punters, thankyou, thankyou very much.