Words by Christopher Kevin Au
Defqon.1 took place at the Sydney International Regatta Centre last weekend. In related news, the sale of Nike sports bras, bumbags and Air Maxies skyrocketed by an astonishing 752% over the past fortnight.
Let's get one thing clear: I don't know a fucking thing about hardstyle. My exposure to the sound has been limited to viral gabber girl videos and watching five minutes of Showtek at Stereosonic while I was shirtless and probably fanning my underarms. And while I've flirted with the idea of actually attending Defqon.1 over the years – simply for the banter – it isn't until 2016 that I actually pull the trigger. In other words, 2016 is the first year that somebody offers me a free ticket. I accept graciously and with extreme care.
There's a reason for my cautiousness: Defqon.1 has earned a snarling reputation for its relentless soundtrack of hyperactive beats, spooky theme park voiceovers and synths that signal the apocalypse. It's like every other dance festival in the country combined into a lethal cocktail, mixed with steroids and a sprinkle of Ritalin for good measure. It's bigger, better and more demonic, and has no hesitation to make you feel like a whimpering little kitten turd if you can't keep up with the tempo.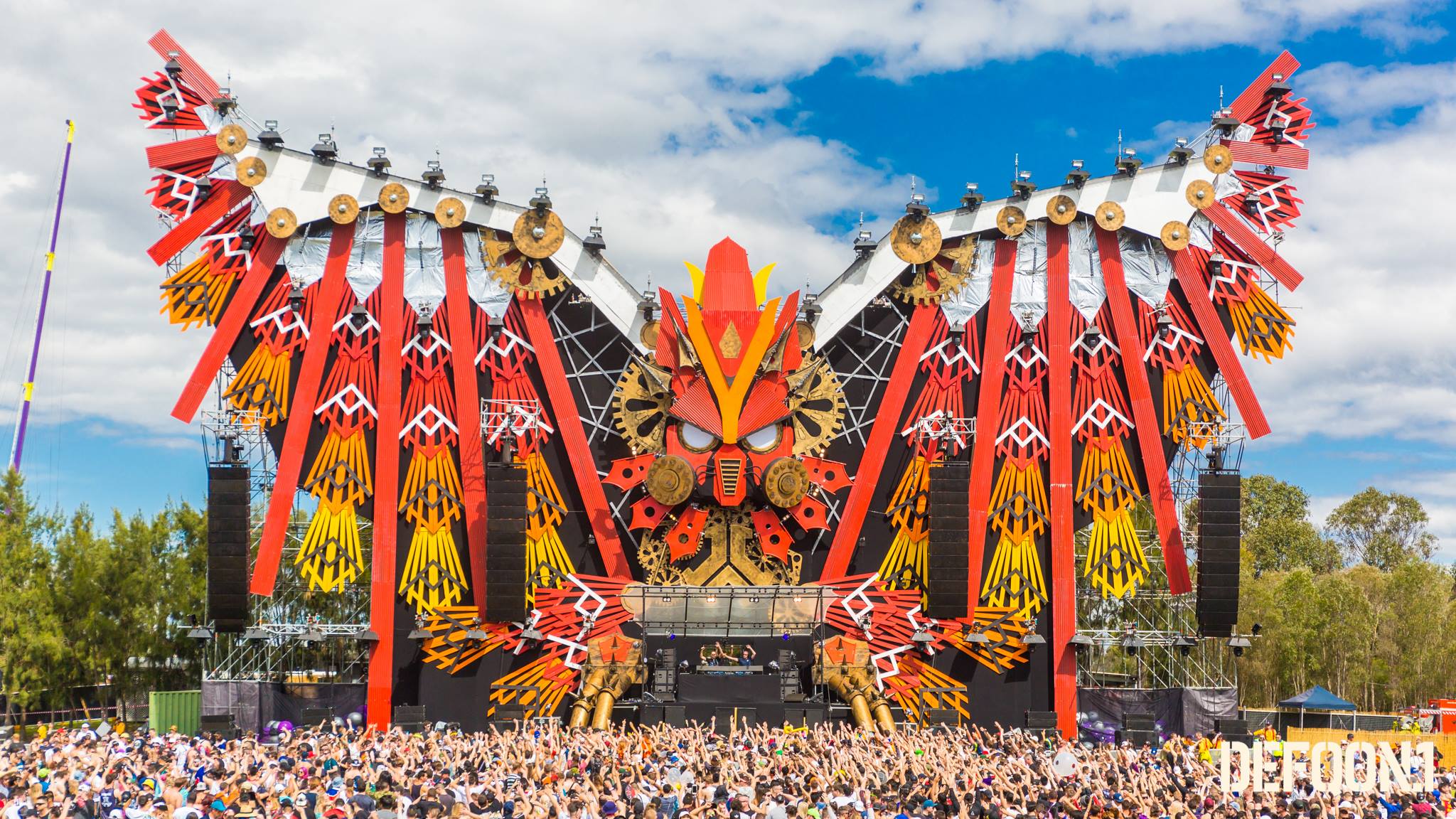 Since migrating to Australian shores in 2009 from the Netherlands, Defqon.1 has become a West Sydney staple – and the pilgrimage to Penrith is marked with punters humming hardstyle songs obnoxiously on the train carriage, unable to contain their excitement for the long day of seizure-inducing tunes ahead. When we arrive at the point of no return aka Platform 3 of Penrith train station, there's a man carrying a sign reading 'Who do the Illuminati worship?' I ponder the question while sipping on my overpriced blue Gatorade, and remember that jet fuel can't melt steel beams.
Arriving at the pearly gates of Defqon.1, it's clear that I'm the only Asian person in Sydney who hasn't attended the festival before. Despite being raised in a proper Oriental household, I've never listened to hardstyle or even trance – bringing much shame upon my family, just like that time I dropped out of science class in Year 10. There are punters with flags and crew shirts representing Thailand, Indonesia, China and some familiar faces from the Muzzing/Chopping Appreciation Society as well as the Gurn Appreciation Society.
Elsewhere, Defqon.1 is largely dominated by sportswear bros, cybergoths and Kylie Jenner lookalikes. Indeed, the festival is probably one of the few places on Planet Earth where meatheads with Southern Cross tattoos and guys wearing eyeliner and flared latex pants can congregate harmoniously. And despite the ever-vague 'No Lad Policy' imposed by Defqon.1, there are plenty of people here that look like they'll stab you in the eyeball for a Marlboro Red. I wonder how Defqon.1 decide who does and does not constitute a lad. I'm hoping for one of these questionnaires at the gate, but it never comes: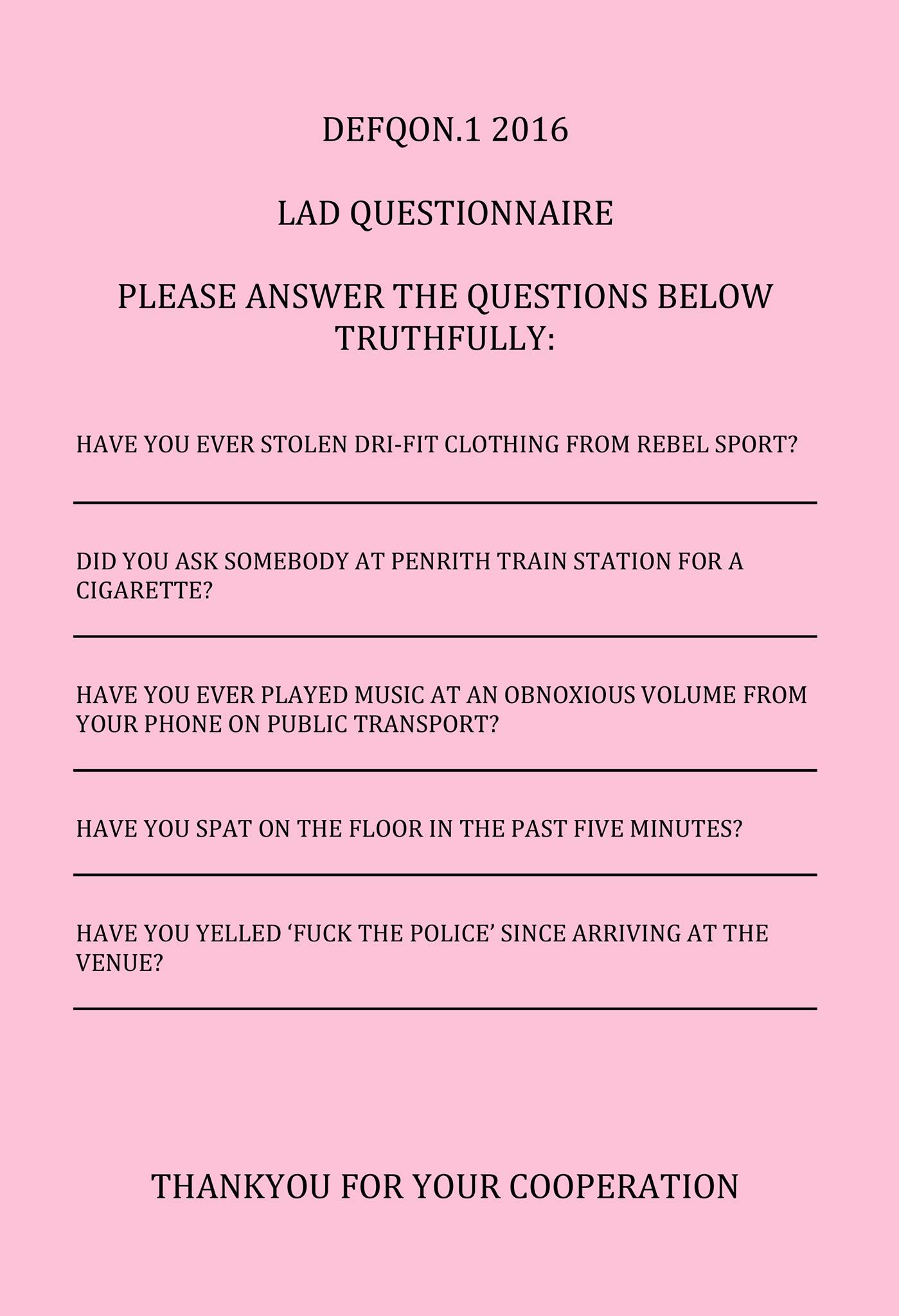 However, a security guard at the entrance gate does throw out my missus' hairbrush after a thorough bag check. Maybe it can be classified as a weapon, but how is she supposed to stunt without regulating the weave every few hours? Once we are finally inside – sans hairbrush – we head over to the Main Stage to witness Bass Modulators.
Again, I don't know the first thing about Bass Modulators, but they're playing on a stage with a giant mechanical phoenix and a hype man that has the energy levels of Lil Jon combined with Fatman Scoop after sculling seven reverse Jagerbombs. I'm into it. They drop an Adele remix and maybe even one by House of Pain, and then we buy a mediocre hot dog and drop half of the sausage on the floor. R.I.P. sausage.
After giving the sausage a proper burial by gabbering it into the ground, we witness even more ferocious dance moves over at the chaotic Raw Stage, where the collision of feet with the earthy dancefloor spawns miniature dust storms that make the Defqon.1 air so very refreshing.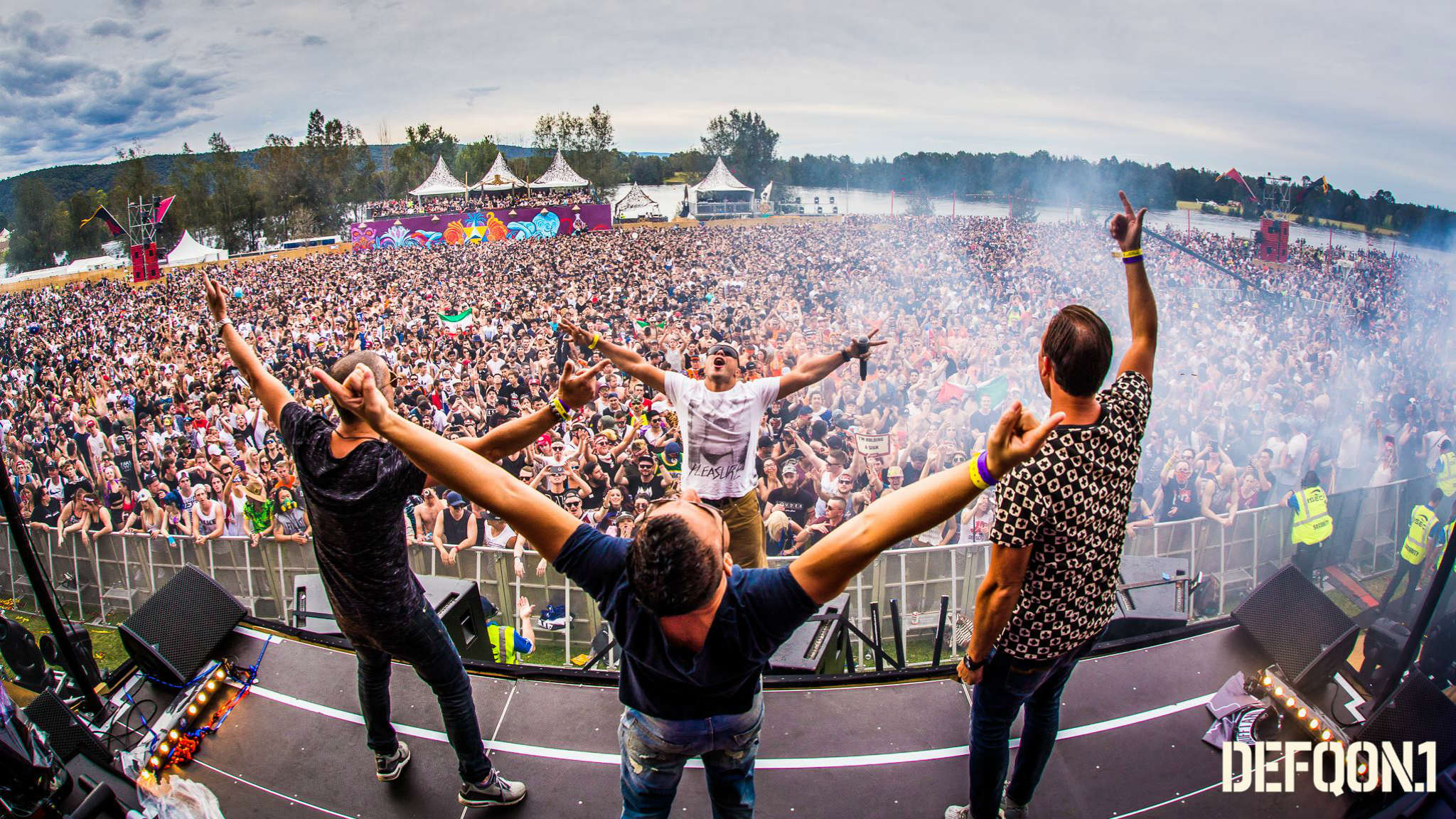 I suspect that the Raw Stage is the epicentre of sickunts when I see someone pick up a freshly discarded cigarette butt off the floor and smoke it, and this is confirmed when DJ Dailucia opens her set with a remix of 'In The End' by Linkin Park. Huge! Nu-metal and hardstyle – the world's two most misunderstood music genres, together at last in an inebriated late afternoon sing-a-long. Defqon.1 is starting to really feel like home.
Oh yeah, another thing: You can ride a bloody jet-ski at Defqon.1 and fulfill your dream of being Penrith's answer to DJ Khaled. For the very affordable price of eight tokens – keep in mind it costs five tokens for a single can of bourbon – you can cruise the waters of the Sydney International Regatta Centre while hardstyle blasts unapologetically in the background. You can also jump on a helicopter ride for 28 tokens to witness 25,000 people dancing like teeny tiny agitated ants from the sky, and disembark from the chopper feeling like a disheveled EDM version of James Bond.
After watching lots of other acts that pummel my earholes into a very pleasant mush, it's time for the infamous Defqon.1 end show, which is basically 15 minutes of lasers, lights, flames and the aforementioned mechanical phoenix thing on the Main Stage going absolutely HAM on your eyeballs. The end show feels like I'm walking into hell when I'm best friends with Satan. It's like Lucifer is viciously caressing my soul to a soundtrack of pulsating robot sex noises – it's strangely soothing and cathartic. The crowd is entranced, swirls of fire shoot into the night sky, and I can't help but think that this would be a nice place to toast some marshmallows. And just like that, Defqon.1 is over for 2016.

I arrived into Defqon.1 as an outsider – as someone whose playlist normally consists solely of Waka Flocka Flame, Rihanna and DJ Mustard. For one day only, I entered the world of Defqon.1, and although the festival is filled with human boulders who could squish me under a single thumb, the atmosphere is friendly and welcoming. It's a clear juxtaposition against the relentless and ominous soundtrack, but this really does feel like Christmas for hardstyle fans and a phenomenal spectacle in every sense – so there's plenty of reasons for them to smile, share a durry or dance together with synchronisation that makes you believe that gabbering should be included in the 2020 Olympics.
I think that every dance fan has considered attending Defqon.1 at least once in their lives out of pure curiosity or fascination with the unfamiliar, and although you're going to leave the West Sydney soiree wondering what the hell you just witnessed, you'll probably want to head back for more.