Despite its title, HONNE's latest album
Let's Just Say the World Ended a Week from Now, What Would You Do?
is far from pessimistic. 
Released late last month, the UK duo's third studio offering brims with the familiar electro-pop trappings that HONNE is known for, but opts to lean decidedly further into the pop sound which they'd previously evaded. "It's still got the HONNE charm to it," Andy surmises in our interview, "but it does hit some of those pop notes a bit more than our previous music has done."
It's a move that evidently paid off. The album enlists HONNE's largest assembly of starry collaborators, from featured vocalists Khalid 88 Rising's NIKI, to songwriting credits from the likes of Sam Smith and Arlo Parks. What Would You Do adds to the duo's success since their debut studio album Warm on a Cold Night, a years-long hustle which is reflected in HONNE's stacked world tour across the US, UK, and Europe.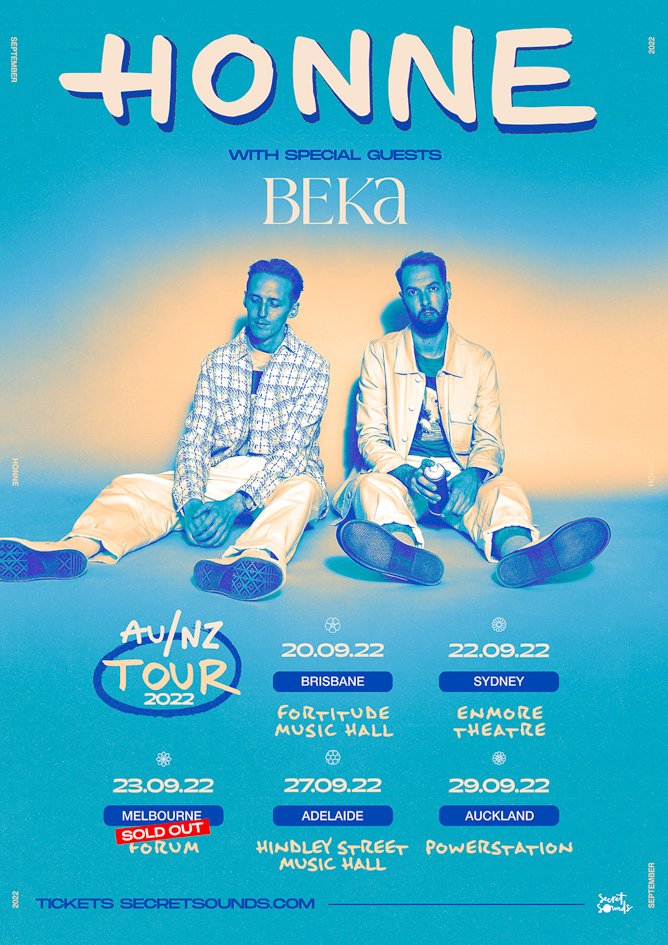 This week, they're bringing What Would You Do to Australian shores, first performing in Brisbane's Fortitude Music Hall tomorrow (September 20) before taking to Sydney, Melbourne and Adelaide by the month's end. In anticipation of their Australian tour, we caught up with Andy and James of HONNE for a chat about the new album, their favourite collaborators, and preparing for doomsday. Head here for remaining tickets to HONNE's Australian dates. 
You've talked in the past about wanting to continually evolve. How does this new album show that evolution, sound wise?
Andy: Basically with every album we release, we want to try and make it different and a progression, just so people aren't hearing the same thing over and over again. I think I'd just say that our latest album, it was our most collaborative album to date, so it had the most features that we've ever had before, and it's kind of a bit more poppy. It's still got the HONNE charm to it, it's a bit rough around the edges, but it does hit some of those pop notes a bit more than our previous music has done. 
I don't know if that means it's more accessible or enjoyed by more people, but it's a route that we've not really been down before. Our previous stuff has probably been a bit more quirky and left-leaning. But then the next stuff we do will be different again, so we'll see what happens. 
James: [We found the pop sound] more as we were going along. Often, in the past, we've been like 'no, you can't do that'. That'd be too satisfying to hit that beat or have that big chorus or throw in the kitchen sink. But for this album, we kind of just did it, and enjoyed allowing ourselves to do that for one of the first times. We enjoy all sorts of different genres of music, but we get a lot of pleasure from songs with strong melodies and that tell a story in a nice concise way. So on that side of things, we do really enjoy those elements of pop.   
You've said that you've limited yourself in the past music-wise. What was it about this album that made you want to sidestep the rules and do whatever you like?
Andy: I guess it's partly down to who we were collaborating with. Some of the artists that are on the tracks are more poppy to start with, and when you write a song with those types of artists, or you say 'here's a song, would you like to sing on it?', it just ends up being more down those realms. I think in the past we've been so hung up, and it can take longer thinking of other ways to try and be 'cool', and you're just limiting yourself and the process for not much reason at all. We wanted to just write music and get it out, and have it still be great, and not put those barriers upon ourselves. 
The album features some pretty stellar co-writing credits. Can you give me an overview of how the collabs with Sam Smith and Arlo Parks came about?
James: Let's start with Khalid, which was a long journey. It started a long long long time ago. We were fans of his before he kind of had many fans, which is weird to think about because he's one of the biggest artists in the world now. We messaged him on Twitter when he was coming to London to play in a 250-capacity venue. We just said 'we love your music and we'd love to work with you one day',  and he said 'same.' He gave us his number and we just kind of texted sporadically over the years. We eventually sent him the instrumental for 'Three Strikes' and within a couple of hours he sent back him singing on it and said 'I felt so inspired, I've already written a song to it'. 
We thought he might release it, but he didn't end up putting it on his project. A little later on we were like 'we should maybe try and use that, because it's really good.' So we took that MP3 that he sent back, and kind of botched a song together using that, because we couldn't get  his vocal by itself. So we wanted to work it all in using that. Then we sent it to him and he loved it. 
https://www.youtube.com/watch?v=KVMDaZUzcEI
Andy: We were invited to a studio session with Sam and with their previous live pianist, who's a good friend of ours called Ruben James. So we were all in a room together writing for Sam. Before Sam arrived, we were jamming an idea like [starts vocal riffing], and Sam arrived and sang it much better than I just did then [laughs], and we recorded this very brief idea. We thought 'this is sounding really really great'. We were jamming it around for a little bit and it was all being recorded and Sam was like 'can we move on now?' [laughs]. 
Then, in a similar scenario to the Khalid song, like six months later we had this very rough recording of that song or that chorus and we were like 'we really should work on this more.' So we demo'd it and made it into a full song and we asked Sam if they'd like to be on it, and they politely declined. But we then got in touch with Griff who we've collaborated with before and thought her voice would be perfect for it, and she became the feature for it. 
Are there any other artists in your catalogue who haven't yet featured on a project?
James: There are definitely people we want to [work with] that maybe will happen one day. Like I've been texting Jacob Collier recently, about maybe doing something next year. So that would be good. Even if it's writing for us or whatever, I think his musicality is unreal, so we'd be looking forward to that. 
Andy: [Our collaborations] are about who were listening to and who were enjoying. During the pandemic, everyone was available, so it was quite easy to secure a lot of these features. We never thought we'd have Khalid on our album. At the same time, it was a long slog to get it to happen. 
James: When you're writing a song, sometimes you'll be listening back to it and you're like 'Oh god, how good would this person sound on it'. Sometimes stylistically or sonically, you can think of a person's voice. So a lot of it is down to that, but we wouldn't pair someone who's voice isn't fit for the song, just so that we've got a feature on it. It needs to be a good fit.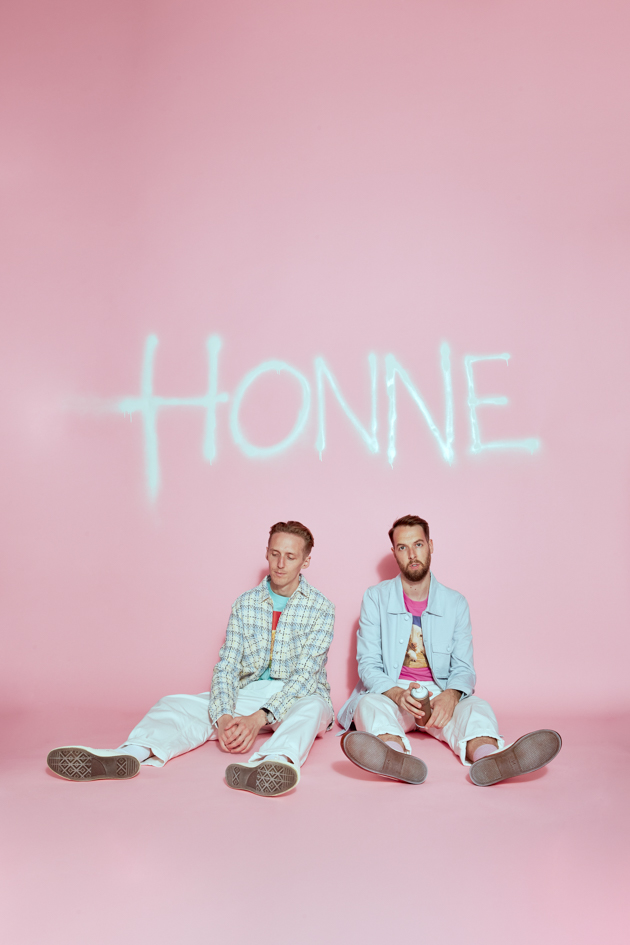 I was wondering if you could explain what you mean by the album's title? And how does it reflect the music?
Andy: The title of the album comes from the song 'What Would You Do', and it's the opening line of the song. I guess it's like a thought provoking question about if the world were really to end, what would you do in those moments. I think it's quite an ominous, dark title, but it's not to say that the music is dark and dreary. All of our music has historically been quite positive and has a positive meaning and leaves the listen feeling uplifted, hopefully. The music on the album should reflect that, it doesn't necessarily tie in to the title quest. We haven't really gone down the route of writing concept albums, so it's not all about death and the apocalypse. So it's just about positivity and love.  
This may be useful for any doomsday preppers out there. What would you really do if the world was ending in a week?
James: The reality is, if we're not going to go down answering it in a silly way, the reality is that we're very family-orientated people. We're very close with our friends. So we'd want to go home and be with our family, Andy would want to be with his kid [laughs]. Just enjoy eating some great food, and having some good nice times with the people we love most.