Top left photo by @dyspnea //
You may know Kai Suteja for his hilarity as Instagram sensation UrMumsYaDad, but he's also putting on his own doof, Gypsy Lands Festival – and he's dead serious.
Rising to notoriety on social media, where he has a collective 300K followers, Kai Suteja aka UrMumsYaDad has made a name for himself for his ninja-like ability to take the piss. Whether he's taking aim at the alt-hipster scene, the Bondi scene, the Australian fashion scene or himself, he knows just the right buttons to push to get a laugh from his loyal fans.
Now a big fish in the small Aussie social media pond, Kai is using his powers to promote the very first installment of his bush doof Gypsy Lands, which is taking place this July in Bali. It's the only festival that promises to combine two of Kai's biggest passions; kombucha and techno (just look at the 20 metre billboard they installed).
Outside of deejays, the festival entertainment is divided into two worlds; there's the post apocalyptic Badlands that features an MMA cage, a half-pipe, tattoo parlour and a fetish room. Then there's Wonderland, where you can find love at the disco wedding and get your tarot/fortune told. These areas are separated by a maze, because why the fuck not?
Did we mention tickets are only $30? Sounds too weird to be true, but trust us, Gypsy Lands is happening and we can guarantee it's going to be a memorable experience. Just don't go taking your boogie board on the plane unless you fancy having an endless holiday in Bali.
What does Kai know about putting on a festival? How weird is it going to get? Check out our interview below to find out: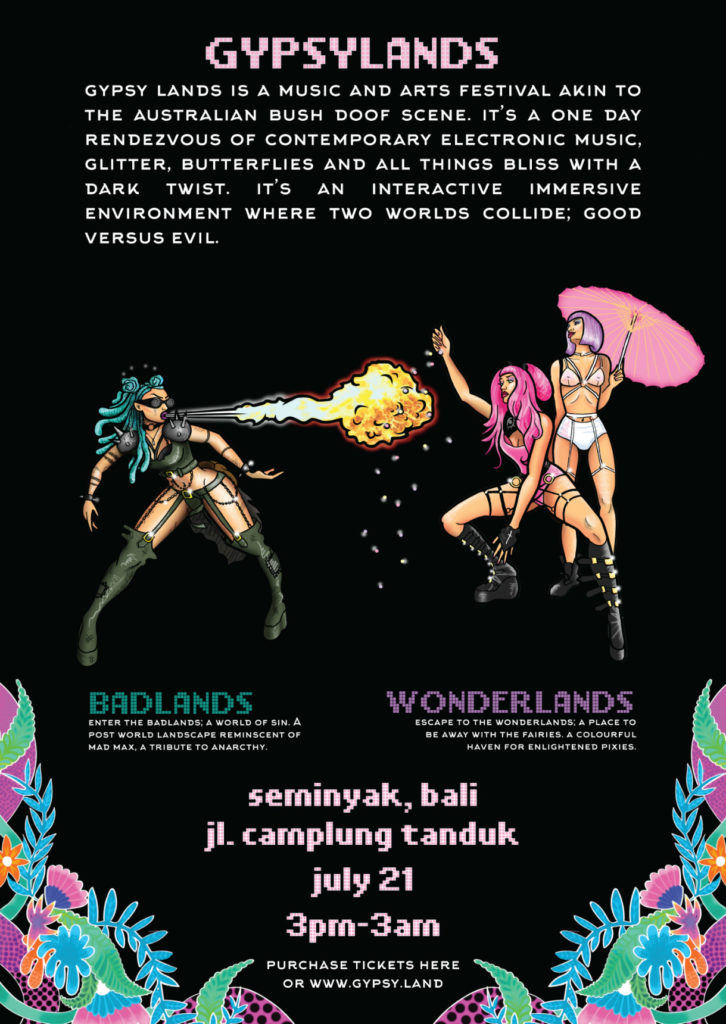 Why is Gypsyland happening?
Festivals should be more than music. You can't listen to DJ PENIS PUMP for 12 hours unless you're gacked off your brain and unfortunately Bali isn't really a BYO boogie board culture. The creation of an environment that was immersive, interactive and engaging was necessary. It should be a spectacle not a gathering of sardines facing a stage. Non-musical entertainment and set design was key, we wanted to create a world where you were continuously entertained.
Gypsy Lands is happening because you should be able to party solely on kombucha and techno and still have an MDMAzing time.
Can you sum up Gypsy Lands in one meme for us?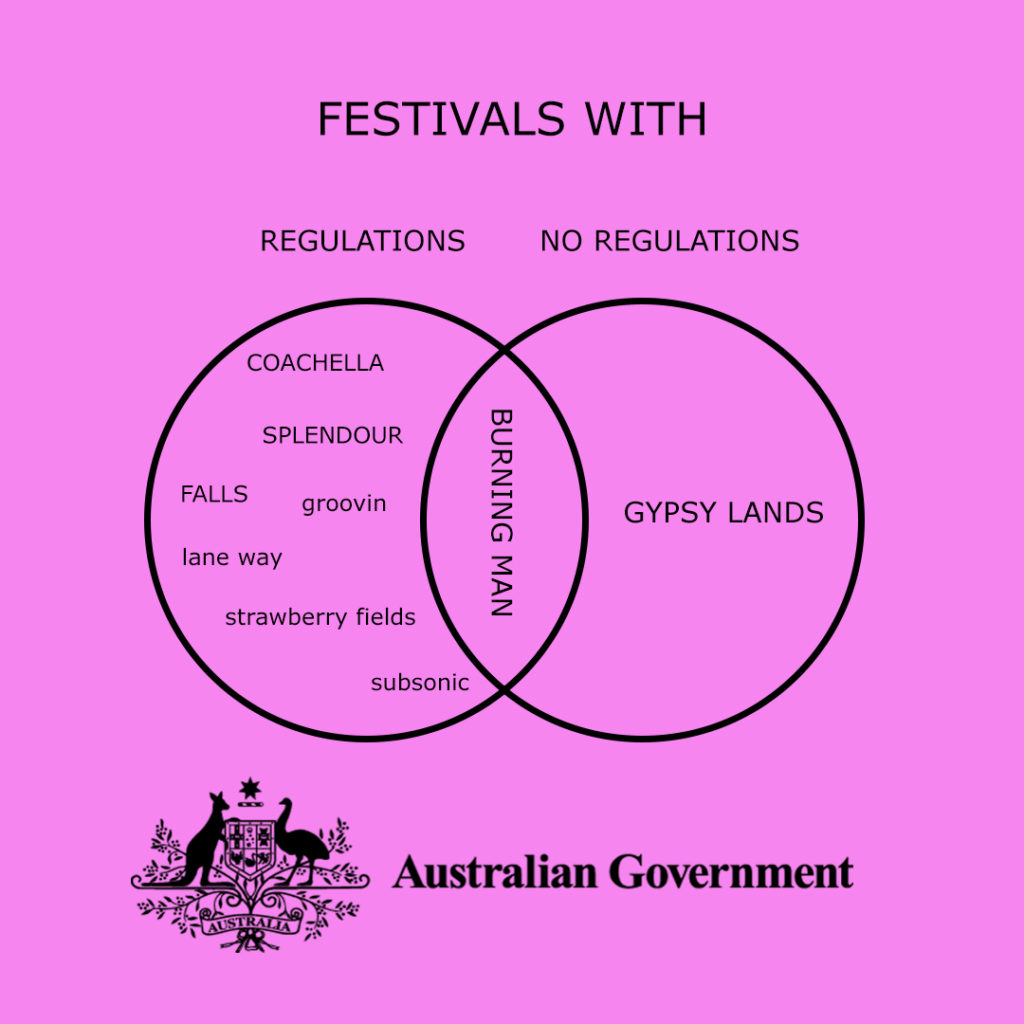 Putting on a festival is no easy task, how are you finding it so far?
I honestly thought it'd be so chill. I was like "you get a piece of land, hire some DJs and sell some tickies". There's a lot more work involved in the logistic side of things. We've run into some hiccups along the way and my stress level is max but it's definitely something I enjoy. We have fun at gypsy lands.
Why in Bali?
Bali is one of Australia's favourite party destinations, it's quickly turning into an Ibiza. There lacks a scene for techno doofs so why not start a culture? Funnily enough I'm half Balinese, this makes business a little easier. I'm fortunate enough to have the right connections who can help get things over the line. There's not a fuking chance I could do this in Australia.
How many people are you expecting to attend?
We've got capacity for 5,000, let's make it happen.
What's the craziest shit you've ever seen at a festival?
>be 20 at DEFQON 1
>leave festival over it
>on train home spot eshay
>munted.jpeg
>He just sussly stares at me
>I'm scared, clench my butthole. Fuck. He's going to roll me.
>NOPE. Drops his pants and just takes a fucking shit on the train.
>Finishes doesn't wipe…
>We share the same carriage for 40 minutes
>No words said just the smell of poop in the air
What is the craziest shit people can expect to see at Gypsy Lands?
In the BAD LANDS we've got cage fighting, a half pipe, tattoos, piercings and gambling. If anyone gets GYPSY LANDS tattooed we'll pay for it and offer you a lifetime membership to any festival we ever do. To enter the WONDERLANDS you'll have to solve the maze. Once inside there's a wedding chapel, you must kiss to enter. There's always heaps of pretty girls that I never talk to and now I've got the perfect excuse. "Omg what's in the chapel?!? We should totally check it out". There's also some zen activities like tarot card reading, healing and a makeover station.
What are three things people are going to walk away from Gypsy Lands talking about?
Chlamydia, gonorrhea and herpes.
Where will you be for Gypsy Lands? Badlands or Wonderlands?
BRUH. I'll be dressed head to toe in pink but I'm a sensitive bad boy so I'll be drifting between the two. I'm pretty sure I should be working but knowing me I'll probably end up getting fucked and losing my marbles in the maze.
How are the local officials reacting to Gypsyland?
They're loving it. Tourism means money and who doesn't love money.
Got any insurance?
No comment.
Which of these words best describes people's reaction to Gypsy Lands so far; cooked, keen or confused?
Confused. It has been quite the struggle to convince people this is not a joke. Someone legitimately DMd me "so funny you rented bulldozers in your backyard". It's actually the most expensive meme…