With her latest single already making waves around the country, we caught up with Deena Lynch AKA Jaguar Jonze to get the inside word on her creative outlets, doing Like A Version and more.
With a narrative illustration project and a gender-subverting photography project concurrently evolving as she tours the country playing rock and roll, it's a miracle Deena Lynch has time for an interview. It seems that right now she's overflowing with creative energy (or just energy in general), as illustrated by the three-and-a-half minutes of pure tension that is 'Kill Me With Your Love'.
The tune combines, chunky guitar licks, an upbeat tempo, and Lynch's smoothly-executed vocals to generate an immediately impactful response when you hear it. It's what it would sound like if Deborah Harry and Arctic Monkeys teamed up to write the theme song for a spy film which, for obvious reasons, is a sound that we're super into.
At the moment, Lynch has been on the road playing shows with triple j favourite Ali Barter, and we can only imagine it's only a matter of time before we're hearing Jaguar Jonze on high rotation. She's already familiar with the triple j studios having performed on Hermitudes Like A Version cover of Nirvana's classic 'Heart-Shaped Box' which has received tonnes of online praise.
It's looking like 2020 is going to be the year of the Jaguar, with more music and shows on the horizon, so we pinned her down to get the inside word on what it's like being one of the most promising acts in the country. Check it out, along with her remaining 2019 tour date below and head here for tickets/info.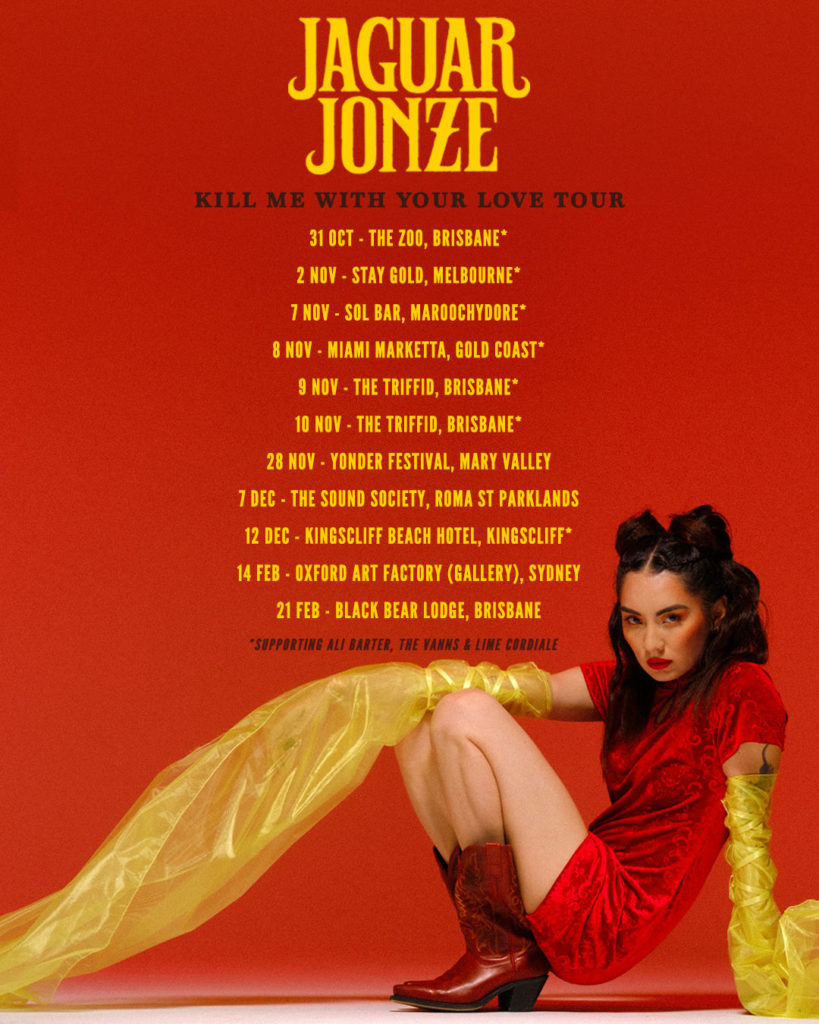 Firstly tell us about the name Jaguar Jonze, where did that come from?
It actually came from fans! I started being called 'Jaguar Jones' as an alter ego name to my everyday Deena as it was such a huge contrast to what I'm like in my everyday. When I was thinking of the project, I liked that it meant something to me and that it was given to me so I just switched it up a bit with 'Jaguar Jonze' just because I'm OCD and wanted clean handles across everything haha.
You recently did 'Like A Version' with Hermitude. What was that experience like?
That experience was CRAZY cool. It was such a pleasure meeting and getting to know the guys, them and the team are the nicest people around which made it all the more easier for my nerves.
You're a talented photographer and artist as well. How do you divide your time between these pursuits and your music? How are they intertwined?
Sometimes, I don't really know how I manage it all but those different creative pursuits are really important for my brain and my wellbeing. It just shifts in priority depending on the project and timeline or what I personally want/need to be doing. They don't intertwine too much as they kind of exist in their own little worlds. Though I do think music is just as much art as it is music, so I love editing my own photos, making up the assets and planning out the visuals for my music.
You said that 'Kill Me With Your Love' is about losing yourself in a toxic relationship. Did writing this song help you recognise a situation that you had been in? Was it a cathartic experience?
At the time, I wrote the song when I was knee-deep, reeling in it. Then when I came back to the song to work on it more, it was a bit of a raising self-awareness situation and coming to realise just how unhealthy it all was. It's a bit of a wake-up call and I consider it as a bit of therapy when I get to thrash out the heartbreak and residual toxicity onto stage haha oops.
There's something about the way the vocals, guitar, and synths work that makes the song feel as if it could belong on a James Bond soundtrack. What were you listening to when you wrote it?
Haha, that's cool! I was so deep in my heartbreak at that point that I actually wasn't listening to much music around that time because it all just made me feel too much. I'm so huuuumaaaannnn.
Tell us about the artwork. What was the concept behind it? Did you style it?
Yeah! The concept carries on from my artwork for You Got Left Behind. You won't notice it until you really look at it, but it was actually a tiny little vase balanced on my zoomed-in curved back. It's continuing on the story but changed the landscape. This time, I used my mum's 100-year-old antique Japanese vase and wore a traditional cheongsam. I was so stressed about dropping it, I couldn't breathe during that shoot otherwise the vase would wobble haha.

You're playing a bunch of shows over November/December, what are you looking forward to "on the road"?
Playing live is my favourite part of music and I can't wait to bring it with the band. I'm really lucky to have great people around me so it's only natural that being on the road leads to some good memories and experiences too. I'm excited to be playing alongside some great Australian bands too so keen to watch them do what they do.
What do you have coming up in 2020?
My first headline shows on the East Coast in early February! More singles, maybe an EP… ;) Have a good day!