It was only a matter of time…
Sydney's very own The Kid LAROI is continuing to add some high-profile names to his list of collaborators, and this time he's linking up with a fellow Aussie in psych-rock maestro Tame Impala.
The news comes in the form of two stories on LAROI's Instagram several hours ago, both of which being pictures of LAROI and Tame himself in the studio together. Naturally, Tame (real name Kevin Parker) is sitting pretty in the producer's chair while LAROI is seated next to him, no doubt watching over his past vocal takes (we're guessing anyway).
Funnily enough, the first picture has a bunch of emoji's cheekily inserted into the corner, among them being the pill, police car, couple and beer emoji. If this is a hint as to what the name of the collab is, well, consider us bloody stumped. But the pair seem pretty deep into the session nonetheless, and only time will tell whether we'll get a taste of the new tune any time soon.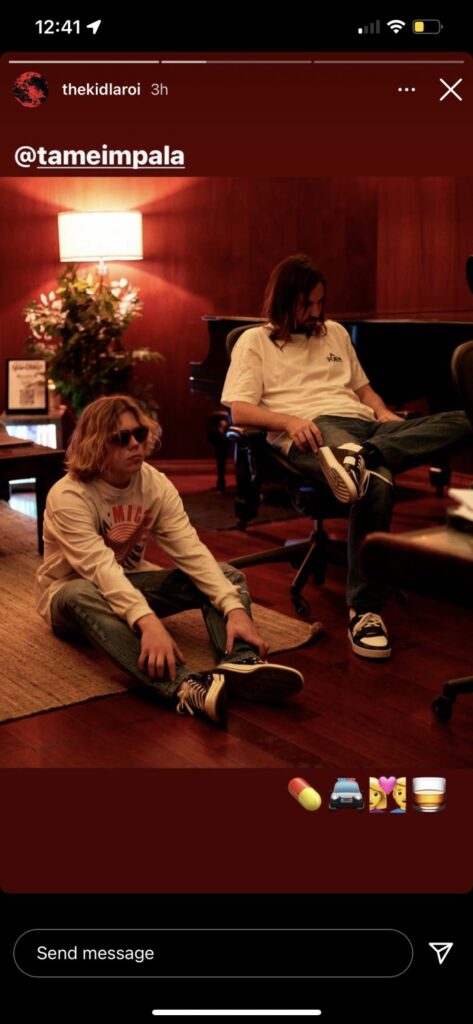 Still, it's exciting news for fans of the two international exports. Feast your eyes on the pics of Tame Impala and The Kid LAROI in the studio together below, and keep your fingers crossed that the next teaser comes in the form of some actual music.