Give the man a break.
Imagine this: you're a pig. A British pig, that's four years old who has built an empire by allowing your life to be watched by millions of people. Like Keeping Up With The Kardashians, only about farm animals that are trying to work out the simplest things in life (oh wait, that's actually quite similar to KIWTK). Now, from the lofty heights of your mansion that I'm sure smells like bacon all the time, you're taking potshots at Kanye West over Twitter for no reason other than to start a beef.
Pitchfork recently gave Ye's DONDA a six out of ten, labelling it "a data dump of songs searching for a higher calling", something that would undoubtedly have bruised the ego of rap's most sensitive "genius". Rubbing salt in the wounds, Peppa Pig and her team of marketers, managers and PR pushers have tweeted an image of her album Peppa's Adventures: The Album which received a generous six and a half out of ten:
Accompanying the image were the words: "Peppa didn't need to host listening parties in the Mercedez-Benz stadium to get that .5," followed by a dropped microphone and a pig snout emoji. In true coward fashion, the tweet has now been removed and I'm sure there is someone out there working hard to cancel Peppa Pig for harassment as we speak.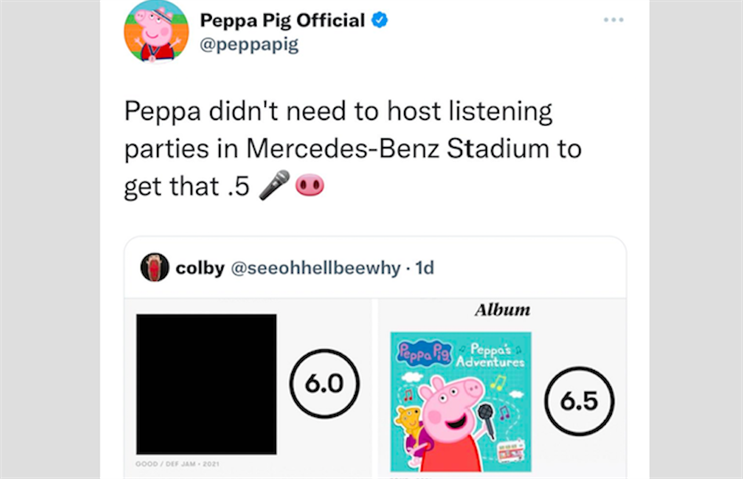 To this writer, it seems like another case of piling on Kanye for no reason. Look, DONDA was way overhyped, but this has got to stop, right? The album pulled in 60 million streams in 24 hours, and has some pretty damn solid tracks on it. Maybe we're holding Kanye up to too high of a standard, so much so that people are more stoked to see him fail than they are to see him succeed, spawning unneccesary tweets from stinky farm animals…