Image via Tom Beard //
When you look up the word 'Stacked' in the dictionary, Royal Blood's Aussie tour poster is what comes up…
After five years away from our shores and touring seemingly everywhere but Australia, UK rock duo Royal Blood are finally returning Down Under for a run of Aussie shows, and they've amassed a massive batch of bands to accompany them.
Set to play new records from their latest LP, Back To The Water Below, the upcoming list of shows (presented by Frontier Touring) will see Royal Blood bring with them their undeniable brand of rock and psychedelia, with older hits 'Figure It Out' and 'Out of the Black' no doubt set to get a rinsing alongside newer cuts like 'Pull Me Through' and 'Mountains At Midnight'. And judging by their recent festival appearances, most notably their set at this year's Glastonbury, they've managed to find even more ferocity and heat in their live performances, with official vids of frontman Mike Kerr and drummer Ben Hatcher showing them on a totally new level of showmanship compared to their last tango with Aussie crowds five years ago.
To top things off, the Brighton rock duo have amassed some of the finest bands in Australia and New Zealand to accompany them on their upcoming list of shows when they kick things off in early December, tapping none other than Psychedelic Porn Crumpets and The Buoys along with Racing and Elliot & Vincent. It's a stacked bill that guarantees your money worth, and considering that Psychedelic Porn Crumpets and Sydney's own The Buoys have made more laps up and down the country over the past year than Usain Bolt in his heyday, we're almost certain they're set to be more than up for the challenge.
Tickets are understandably expected to fly for this one, so you best get in quick. The Frontier presale goes live tomorrow at 3pm local time, with general sale available from 3pm next Monday. For now, check out the full list of dates for Royal Blood's upcoming Aussie tour below.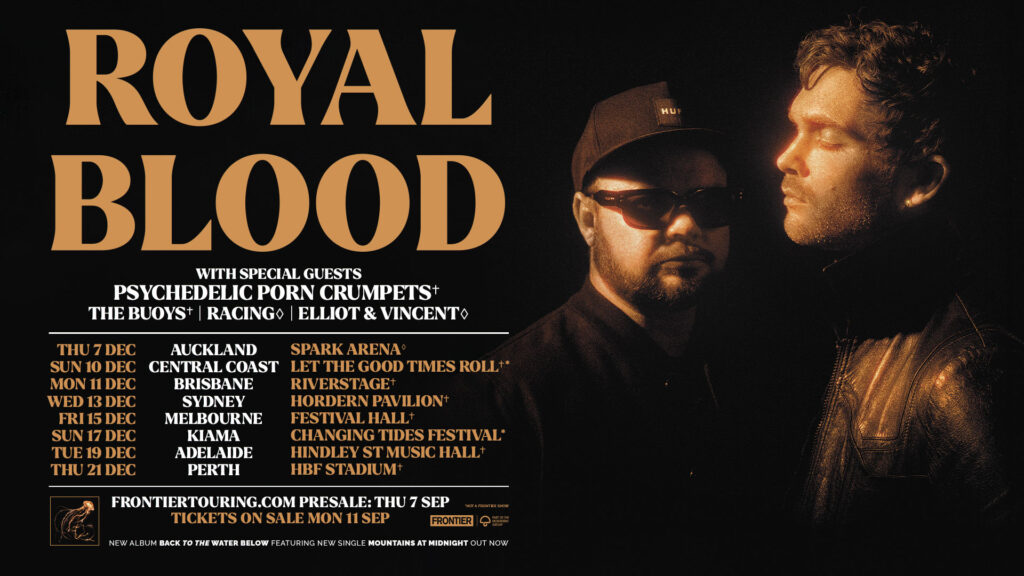 Our music news is powered by Boost Mobile.