Glam? Gutters? Or somewhere in between?
Expensive lunches in highrise buildings, hanging out with cool people, artists hanging off your every word knowing you could make or break them – we've all seen films that portray the life of a label owner as nothing but sex, drugs and rock 'n' roll, washed down with a little bit of business. Sadly, running an indie record label in the real world is nothing like this… or is it… no, it definitely is not.
Born in London in 2018, but now located in Sydney, Copper Feast Records is a shining example of what you can and can't do as a label. 26-year-old owner Callum Pope has worked with psych-rock artists in Australia, the UK, and the US, and got their vinyl designed, pressed and shipped globally. It's an impressive one-man operation (though he does get a little help from his brother in the UK). Of course, in spite of selling thousands of records and working with some rad artists, Copper Feast remains a side hustle for Callum.
So why would you want to start a record label of your own? If it only pays for itself, takes up all of your spare time and doesn't have you snorting cocaine in a bathroom with your musical icons, what's the point? Well the answer, according to Callum, is pretty simple: the music (maaaan). If you love going to gigs (when there isn't an epidemic happening), listening to bands, thinking about bands, writing about bands and everything else band-related, then you have nothing to lose.
But don't just take our word for it, we cough up with Callum to find out a little more about Copper Feast, the artists he works with and the man himself. Check it out below and head here to walk right into his (virtual) shop:
What motivated you to start Copper Feast Records?
I would say motivation for starting Copper Feast Records was twofold. Firstly, I come from an engineering background so I've always been fascinated with how things work from a mechanical perspective and, having been a huge music collector before the label started, the pressing of vinyl is a huge example of this.
Secondly, I wanted to show that record labels don't always equal bad news and screwing over their artists and exploitation, I wanted us to be a force for good. I've been really lucky so far to be able to release some of my favourite albums, which otherwise would never have made it to vinyl and at the same time offering a fair deal to our artists and supporting some amazing charities with every release we put out.
Tell us about the type of music you love?
Wow, this is a really hard one but I don't want to give you the easy answer of saying 'everything'. I love so many different records from so many varying genres, but the label itself I would say is kind of built off of three musical 'pillars' which we broadly base our sound on. Our inspiration has essentially come from Elephant Tree's self-titled debut for our stoner rock sound, 'Bachelor of Arts from Right Shitty' for our punk sound and Mt. Mountain's masterpiece 'Cosmos Terros' for our psych-rock inspiration. Interestingly, these all came out within a month of each other in 2016 and our first release was 'Bachelor of Arts' which felt like a bit of a dream come true at the time.
Beside the music we put out on Copper Feast, I'm also a massive fan of hip-hop and 90s-era grunge and my favourite artists are probably John Frusciante, Faith No More and The Gits.
https://www.youtube.com/watch?v=p5wM6efmXmQ
Where'd the name come from?
Well once I knew that I wanted to start an independent label, I spent a really long time deliberating over the name and sketching up shitty logos on Paint to see what vaguely worked. I went through a heap of different iterations but settled on Copper Feast after being inspired by how much I loved the sound of copperphone mics. The imagery of the mic blending into someone's mouth as they consumed the sound kinda did it for me and I feel like it fits with the music I wanted to put out.
I also had the idea early on of providing a recipe with each release in a similar way to Vinyl Me, Please do with their cocktail recipes, though I soon canned that idea after realising how quickly I'd get found out if anyone that knows how to cook bought one of our records!
You started the label in the UK before moving to Australia, how and why did that happen?
So I started the label in early 2018 in London before I had any intention of coming out to Sydney but even then, a good proportion of our artists at that stage we're based in Australia.
I got the opportunity to move out here last year and the label has gone from strength to strength, a lot of which I owe to my brother Charlie, who's held the fort in the UK, shipping out tonnes of orders and making sure records go out on time even though I'm on the other side of the world.
https://www.youtube.com/watch?v=dE-QrJnyiPc
How do you find bands to work with?
Bandcamp, plain and simple. It's such an incredible resource for independent bands and labels alike. They've probably been one of the most important cogs in the independent music scene for a long time now, especially with the fee-waiving Bandcamp Friday's they've been running each month to support independent artists affected by COVID shutdowns.
Besides that we've done a couple of projects as joint releases with other labels who came to us with the music.
What's the biggest challenge in running a label?
The main challenge right now, and a great one going into the next year, is finding the time to release all the awesome music we've got planned, whilst generally being a one-person operation and juggling the label with my day job.
On the other hand, another struggle we constantly face is getting our music to the ears of people that will dig it. I've got no doubt in the quality of everything we put out, it's just getting potential fans to listen and give it a chance, 'cause I know they'll love it!
How do you balance label stuff with work?
With a lot of difficulty! I basically save label stuff for any downtime I get – lunch breaks, evenings, weekends. My partner Carys is so, so supportive when it comes to Copper Feast and she'll happily chip in with ideas and lend a hand with things when I need it, as well as being emotionally supportive and invested in what I'm trying to do. The label wouldn't exist as it does today without her.
That said, I still find time for myself away from the label and work. It's definitely important when you're working yourself like this to find time for a break. Luckily, I plan releases to an extent to allow me to have a bit of time away from the label now and then to regroup and recharge.
https://www.youtube.com/watch?v=v8YoFlG7LDU
You're slinging a lot of Aussie psych at the moment, why do you think there is such a big appetite for Aus bands at the moment?
Hell yeah! It's hard to look past the King Gizzard effect when thinking about how interest around the world in Aussie psych bands has grown so much in the past 5-10 years. I think the band being so prolific has given fans an appetite for a regular turnover of new music, and with there being so many incredible bands in the scene around Australia, people just have to dive into the independent scenes of Sydney and Melbourne in particular, but all over the country really, to find another instant favourite basically on demand.
These days, psych-rock has almost become synonymous with Australia and some of our bands like Pseudo Mind Hive, Narla, Kimono Drag Queens and Foot are right at the forefront. I don't think there's been as much interest and musical quality in a scene since Seattle in the 90s, and long may it continue!
How do you think these acts would fare in Europe?
They'd absolutely clean up, no doubt about that from my point of view. There's such a great amount of respect back in Europe for the psych-rock scene that's been developed here in Australia over the years and I'm certain that there are a whole host of Europeans that are really jealous of some of these line-ups that Australians get to witness on the regular. I was one of them!
It's definitely a big frustration that geography is such a big obstacle to these incredible bands playing in Europe but hopefully the popularity of some of them is growing to the point that it will soon be possible for them to tour over there. One day I'd love to be able to bring a few of our bands back over to Europe with us for some shows, that's the big goal for me.
What words of advice would you offer to other people who are keen to start a label themselves?
Do it! There's so much I've picked up over the last few years but one of the most important things would be to only release the music you love. It sounds obvious, but fans will see through the bullshit in seconds and ultimately your enthusiasm for a release will help ears gravitate towards it.
Also, accept you won't know everything and don't be afraid to ask questions. I've leant on tonnes of other record label friends around the globe for answers and advice since we started, and I've had a lot of other labels lean on me. It's way more of a community out there than I realised before. Labels really are out there supporting each other, not competing to put the next one out of business.
https://www.youtube.com/watch?v=C9-UEDDpFQk
You've got a big year coming up next year. What are you excited about moving forward?
Yeah, it's well on track to be our biggest year yet, and I'm really excited to share the releases with everyone! Some of it is contingent on bands being able to get into a room and record with one another as COVID lockdowns in Melbourne and the UK hopefully start to ease, but it's looking like things will work out eventually. We try to support a different charity with each release too, donating 20% of the label's share of the profits every time, so I'm really excited to be able to give back in an even bigger way next year than we were able to in 2020.
We'll hopefully have follow-up albums to the incredible debuts that Sleeping Giant and School Disco handed us in 2019, as well as a new record from Foot, after their 3rd album 'The Balance of Nature Shifted' landed back in May. Foot are also celebrating the five year anniversary of their debut album in June next year, so we'll definitely do something special for that!
There'll also be a few surprises that we are just putting the finishing touches on but we'll probably see another Aussie psych favourite of ours returning to Copper Feast, plus some new friends coming along for the ride!
I always leave a bit of room in the schedule for some unexpected projects too, so who knows what else will happen…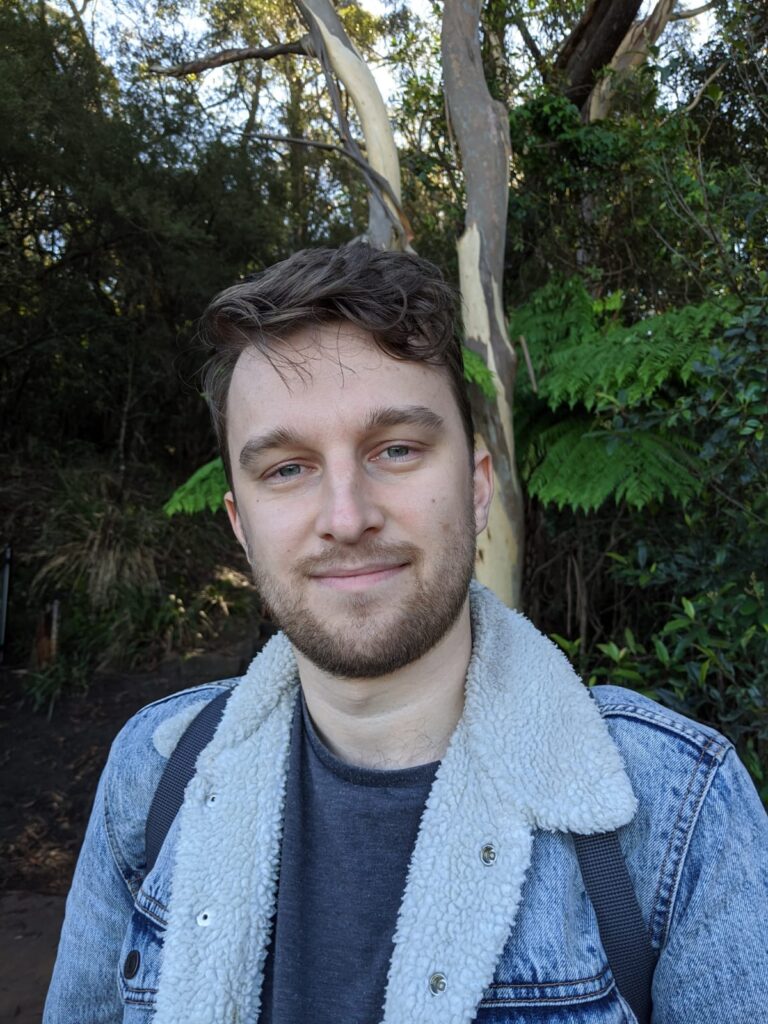 Callum, with a backpack full of vinyl.