Words by Claudia Schmidt // Images by Tom Wilkinson
Salarymen give us the first taste of their upcoming EP.
After emerging on the scene in late 2019, it was clear Salarymen were here to stay. The indie-rock duo won us over with a string of catchy singles, culminating in the release of their first EP last year. Now the pair are gearing up to drop their sophomore EP and they've offered up an infectious first slice with the upbeat (yet surprisingly dark) 'Young Guns'.
Still dripping with their signature 60s swoon, 'Young Guns' sees the band widen their pool of influence, drawing on the likes of modern indie mainstays like Mac DeMarco and Foxygen. Mixed by ARIA Award-winning producer Wayne Connolly (Boy and Bear, The Vines, Cloud Control), the track combines summery chord progressions with exuberant lead lines, alongside the signature vocals of Renee de la Motte and Thom Eagleton.
Despite the track's euphoric sonic palette, its lyrics delve into a darker subject matter. Written after the Robb Elementary School shooting in Texas earlier this year, 'Young Guns' explores the senselessness of the ongoing gun violence crisis in America, which forever alters the lives of so many kids.
Speaking on the track de la Motte described: "We tried to capture the wilful ignorance of politicians who continue to put profit over lives, despite outcry from the public and the rest of the world. The music is purposefully carefree and happy-go-lucky, because unfortunately that's the way the conversation seems to go each time a shooting happens, as if nothing can really be done to curb the issue."
"Kids should be in the prime of their lives – instead they're worrying about being shot at school." added Eagleton.
Accompanied by a video directed by the band's frequent collaborator, Todd Stephen Logan, the clip follows de la Motte and Eagleton on a blissful suburban afternoon which gradually turns sinister. Check out our interview with Salarymen below and catch them at The Botany View Hotel for the launch of 'Young Guns' on the 24th of September (FB event here).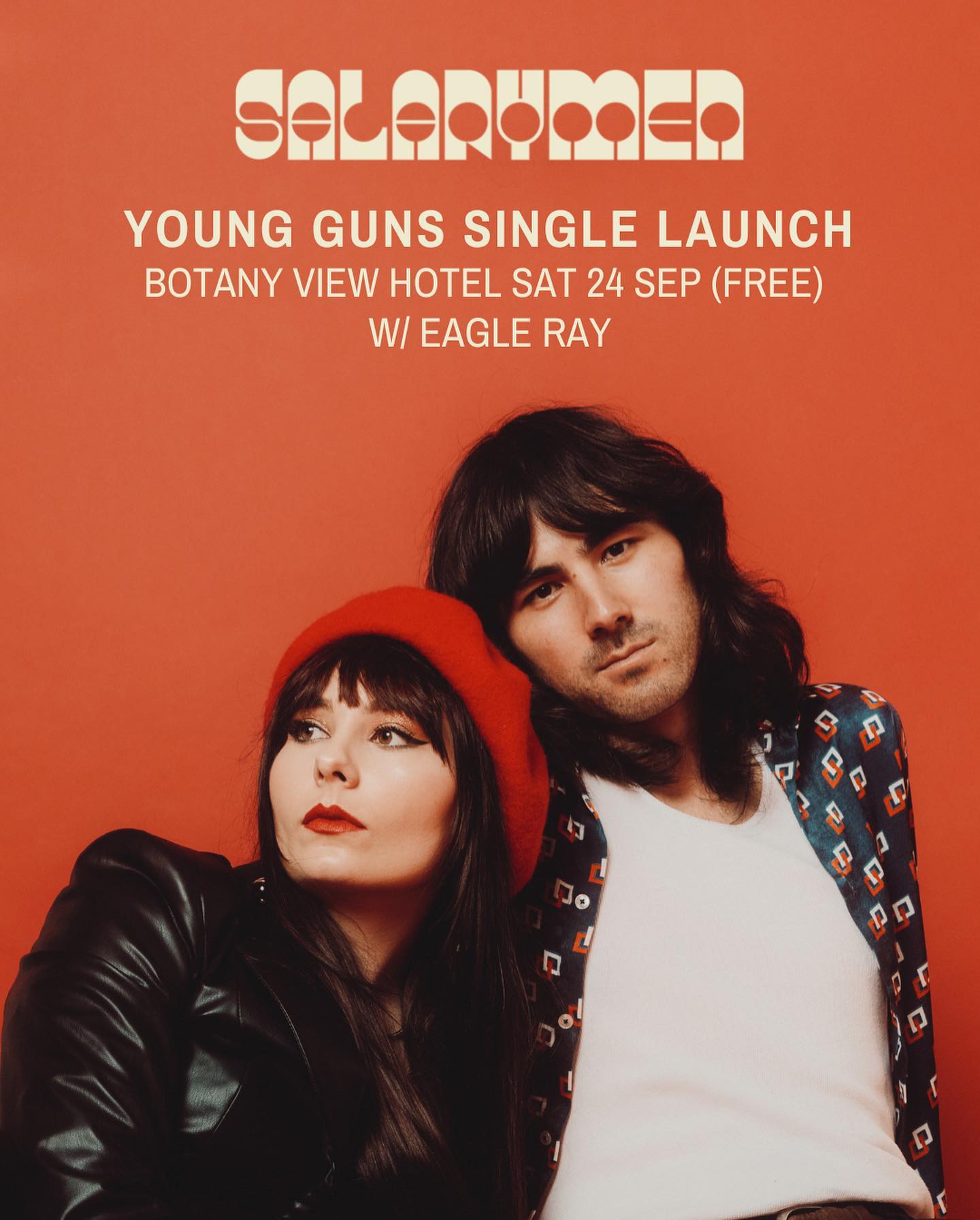 Firstly, congrats on your new release! 'Young Guns' seems like a track with a pretty strong message. Can you talk about that? What drew you to this particular theme?
Renee: We were working on this particular riff just as news came out about the shooting at Robb Elementary school in Texas. For the next few days, it was all we could talk about – we couldn't quite fathom that this had happened yet again. We were just trying to make sense of a pretty senseless situation, and Young Guns was born.
The track has an upbeat, summery feeling, but there's still a beautiful melancholy to it. What were some of the sonic inspirations for the track?
Thom: The vocal melodies take inspiration from bands like Arcade Fire and Alvvays, while the synths and other instrumentation bring in elements of POND and Foxygen. The main guitar riff in the chorus is also inspired a little by Mac Demarco.
Can you talk about the concept behind the video? What was the process of making it?
R: We wanted to harness that sense of fear that school kids feel every time they enter the classroom. They should be having fun, but they're worrying about being killed. The video has got a distinctly eerie feeling, like someone is watching on from afar and looming ever-closer. It's a pretty heavy topic matter, but it was a blast to make! We actually shot the bike sequences with the director hanging out the boot of his car, which the locals got a laugh out of.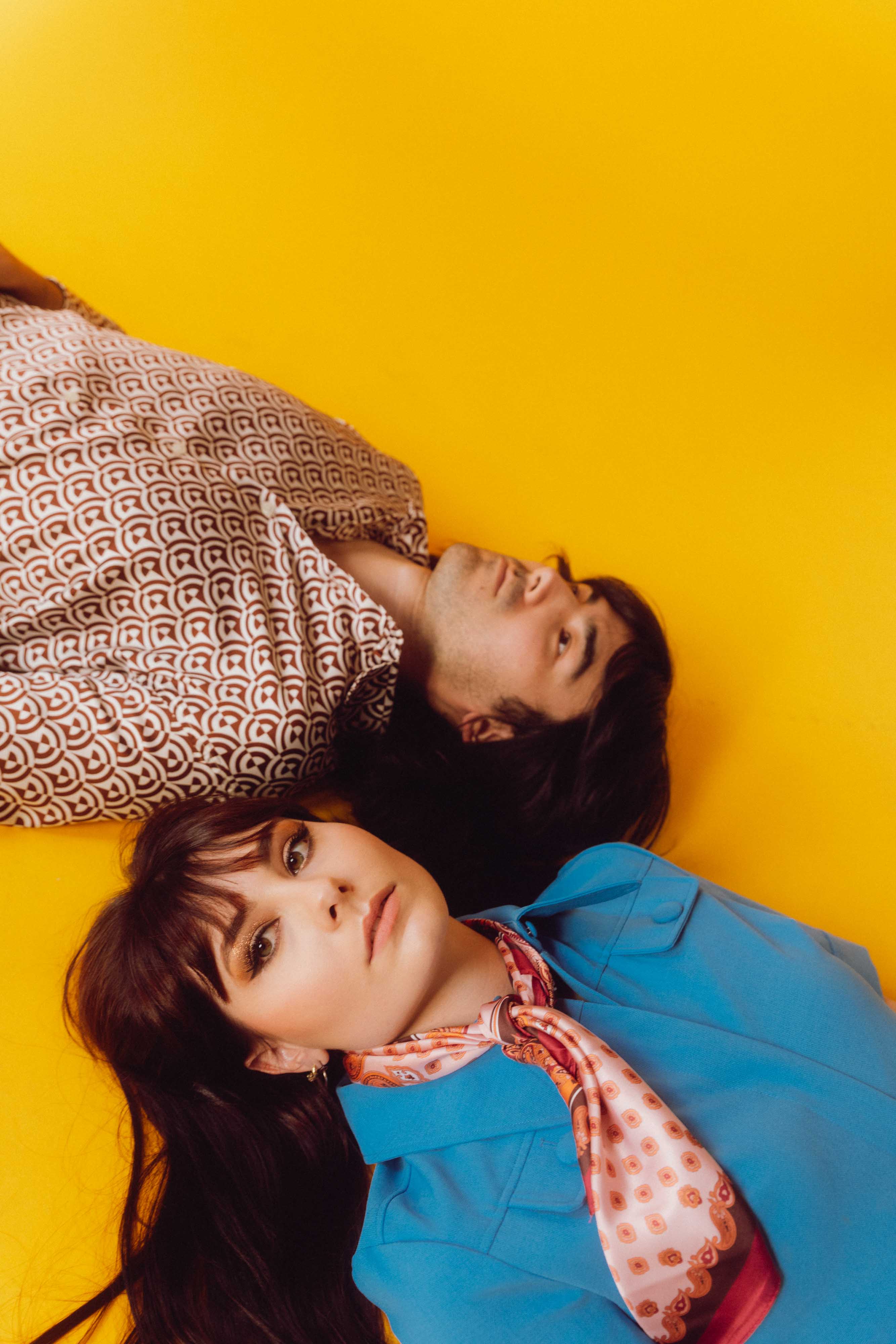 You worked with Sydney-based director Todd Stephen Logan. How was that?
T: He's our brilliant long-time collaborator and friend. We always give him about one week notice (to his dismay) and he still manages to pull something epic out of his hat. This time, we took a loose idea to him over Zoom and by the following weekend we were filming! I guess diamonds are made under pressure…
In your clip there's a scary person chasing you, what's the scariest thing you've seen at a park at night?
T: A naked man once chased me through the park near the Entertainment Quarter and let's just say I don't think his intentions were good.
You're touring Japan! How did that come about? Can I come too?!
R: A helpful Japanese friend and some willing venue owners, who were keen to have bands from out of town play on their stages. Also, please come on tour! We need a photographer or else we'll be forced to take photos with a selfie stick (and beg strangers for help with our substandard Japanese skills).
What are you most excited to do in Japan?
R: In the following order:
Have second dinners every night
Sing karaoke with a bunch of strangers
Soak in the onsen 'til steam is coming out of our ears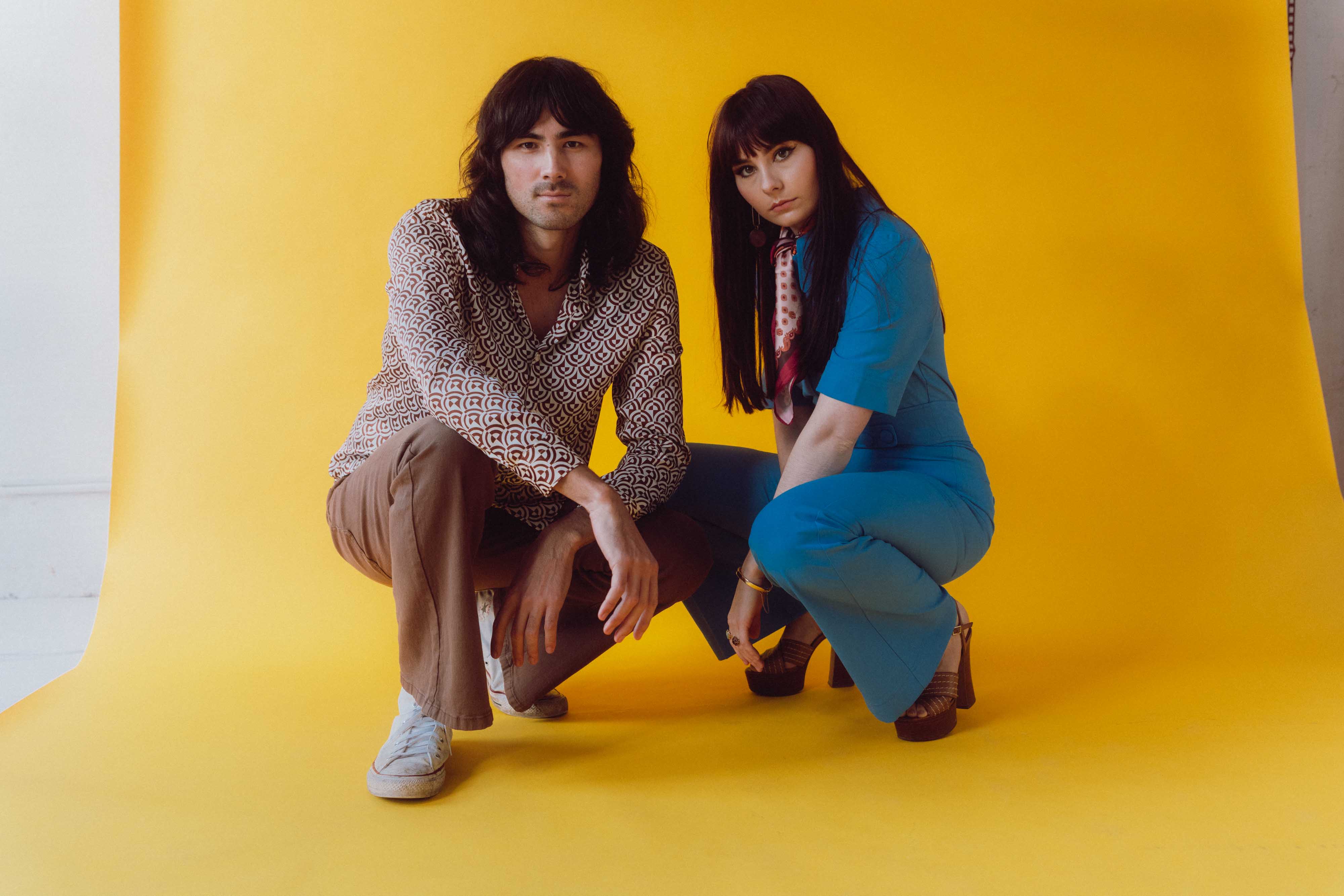 You guys are impressively productive, you're about to release your second EP in 2 years. Can you tell us a little bit about it? How do you feel you have developed as artists?
T: We're really excited for the EP to come out! Rather than one person bringing a song to the table, we definitely started collaborating a lot more. It can be hard at first to hand a song over and tell someone they can do what they like with it – but we tried that a bit more this time and had some great unexpected results. For example, we went down the psych / dream pop pathway with 'Rerun', which isn't something we've done before.
What's next on the horizon for Salarymen after EP 2
R: We're gonna take the EP on an Australian tour in early 2023, and then hopefully drop our debut album next year if all things go to plan!
If Salarymen was a snack, what kind of snack would you be?
R: Fried chicken from Family Mart (eaten specifically at 3AM).