Having already established themselves as one of the true boundary-pushers in local hip-hop, Sydney crew Triple One have just unveiled their latest chapter in The Naughty Corner EP.
The Naughty Corner was recorded on a farm in the small, unsuspecting town of Tarlo, located a short drive outside of Goulburn in regional New South Wales. There, the group locked themselves up in a makeshift studio that doubled as a shearing quarters in the summer, with the pure intention of unleashing hell in the booth and "rediscovering ourselves amongst the cattle." Eventually, ten tracks were crafted for The Naughty Corner before it was slimmed down to this adventurous six-track release, one that touches on everything from demonic trap music to glistening moments of pop.
Fresh off the release of The Naughty Corner last Friday, Triple One – comprised of rappers Marty Large and Obi, singer Lil Dijon and producer Billy Gunns – have reflected on their beer-soaked creative process in this track-by-track break down. The group will be hitting the Botany View Hotel on Friday, April 6th to launch the EP with a live show – see their words below, and make sure you catch them live next week. If their infamously chaotic gigs are anything to go by, this will be large: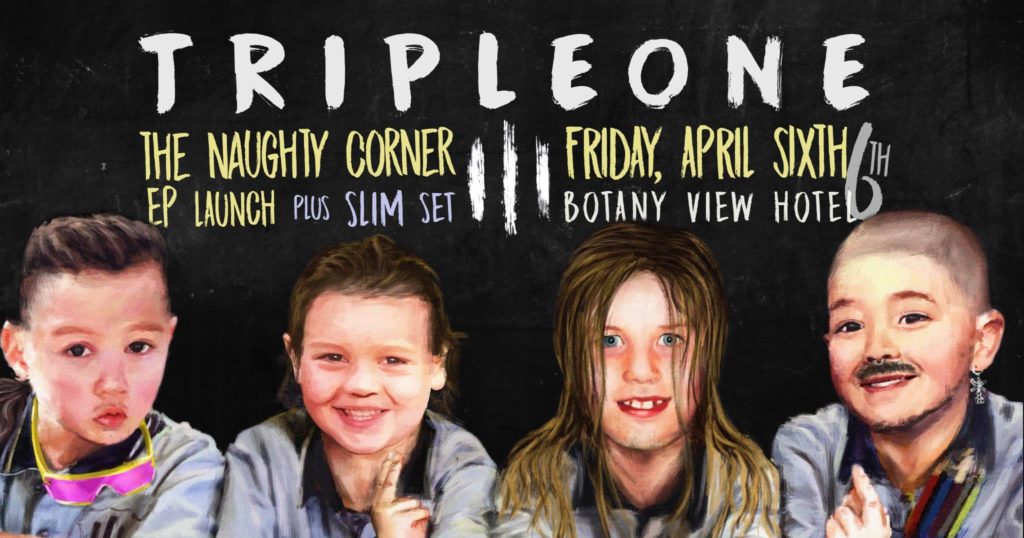 BLONGOS
This instrumental is fucked up good. Thanks Bill. It was a bit of a hassle to record though, we knew from the get-go we wanted back-to-back bars, but nothing clicked for 2-3 weeks. After serious reworking we figured out a verse/lyric pattern that was solid. This track was pretty much a bar-for-bar type of track rather than a story driven song. Energy. Marty pretty much spat everything on point instantly which helped the development, but serious props to production value of this one. You don't need a hook when the beat is that good.
TARLO
Tarlo is close to all of our shrivelled up hearts. Tarlo was the name of the area that we stayed in while recording the EP. It was firstly just a working title, but we all got a little bit sentimental, so the name of the track still remains. We wrote this when we were pretty drunk at about 9:00pm after a full 12 hour day or writing, producing and recording. I can't put to memory what we were working on in the day, but Bill just chopped this perfect loop and started laying drums. It was probably the most excited everyone was for the whole trip, we basically got pissed and listened to the beat on loop until early hours in the morning and wrote a shit load of material.
It wasn't until the next day and after 2-7 dud attempts, that we settled on the first hook that was written. Originally the hook was meant for Lil Dijon, but he was sent down from the heavens to inevitably spit a verse on this. Obi on intro and hook, Marty with the artillery at end. We kinda knew this would always be most pop-focused track, but had no real intention of doing so. It's just what sounded best to us over this type of beat, and we love it.
REDLINE REAPER
The 'fuck ya whole team' track. This song took forever. Back and forth writing and recording, about 6 hooks where trashed until Turquoise Prince, on a glorious bender, hummed the melody that now is. All of Obi and Marty's vocals where tracked on the farm, so we knew what was going on with the verses, just the hook was tough to nut out.
This track definitely stands up internationally, but we wigged out when recording our Body The Booth clip, Huskii or Brendan put on this new release on World Star with the exact same sample. Then after the release, we found out Flatbush had already used the sample in 'Bath Salts' like five years ago. Bill found the original sample on some backwoods sampling/sound program. So like, fuck me, that sucks but whatever. Shoutout Flatbush.
LATEX
The 'end sour with your chick but everything is gonna be alright again' song. Bill actually made the beat and came up with the hook on his laptop whilst driving home one day. Everyone came to the garage the next day, and Bill showed us a lil' demo he had recorded, and that was that.
This was just before our trip to Tarlo, so that was high up on the 'tracks to do' list. We all got writing and then Dijon spewed his mustard on the mic. We originally made this as a kind of interlude track; it had the hook, the first verse and was more of an instrumental. Adit from Horrorshow actually hit us with the idea to make it into a full length song, and we're very glad he said that. Happy as with it.
BOBBY SOX
One of the more niche tracks we had up our sleeves. It's a very different style to what we usually run, whatever that is. The bulk of this track came together really quickly actually; beat was fat, verses were fire, the hook took a little longer, but with the Dijon vocal it was sorted. We still felt like the track was strong but missing something, there was talk of rewriting or mixing it up. The cherry on top ended up being Bill's cousin Cam laying some double bass over it. Took the funky level to 1 million. Girls dancing around in bobby socks. Mad.
SUPER MASSIVE ATTACK
Dark. We wanted to make this song cinematic as, like you're in a horror movie or something. Bill had the loop ready and pieced together the beat down in Tarlo. This one was pretty instant with the hook as well, slight tweaks and it was working. Lyrically it's a personal favourite, some moody shit. After tracking all the vocals and giving it a quick mix, we had it on repeat, smoked bulk darts outside and had a few wind-down tins, it's safe to say everyone was pretty happy with it.
Not until post-production did the song go to the next level, again Bill's cousins Cam and Claire came around and laid those strings throughout which send a chill down ya spine.