Image via David Herington //
To celebrate the release of their highly-anticipated sixth studio album, R.I.F.F., we've made DZ Deathrays our Artist Of The Week…
DZ Deathrays don't ever slow down. Releasing their sixth studio album R.I.F.F. and announcing a mammoth triple j-presented album tour from July through to September (along with a Sydney album launch party tonight), the Brissy punk icons continue to prove they're a force like any other.
A testament to their enduring creative integrity and ambition, R.I.F.F. is an album that captures the essence of DZ Deathrays' spirit. Embodying their singular objective of creating music for the sheer enjoyment of it, R.I.F.F. only solidifies their position at the forefront of the national punk scene.
Working alongside producer Nathan Sheehy, the band – made up of Shane Parsons, Simon Ridley and Lachlan Ewbank – have created simultaneously their most experimental and immediately resonant record, drawing on an array of influences and life stories as they crafted the album while separated across three states.
The 13-track album spans an exhilarating amount of territory, from the hard-hitting punk album opener 'Paranoid' (which recently took out the 'Heavy' category at the QMusic Awards) to the quiet moments of acoustic guitars and sparse piano on the epic 'King B', to the scratchy doomsday guitars of 'Tuff Luck.' As always, the band manage to stay true to the thing that makes them so great: a refreshing humility, a can-do attitude and an uncomplicated desire to do whatever they want (and enjoy it).
https://www.youtube.com/watch?v=HRxS_3kyv-w&ab_channel=DZDeathrays
There's no shortage of attitude across the thirteen tracks, paired with a fierce critique of the world around – from 'My Mind Is Eating Me Alive', which casts its gaze on surveillance and the media; to 'Eat You Up', which deals with imposter syndrome; and 'No Talk', which was inspired by watching the Black Lives Matter movement unfold.
But there are also moments of pure joy and gratitude, like in 'Hope For The Best', where Shane sings: "I'm just talking about my life… years playing music, feeling sore and at times worn out but still loving it and I can't think of doing anything else."
https://www.youtube.com/watch?v=xl9NWmw_gWg&ab_channel=DZDeathrays
Elsewhere, the band describe that 'Shadow Walk', is for "anyone who's ever felt like there's something that's always hanging over their head or follows them no matter what they do in their life" – proving their brand of punk/hard rock is, as always, for anyone and everyone.
The band are celebrating the release with a free album launch party, which is going down in Sydney tonight at Crowbar (head here for info and to secure your spot). Then they'll be hitting the road for a mammoth 20-date tour starting in July, which will see them visit plenty of locations across NSW, VIC, QLD, WA and SA, with support from Press Club and dust. You can find all the tour dates and ticketing info below.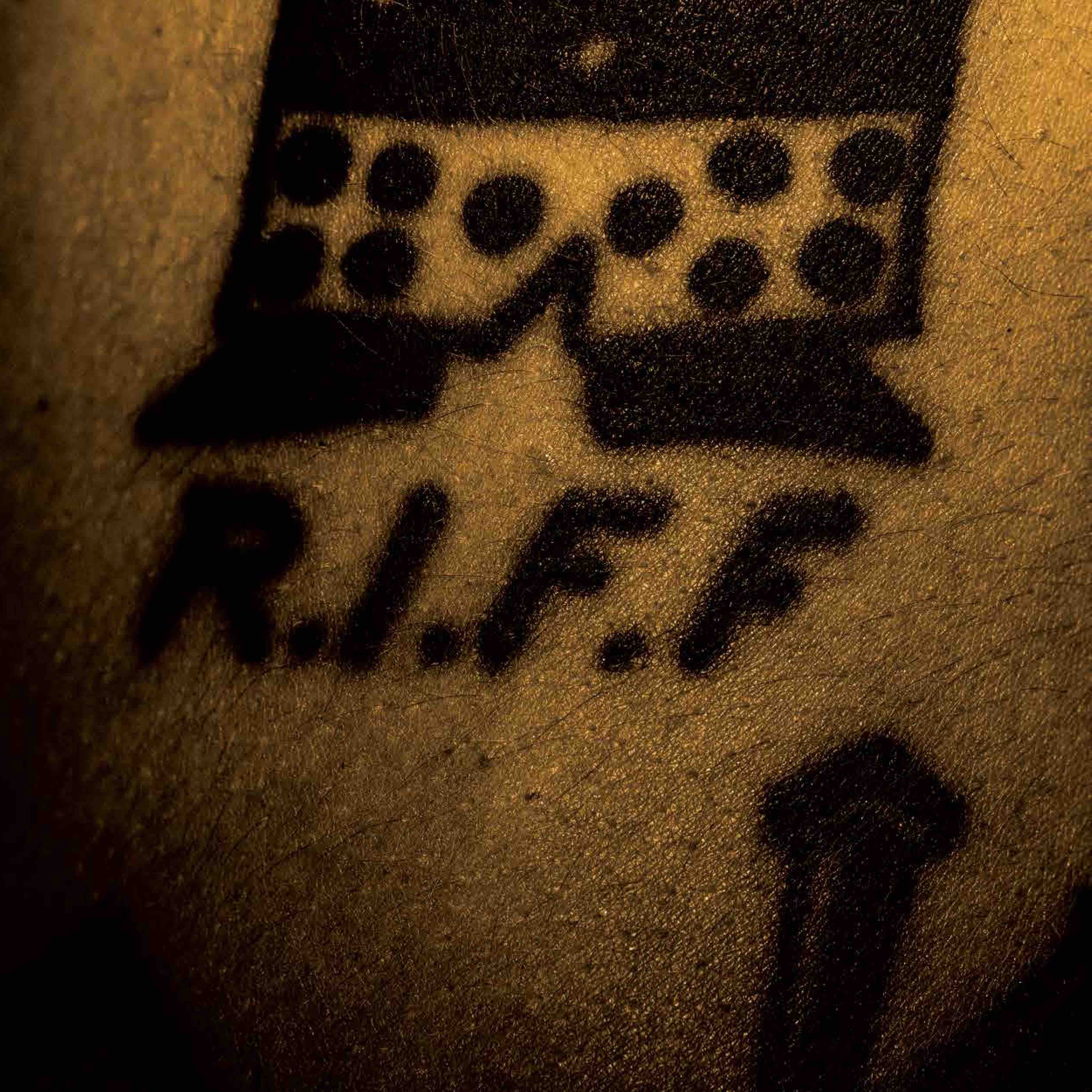 In the meantime, R.I.F.F. is out now, grab your copy here.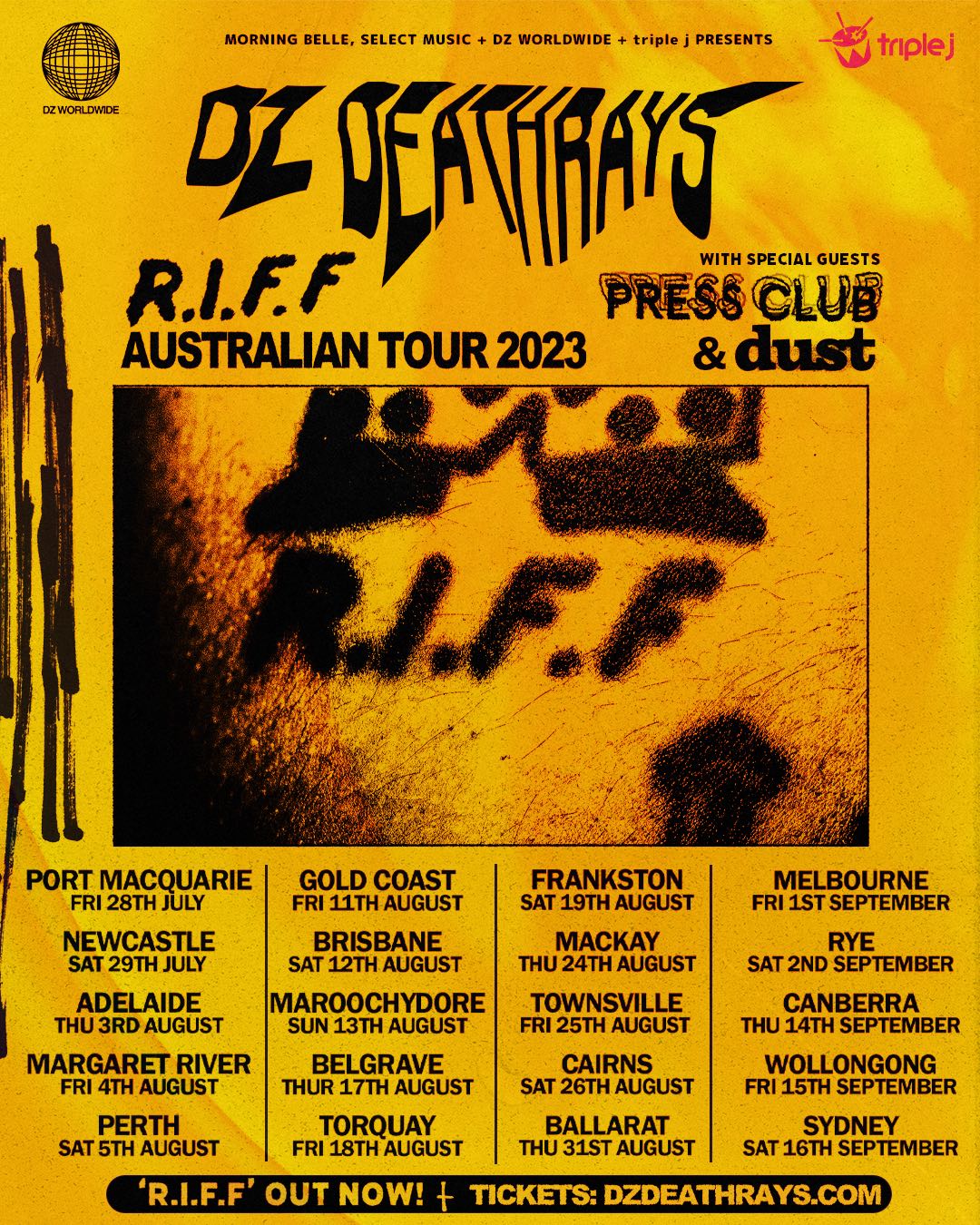 DZ Deathrays Australian Tour Dates
Fri 2 Jun – Crowbar – Eora / Sydney
Sat 10 Jun – Tidal Sounds Music Festival – Gumbaynggirr Land / Coffs Habour
Sat 22 Jul – The Station – Ngarigo Land / Jindabyne
Fri 28 Jul – Finnians – Guruk / Port Macquarie
Sat 29 Jul – Newcastle Hotel – Awabakal Land / Newcastle
Thu 3 Aug – Lions Art Factory – tarndanya / Adelaide
Fri 4 Aug – The River – Wooditup / Margaret River
Sat 5 Aug – Rosemount Hotel – Boorloo / Perth
Fri 11 Aug – Vinnies Dive – Ngarang-wal Land / Gold Coast
Sat 12 Aug – Princess Theatre – Meanjin / Brisbane
Sun 13 Aug – Solbar – Murukutchi-dha / Maroochydore
Thu 17 Aug – Sooki Lounge – Wurundjeri Land / Belgrave
Fri 18 Aug – Torquay Hotel – Wadawurrung Land / Torquay
Sat 19 Aug – Pelly Bar – Bunurong Land / Frankston
Thu 24 Aug – Seabreeze Hotel – Yuwibara Land / Mackay
Fri 25 Aug – The Warehouse – Bindal and Wulgurukaba Land / Townsville
Sat 26 Aug – Edge Hill Tavern – Gimuy / Cairns
Thu 31 Aug – Volta – Wadawurrung and Dja Dja Wurrung Land / Ballarat
Fri 1 Sep – Corner Hotel – Naarm / Melbourne
Sat 2 Sep – Haba – Boonwurrung and Bunurong Land / Rye
Thu 14 Sep – The Basement – Ngunnawal Land / Canberra
Fri 15 Sep – Unibar – Dharawal Land / Wollongong
Sat 16 Sep – Factory Theatre – Eora / Sydney
Tickets and info here.