There was this weird rumour floating around on the Internet that an asteroid was going to collide with Planet Earth on December 24, 2015.
Unfortunately, Christmas Eve didn't mark the extinction of humanity, which is a real shame because I hate making plans for New Year's Eve. Usually, I spend my time feeling inadequate in a dark corner of a house party, praying for another godforsaken night of crying alone in my bedroom while listening to Morrissey records. However, this New Year's Eve marked one of my more enjoyable outings, as I drank Jack Daniels on various balconies across Sydney in a whiskey-fuelled farewell to a spectacularly forgettable and pointless year.
New Year's Day marked a new chapter: A time when all of your worst mates clogged up your Facebook feed with pseudo-emotional statuses detailing every event that occurred in the past 12 months, and predicting what's in store for 2016 as if they've got a crystal ball shoved up their ass. After a wonderful morning of headbutting my laptop screen in frustration, I left the house for Field Day and broke numerous codes of common decency by drinking two Long Island Ice Teas at a pub in Chinatown.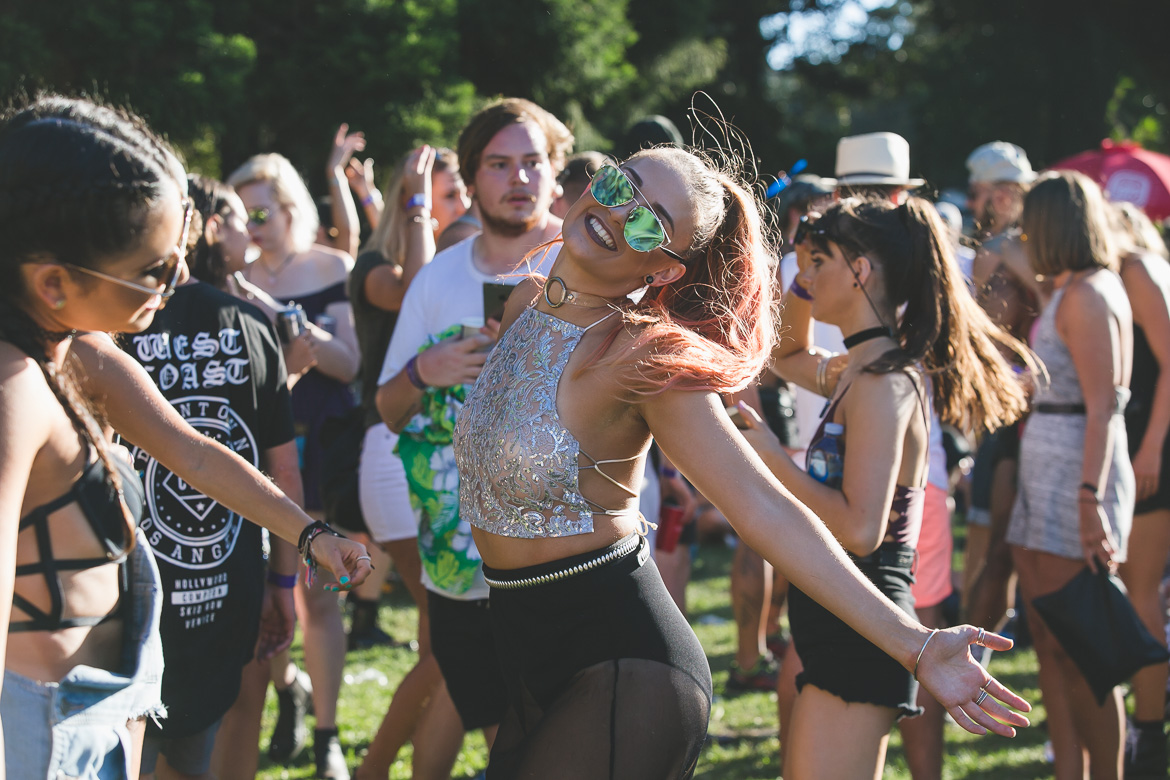 After a pleasant stroll to The Domain – including a pit stop at Foot Locker on George St – I arrived at Field Day. Of course, festival fashion was paramount, and there were enough Stussy cut-off shirts here to clothe a small Pacific Island nation. There was also someone wrapped in an Australian flag, colour co-ordinated tastefully with an occa-as-fuck bucket hat – obviously confusing Field Day in 2016 for the Big Day Out in 2003 or the Cronulla Riots in 2005.
All of the coolest attendees from the Eastern Suburbs were wearing wide-brimmed felt fedoras and akubras straight from the Bondi blogger's manual, providing premium sun protection and maximum Instagram swag points. If an asteroid doesn't destroy Planet Earth next Christmas Eve, I am definitely asking Santa to gift me a Bondi hat. Oh yeah, I forgot to mention that one guy was wearing a Brazzers shirt and that pornography merch may be the hottest look of 2016. If you wear enough Brazzers shirts you might score a date with someone who kinda maybe looks like Alexis Texas. For a more succinct festival fashion wrap-up, please visit Brown Cardigan.
Now, onto the music because I guess that might be important. The first act that graced my earholes was Skepta, who took the stage for his biggest Australian show yet – off the back of an international grime explosion that has every kid in Sydney dressing like they're from South London. Relax bros, just wear a Bondi hat. The BBK don took the stage with DJ Maximum, launching into 'That's Not Me' complete with dramatic rewinds in true OG UK fashion.
From there, he dropped 'Ace Hood Flow', Plastician collaboration 'Back Then' and international banger 'It Ain't Safe' – and watching thousands of Australians yell "RING RING PUSSY IT'S YOUR MUMMY ON THE PHONE" in a B-grade English accent was quite a spectacle. From there, he wound things up with a rendition of JME banger 'Man Don't Care' and of course, his definitive 2015 turn up anthem 'Shutdown'. Skepta lived up to his omnipresent hype at Field Day in magnetic fashion.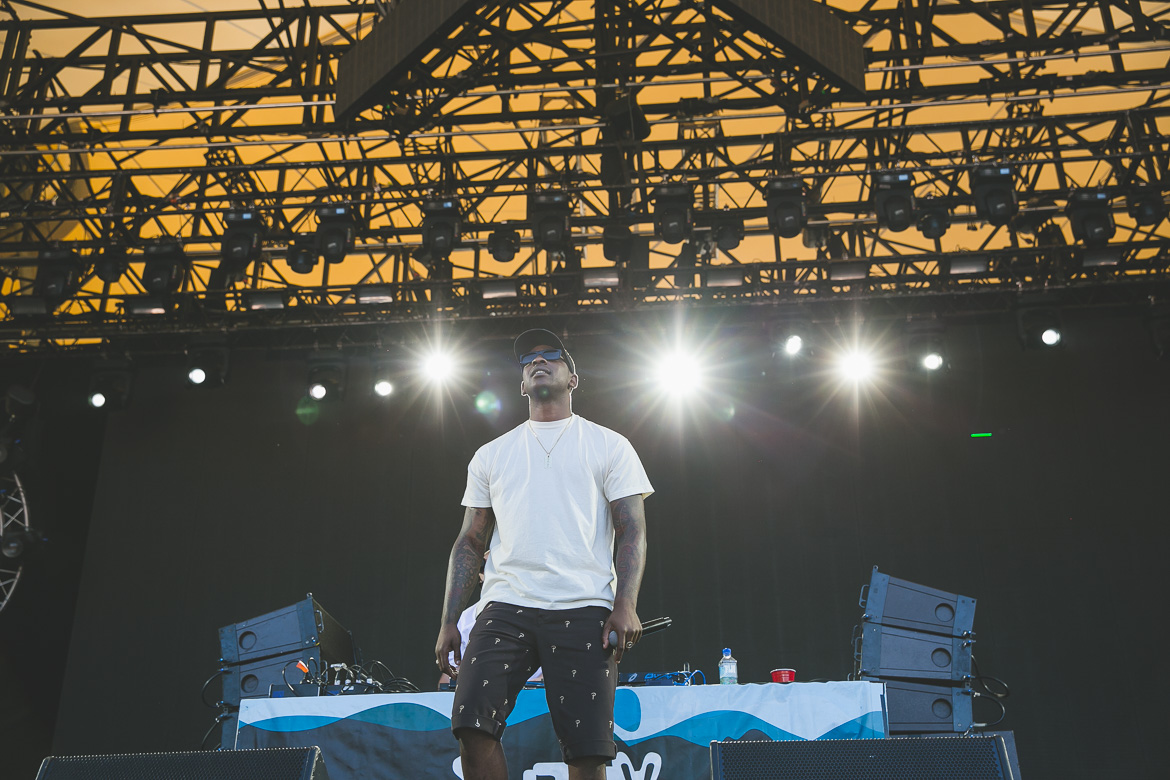 Things didn't ease up with RL Grime coming in hot for a ~controversial~ late afternoon set. First of all, just know that he dropped brostep favourite 'Cinema' by Skrillex, resurrecting my fond memories of vomiting in the bathrooms at Fake Club in 2011. This was mashed effortlessly with Rustie's massive 'Slasherr', which was only topped by a teasing snippet of Rick Ross' modern fave 'Sanctified'. A gushing sea of adrenaline arrived with his own remix of Chief Keef's 'Love Sosa', as well as a harder take on Calvin Harris' house gem 'How Deep Is Your Love'. Shouts to Gigi Hadid.
Faces were melted, brains were fried and a shitload of people turned up for RL Grime. Can you spot yourself in the picture below? At this exact moment there were at least seven punters searching for their mates and calling them to leave Voicemail messages like "YEAH NAH I'M LIKE 13.7 METRES TO THE RIGHT SIDE OF THAT TREE OI I'M WEARING A BONDI HAT CAN YOU SEE ME BRAH?"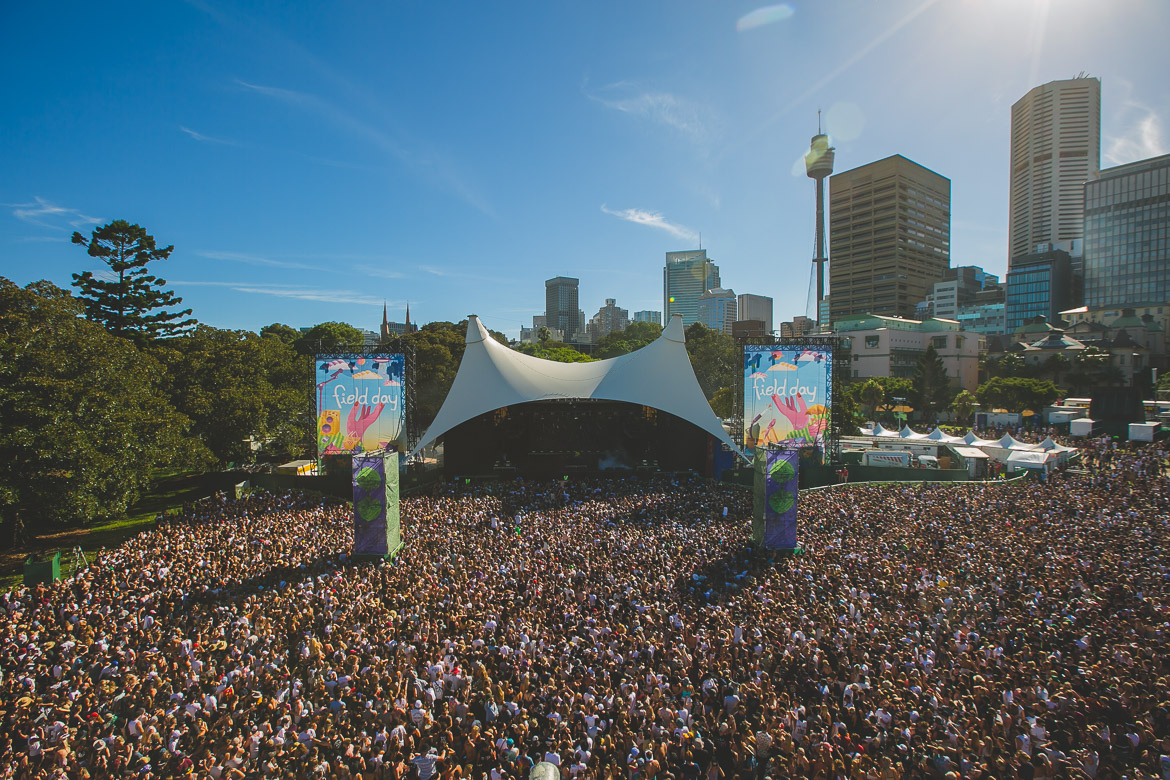 Snakehips delivered the sing-a-long of the day by closing their set with the communal warmth of 'All My Friends', draping a sonic blanket over the swaying audience who sang Tinashe's hook with enthusiasm. Prior to that, Snakehips dropped 'Crank That' by Soulja Boy which somehow sounds better in 2016 than it did when it was released eight years ago. Classics never die. Around this time someone yelled out 'I SMELL BACON' and got staunched by a police officer.
After all that talk about bacon, I got a little hungry so I decided to visit Mama Linh's Vietnamese food stall – and despite offering a scrumptious Banh Mi, I really wished that there was a pho on the menu. Am I the only one who wanted to sip on an aromatic beef broth while watching Boys Noize? Shouts to Mama Linh for providing some catering diversity that made me feel right at home in Cabramatta.
We decided to end the day with a bang by witnessing Canadian wub-wub bros Zeds Dead. They kicked things into the next gear by dropping 'Lithium' by Nirvana, which was an absolute Godsend for all the sellouts like myself who used to be into punk rock – and continued with bass-infused renditions of Kanye West, French Montana, OT Genasis and Drake. Still, the highlight arrived when they dropped the Eurodance banger 'Better Off Alone' by Alice Deejay, transporting everyone to an effervescent Dutch nightclub with strobe lights and choreographed dancing circa 1999.
Field Day provided a wonderful way to kick off 2016, but since there's nothing to do until 2017's edition, we really need this year to be over. Excuse me while I sleep for three million hours and reminisce about how great my steak and peppercorn pie was on the way home.