Just in case you have a warped sense of priorities and haven't been paying attention to the seemingly endless stream of nostalgic R&B tours hitting Australia, then we have some good news: Ginuwine is touring the country for the first time ever later this month!
Yeah, we know: 'Pony' is Ginuwine's signature calling card, deemed a classic since its glorious inception back in 1996. The moment 'Pony' hits the speakers at any given club, drunk white girls who have been getting loaded on Bacardi Breezers will squeal incessantly before WhatsApp-ing their friend Becky to tell her to come to the dancefloor. Unfortunately, Becky is most likely vomiting in the bathroom or engaging in sub-par banter with some sleaze in an Industrie button-up and gelled hair.
Still, there is much more to Ginuwine than just the hypersexual gyrating anthem that is 'Pony'. He has released a total of nine albums, with another one called The Bachelor But Wiser coming this year – the spawn of his highly-anticipated reunification with production legend Timbaland. Ahead of his tour, we decided to name five other gems you should get acquainted with before Ginuwine hits our shores. Catch us in Sydney wearing full white suits at Marquee, presented by R&B Superclub: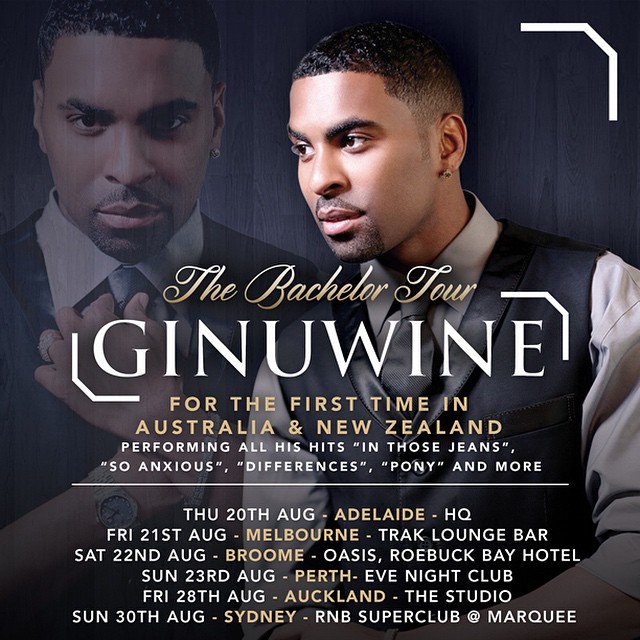 'THAT'S HOW I GET DOWN' FT. LUDACRIS
https://www.youtube.com/watch?v=rFUELzo1P1k
It's a scientific fact that every track sounds 83635 times better when Ludacris jumps in for a guest verse, especially with Timbaland on production. Remember this Justin Bieber banger where Luda jumped in for some PG bars? We're also pretty sure that the world stopped turning when Enrique Iglasias and Ludacris collaborated on the subtly-titled fistpumping anthem 'Tonight I'm Fucking You'.
'IN THOSE JEANS'
https://www.youtube.com/watch?v=2WiK74i0bms
Another lyrical gem from Ginuwine, where he ponders the question that has plagued mankind since the dawn of time: "Tell me is there any more room for me in those jeans?" Clearly an inspiration for Chingy's eerily similar 'Dem Jeans', Ginuwine's love ballad to both curvaceous women and quality denim garments still rings true to this day. Shoutout to replica Baby Phat jorts from Paddy's Markets.
'WHAT'S SO DIFFERENT?'
https://www.youtube.com/watch?v=e8plaDk7M94
In this video, Ginuwine dons a suit and tie, but breaks free from the strains of a nine-to-five by showing some serious choreography that would make kung-fu masters quiver in their boots. The video also features Asian scientists looking through a microscope and a butcher chopping meat for some reason. Find all your dancefloor inspiration for the incoming tour here.
'SILENT NIGHT'
https://www.youtube.com/watch?v=HGiSolcc4zA
Yep, little did you know that Ginuwine had a motherfuckin' Christmas album up his sleeve that he dropped back in 2011. Could you imagine how turnt up Christmas Carols would be if Ginuwine got on the microphone and delivered a silky rendition of 'Silent Night' at Coogee Beach? You could even get Beach Burrito afterwards. Also featured on this album: 'Joy To The World'. Baby Jesus in the manger is cheering.
'HELL YEAH (REMIX)' FT. R KELLY, BABY, CLIPSE
https://www.youtube.com/watch?v=GnWGh3JDPNg
Holy hell, what a lineup that we have on 'Hell Yeah', which is basically an anthem for the table service section of the club. Cash Money don Baby aka the hand-rubbing master Birdman recently got implicated in a plot to kill Lil Wayne or something, but he recalls happier times by spitting a brief verse on this banger. One of modern rap's greatest duos in Clipse also get involved, and R Kelly? We don't need to say any more.