In over half a century (or more, depending on how technical you want to get) the world of professional wrestling has produced icons, legends, and memories that will live on in pop culture for years to come. From the bright red and yellow of Hulk Hogan's spandex to Ric Flair's beautifully ornate robes, or to the eye brow raising antics of The Rock, these images have been burned into the collective imagination of young diehard fans watching around the world.
While many fans remember watching our favourite matches, they also remember the merchandise they bought. In this writer's case, the green and black DX hockey jersey his parents bought him.
Wrestling merch has always been an essential part of the industry, whether it be indie superstars hawking their home-made goods from the back of their Honda Accord's to the WWE printing thousands of "Austin 3:16″ tees daily. For the wrestlers, it's a way to make extra income. But for fans, it's a way to continue the experience once the show has ended and the lights have dimmed – to possess a small part of aura and excitement that these larger than life characters exude in the squared circle.
Over the last few years' vintage pro-wrestling merchandise selling and collecting has been on the rise, with fans looking to get their hands on designs of their favourite wrestlers from their favourite, or any generation. And with the endless items, apparel and collectables out there, the search is on for the most niche of paraphernalia.
We caught up with "The King Of The Ring Merch" Ted Hirsh, who has one of the biggest collections of pro wrestling goods and an equally large following, to talk everything surrounding the world of pro-wrestling collectables and resell culture.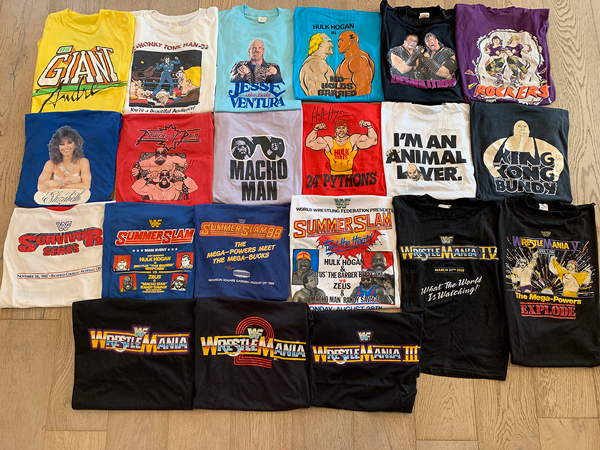 How did you originally get into the pro-wrestling merch game?
I have been buying vintage wrestling since 05, I got @wrestling4sale and the website at the end of 2015 and started posting a few of my items here and there and cool stuff I would find on eBay for most of 2016. Once I started buying people's entire collections in the summer of 2016, I started selling my items exclusively and activated my website.
Going through the vast array of merch, do you have a particular favorite piece? Which wrestler do you think had the most consistently great designs?  
Ric Flair has the most consistent, great items from 1984-1998 (best run was 85-93 for his merch, four horsemen stuff included)
My favourite shirts I own are The Bash at the Beach 1996 shirt (for historic reasons), The Starrcade 85,86,87 Collection, The Wrestlemania 1-14 Collection, 1990 Macho King Shirt, The Royal Blue 1988 Miss Elizabeth shirt, 1988 Honky Tonk Man shirt.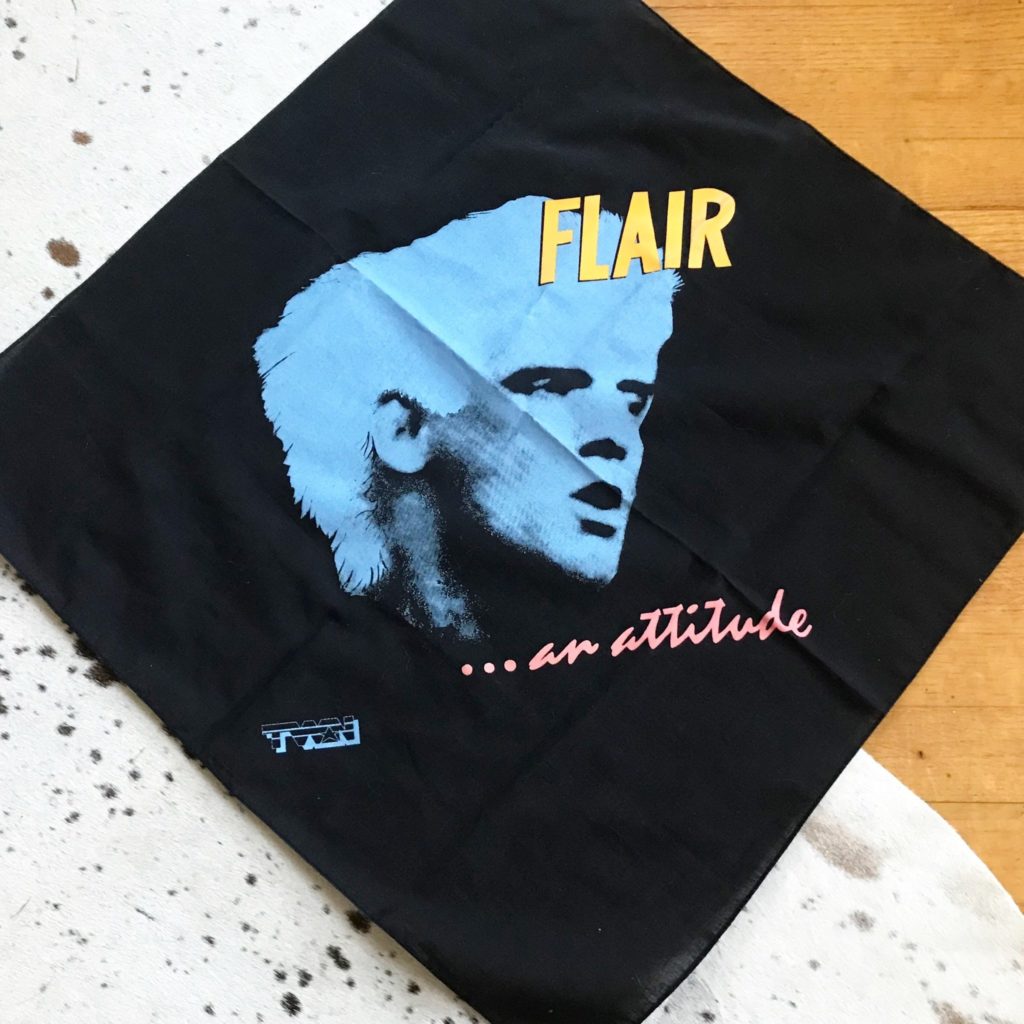 Whether it exclusivity, iconic designs, or its connection to a niche moment in pro-wrestling history, there is an array of merch out there for people to find and become obsessed with (some of the best stuff being on your site). What do you look for in a really great piece of merch?  
Scarcity, design and fit. Obviously, I need to care about the wrestler, tag team or event associated with the piece.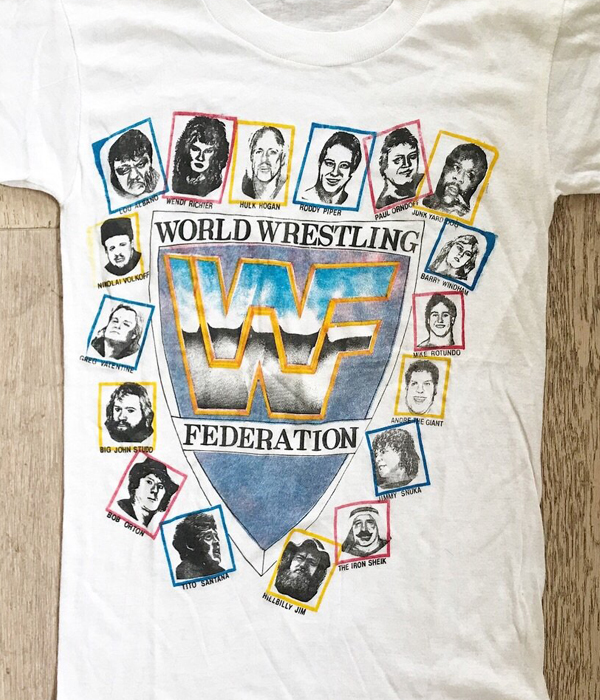 If you had to pin point a moment in pro-wrestling history that converted you to fan for life, what would it be? Does it still illicit the same emotional response from you? 
Finals of the Wrestlemania 4 tournament, Wrestlemania 6 main event, Bret Hart vs Mr. Perfect Summerslam 1991, The start of the  new world order at BATB 96.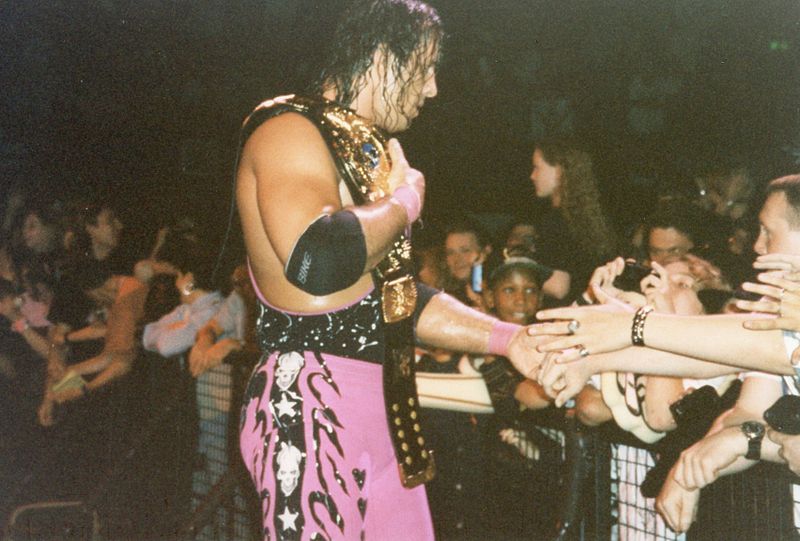 If you've ever been online and been curious about what fans think about pro-wrestling, you will know that opinions are just as divided as they are feverish. What is it about pro-wrestling that gets such passionate and volatile responses from people?  
A majority of wrestling fans are competitive and with that they try to be the "biggest fan." I appreciate when fans just like what they like and accept the fact that people besides them are allowed to like wrestling. It really shouldn't be a competition about who likes it the most…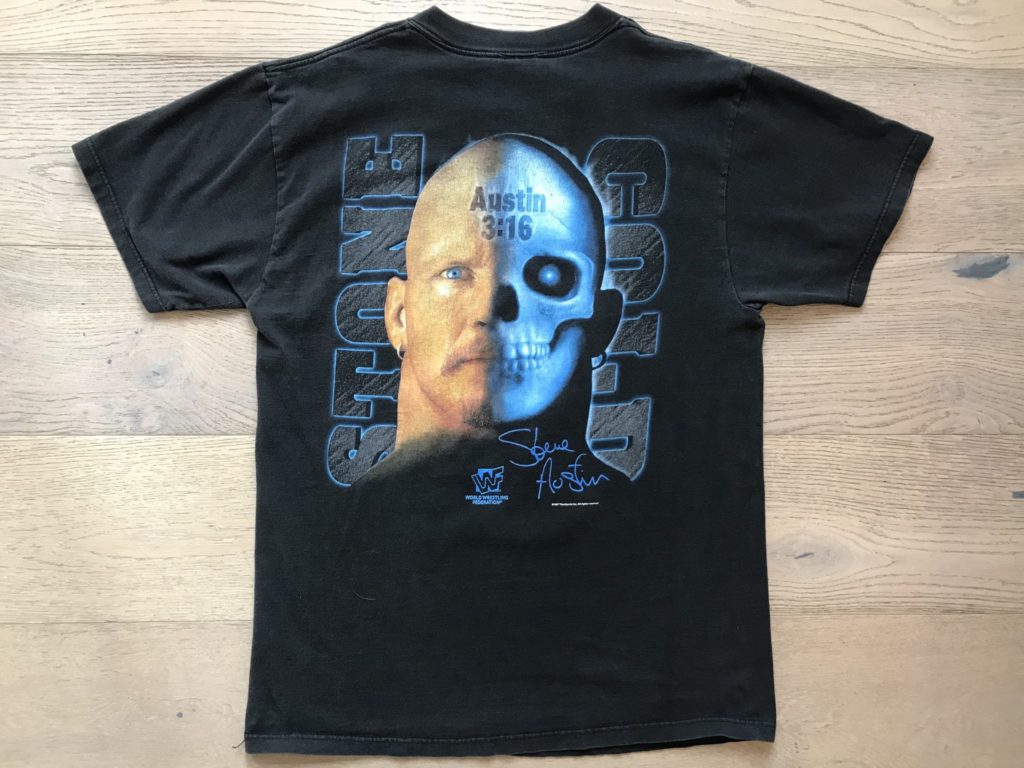 Currently it seems like there is a resurgence in referencing pro-wrestling's past. From Migos making a song based on Ric Flair's lavish lifestyle (woos included), Stone Cold Steve Austin becoming the most meme-able wrestler ever, to Connor McGregor doing the Vince McMahon money strut around the octagon. What is it about pro-wrestling's past that makes it irresistible not to indulge in? 
Wrestling characters and/or personalities can be larger than life personas without consequence, because it's entertainment. Chances are, in reality, if someone acted like the Steve Austin character, they would be in jailed or in rehab with several DUIs and fired from their careers for assaulting their bosses. Because we, as fans, get to live vicariously through these characters and watch them act out idealistic scenarios like beating up a boss, celebrating with beers and getting cheered by thousands of people at 8pm on a work night, we tend to want to be these characters in our daily lives.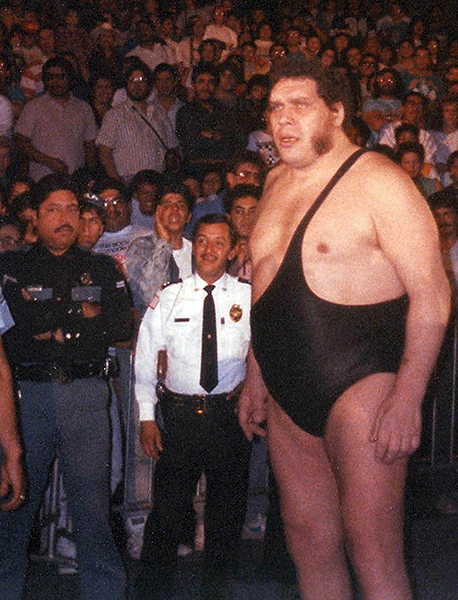 Find more info and shop for your favourite vintage items here.
Follow @wrestling4sale