Brolga has always had an inkling for the whacky and surreal.
Australian-born artist Brolga used to spend copious amounts of his childhood on road trips across Australia, starting from Queensland to the Northern Territory and back. Staring out into the open terrain, it was there that Brolga's imagination would begin to churn with the characters and aesthetics he would later become renowned for.
Brolga is currently based out of New York and spends his days envisioning images of a world drenched in fluorescence, vibrating between the machinations of daydreams and whispers of the reality. As you look through his expansive portfolio, you are welcomed by a plethora of wonderful characters including watermelon-coloured cyclists, dancing chickens and cheeky creatures with lots and lots of eyes – and that's just to name a few.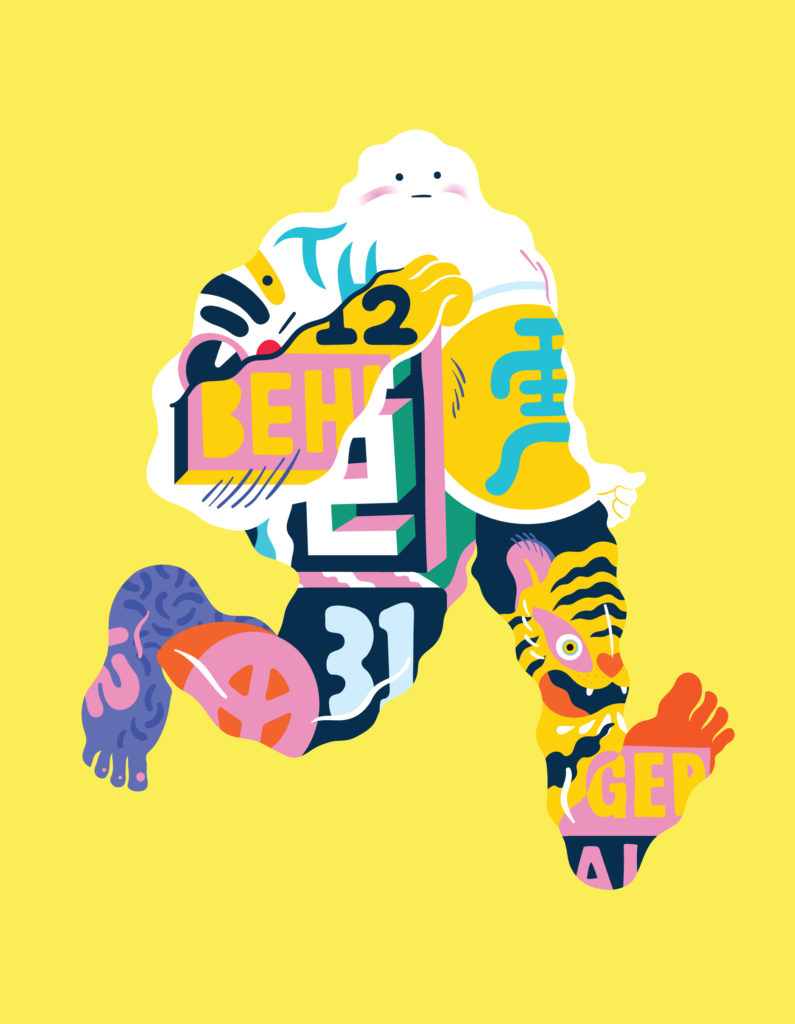 Do you have any specific memories or moments growing up that sparked the idea of having art as driving force in your life?
My parents were entrepreneur-types and my family used to move around a lot when I was growing up. Every few years we would pack up the house, the horses, and the farm and drive everything to the Northern Territory to set up there before moving back again. It was driving through the desert on one of these long car trips that, purely out of boredom, I discovered I could draw. I think I was drawing a jet plane but even as a six-year old it felt like a mini epiphany!
Making the move to New York, how did such a big move change your outlook on creativity/art?
I moved to New York when I was 28. Up to that point, I had really grappled with navigating my life into a position where I could actually use my creativity. It was frustrating in a lot of ways. I hadn't even considered it a realistic option to be an artist. I guess the artist life had always been a mirage to me up to that point. I could see it in the distance, but it was hard to reach and not quite tangible. In the end I chanced on some short courses and it just felt right.
I moved to New York to study art full-time. Knowing it was my only chance, I stopped partying and all other distractions and poured all my energy into making work. The hectic, frenetic nature of New York probably just threw fuel on the fire, everyone's so crazy hard-working and driven there that it's hard not to be caught up in it.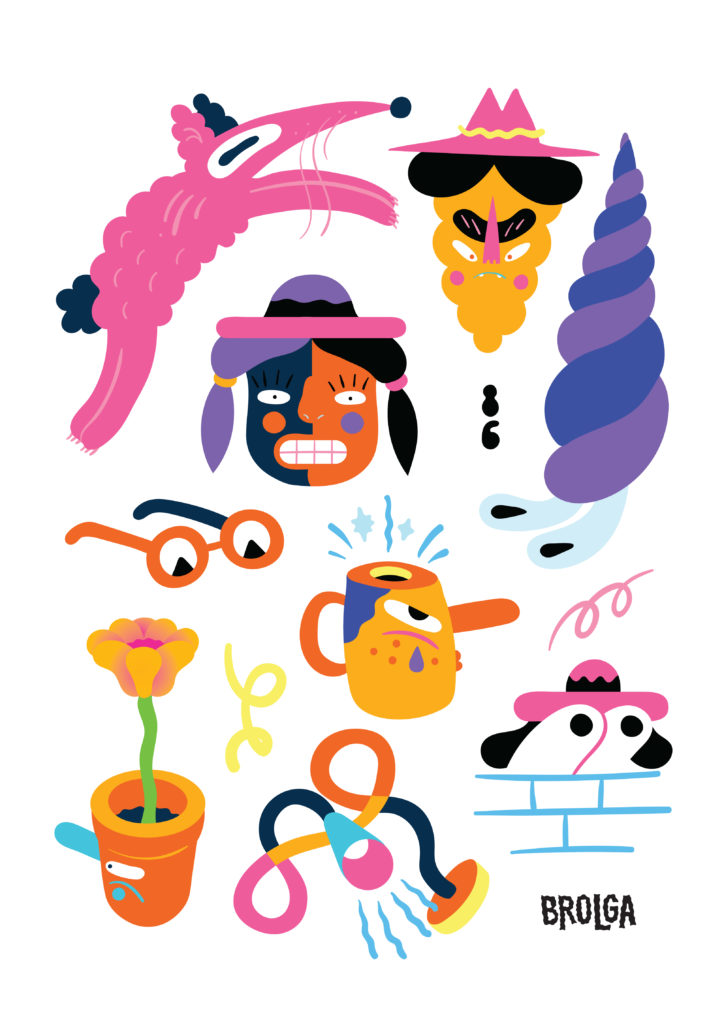 Having studied at the both the School of Visual Arts and the Pratt Institute, what inspired you to take what you learned and transfer it to street art?
I was living in Brooklyn and street art surrounded me everywhere that I went. I wanted to put weird things up on walls too, so I started making wheat pastes and threw them up around my neighbourhood to simply see them on my daily commute. I was doing it for me and was really surprised when other people started noticing. A walking city like New York, with the sheer number of people – it's the perfect city for it.
Instantly recognizable, your work beautifully marries bold, colourful illustrations and abstract patterns into amazingly surreal compositions. How did you develop such a unique artistic aesthetic? Has there ever been points where you thought you had to consciously evolve your style or do you let it happen through practicing?
(Thank you!) There's little moments that happened while growing up that stick with me. For example, like seeing a Takashi Murakami painting on a school field trip or stumbling on Roy Lichtenstein in a library book. Mainly though, I let it happen through practice. If you're spending crazy hours doing anything, it's naturally going to progress and define itself. Every piece I make is a little investigation, and over time those little steps mark bigger changes. I'm obsessed with this stuff too, so I'm always thinking about new things to try out.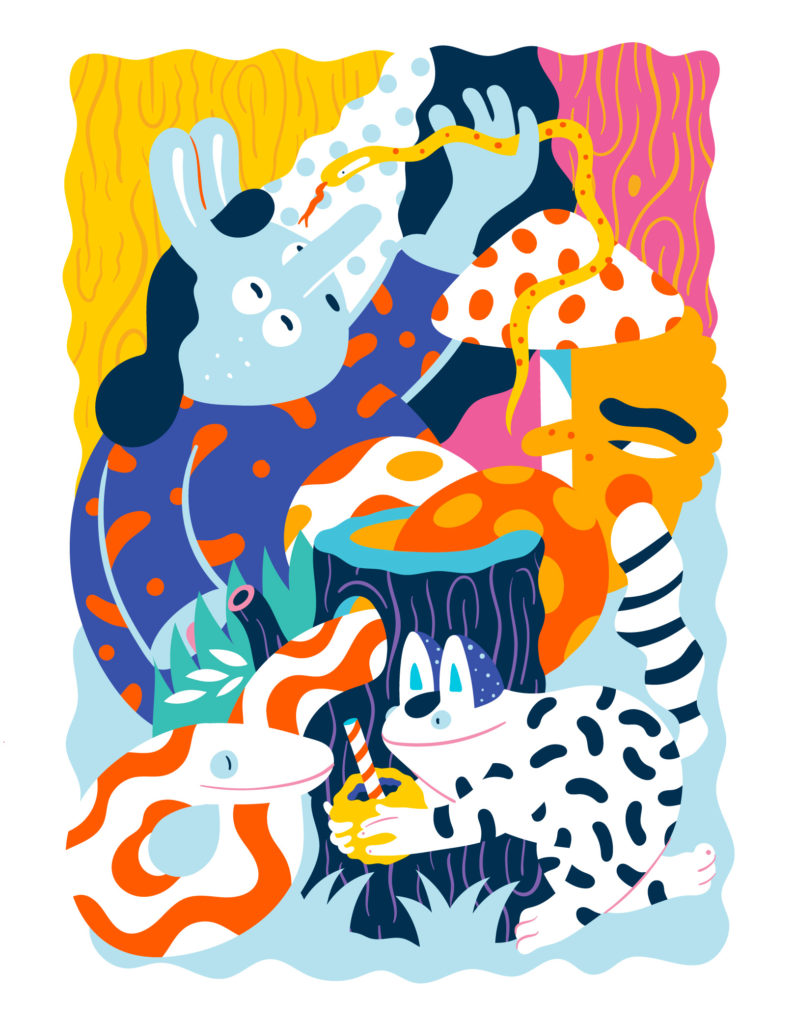 One of the benefits of creating street art out of such a globally recognizable city like New York is that people interact with your art on a daily basis. Whether it be viewing it every day just walking past, taking photos in front of your pieces, or becoming a part of local landmarks and hot spots. Is this something you consider when creating work? Would you ever want to transplant your work from the street to galleries exclusively?
The complex dynamic on the street is simply something that a gallery can't replicate and that's special within itself. I love painting on the street and wouldn't exclusively trade the two unless I was physically unable to go out there and do it.
I love painting on the street. It's such a nice way of getting to know everyday life in a city by spending 10 hours a day at street level chatting to people passing by. It's also an awesome excuse to get out of the studio, which can be a solitary existence for a lot of artists like myself.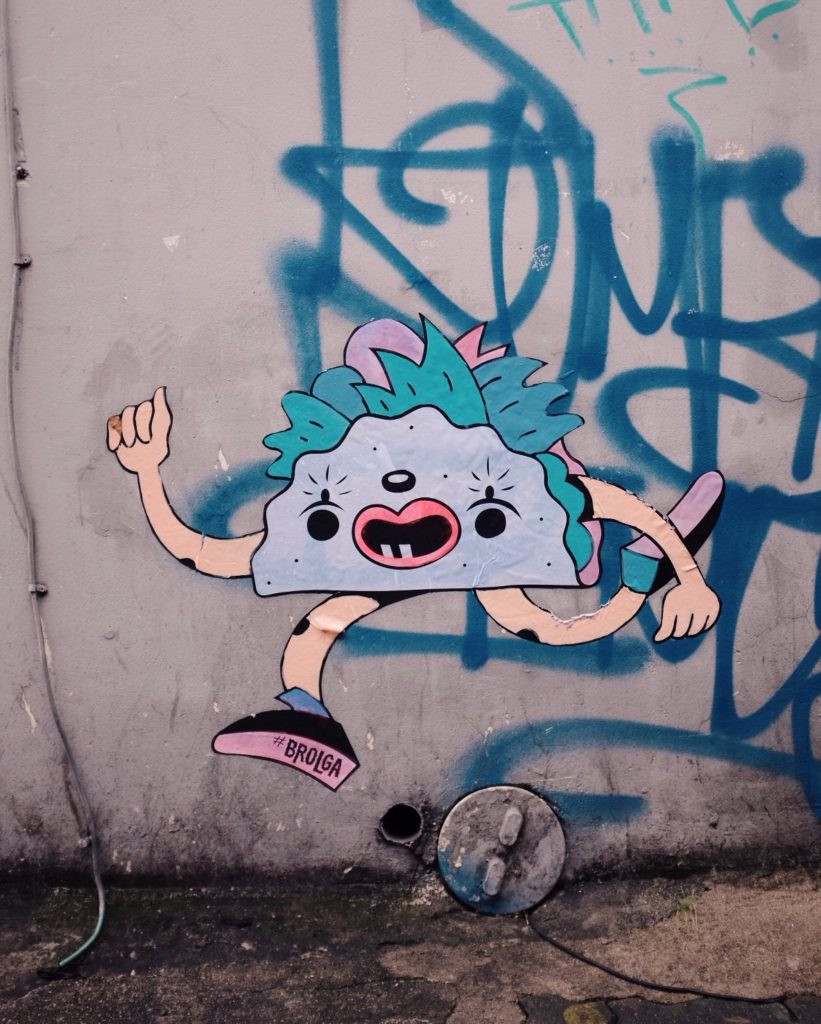 Would you want to incorporate travelling more into your identity as an artist? Where would be your dream location to paint a huge piece?
I'm stupidly restless, so travelling has always been a big part of my identity. I've lived in places like Ireland, Canada, and Japan. Right before I started doing illustration, I was backpacking around the world doing freelance design work from my laptop. It was bloody awesome.
My dream location to paint something would be an Asian city like Seoul, Bangkok, or Tokyo. They have a love for character design and my murals are going more in that direction these days.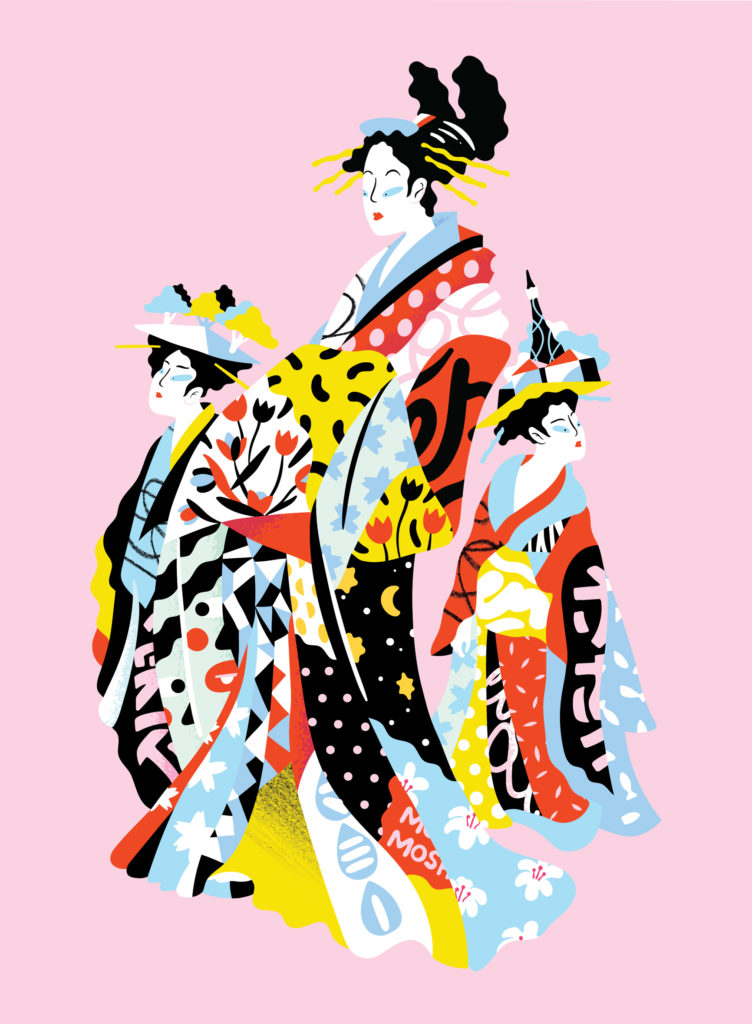 What advice would you give any up and coming artist looking to be a working artist?
Pushing out as much work as possible is the best thing I can think of for developing both your skill and personal style. Art school was good for me. It had lots of quick and fast deadlines which was the discipline I needed to crank out lots of work. Art school isn't for everyone though.
The other thing – I reckon it's good to get off the beaten path as an artist to give yourself a higher chance of standing out.
Find more info on Brolga here.
Follow @brolga