Being in the presence of artist Kentaro Yoshida automatically relaxes you. Spend any time chatting – or most probably clinking ice cold beers – with the Sydney based-artist and you'll find your blood pressure lowering, brow un-furrowing and shoulders loosening. 
Yoshida carries the disarming aura of his adopted home,Manly, with him wherever he goes. Graced with thick black hair, sun-kissed skin, and a boyish grin, you get the feeling he'd rather ride a mountain-high wave than discuss anything remotely art related. And yet, below the surface lies an artist continually dissecting his relationship to the sea, the sand, and the unique culture only found on the of the beach. With his signature bold line-work and cool colour palette, Yoshida illustrates images of debaucherously good times that are haunted with a sense of nihilism. Scenes of the sun-soaked skeletons chugging endless brews will often elicit a hearty chuckle, but stare long enough and you get the feeling that Yoshida understands good times can only last for so long; if you keep chasing golden moments of thoughtless ecstasy, you'll just as likely circle the drain as you will a barrelling wave.
Yoshida's latest solo exhibition titled Time Flies traces the last decade he has spent down under, highlighting his intrinsic connection to the lifestyle of the ocean and its community:
"'Kentaro' was born and bred in Japan, while 'Kenny' is a child of the Manly beach and bar scene. The concept behind the show is to share what he has observed and learnt from the locals in Manly and the surrounding coastal culture. With this exhibition Kenny would like to show his appreciation to the local community where he has developed his creative mind, discovered meaningful friendships and established his career as an artist".
We caught up with the man himself to talk about Time Flies and all recent successes!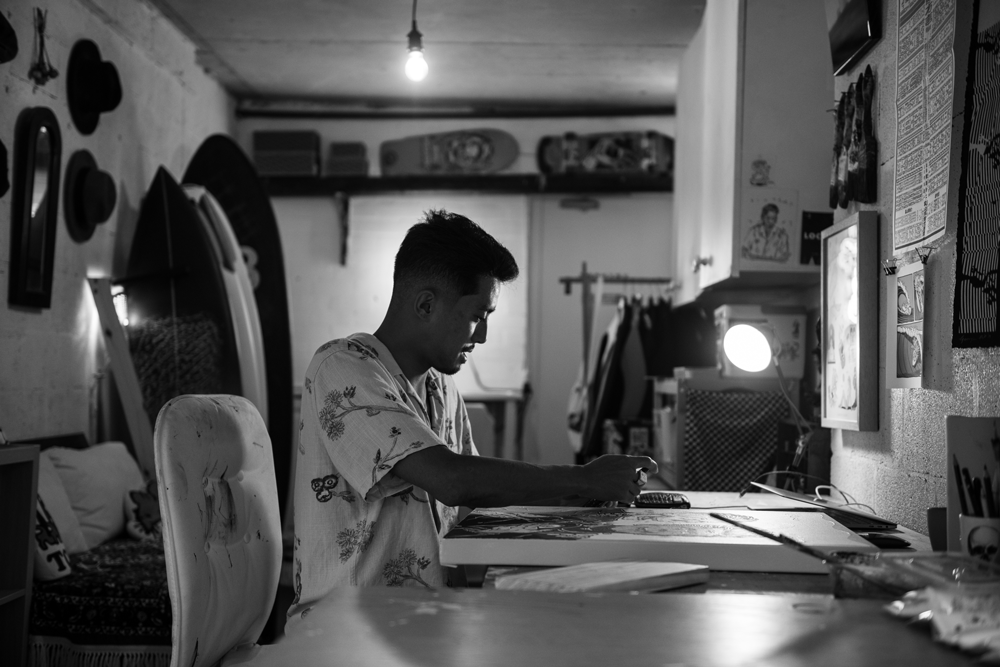 Hey Kentaro! How have you been?
I am good man, I have been on few projects in last few months and kept me busy so life is good. Also I moved out of Manly a year ago and now based in Collaroy, middle of Northern beaches. So that I spend more time and surf at north part of Northern beaches these days.
It's been a few years since you last solo show, why was this the right time for a new body of work?
I had print based solo show in Melbourne last year and participated Greenroom Festival in Japan 2018 to exhibit, so I haven't done any solo exhibition in Sydney for a while. Also having solo exhibition in Manly was on my to do list for a long time. That's why I decided to do art show in this Summer for all locals and friends in Manly.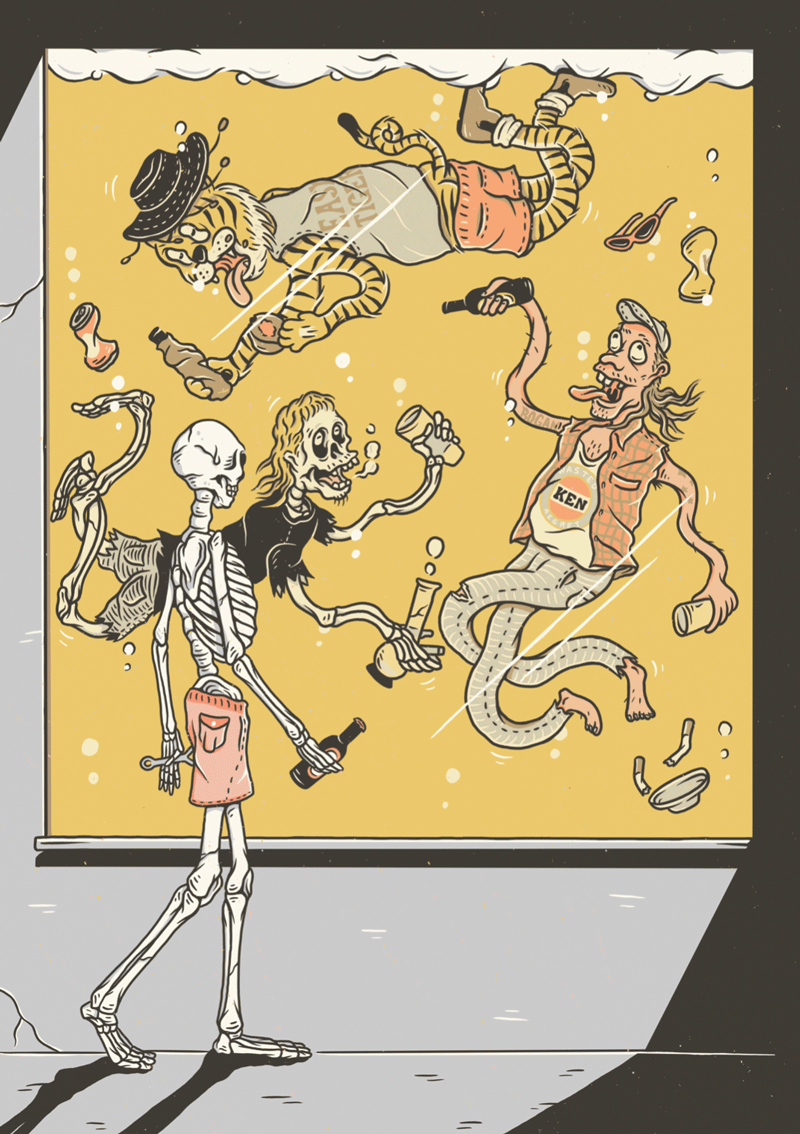 In the last few years you have been apart of a number of exciting projects, including a collaboration with the AGNSW's Japan Supernatural. What has it felt like seeing your work enter these new spaces?
It's been great working with new environments and clients. Also working on the fresh project (I mean something I have never done) is challenging, but I learnt so much things after I completed. Especially painting mural inside of AGNSW was amazing experience as I reached out so many people I couldn't have reached by myself. Not just about painting mural in such an official space, but also I was invited to do talk in front of 200 people and talked about my work and background with my broken English haha. I definitely gained a lot of stuff out of it.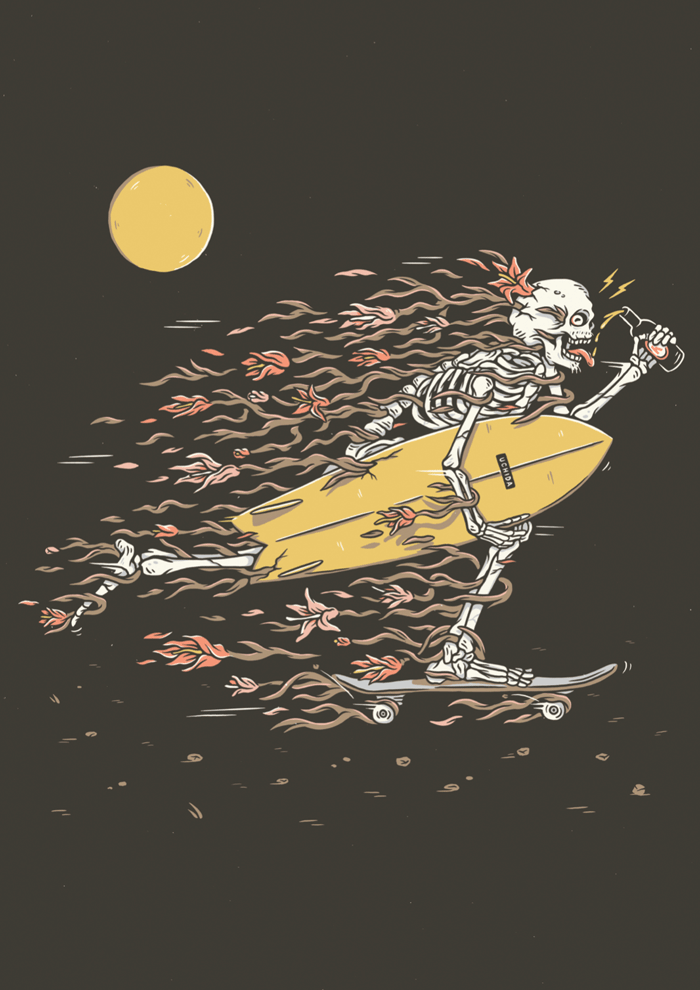 You latest exhibition 'Time Flies' was inspired by your time spent in Manly over the last 15 years. Why was this important for you to capture this in 'Time Flies'?
As I mentioned before, I moved out of Manly about a year ago and I lived there for 15 years since I was 18. I have learnt language and Aussie culture, as well as enjoyment and difficulty of living overseas by myself. Last few years, I realised I have tried to execute common sense about Aussie humour in my illustration and work unconsciously.  Most of ideas are based on my memories and experience I had in Manly so its true to this town. I also would like to show my appreciation to the local and this are through my exhibition. I simply want to throw party to locals, my friends and everyone who has supported me in any ways and have fun and good time while enjoying my creativity.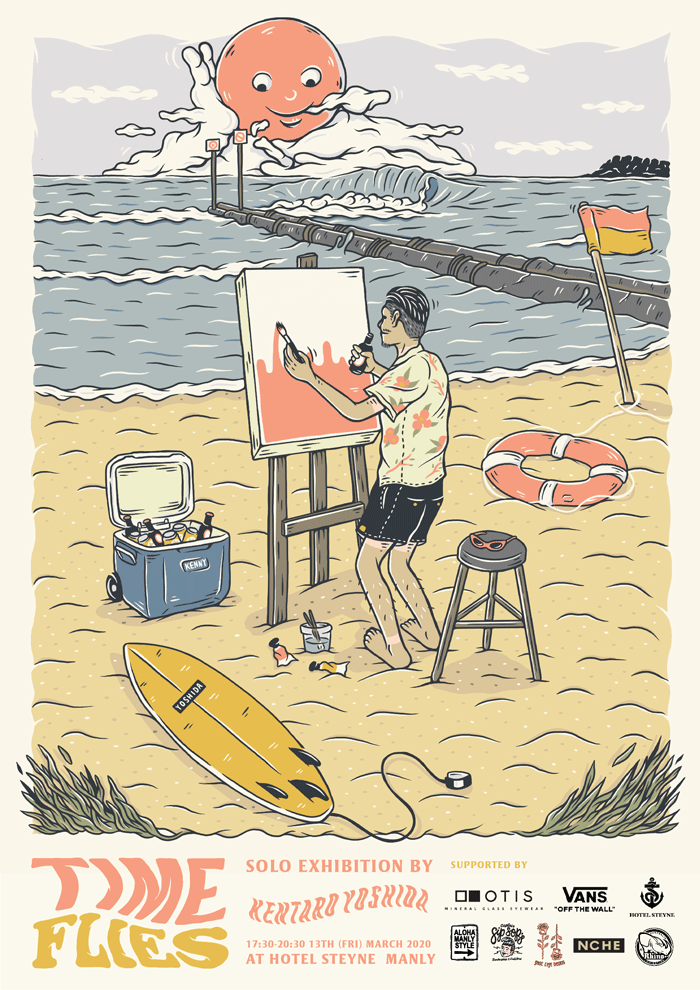 You have mentioned how Manly is a second hometown to you, the first being Tomaya in Japan. How has your artistic identity been influenced by this hybrid of cultures?
I feel concept and idea for my work these days more based on Australian culture and environment where I have been living. I don't know why but I am digging it again these days. But I know I am Japanese and that's something I can not change. I think I am just trying to be honest to myself, and my life style & routine for my creation. Maybe that's why some people might find my work as a good mix of both cultures.
Do you have any advice for up and coming artists look to start their career?
It's hard one, maybe sometime off the internet and enjoy your environment. For me its going surfing or having beers with mates at local pub haha.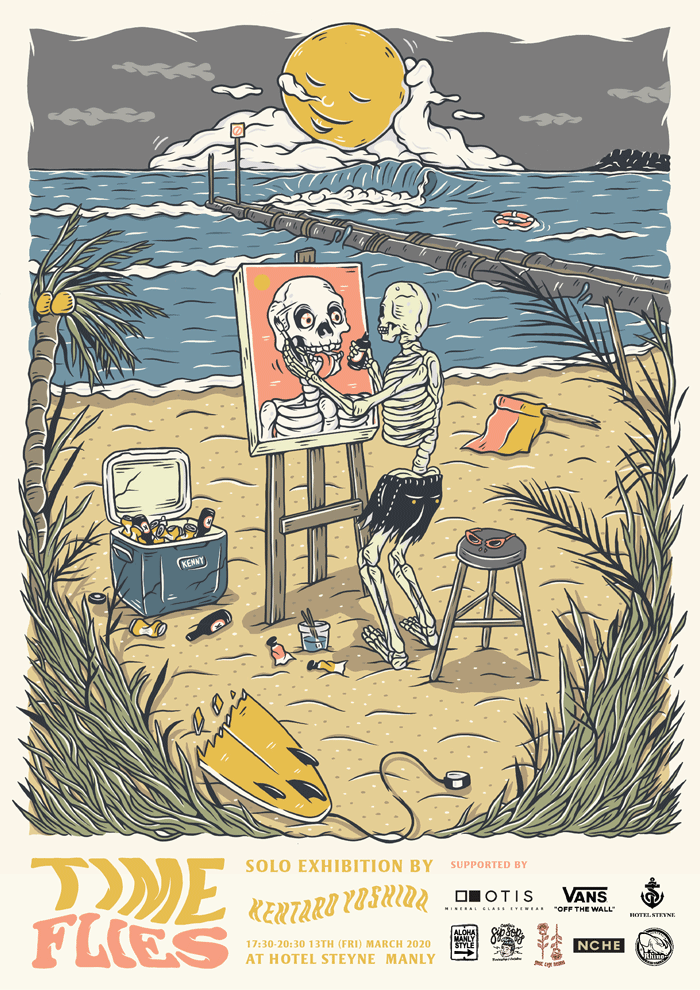 Special thanks to Kentaro for making the time to chat with us! Time Flies opens this Friday, find more info here. Follow @kentaro_yoshida