He's the future of surfing, a revolutionary talent whose superb skills in the water are only matched my his natural aesthetic and style. Men want to be him, women want to be with him – which is largely why men want to be him…
Of course, we're talking about Sunshine Coast surfer and ASP professional Julian Wilson – a child prodigy come good whose a philanthropist and a dreamboat among many other things.
But on this fine Southern California day, a lay day at The Hurley Pro, he feels like being a skateboarder.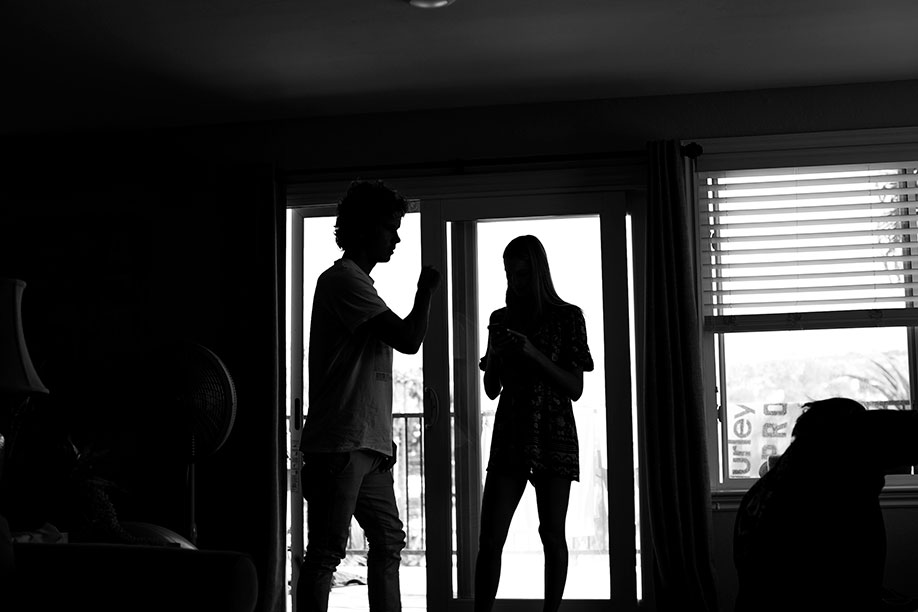 Into the darkness. Silhouettes at Julian's temporary crib for the competition. Weirdly, he watches movies with the lights on but insists on training in the dark. Jokes. Life on tour is all about preparation. Sharing the frame is his girlfriend, Ashley Osbourne.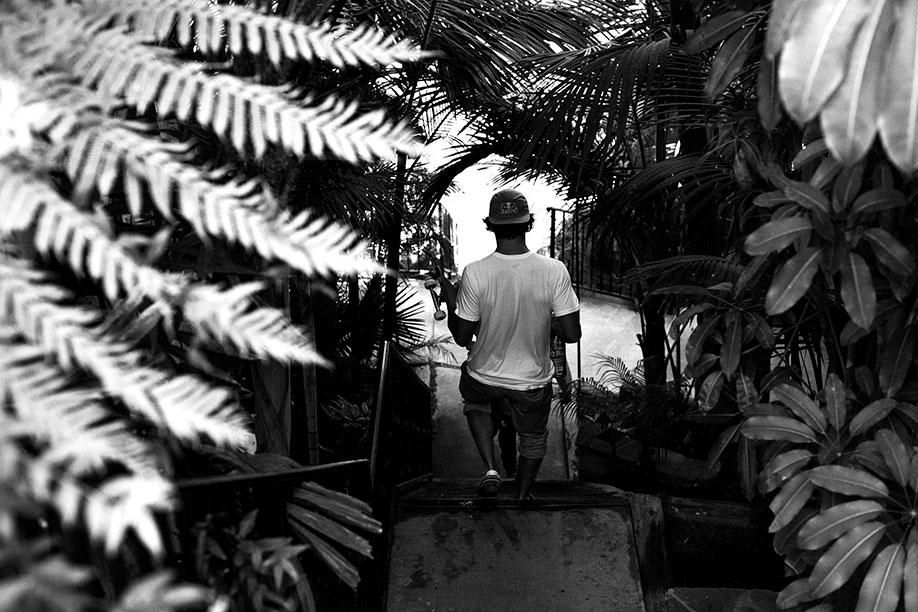 We asked Julian what he wanted to do on his day off from surfing. His answer? Skateboarding. We picked up a board along with his full-time film bro, Jimmy Lees. You can check Jimmy's skills here.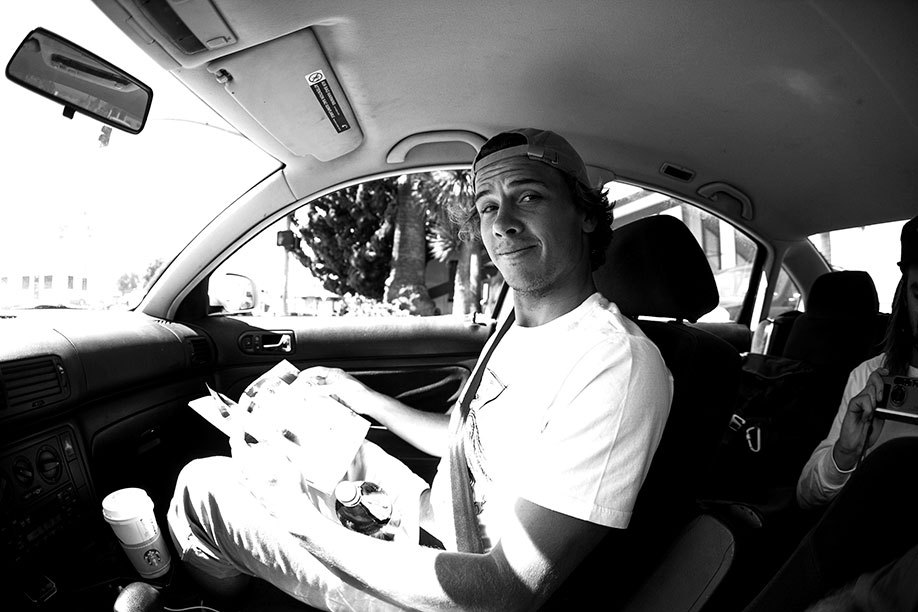 Julian rides shotgun  – would you expect anything less? – as we headed off to the local San Clemente Skate Park.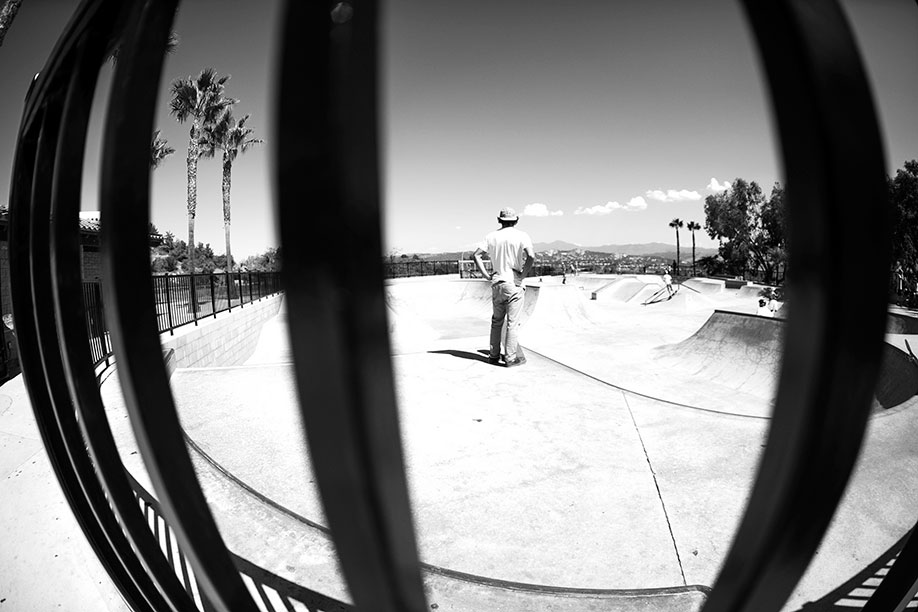 These kind of bars we're always happy to be locked inside of. Clear skies, palm trees and an empty bowl: California doesn't get much better than this.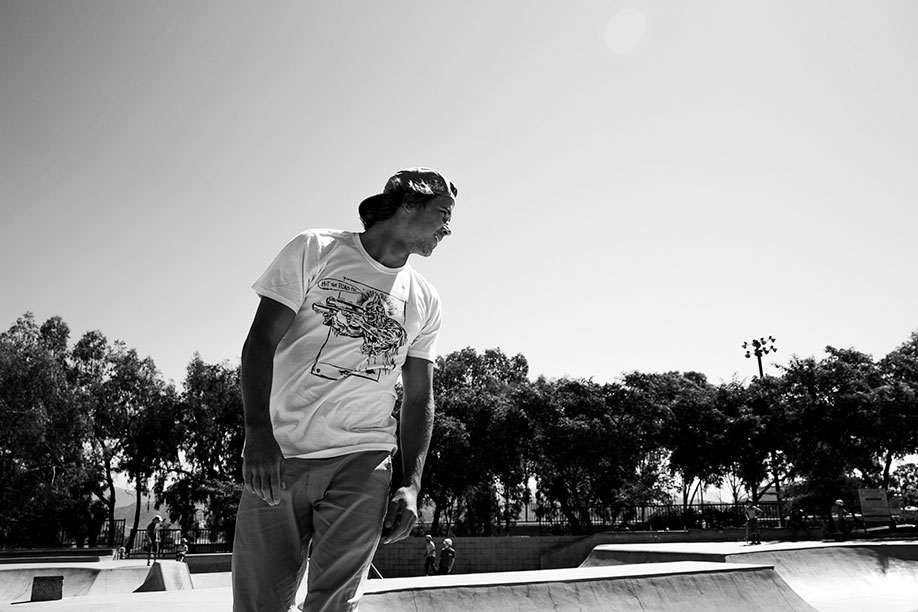 Laughing in the face of the wall he's about to conquer, Jules is a perpetual competitor and never does things in half measures. If there's no rival, he'll challenge himself to go better again.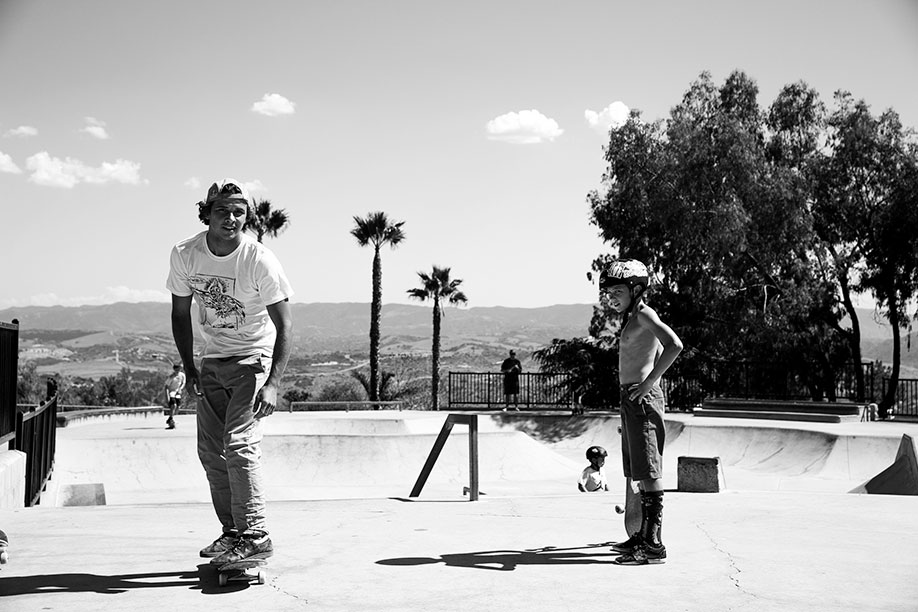 Past to present. The professional athlete's circle of life. A young legend in the making watching his hero.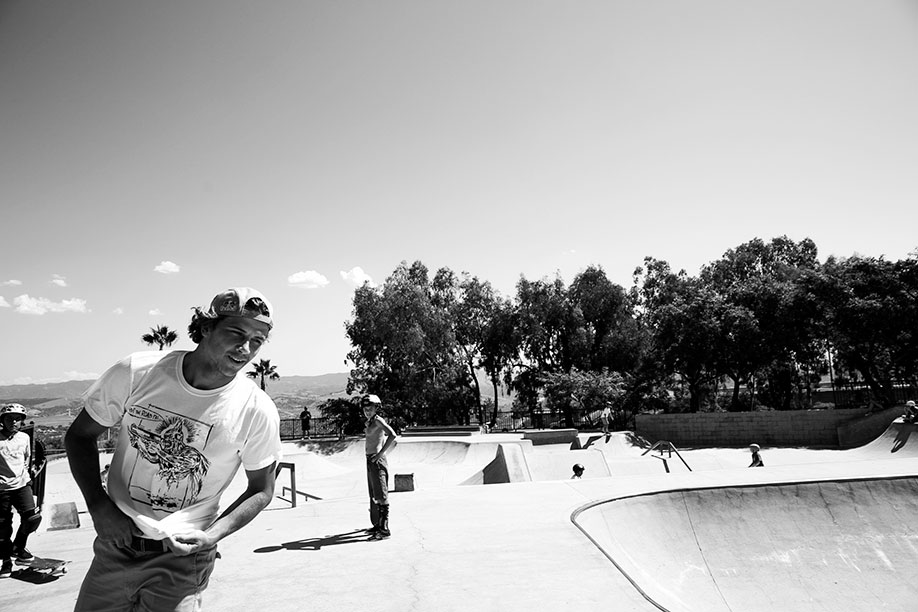 Wearing a Ben Brown print, Jules has no shortage of style in or out of the water. Hence why he's one of the most marketable faces in world sport.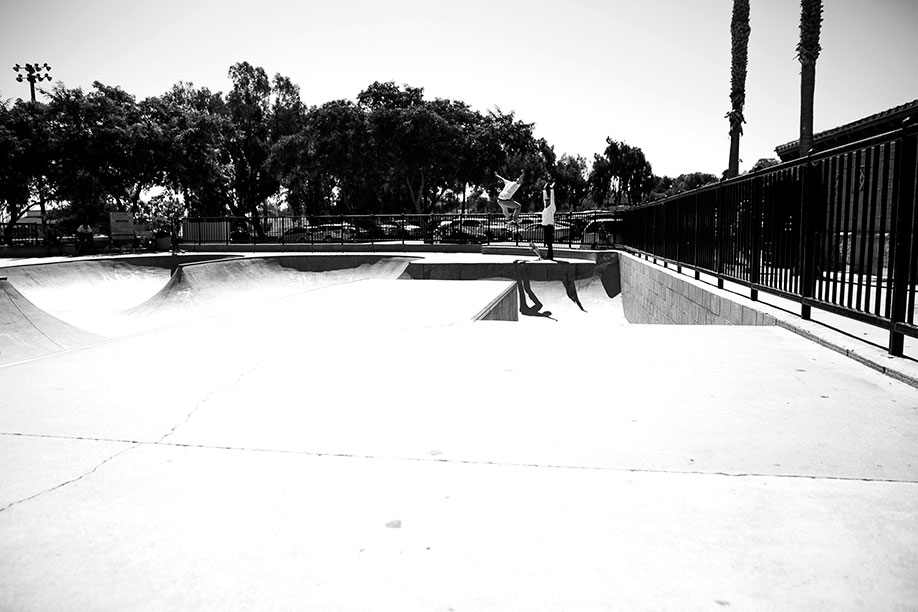 Look at me, Dad! Jules has made a name for himself with experimental aerials in the water and is renowned as the ASP's No.1 pilot. His determination to fly knows no bounds. You'll get there, Jules…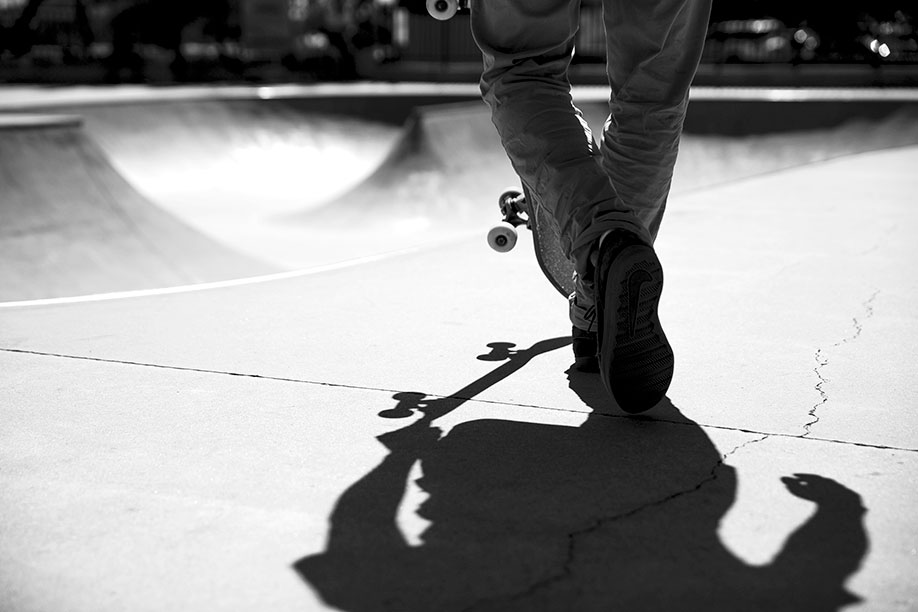 Skate and the swoosh: A combination not to be fucked with.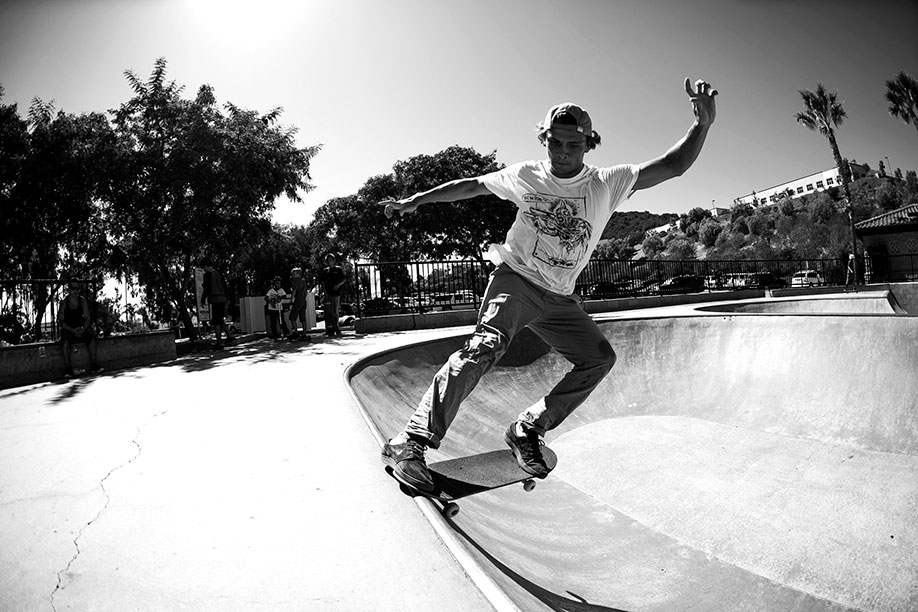 No swell, but still taking out his frustrations on the lip. It's not hard to see why so many skaters rip in the surf and vice-versa.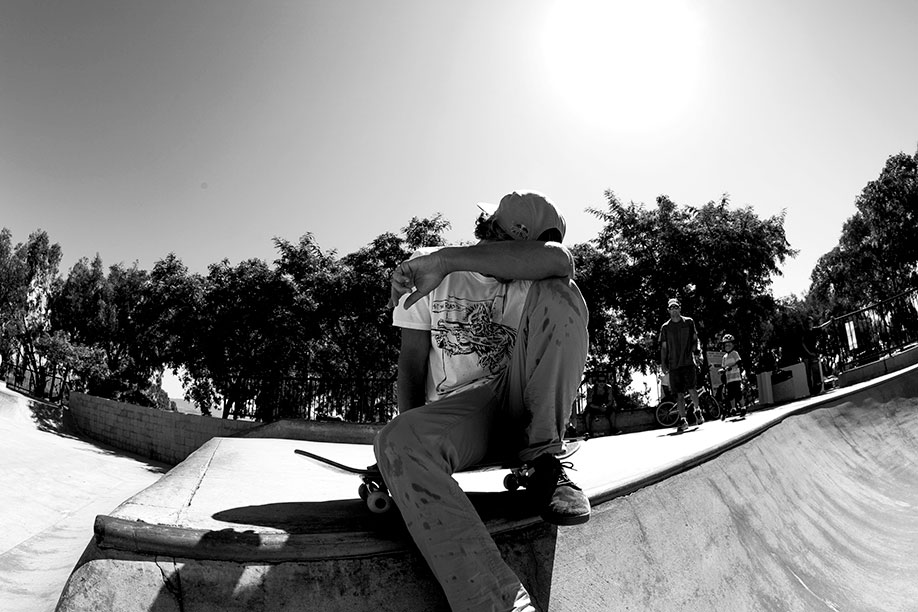 The San Clemente heatwave begins to take its toll. Stay hydrated, people.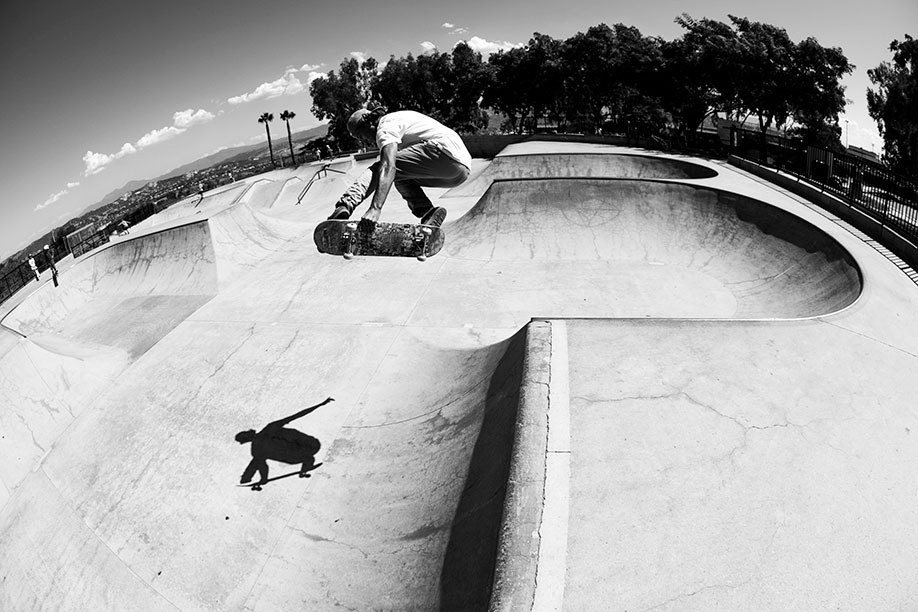 Chasing shadows. Remember when we said Jules is a relentless competitor? He just found a new rival.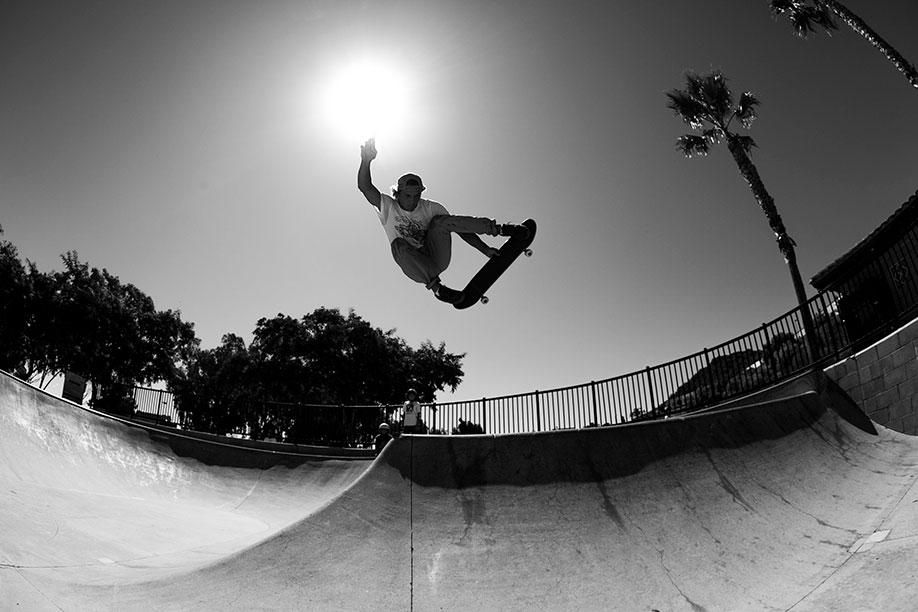 Sun of anarchy. 44 Degrees Celsius or what the 'Muricans call 110 Degrees – it's no surprise the bowl is devoid of any other human beings.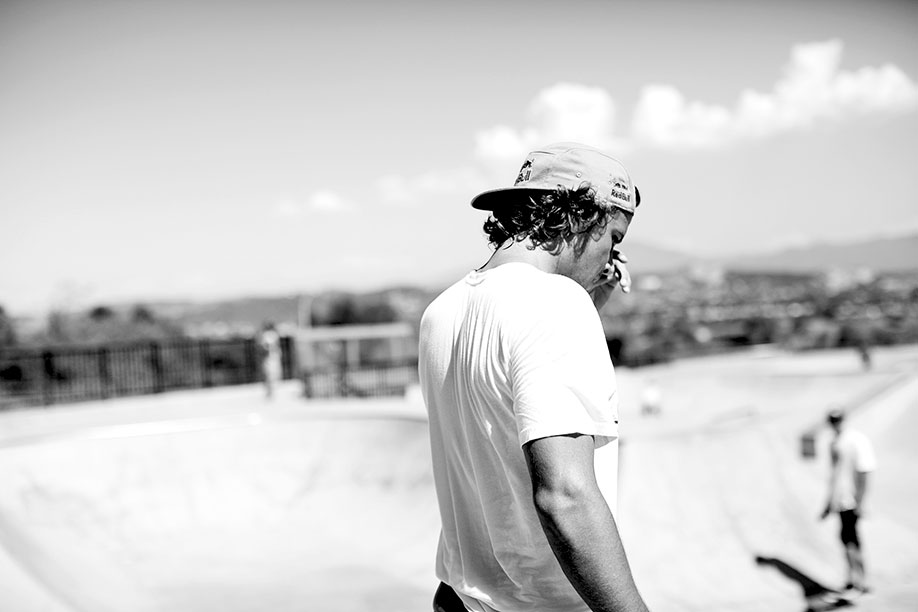 Regather.
The hottest duo since those bearded dudes from ZZ Top. Best mates since Sunshine Beach High up on the Sunny Coast, Jules and Jimmy are as tight as ever. Jimmy's the legend who provides all those epic pics and clips of Julian on a weekly basis.  Some refer to them as Batman and Robin, but ask Jimmy and he'll tell be the first to tell you he's no fucking sidekick.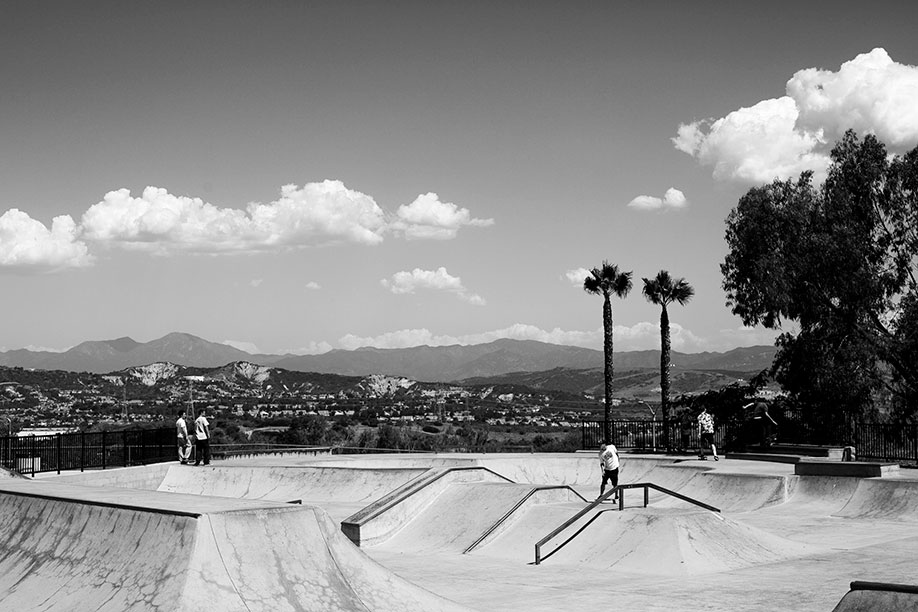 Another sunny day, south of LA. It's like Groundhog Day. Every day is the day to go for a skate. Though a little shade wouldn't go astray.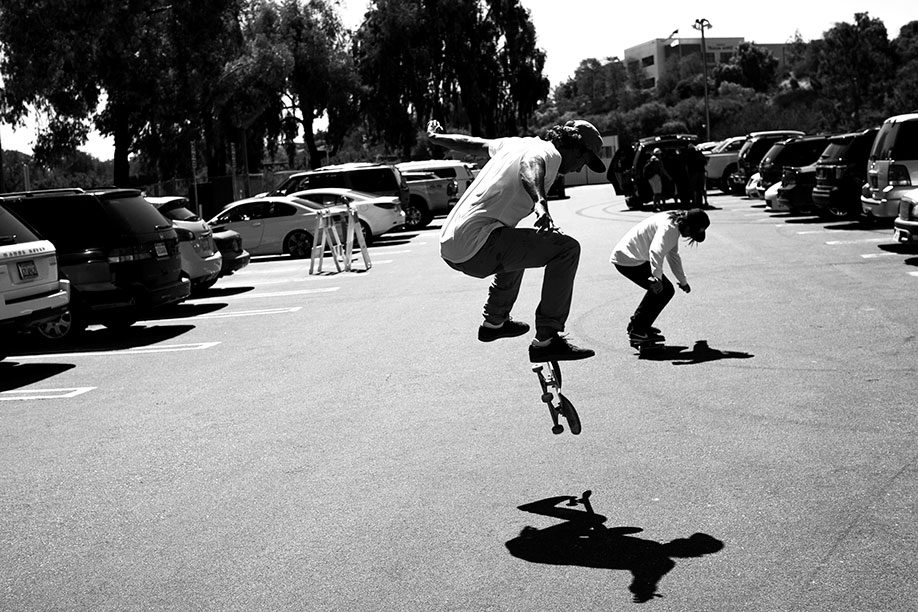 Finally caught up to his shadow… We decide to hit the road, but not before the carpark gets some lovin' on the way back to the whip.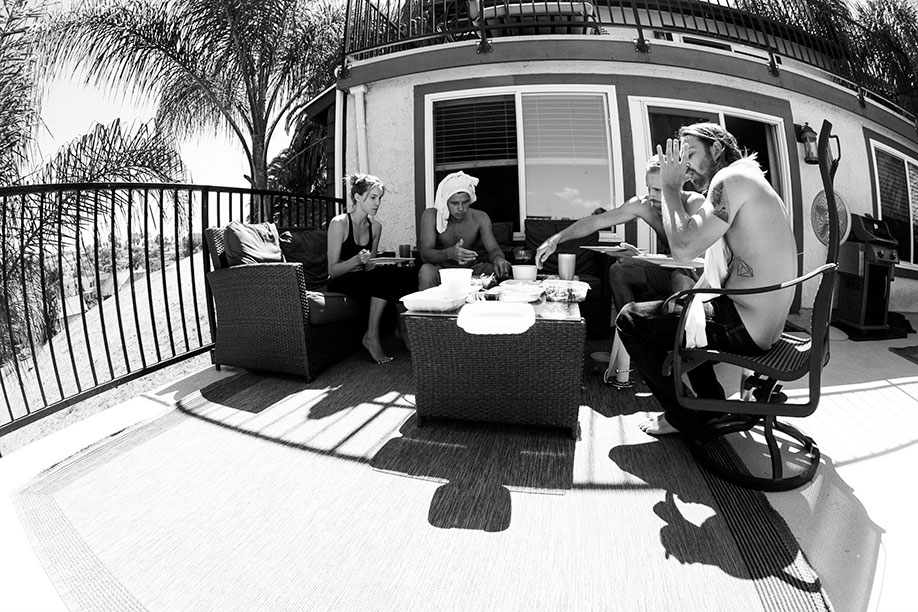 Back at the apartment, we indulge in a little Mexican food because it's Southern California and it'd be against the constitution not to. We're joined by his model girlfriend, Ashley Osborne  – you've seen her in a heap of swimwear campaigns of all your favorite brands. Not to be outdone, helmet model and surf coach Dan Ross talks tactics.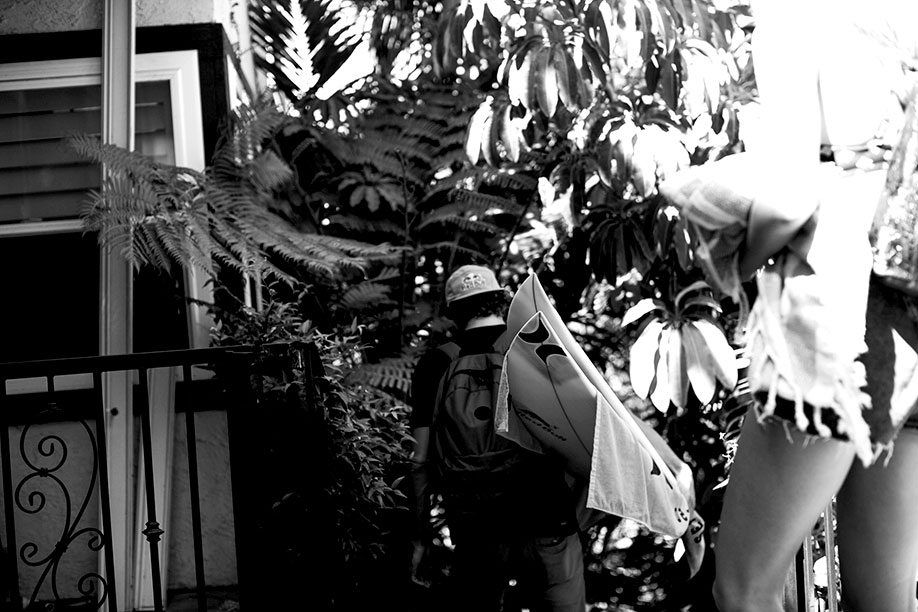 Done with lunch and having waited the customary 30 minutes before getting into the water. Jules gets set for some waves.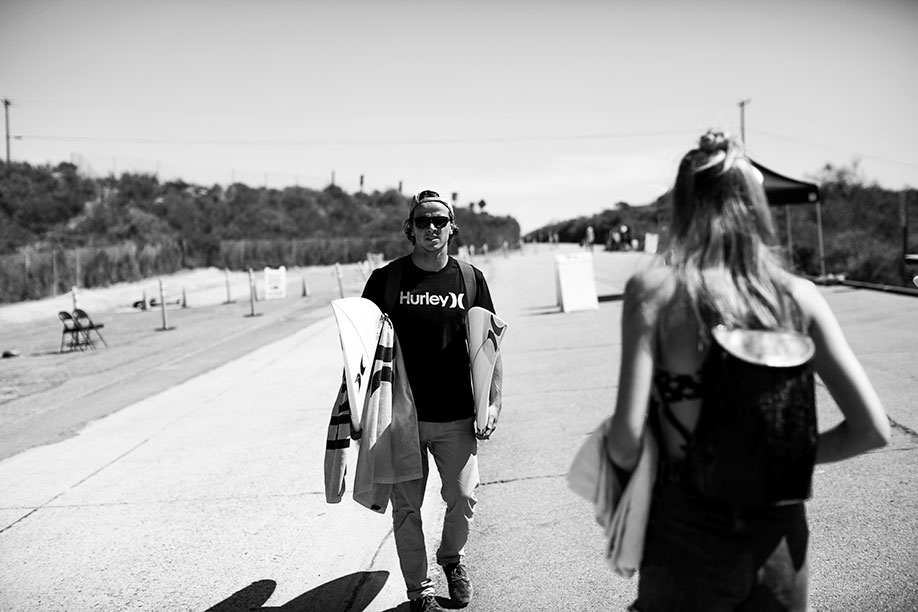 We think Jules might be sponsored by Hurley… The trek down to Lowers, the rocky reefy performance wave for the contest, is a long one. Especially when you you're packing two boards.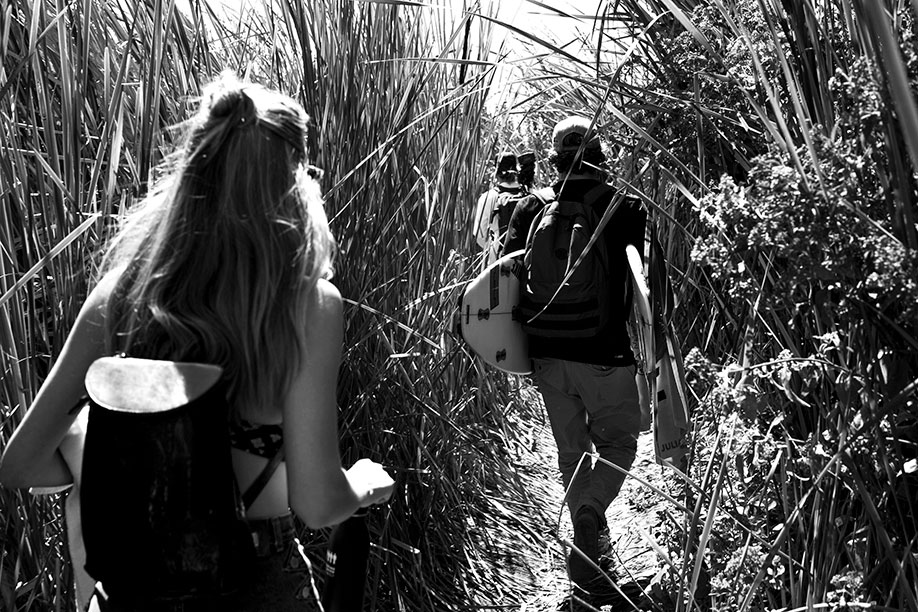 Through the wilderness, we're semi-expecting to get bitten by a venomous rattlesnake at this point… Play on.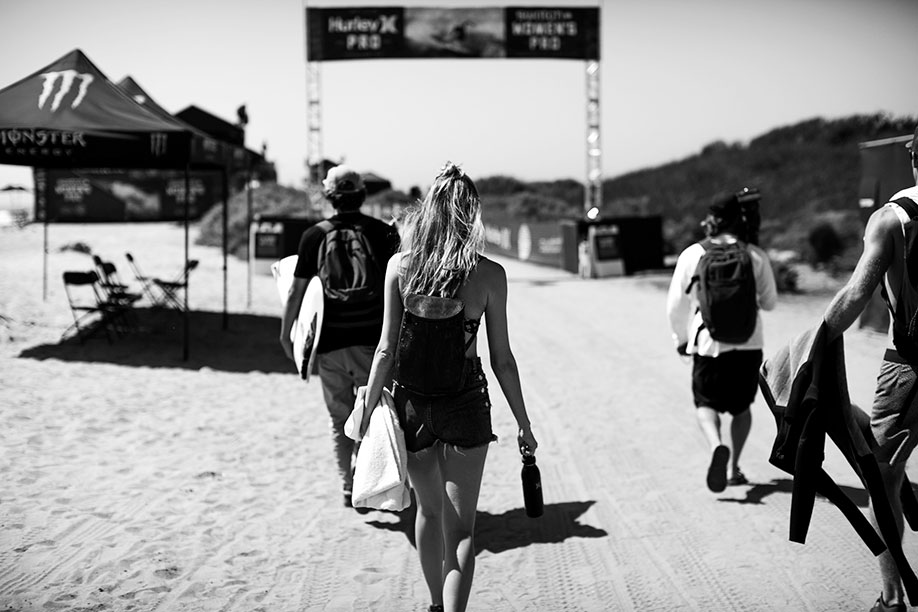 Finally, the open sand. The finish line is in sight. Time for a break yet?
Summer rig in full effect. His last words before embarking on a two-hour salt-water assualt.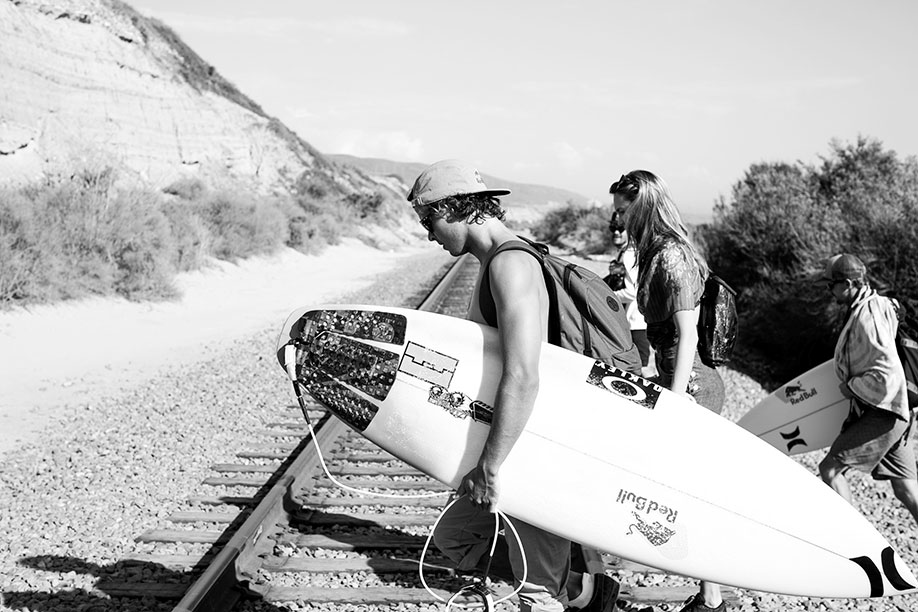 One more rail grab to wrap up the day. A visit to Trestles is a unique experience that includes crossing a live trail line which runs 500 miles from San Diego up past Santa Barbara. Fittingly, it's named the Surfliner.