Nicko Phillips above left, Chris Costa above right //
The With Solace virtual exhibition is on for a few more days!
It's no secret that, broadly speaking, Australia has had a rough 2020. The number of people struggling with mental health has been on the rise as we feel the effects of COVID-19 and consequent restrictions, especially those living in Melbourne who have born the brunt of these intrusions. And, while things are looking up for our pals down south, we still have a long way to go in getting everyone back on track which is where With Solace has stepped up.
Raising money for mental health charity Reach Out, design and branding studio With You have enlisted 23 illustrators, typographers, photographers and designers to create pieces that inspire us to engage in a daydream, all with the goal of offering us solace in 2020. Each donated work is available for sale at $120 (+gst) as a limited run of 20x A2 fine art prints, with all proceeds going to Reach Out.
You can attend the exhibition virtually until this Sunday right here, but for now, check in with two of the featured artists, Nicko Phillips and Christ Costa below. Chatting influence, method and memes, it's clear that the two Melbournians have not only shared a similar lived experience over the past couple of months but also have kept their creative spirits high: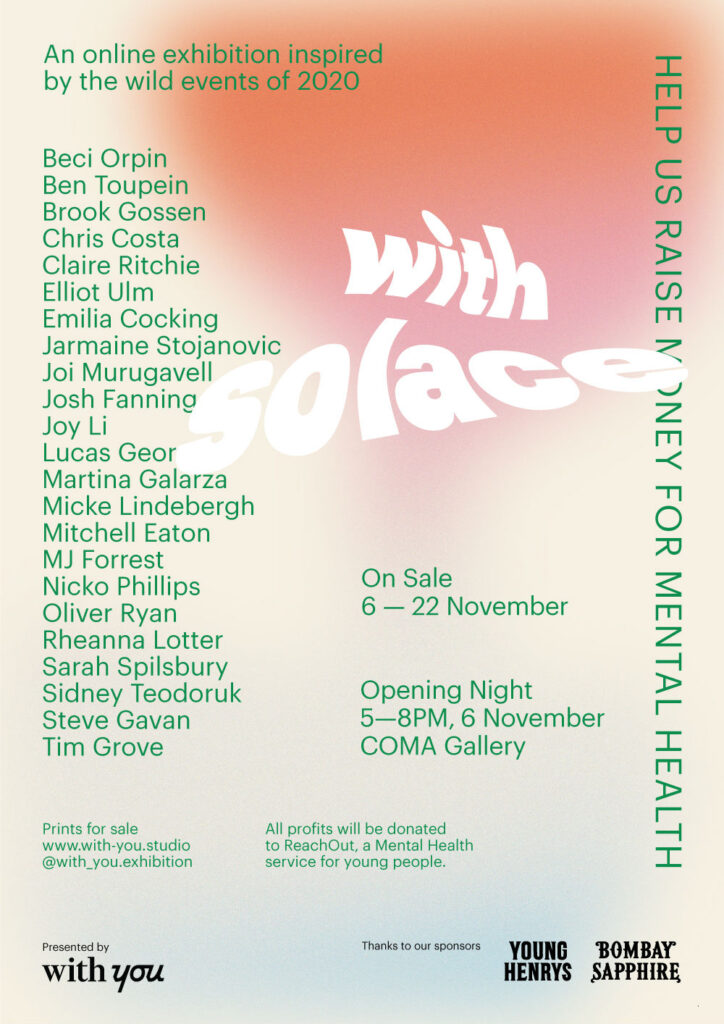 NICKO PHILLIPS (Q'S BY CHRIS COSTA)
Your work is so fun, vibrant and instantly recognisable as your own. Is art and creativity something that comes naturally to you or is it something you've really had to work on and perfect over the years?
Fun is contagious! For a while, a lot of my work was pretty reactive to what I was making in my day-to-day graphic design work, but wasn't very reflective of me as a person. So a few years back I decided to focus a lot more on refining my craft and keeping my illustration practice separate from my work. For me, I find it way more fulfilling and easier to create something that resonates with me first, particularly if I'm having fun in the process.
During the life of COVID I feel like a lot of artists and creators have taken solace in the music that they're been consuming. What are you currently listening to? Any albums or artists that stand out?
Oh for sure. I think I can split the past year into three periods of time that had very distinct soundtracks. When corona first hit Australian shores, the chaos just left me feeling really sad (cue: Big Thief). The second was after Melbourne went into lockdown, and confusion about this weird time reigned supreme (cue: Oneohtrix Point Never). The third has been post-lockdown, and the joy of simple things has been extremely wholesome and overwhelming (cue: Thundercat). Those three artists in particular were given a thorough rinsing.
Melbourne lockdown created more time for people to pursue other outlets outside of their normal careers. Outside of art, what's a hobby or talent that you have, that not many people know about?
I've got two young kids, so I guess standing on pieces of Lego is my hobby these days? Other than that, my wife says I'm good at impersonations, and I'm really good at pouring exact measurements of drinks into two or more glasses. So if the illustration gig doesn't work out, I can always lean back into those two supreme life skills.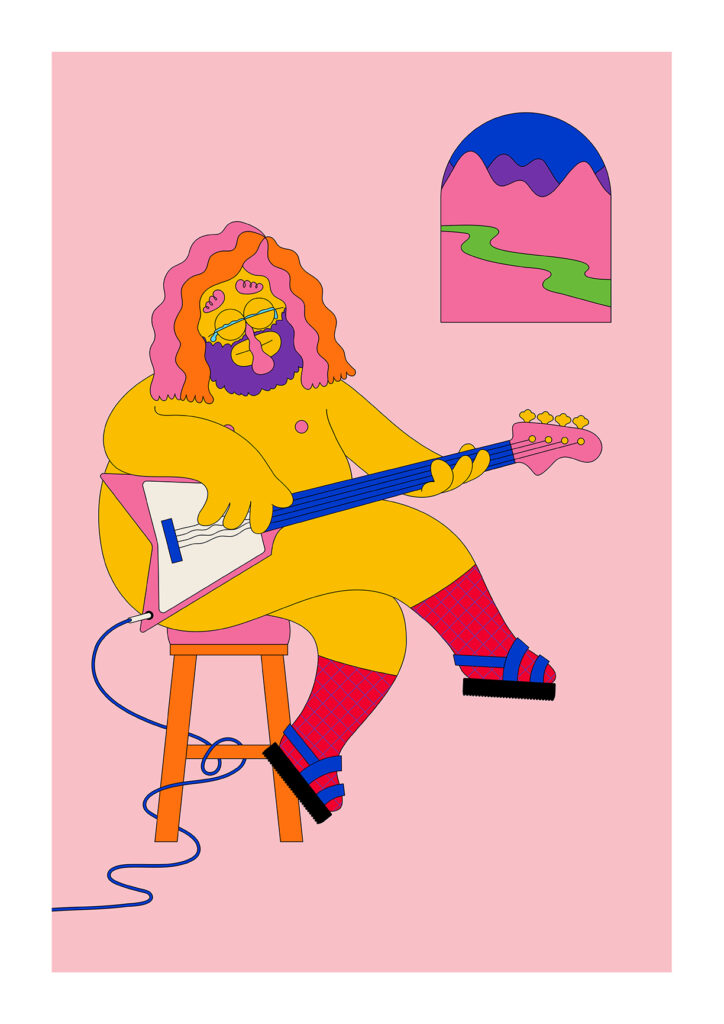 You seem to inject humour and fun into your work with such ease and really create a space for your characters to be themselves. Does positivity come naturally to you? and is comedy a big part of what makes your work so accessible?
Positivity is something you really need to work hard at. Particularly with the way we use social media these days, it's super easy to get into a cycle of negativity and to compare yourself to others in the industry, and fall victim to that silly ol' Imposter Syndrome. I really believe that energy is reflective, so I try to throw a schooch of positivity onto everything. Some days it's way more innate to do that than others though, tbh!
Animal, cartoon or pop culture icon that you most resemble? (in personality or otherwise)
I always thought I had a bit of a staffy vibe. They look sorta scary, but they're actually a bit clingy and like pats, treats, swims and positive affirmations. Someone please tell me I'm a good boy, I neeeeed this.
CHRIS COSTA (Q'S BY NICKO PHILLIPS)
2020 has been a ripe ol' stinker for a lot of folk across the world, but there's also been a lot of great things come out of it as well. Do you have any pearls of wisdom or self-care tips that have struck you over the past year?
If there's one thing that this year has taught me it's that, it's easy to be cynical, it takes courage and strength to try and be positive. And that's what I've been doing this year, finding the positives in the worst situations. I found myself with more time on my hands than usual so I've been creating new art, doing a lot of experimenting and spending a great deal of time working on my clothing label Badlands Brand.
Putting all the extra energy I have to create positive change for myself and create new opportunities for my work. I've been a full time, freelance creator for the past 7 years and the one thing that has always been apparent to me is that you have to create your own opportunities and not rely on other people to create them for you.
I find art/drawing/illustration to be a pure form of catharsis, almost meditation. I'd love to know more about your method in creating your art, and if any parts of it you find to be the most soothing for mental health?
Art and the process are my meditation. It's how I release stress, it's where I find myself most focussed and it's what brings me true unadulterated joy. For me it's all about the concept. It could be as simple as drawing a daisy but once I'm excited about the concept I almost go into auto pilot mode until it's finished. From the initial rough sketch I take my idea onto the computer quite quickly and from there it's almost like a puzzle. Figuring out the best way to convey my idea that will result in a well balanced artwork.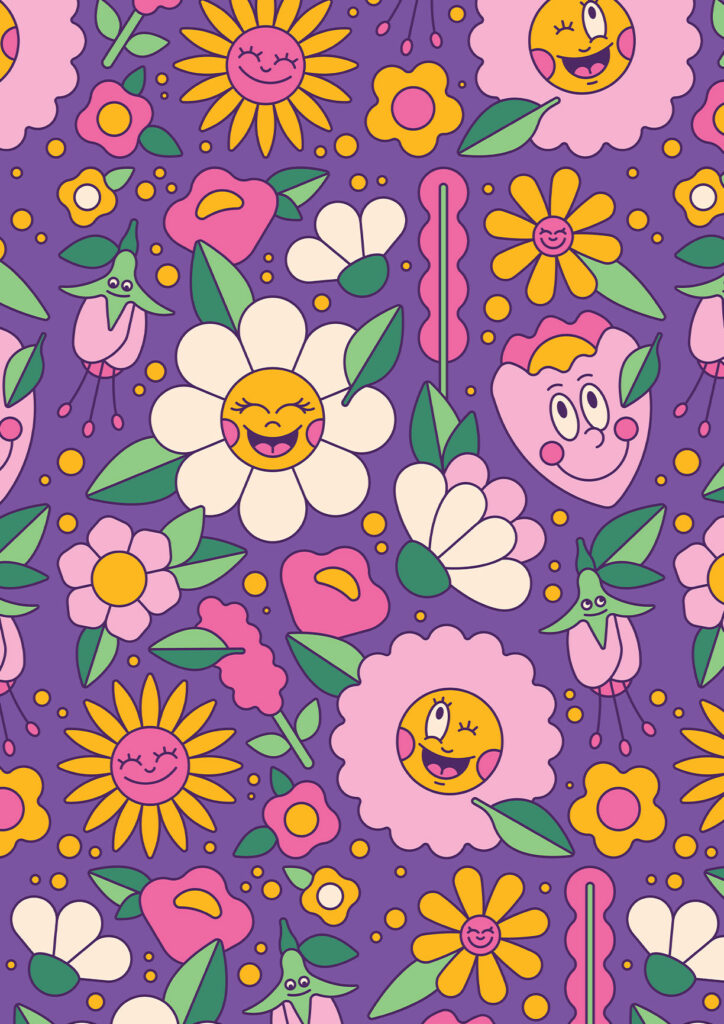 Music seems to play a large role in your illustrations. Do you find your how and what you listened to changed at all during Melbourne's lockdown?
Music is my first love and it will always play a huge part in my work and my life. It's where I find peace and where I get the most catharsis. I found myself diving back into old playlists from when I was a teenager. Reminiscing and falling back in love with bands like Fall Out Boy, The Chariot, Nick Cave and the Bad Seeds, and The Beastie Boys.
Your piece for the With Solace exhibition reminded me a lot of the mem below. I personally have destroyed many indoor plants from watering too often over the years but I swear it was all from a place of love, which I guess is a good metaphor for 2020. Did your indoor plants suffer at all during lockdown from too much love and attention?
Hahahaha this meme sums up my work in ways that I could never. I actually moved into a new studio the week before the second lockdown so I had about 10 or so plants that were left unwatered for 5 months while my office was outside of my home's 5km radius. To my surprise only 6 out of the 10 had passed away in my absence and I've spent the last month nurturing the remaining 4 back to their true glory and am starting to see some new leaves as well.
View this post on Instagram