Words by Christopher Kevin Au
What exactly do you ask when you're interviewing a porn star?
Are you supposed to tell them that you admire their work? Or does that make you sound like a deadset weirdo? How many times are you allowed to say 'butt plug' before things get uncomfortable? These are all questions that race through my mind as I'm en route to Sexpo, to interview one of porn's most popular stars, Lisa Ann.
I thought that my journalism career peaked when I interviewed Jersey Shore hooligan DJ Pauly D over a crackly phone line back in 2013, but alas, I was wrong. And while I've spent the last six years of my career talking to rappers, DJs and various other people who are famous for some reason (or no reason at all), this interview feels particularly daunting, because nothing can really prepare you for talking to a porn star who's seen and done things that you didn't even know were legal, let alone humanly possible. Still, I find myself reading the synopsis of Lisa Ann films like Nurse Booty On Duty – for research purposes, of course.
The interview is a double-header: I'm also finally losing my Sexpo virginity, walking through the stern doors of the Melbourne Convention Centre for the first time. The hall is filled with leather, lace and whips, plucked from your decadent sexual fantasies and thrust into public display. Dildos stand proudly in their assertive plastic packaging, glistening against the glaring lights above; while wide-eyed attendees shuffle through the maze curiously, dressed in vintage rock shirts and obscure New Balance sneakers.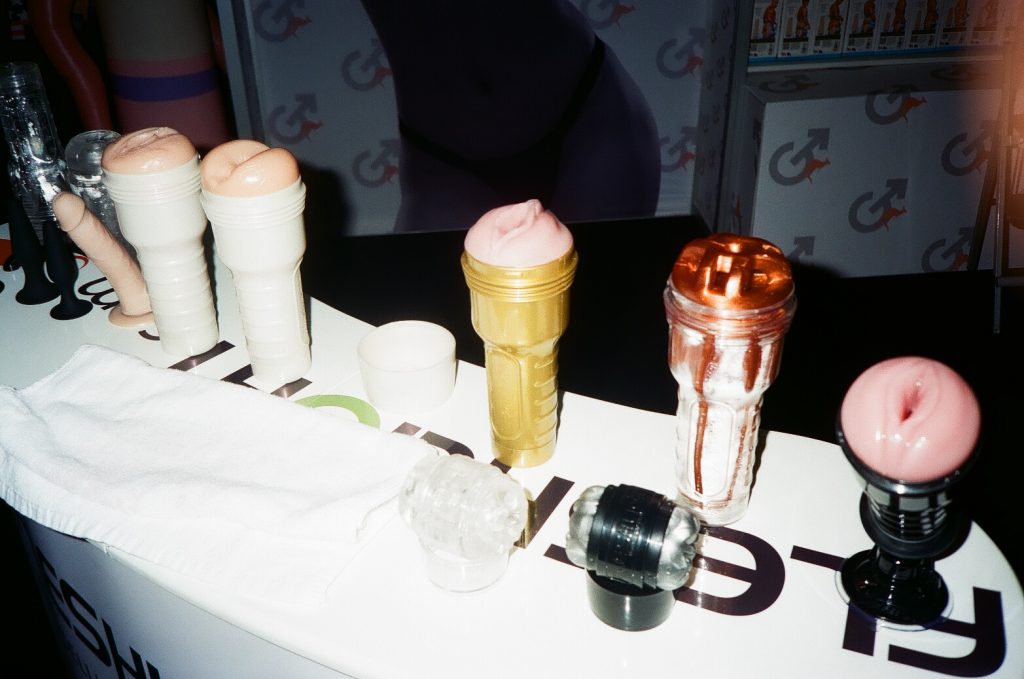 Also, 'All Star' by Smash Mouth is playing over the speakers for some reason. Sexy! With its abundance of stalls, spruikers and phallic carnival games, Sexpo almost feels like the Easter Show, except that instead of buying showbags filled with Whoopee Cushions and expired candy, you're taking home extra-terrestrial vibrators and ball gags with adjustable studded straps. And yes, perhaps even a butt plug.
As I arrive at the Fleshlight stand, Lisa is perched on a stool with a lengthy queue of admirers waiting for pictures and autographs. She holds a neat stack of flyers, signing each one with her sprawling signature in black texta. Behind her, there's rows upon rows of Lisa's signature Fleshlight toys, moulded carefully to replicate her own vagina. I wonder what it must feel like, standing next to hundreds of artificial vaginas crafted in your likeness, that people are willing to pay top dollar for. I imagine that it's a potent mix of pride and power.
The crowds gathered today are an IRL reflection of Lisa's online omnipresence. Despite retiring from porn back in 2014, she's still ranked among PornHub's Top 3 most popular stars in the United States, France, Mexico, India, Russia and yes, right here in Australia. She's the industry's most dominant MILF, leaving an endless stack of sticky keyboards in her wake. Lively and charismatic, she's also one of the most successful crossover stories into the mainstream, with her entrepreneurial mindset ensuring that her post-porn life still snatches the spotlight.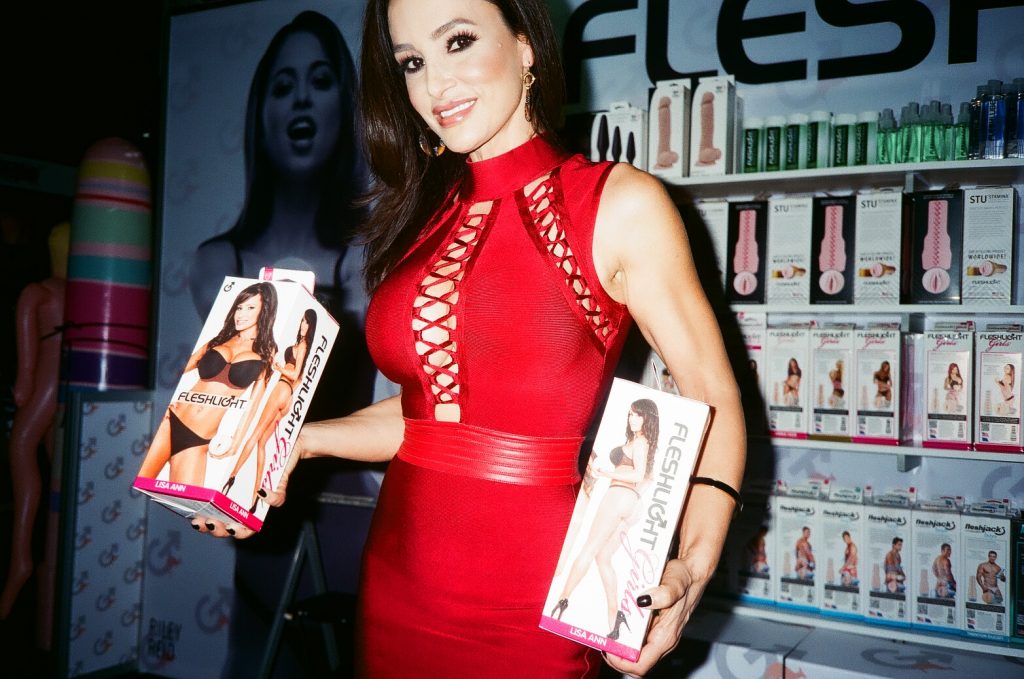 Her headline slot at Sexpo makes perfect sense, given that Lisa has worked in all aspects of porn. She's been an actress, director and talent agent, with a fierce a streak of activism that has defined her work. In her early years, Lisa was adamant about participating in interracial scenes, despite flagrant racism in the industry. "My first contract, the company told me I couldn't do interracial… As soon as I was out of my contract, I decided to defy the odds, and make sure every scene I did, in the beginning, was all interracial," she says.
"And agents would tell me, 'This is gonna ruin your career. No one's gonna hire you.' And I am living proof that it does nothing to your career in a negative way," she continues. "If you are a sexual being, and you love to produce beautiful content, interracial is just another level to it. In the art world, the appeal of the eye, the interracial sex scene is such a three-dimensional visional experience that it makes it very different to watch."
Finding much of her onscreen success during her later years, Lisa has also been a driving force behind the MILF movement, destroying preconceptions about age in the porn industry. "As for ageism, now that we have the MILF genre, and all these genres, it's opened up a lot more for older women to come in and shoot. It's become this great place for any age," she says.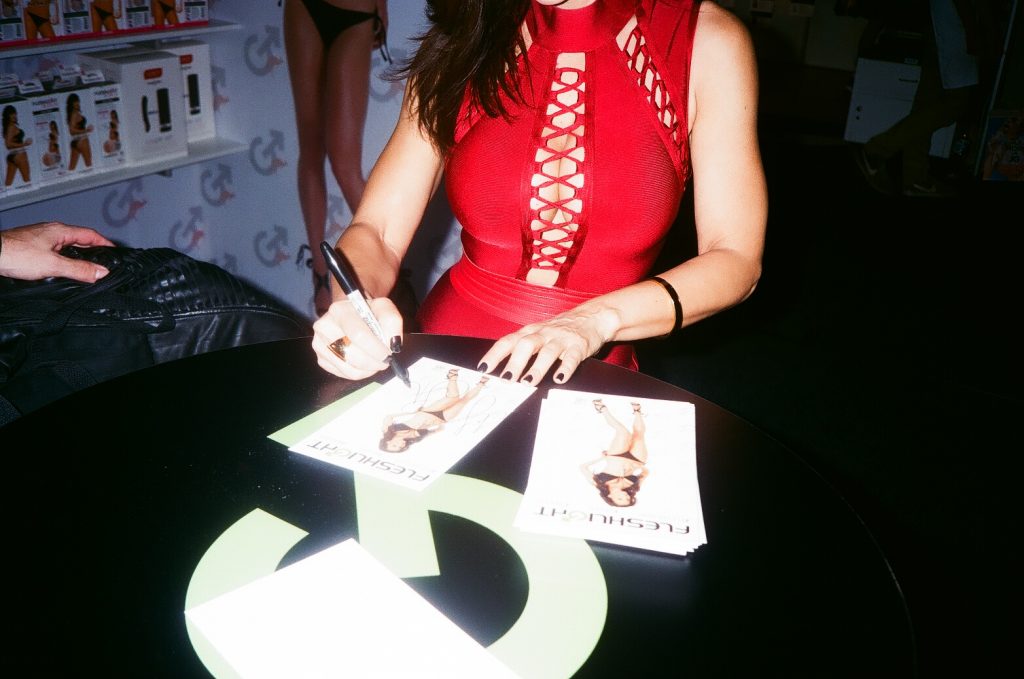 Indeed, it was nine years ago that Lisa (then in her mid-30s) took her career to unprecedented heights with Who's Nailin' Paylin?, a film where she played a much more naked version of American conservative Sarah Palin, someone she describes as her "polar opposite." The film was so popular that it evolved into a series, including a bonus Presidential scene, Obama is Nailin' Palin. It's fortunate that America has some attractive politicians to portray, because here in Australia, we're pretty certain that there are approximately zero people are waiting for a Malcolm Turnbull and Pauline Hanson parody porno.
"It was such a huge hit. Everyone wanted me to dress like her. I mean, my friends would call it my drag. And they would say to me, 'Why don't you put on your drag today?' We'd go walk around in Times Square for no fucking reason," she says. And though Lisa reached out to the real Palin to catch up over coffee, the requests fell on deaf ears. "I tried meeting her quite a few times, and it never really worked out… I was a lot more gracious to her, like, "Thanks Sarah, you made me a lot of money!"
The Palin fiasco then stretched well outside the walls of porn, with Lisa reprising her role in Eminem's music video for 'We Made You,' as well as six years on the road stripping as the politician. Having danced since the 80s, Lisa knows a little more about strip clubs than your average punter who once went to Porky's after grabbing a Fillet-O-Fish from McDonald's in Kings Cross. And despite popular pre-conceptions that Southern rap's butt-jiggling anthems are the best soundtrack for stripping, Lisa names Nine Inch Nails' classic 'Head Like A Hole' as her ultimate undressing anthem.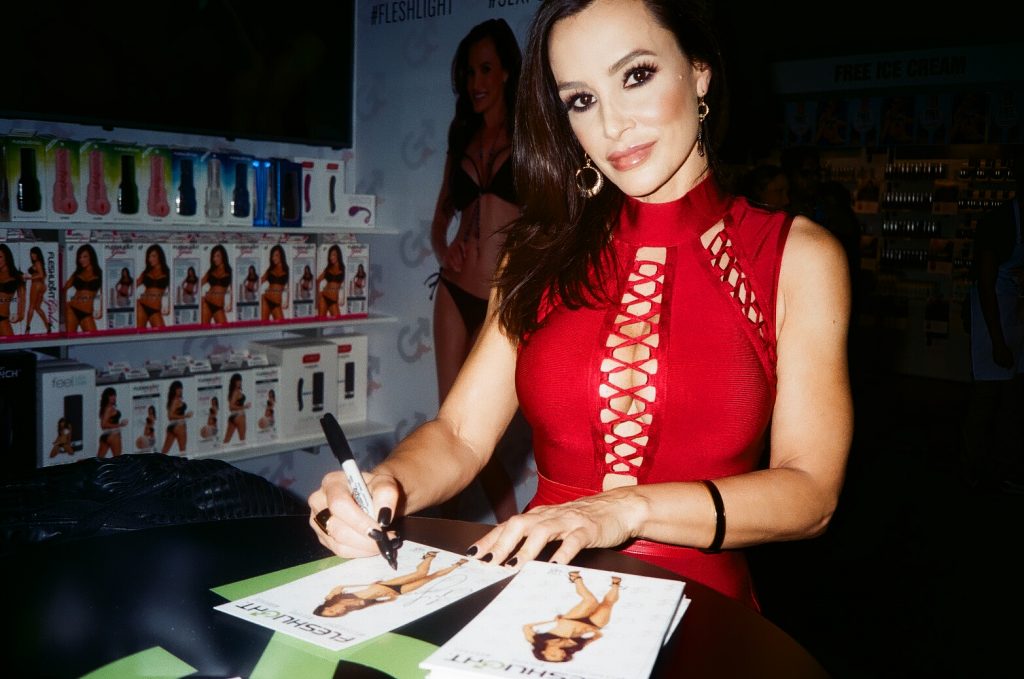 "I listen to the most disgusting rap music, like people are dying and there's gun shots," she says. "But not all clubs want that in their environment, and I learned on the road that you gotta know what area you're in. If you're in the Midwest, they like rock 'n' roll. I still love to dance to Rage Against the Machine, A Perfect Circle, Tool… When I started dancing, we were dancing to Rush, Scorpio and Mötley Crüe."
With Sexpo attendees still waiting patiently nearby for our interview to finish, I'm reminded of Lisa's appearance on the After Porn Ends 2 documentary, where she outlines her unique fan interactions. "There's a comfort when a guy sees me that's much different than when he sees a football player or basketball player. He has masturbated to me," she says in After Porn Ends 2. "When he looks at me, and we make eye contact and that twinkle happens, and he remembers all those moments, it's a feeling, it's an adrenaline rush." So, just how does one identify "that twinkle" when meeting someone, hidden all the way inside their eyeball? Lisa provides a very woke answer.
"Well, it's a very different connection, because when they see me, their trigger in the brain releases the endorphins that reminds them how they know me," she says. "Now, at these trade shows it's all about sex, but it's much different when you're at Starbucks and a guy realises it's you, but he doesn't know where he knows you from. And so, he's at the Starbucks, and he looks over, and then it hits him. And as it's hitting him, I realise it's hitting him. And he's kind of like a deer in the headlights, or as you guys would say, a kangaroo in the headlights. And then I know: That's the twinkle."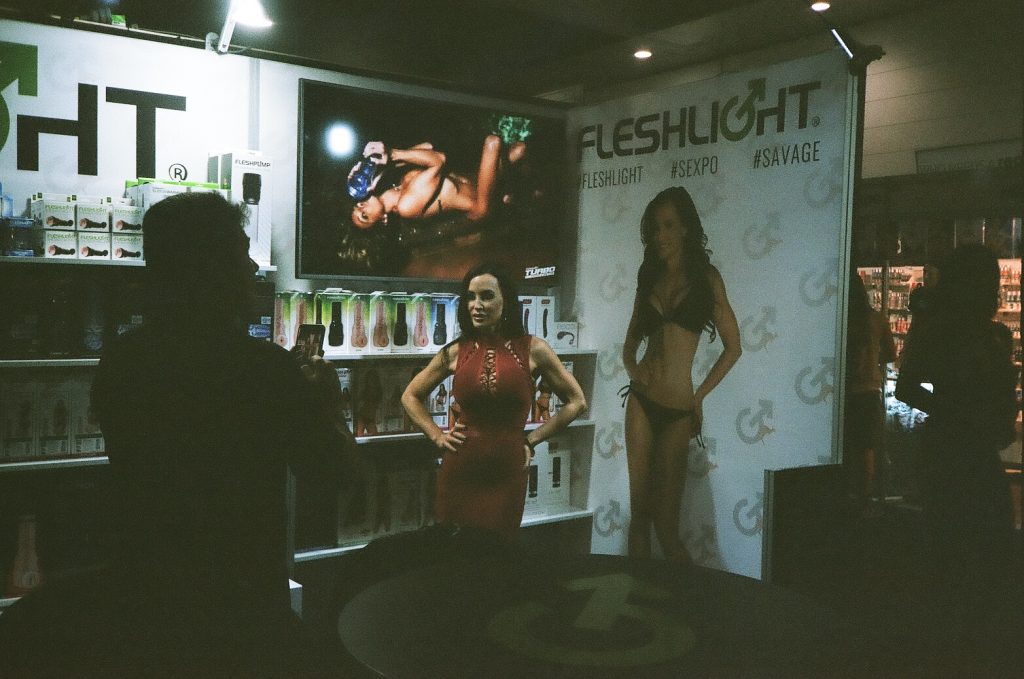 Having retired from porn, Lisa now talks Fantasy Football on Sirius XM sports radio, which means that she's always "watching games, studying stats and looking at injury reports." She also spends her time working out, cooking, writing her second book and managing a "roster" of romantic interests. She's enjoyed the fruits of her X-rated success in the years after, having diversified into other realms of entertainment with striking success.
If there's one thing that we can learn from the prominence of Lisa and a mega-event like Sexpo, it's that porn is becoming normalised at a rapid rate. And while there's bound to be many more adult stars who make that leap into mainstream consciousness, there will only ever be one Lisa Ann – so we're betting that eyes will keep on twinkling for years to come.