Words by Christopher Kevin Au
We'll always welcome a little more vibrancy in our lives, and David Porte Beckefeld provides plenty with his hypercolour graphics inspired by Australian dance music.
Having worked with local heavyweights like Hayden James, Basenji and RÜFÜS, David has spent years bridging his love of homegrown synths and eye-popping gradients. Tonight, he'll be presenting his debut solo exhibition Auralvis Vol. 1 which presents eight artworks inspired by eight Australian dance tracks. All pieces will be auctioned off throughout the night, with proceeds going to Youth Off The Streets.
It's all down tonight at Goodspace Gallery in Chippendale from 6:00pm, with James Hunt of RÜFÜS spinning tunes for the evening, as well as commemorative tees and totes available to purchase. Before it all goes down, we spoke to David about his zesty aesthetic, favourite clubbing memories and longstanding love affair with Australian dance:

What are your feelings heading into your first ever solo exhibition this week?
There's definitely positive emotions going into the exhibition this week, especially considering everything has gone to plan thus far. I'm anticipating to see how the artworks will be perceived, but I'd have to say I'm most excited to see who will win the artworks!
What was the first dance track that you fell in love with? How did you then get so involved with the local electronic scene?
Oh there's so many to choose from! I used to record Wild FM to my little tape deck I had when I was 7 (back before it became Nova 96.9) and purchased countless Wild compilations and Ministry Of Sound Annuals, haha. From that time I'd have to say the stand out track would be 'Delerium – Silence ft. Sarah McLachlan (Tiesto Mix)' which I can safely say still holds up well today.
I would attribute my start in the local electronic scene to my closest friend James Hunt. We met in Year 5 in primary school, exchanging a bootleg copy of Wild: Volume 14 at the time, we stayed the closest of friends since then. Around the time he started playing in RÜFÜS I was attending Billy Blue (College of Design) and I would cut my teeth offering creative insight, artwork, merch and visuals where I could.
I went on to work with the award winning pair, Toby & Pete on Flume's live visuals for Listen Out in 2014 with my very talented friend Nick Johnstone. Working there on such a large project concreted my passion for splicing design with electronic music. Ever since then I've freelanced for myself working closely with local artists on artwork covers, branding and live visuals. I've had the pleasure of working with Hayden James, Thomston, Client Liason, Porsches, Kilter, Basenji, V Energy, Sony Music and of course RÜFÜS.
What's the difference between a track that gets you dancing and one that inspires you to create an artwork?
I don't necessarily treat them exclusively. I think what really inspires me to create an artwork from a song is what it emotionally communicates or a strong visual the sounds create in my head. That emotive feeling or imagined visual compels what subject matter or messaging I feel the artwork should communicate. I also try to be very sensitive to creating artwork that suits and respects the artist's existing brand identity, artwork or look.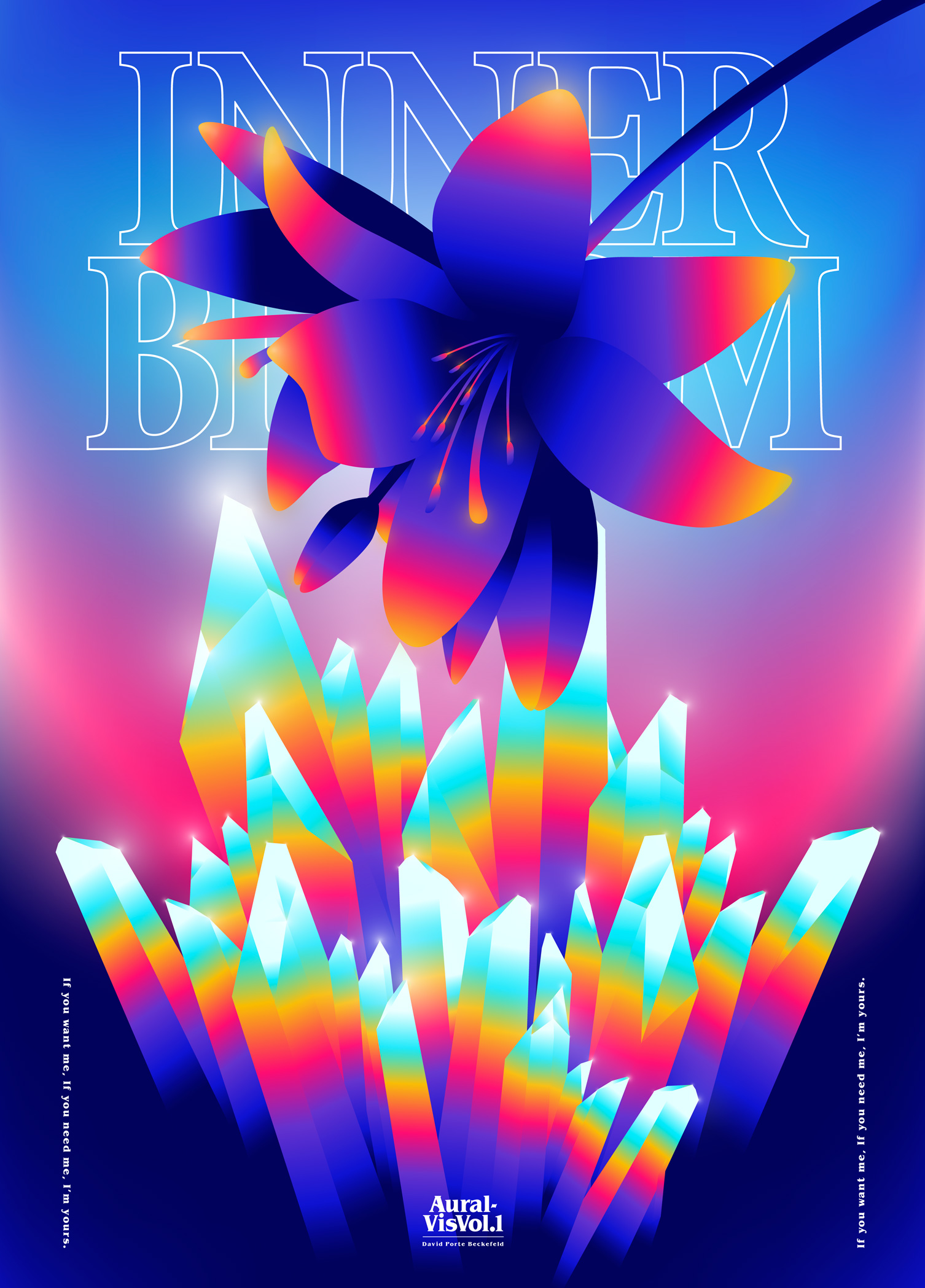 There's been a lot of awesome dance tracks out of Australia in the past few years. How did you curate these eight and how do you think they compliment each other in a setting like this?
You're right, Australia has been a breeding ground for some amazing dance tracks for years now, I can honestly say I listen to more local music than what's abroad! I wanted to curate tracks that have a strong emotive theme to give me plenty of visual stimulus to translate into some interesting abstract visuals.
The emotional vulnerability of the lyrics "If you want me, if you need me, I'm yours" in 'Innerbloom', the perils of growing up too quickly in Mickey Kojak's "Move Too Fast', the glitzy lust of Client Liason's "That's Desire', the sentimentality of Young Franco's 'I Miss You' or the tangible delicacy of Kllo's 'Sense'. Just a few to name. and the emotional anchors which shaped and inspired the eight artworks.
What has inspired your hypercolour aesthetic, and how do you think that's reflected sonically in Australian dance?
When I was studying design and doing commercial work after uni, I always noticed many colour palettes were quite restrained or locked into a bit of dull brand look which is completely contextually appropriate to commercial design. But then I started to explore more influences, notably Alex Trochut – an amazing Spanish illustrator based in NY – or Felipe Pantone's crazy use of hypercoloured, highly saturated gradients. He's also of spanish decent, I'm half spanish from my mothers side so perhaps there's a subconscious influence there, haha.
I found myself rebelling against that rubric of what was colour appropriate to design within my personal art style. I honestly think it really suits Australian dance music sonically because the scene is very proud of the mark it's leaving on the world stage of music. Not afraid to be heard or seen, and I think vibrant colours really suit that proud sentiment.
What's your greatest clubbing memory?
I've got a lot of great clubbing memories, mostly date pre-lockout but I'd have to say the greatest recent one was seeing Mall Grab play for the first time last year with my close friends. Jordon and I had spoken about visuals among many other things prior to meeting before his set. When I first saw him I shyly went to shake his hand to which he yanked me into a big bear hug, haha. What followed was one of the greatest sets I've seen, a hybrid of CDJ and vinyl trickery, his sleight of hand over the decks is astounding. Proud to see him killing it in Europe at the moment!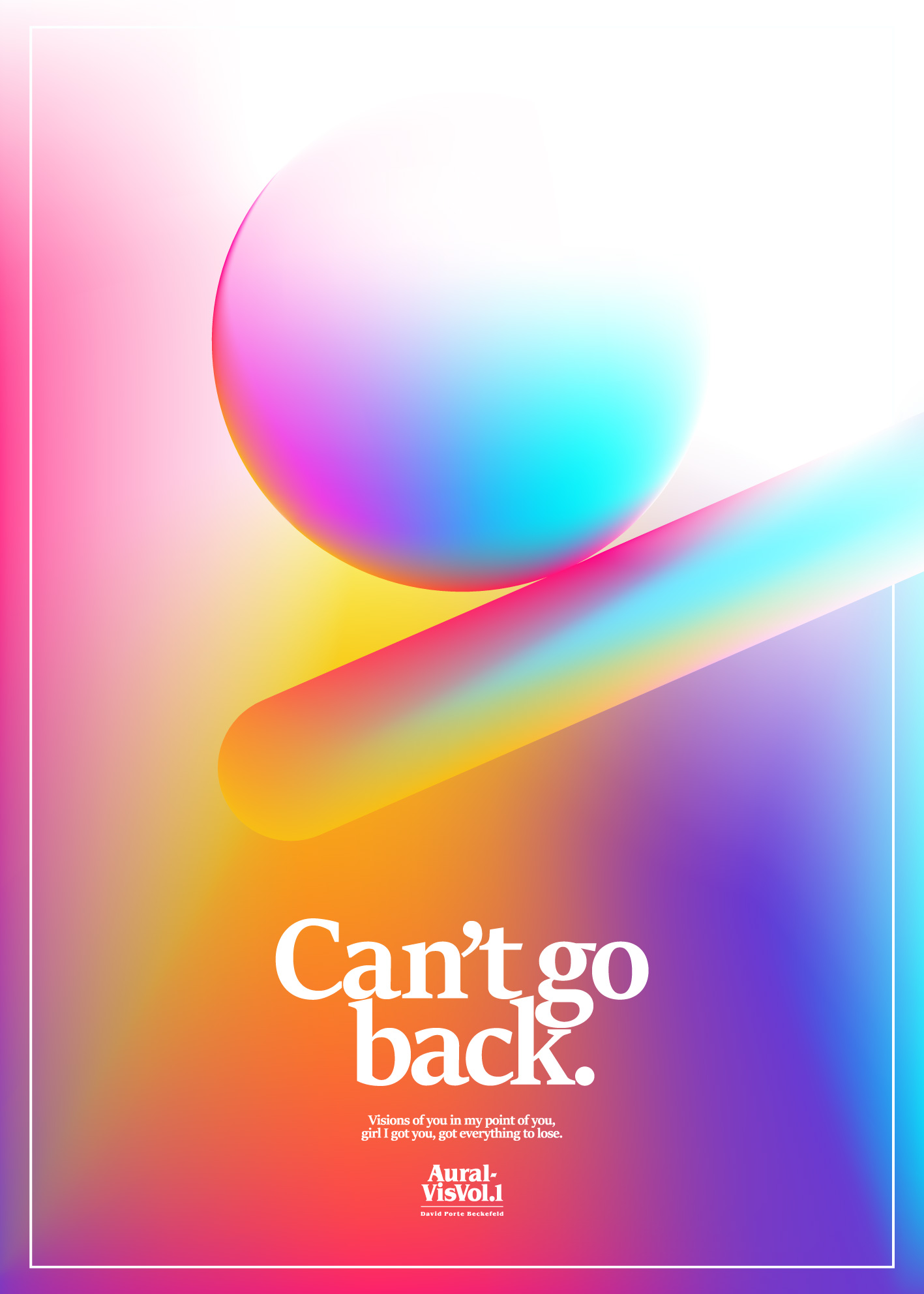 If you could create one album cover for any album in history, what would it be and what would it look like?
Wow, that's a very tough one. As far as electronic music goes and the greats that have come before and after, if I could teleport myself to a meeting room in the year 2000 with Guy-Manuel de Homem-Christo and Thomas Bangalter for the Discovery album artwork I'd say that would have to be it. Seeing the Interstella 555 animation to 'One More Time' on Saturday morning Videohits as kid was something out of this world.
To my knowledge, that album had five art directors across it – so it would be a pretty big challenge to top it, but i'd be up for it. I've always wanted to create my own treatment of the signature Daft Punk logo, so the composition would definitely be centered around that, with my own hypercolour interpretation to illustrate the emotions that album stirred within me when I first heard it.
Tell us more about he charity that the Auralvis proceeds will be going to?
The charity I've chosen is Youth Off The Streets. When I was in High School at Marist College in North Sydney, my friends and I took part in 'Night Patrol' (Shout out to Mr. Anthony McDonnell) where we would make allocated stop offs in the CBD at night to give out sandwiches and hot beverages. It was very sad to see the reality of existence the homeless lived at our own doorstep, I experienced an outside perspective of what their lives were like for a couple of hours. But on the flipside, that was their reality day to day, 24/7.
It was particularly heartbreaking to see people as young as I was at the time, living homeless and the impression that left on me with a desire to see young people off the streets attributed to to why I decided to chooseYouth Off The Streets.
The exhibition is called Auralvis Vol. 1 – does that imply that there's going to be more of his series in the future?
Absolutely! I named it Vol.1 with the intention to host future volumes with different Australian dance tracks, artworks, charities and potentially different artwork mediums too!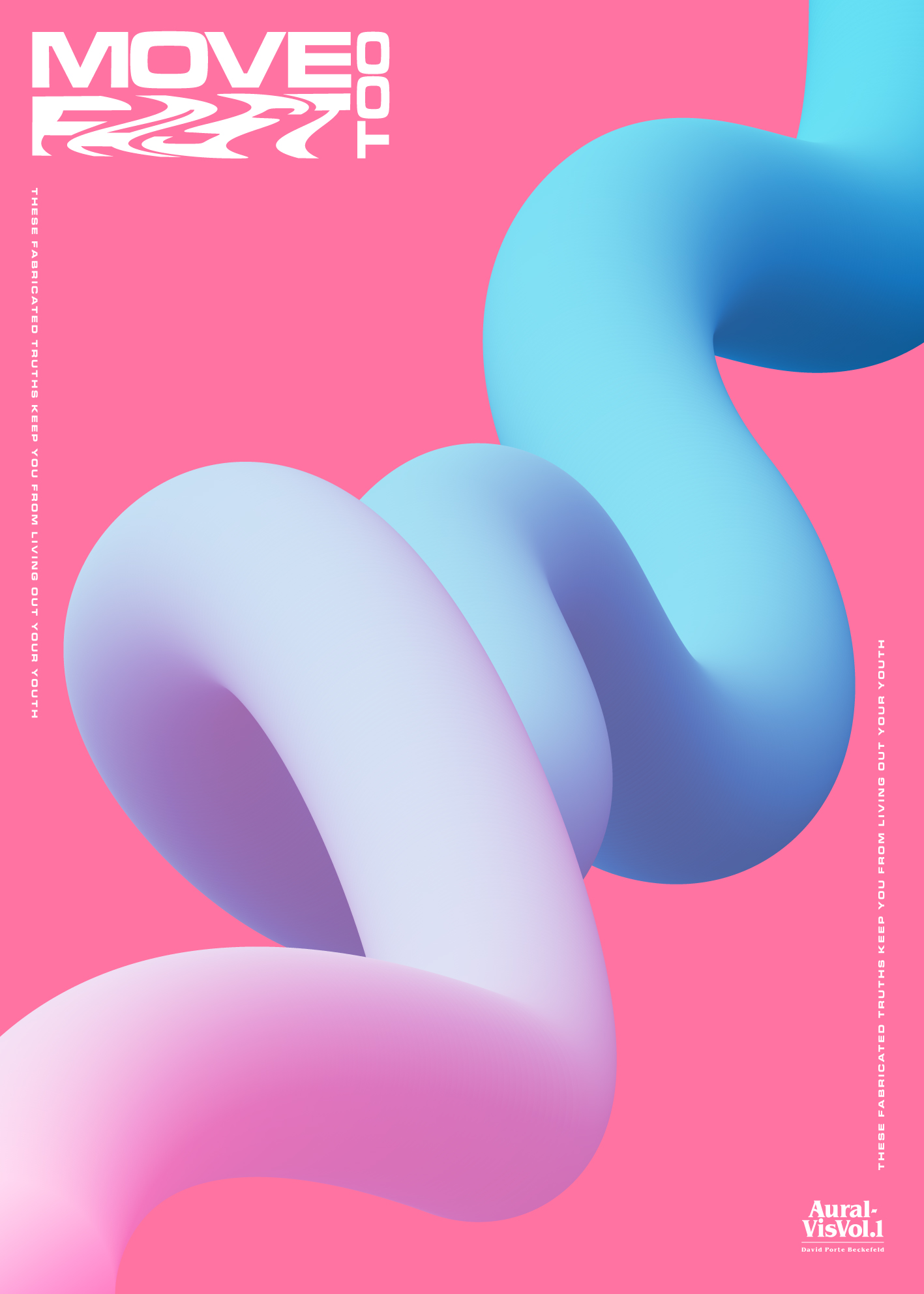 Say something about Sydney's lockout laws that haven't been said already?
Having gone to the Keep Sydney open rallies, spoken to Tyson about his great efforts as well as friends and artists affected by the lockouts, it's disappointing the laws are still in place for such a global city. I will say is I genuinely commend those that have backed, created, pushed and played events in an effort to maintain the scene in face of this restriction, I take my hat off to them, because without their optimism and work around efforts, our city's culture would have well and truly perished significantly by now.
What's on the cards for the rest of 2017?
Many more projects with artists are locked in, with lots of live visuals and music videos to come. Vol.2 is definitely on the cards for this year, last year I had a taste of working with Mazde – a German based artist signed to Stoney Roads Records – and seeing footage for visuals I did for him at a festival in Romania was something else. Eventually expanding my work overseas is something I also look forward to.
Big thank you to Mum, Dad, Krysta, Jess, Tim, James and all my family and friends who've donated their time to helping me, and of course Christopher Kevin Au (Cam'ron's Cabramatta Remix) and Life Without Andy for taking the time to interview me!