Australian artist Sam Octigan recently displayed his latest 'Mythos' exhibition at Goodspace Gallery – and now he'll be opening the same show in his hometown of Melbourne.
Exploring cultural myths with intricate and beautiful paintings, 'Mythos' serves as an aesthetic delight as well as an exploration of history and the blurred lines of reality. Ahead of the show's Melbourne premiere at The Stockroom tomorrow night, we caught up with Sam to get an insight into his latest batch of works:
'Mythos' will mark your fourth solo exhibition. Do the nerves subside or does it get easier with each one?
Yeah I think they do. Each go around you become more and more familiar with the process, so the unknowns that cause the nerves shrink I guess. Though I doubt they every completely disappear
How do you think you have progressed as an artist since your first solo exhibition?
My first solo exhibition was actually with Chris who runs Goodspace at his old gallery, The Tate, in Glebe. That was in 2012 and looking back at it, I think I've progressed a lot in terms of composition and control of the medium. Though, the biggest learning curves have all come from understanding how to execute a show like this and what to expect and how to get the most out of it. Still a long way to go though, haha.
Tell us about the works that have formed 'Mythos'. Where did your inspiration come from and how long did it take to complete all of the works?
I spend a lot of time kicking around ideas in my sketchbook. I started on these ideas early this year, but in terms of creating the finished paintings I've become a lot faster, 5-6 days on each I'd guess. The inspiration flowed on from one off commission I did last year, where I was asked to create a representative of 'good and evil' and chose to depict the garden of eden. Normally the concepts of my work are strictly personal, but I enjoyed working with an existing narrative for a change and was inspired to create this full body of work around the idea.
What are some of the cultural myths you've highlighted in the exhibition? How do you think these differ between Eastern and Western countries?
I made a point of selecting a broad range from all different cultures and what I found was that the similarities far out weighed the differences, which I find interesting. Virgin birth, resurrection, loss of power etc. All reoccurring themes across many cultures. An interesting difference though is certain myths are taken at face value and others really tread the line between myth and belief depending on who you were to speak to.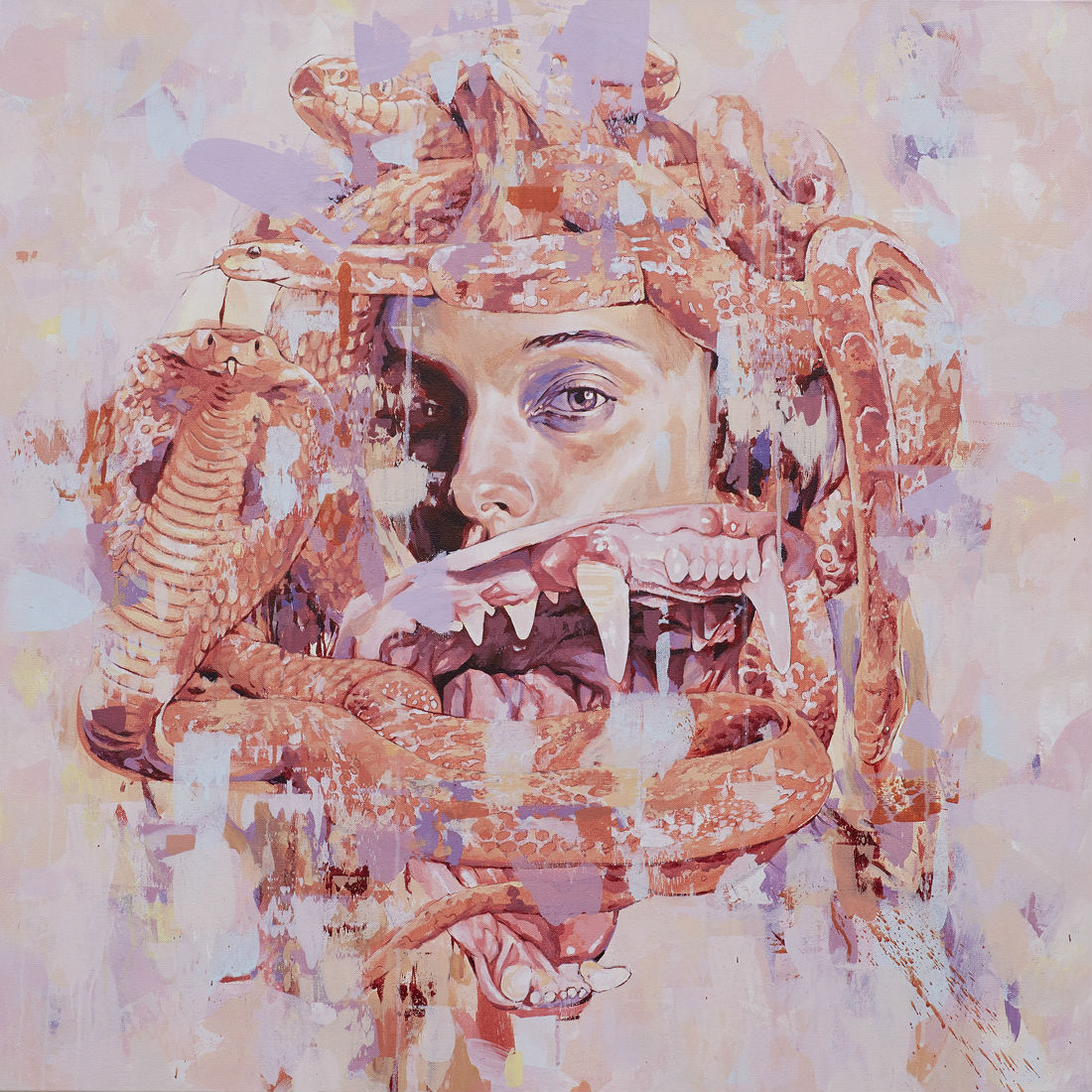 You seem to have a heavy use of warm colours in this exhibition. Was there any particular reason for your use of richer shades?
I'm always experimenting with palate and am never satisfied haha. I use color as a way to engage an audience more so than to communicate a mood etc. Different palates seem to arrest and draw in a viewer.
Your works will be exhibiting in both Sydney and Melbourne. How would you describe the audiences and creative communities in each city? How are they alike and how do they differ?
I think the similarities outweigh the differences. Both are very supportive and full of great talent. I think Melbourne has more of an emphasis on street art at the moment, while I've always noticed more artists that have a commercial practice to what they do in Sydney.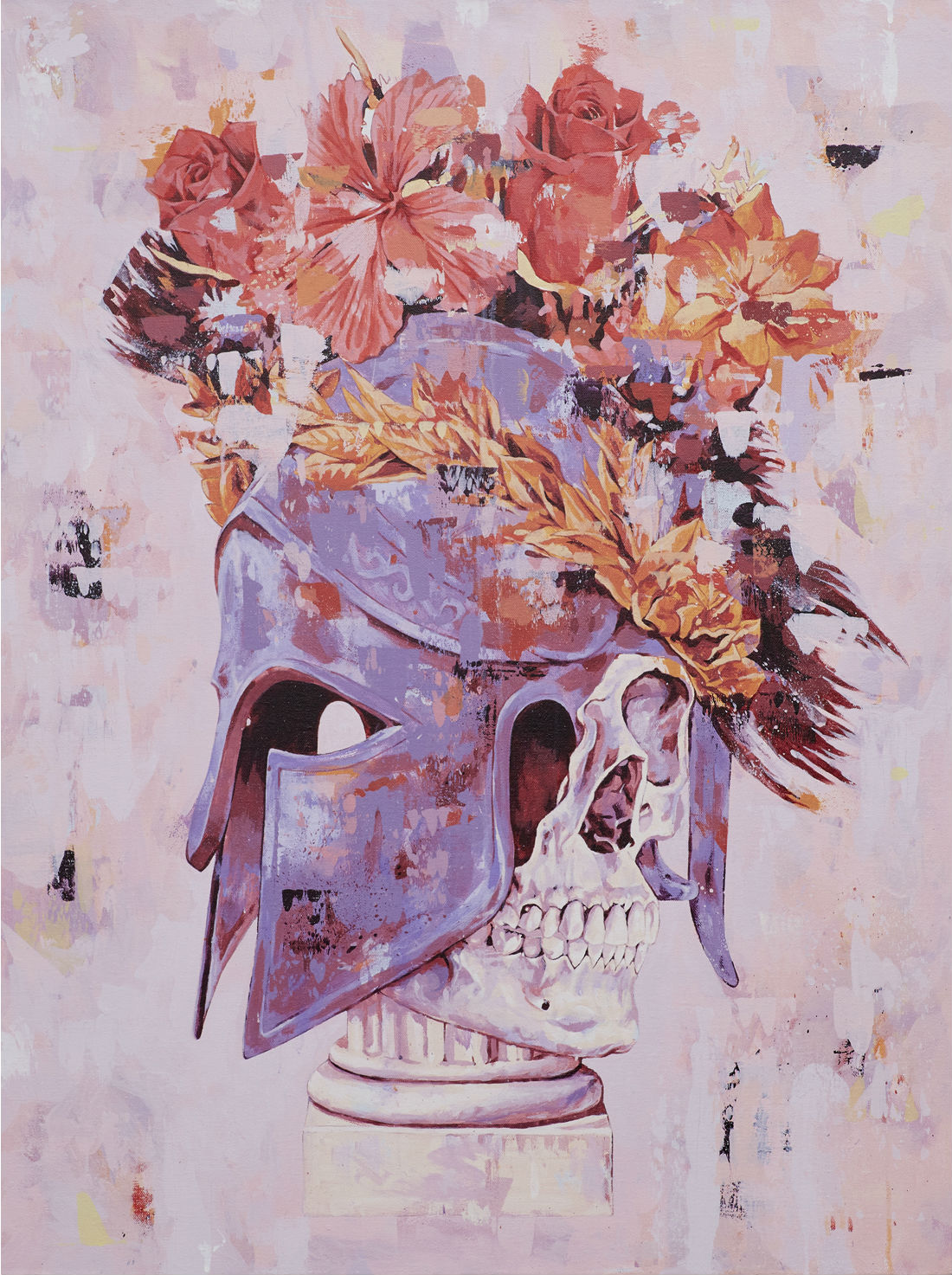 You also have an interest in history. 100 years from now, how do you think our generation will be remembered, especially seeing as how many are predicting an impending apocalypse under President Trump?
I think future societies will laugh at the things that divide us today and how easily we're still divided.
What's on the cards for

Sam

Octigan

for the rest of 2016?
A few cool commissions and commercial projects that I'm excited about. I'll also start preparing for my next show, which will be at Outre Gallery here in Melbourne as part of the Small Wall Project. Will be creating mostly smaller works, which is something new for me. Looking forward to mixing it up!