We've heard from the artist himself, but what about the people who inspire him?
As far as accomplishments go, there's perhaps no better title than that of the creative 'muse.' But for this bunch of talents, the accolade is doubly impressive for the fact that it's been bestowed by one of the country's most prominent illustrators, in tandem with its biggest brand. 
As the vision boards behind the BONDS x Kentaro Yoshida collaboration, Dylan Goodearl, Paulo Borges and WA photographers Zac White, Matthew Price and Daniel Barrington faced quite the challenge. To front a big-time campaign and inspire its latest distinctly Australian aesthetic is no small feat. But for an all-Aussie cast of surfers and skaters, their credentials more than fit the brief.
With its range of summer basics from board shorts to t-shirts, the BONDS collection weaves itself yet again into Australia's cultural fabric. So who better to showcase this than those who eat, sleep and breathe by the beach? We caught up with the muses behind BONDS x Kentaro Yoshida collection for their full scoop on coastal life, surf and skate communities, and their inspiration behind Australia's most beloved threads.
You can shop the Bonds x Kentaro limited edition range online here or at select Bonds stores.
Could you tell us a little about your lifestyle? What does a typical day look like for you?

 
Dylan Goodearl: I wake up with the sun, boil the kettle, and head down to the beach with a tea to do a practice and catch the first rays of UV.  After a dip in the ocean to swim with the fish, I'll head home or to a cafe for a cuppa joe. 
Following caffeination and a home-cooked breaky, my day is spent at work which I break up with exercise and frequent visits to my garden.  As a general rule, mornings are sacred creative time and afternoons are spent doing more administrative activities.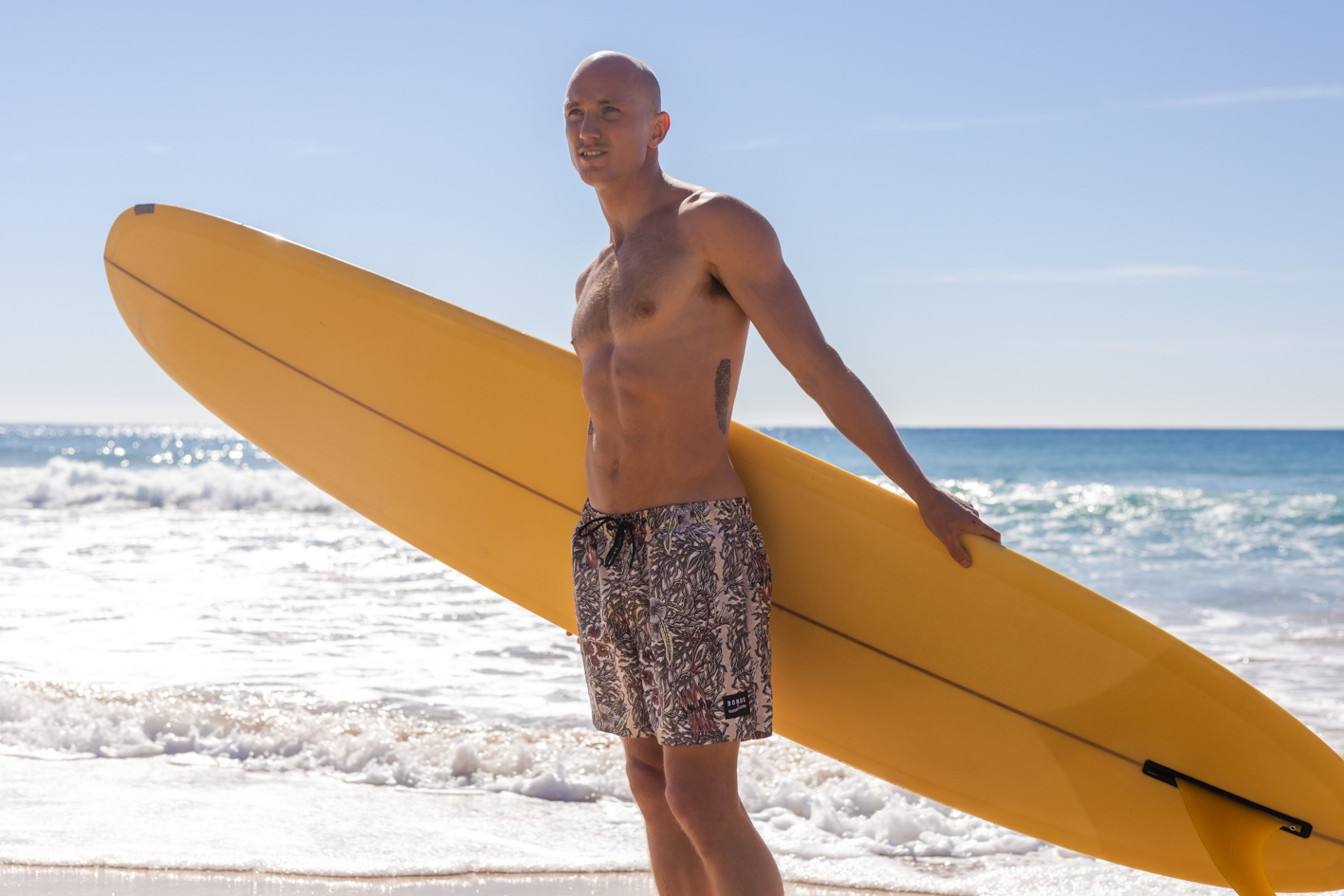 Paulo Borges: I have a very active lifestyle. I love being outdoors doing sports, exploring new places, meeting and supporting people and constantly trying to add up new things in life.  My typical day is waking up early to catch the sunrise, then afterwards going to the gym and from there chase some waves to boost up the rest of my day.
After it all, catching up with friends is always a must. The rest of the day leads from there, which could be a surfing trip, a night out or a just a chill night of laughs.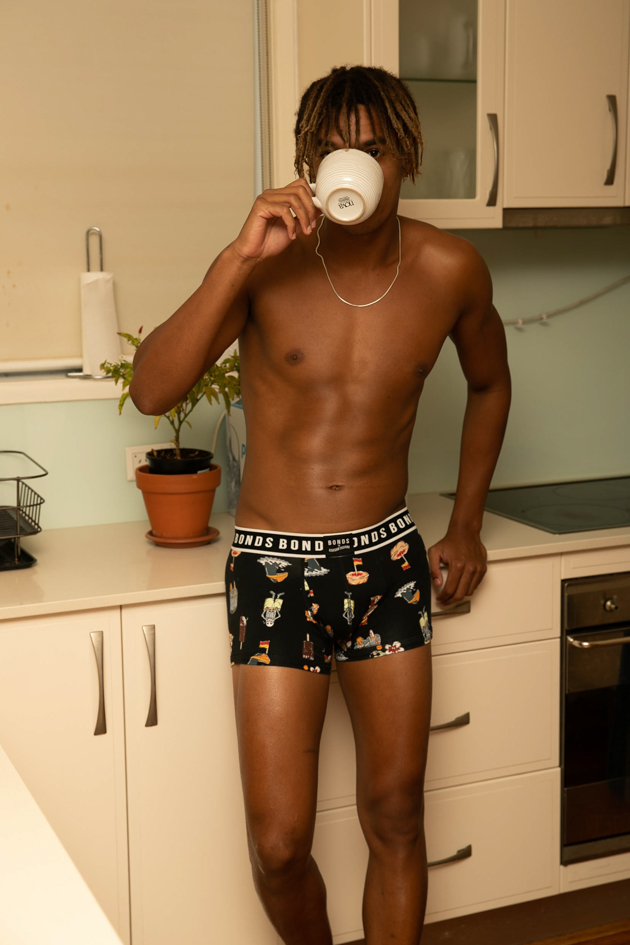 Zac White: I don't like overloading my days with work to be "busy," and I make sure I'm doing at least one thing a day that makes me happy. So the day for me usually starts with a morning swim and coffee, maybe a surf if it's on!
Follow this up with either a shoot or some lappy work which either takes all day or a few hours. Each day is different, and I kinda like it pretty unplanned at times.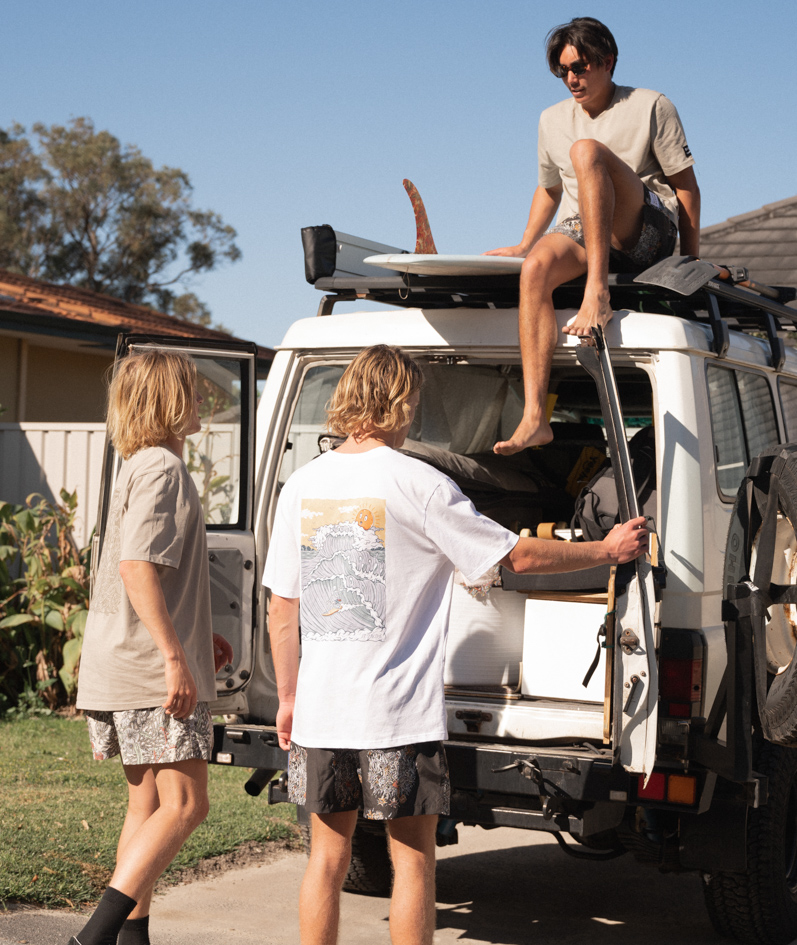 Daniel Barrington: Our lifestyle involves a balance of having as much fun as possible while getting our work done. A typical day normally starts with a coffee and an early morning dip at the beach. 
In between time at the computer editing, we're soaking up the sun for as long as possible. If there's a few waves around, I'll be out there. Our days are never the same and that's what we love about it.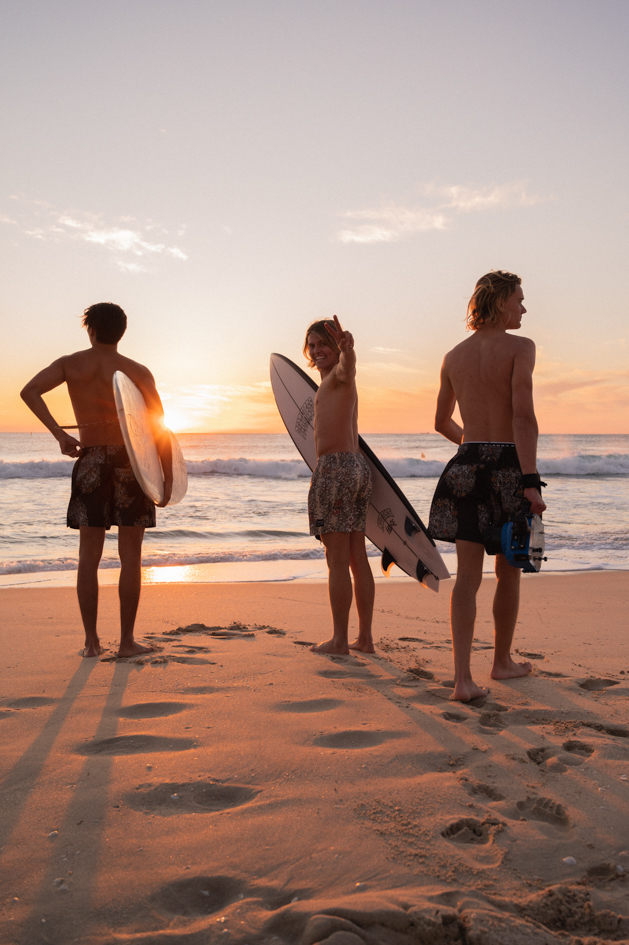 Matthew Price:  A typical day is getting down as early as I can to check the surf, my mates and I will go for a quick dip and then coffee at our local. Salt water is a massive factor in my life as it helps clear my mind, escape from any troubles on land and gets me kick started for the day. Living so close to the water, I'm able to consistently check the surf, go for midday dips or just watch the sunset.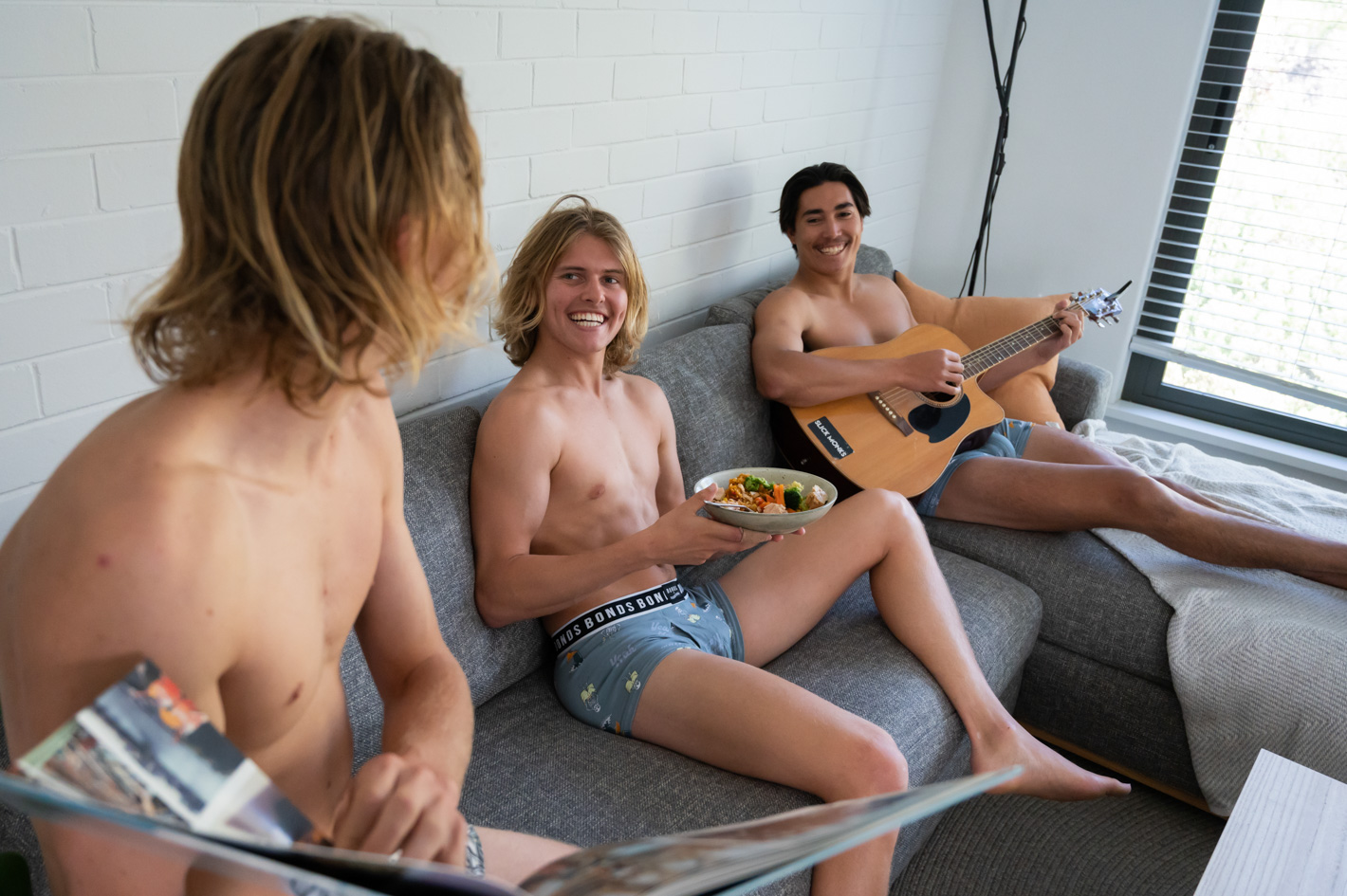 What's something you love most about your coastal town? What's something that makes it unique?
Dylan: The people. Going for a walk and bumping into smiling faces without having to plan anything. 
Paulo:  Byron Bay is famous for its unique ambience of street artists and amazing beaches. 
Zac: Throughout the summer, every Thursday, we have the sunset markets. It's a pretty cool setup with some of the best local food trucks, musicians and DJs playing tunes as the sun goes down.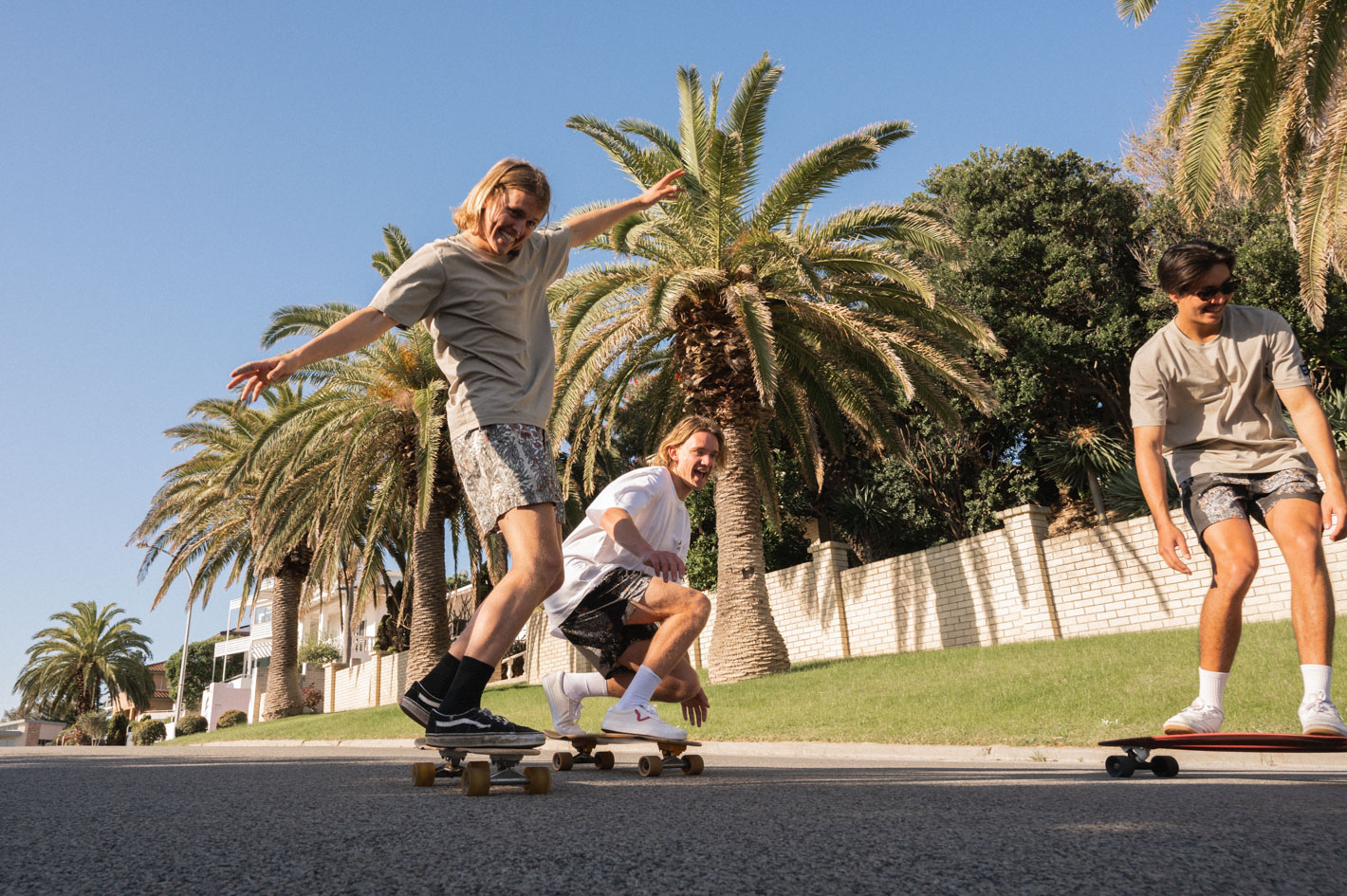 Daniel: I find myself surrounded by so many people with similar passions of creating a fun lifestyle around the ocean. It shows that Perth is one of the most isolated cities in the world as it's such a connected community and everyone seems to know everyone.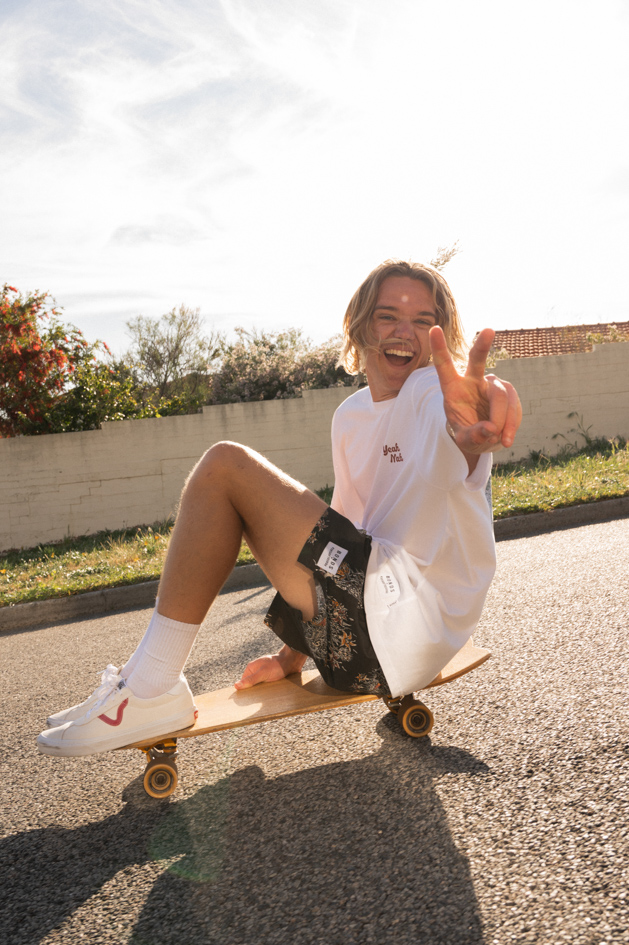 Matthew:  I live in an apartment complex with six of my best mates that are all in love with the ocean and the daily task for ourselves is to get in the water. This micro community is echoed throughout Scarborough, the people are awesome and everybody gets around it. It's communities like this that inspire myself as a content creator to capture the relationships that arise in coastal towns.
You're a photographer and video creator. What is it about your coastal town that you love documenting the most?

 

 
Zac: I picked up a camera for the first time because my mates and I wanted to document our youth exploring the coast as a late teen. I feel like we got it pretty good here, with so much to do and explore, and that's what I love to shoot. 
Daniel: I think it comes down to drawing an inspiration from different creators that also found the coast to be the best place for their work. It's being able to capture the coastal lifestyle that really gives me the thrill of being a content creator.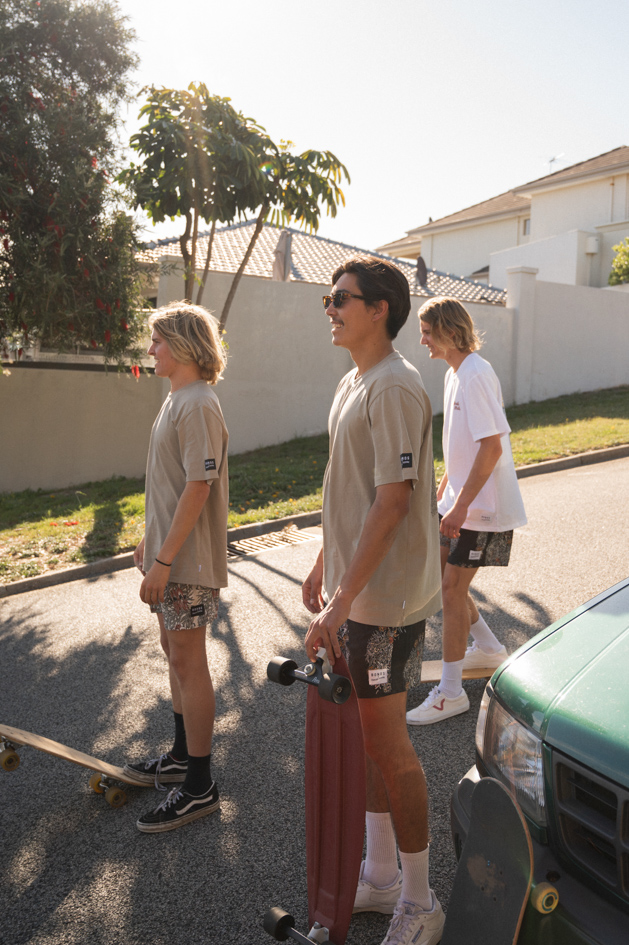 Matthew: Being in content creation, you tend to end up in the places you froth the most, because that's where you're most creative. I feel so comfortable at the beach, so I love to capture the lifestyle I live. Cruising to the beach surrounded by your mates with my board under my arm with not a worry in the world.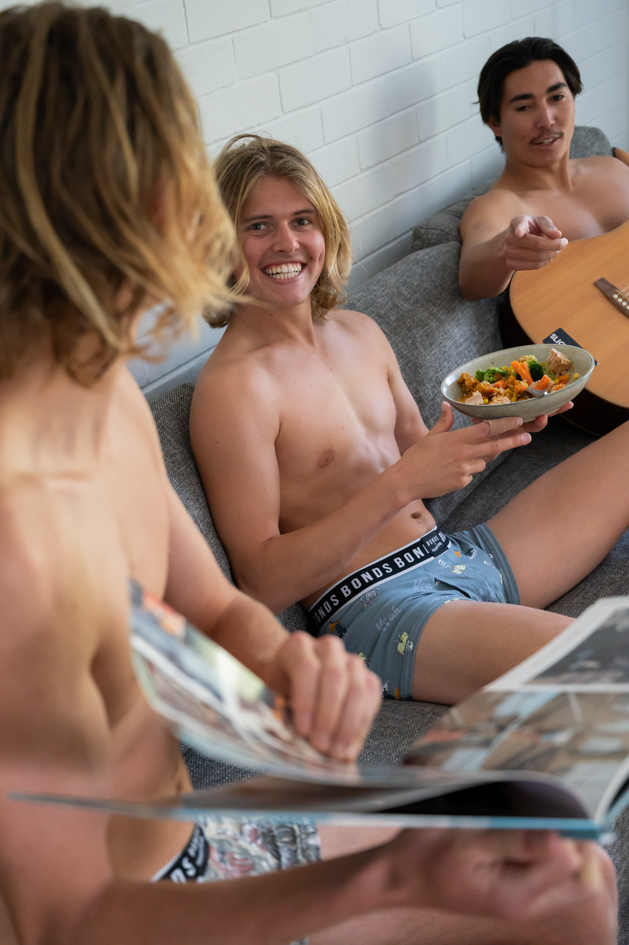 What gives your town its sense of community?
Dylan: Being near the ocean, which is a place to simplify, unwind and be present. There is this feeling of connectedness that surfers can share when surfing. The richness of the moments that unfold bind those that witness.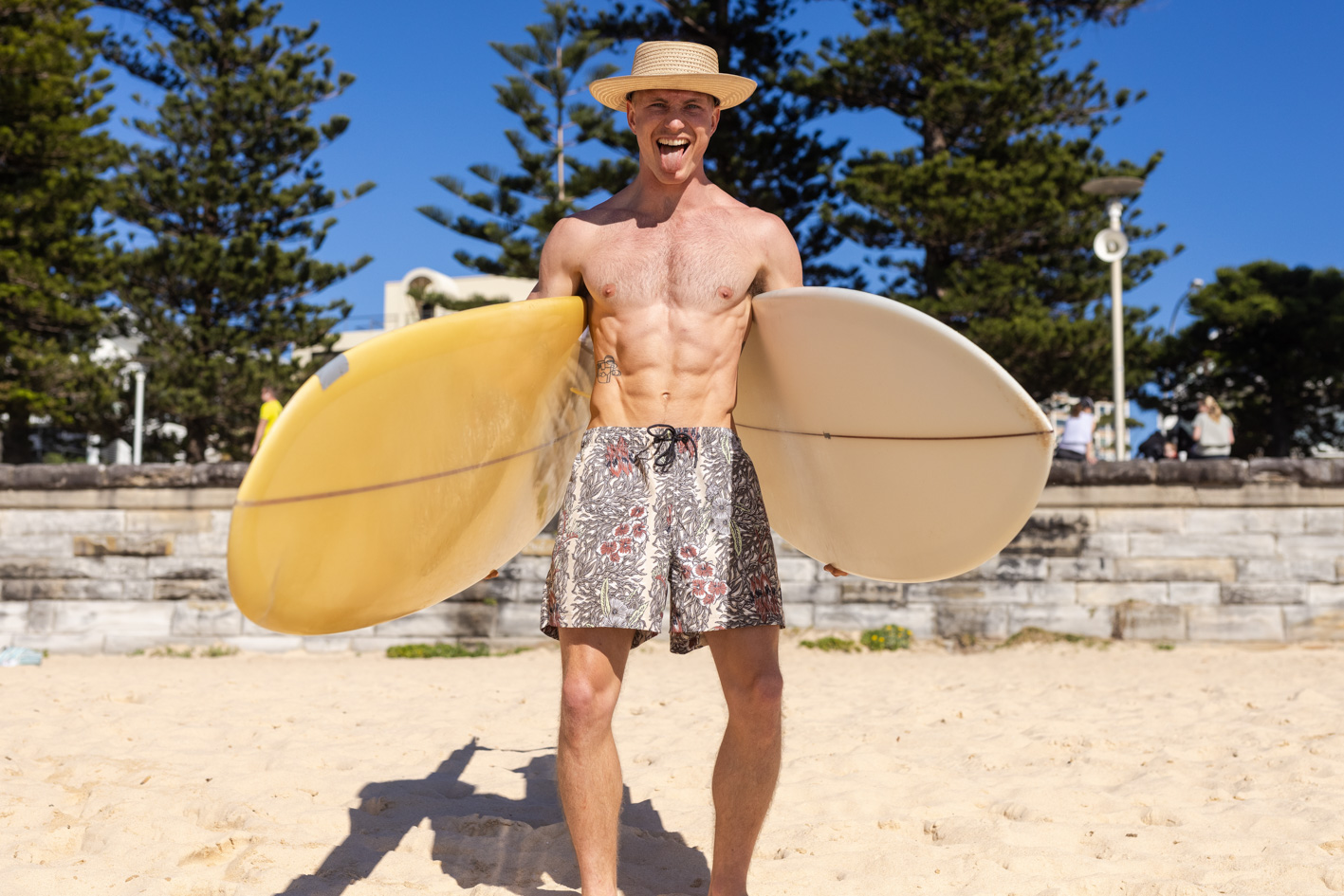 Paulo: The spirit of supporting each other and looking after the environment, which is a big part of the Byron surfing culture.   
Zac: For me it's the cafe's, the surfs and the live music that really brings a like minded community together, which everyone can feed off and get inspired by.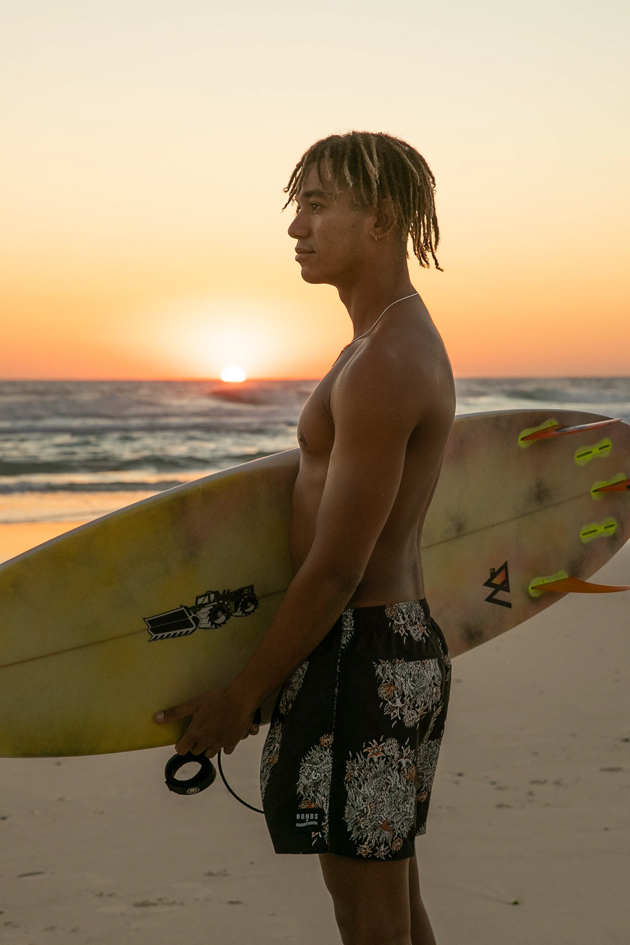 Daniel: You bump into anyone out on the water or even the local café. We've come to appreciate the vast landscapes and opportunities to explore. Perth is unique in it's own way. 
Matthew: Once you've surfed out the same spot for a while you get to know everyone. The people are what constitutes a community and the relationships that are formed in water or on land have shaped our community.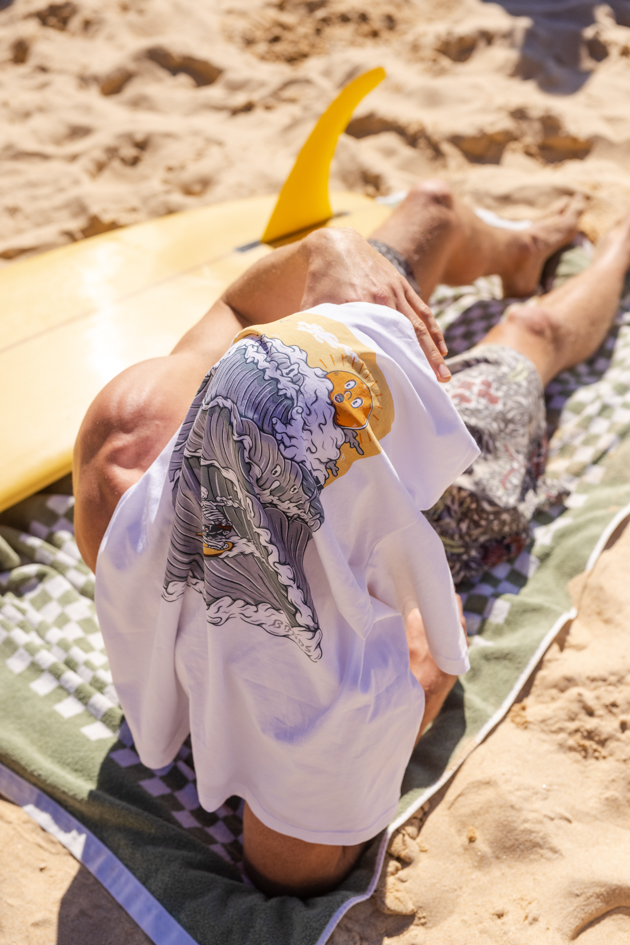 What is it about Bonds that made you want to work with them? What does 

being

 a 

Kentaro

 muse mean to you? 
Dylan: The creative concept was solid and the brief was fun. Also Bonds is, and has been, an iconic Australian brand and has been producing comfortable underwear and vibrant creative campaigns for over 10 decades. 
Kentaro depicts coastal cultures. I am but a mere wave in the ocean that inspires him. He is a super humble and talented man and it was really nice spending the day with him.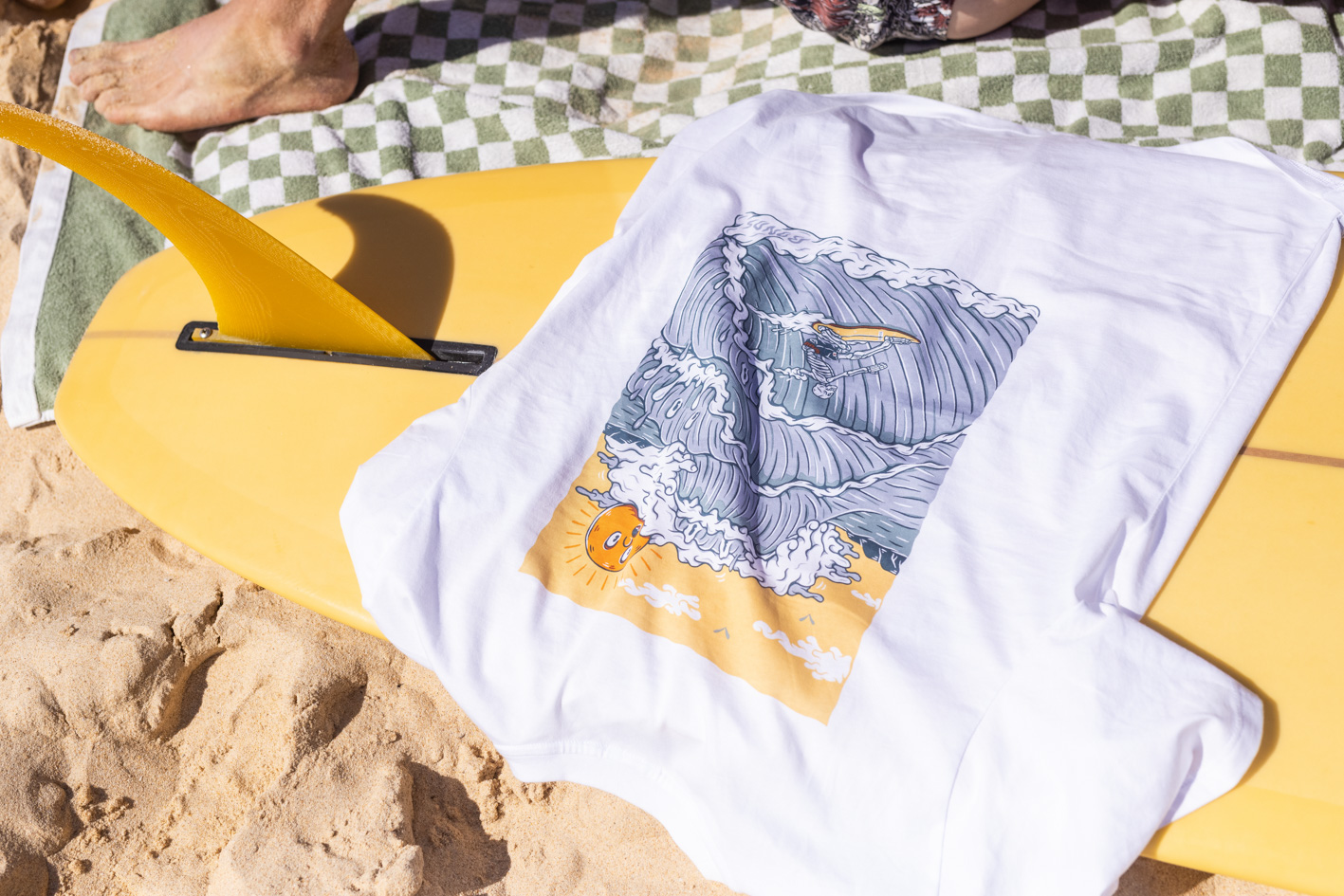 Paulo: What I love about Bonds is that they are always encouraging people to bring the best version of themselves in the most comfortable way. Also working with Kentaro was an awesome opportunity, as I relate my life and lifestyle here in Australia with his. He's been such a huge icon to the surfing and art culture around the country.
Zac:  Bonds are the kind of brand everyone is just brought up knowing, so to have the opportunity to collaborate with them itself is a pretty amazing thing.  Coastal vibes and art is something I resonate with, so it's pretty special to see Bonds supporting Kentaro and pushing it for a younger generation.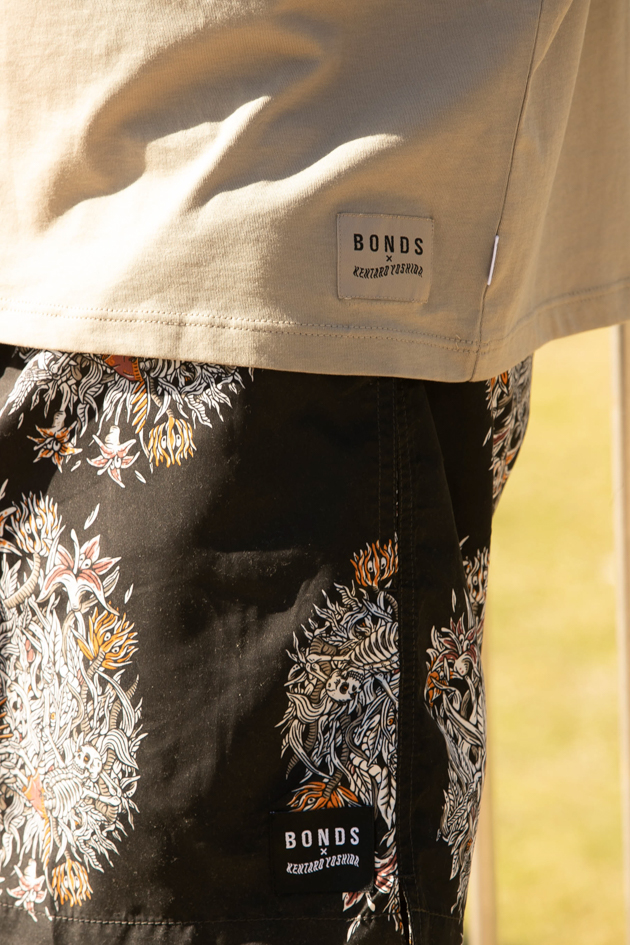 Daniel: Bonds presented a really unique opportunity. It's allowed all four of us to be involved and showcase our lifestyle on the coast with different perspectives. We've absolutely loved being a part of showing Australia Kentaro's designs.
Matthew: I've been wearing Bond's undies for years now and when I first saw the email and the potential to work with them I was frothing! Being a Kentaro muse is unreal, not only is his artwork amazing, but I love that he's truly capturing his picture of a coastal community. 
Why is it important that brands like Bonds seek out artist collaboration?
Dylan: Collaboration is key to any strong network.  Bonds empower the artists they work with and the artist reciprocally empowers the brand. Artists tell stories, challenge, and innovate. They hold the ingredients that strong brands need. 
Paulo: It is very important to embrace all types of people, cultures and lifestyles worldwide, gather the knowledge of different perspectives, and bring all that variety into one piece.  
Zac: Over the past couple of years, I think it's been really tough for artists. A lot of creatives got stung by the pandemic and I think it's great to see Bonds leveraging their brand to push artists like Kentaro. 
Daniel: Everyone's looking for an opportunity to put their work into the spotlight and I think artists working with brands is an amazing way to do it. Artists put a new perspective on clothing designs. Combining Kentaro's designs with Bonds clothing has allowed Australia to see another side of collaborations.