Entrepreneurial skills coming out hard…
The saga of Drake's Birdhouse Skateboards hoodie continues to grow, however now, the most recent update on the situation might just clear Drizzy of any wrongdoing.
To catch you up on the whole drama, a picture of Drake rocking a Alpine-Green hoodie blew up recently, catching the attention of both the skate and fashion worlds alike. It went so far as prompting Birdhouse Skateboards founder and skateboard icon Tony Hawk to weigh in on the situation; specifically calling the hoodie a fake and accusing drake of rocking bootlegged clothing.
However, now the seller Drake bought the hoodie off (who goes by paul_doesnt_exist), has now indeed confirmed the hoodie is the real deal, showing it with an array of vintage '90s catalogs to prove its legitimacy. He did note however that he had replaced the missing drawstring with his own, pointing to the new addition as a possible explanation as to why the hoodie looked fake.
It just got straight up messy by the end, but Tony Hawk, ever the entrepreneurial master, took all the controversy and put it back into the Birdhouse brand, reissuing the hoodie as the "Degrassi" hoodie; which, if you're not familiar, is the Canadian TV show that gave Drake his first big break.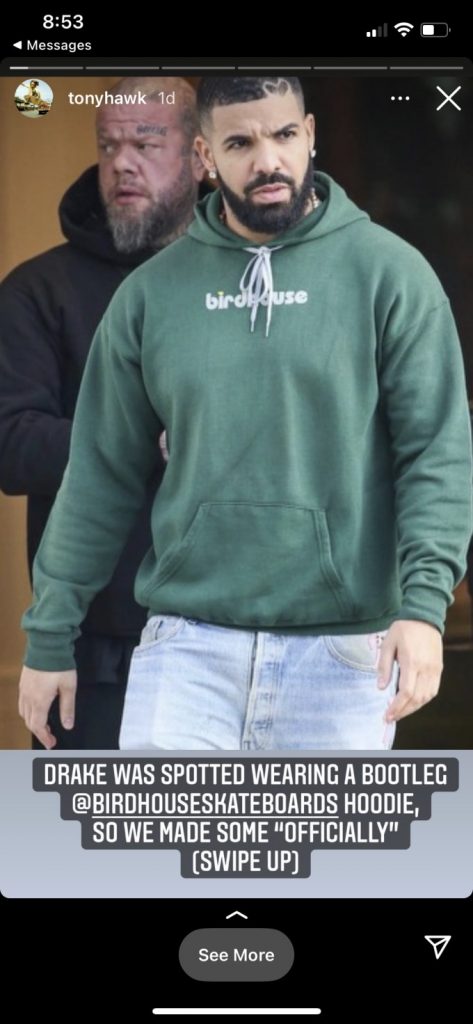 If you're vibing the 90s reminiscent hoodie (or the Degrassi one) you can cop it from the Birdhouse Skateboards web store for $70 USD ($90 AUD) here. For now, check out the full post from the seller Drake bought the hoodie off to see Drizzy get his name cleared below..
View this post on Instagram