Image by Jess Gleeson //
The Easy Detention tour kicks of in October..
If you're feeling like a wander down the nostalgic path of early 2000s Aus rock, any Grinspoon live performance from Big Day Out, Homebake etc etc is the perfect jumping off point. The Lismore band who first won triple j's Unerathed comp back in 1995 (!) are an unforgettable force live and represent of the last of a slew of bands like Jebediah, Frenzal, Gerling that haven't lost their fire, backing up their on-stage antics with some anthemic hits for the masses.
Now, in celebration of their iconic albums Easy (1999) and New Detention (2002) the group will embark on the Easy Detention tour which will coincide with the release of the first-ever vinyl pressings of both records on Friday, September 8th. Fans can already pre-order these special editions. The tour, scheduled for October and November, will feature support acts Private Function and Cupid & The Stupids and will cover various cities across the country.
https://www.youtube.com/watch?v=nkfs58f3j78
The Easy Detention tour will kick off at Miami Marketta Laneway on October 29, and from there, the band will visit Hobart, Melbourne, Brisbane, Adelaide, Sydney, Newcastle, and conclude at the Astor Theatre in Perth on November 24. Tickets will go on sale to the general public on Friday, June 2, at 9 am (local time) through the band's official website, www.grinspoon.com.au. Fans who join the band's newsletter will have the opportunity to purchase presale tickets starting from 10 am (local time) on Thursday, June 1, until 8 am (local time) on Friday, June 2nd.
Singer Phil Jamieson expressed his enthusiasm for bringing their renowned high-energy shows to some of the country's best live music stages. He shared, "We're delighted to be hitting the road again later this year, and I'm so enjoying putting together the set list for these shows. We'll be throwing in some songs we've never played live, believe it or not."
Peep the dates below and hit the band's website for tix: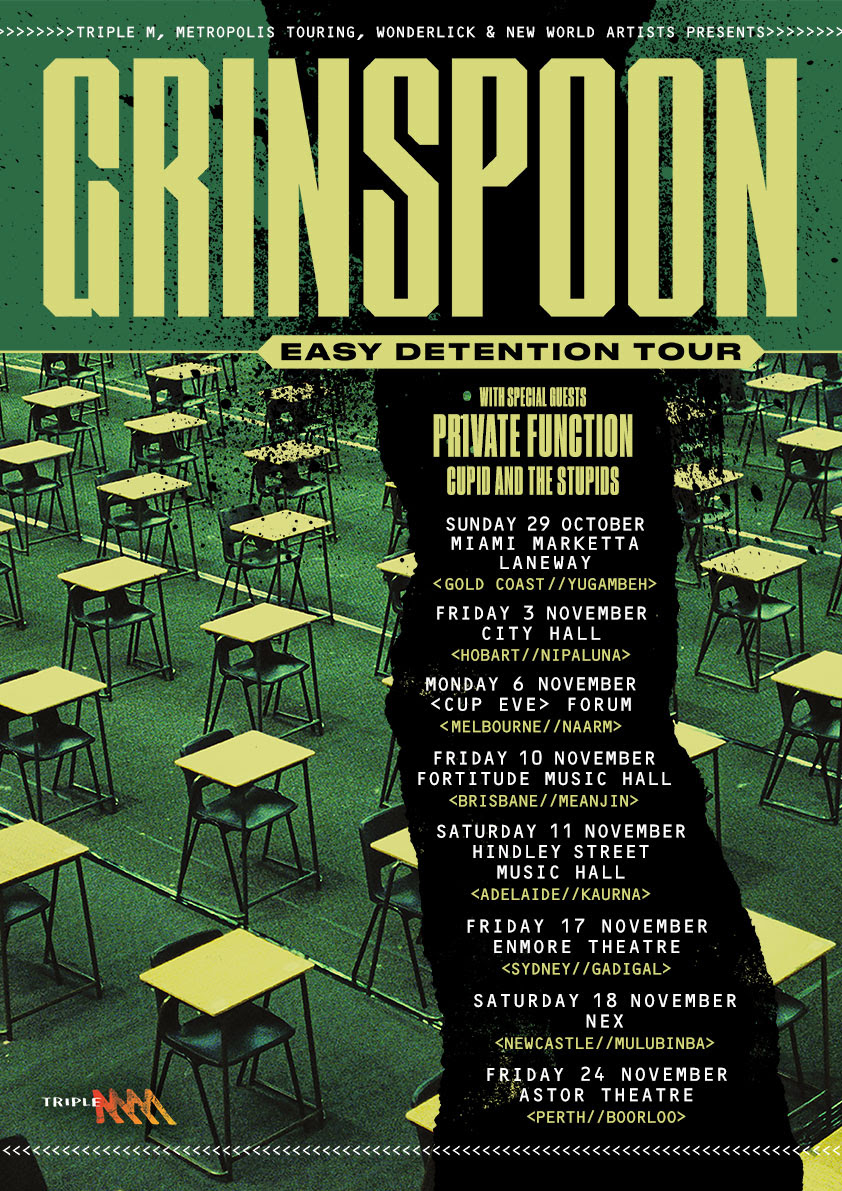 Our music new is powered by Boost Mobile.