Images via Richard Clifford //
Just five months after the launch of her new solo endeavour, Elizabeth M. Drummond has delivered a breathtaking EP.
Sydney's Elizabeth M. Drummond has just released her debut EP, Congratulations, a grainy indie-rock triumph flecked with traces of garage, folk and psychedelia. It comes after Drummond struck out on her own for the first time earlier this year, following a decade spent as one part of the successful folk/rock outfit Little May, which she formed in 2012 alongside Hannah Field and former member Annie Hamilton.
There's no doubt that Congratulations, and the project as a whole, offer the most authentic window into Drummond – the musician, and the person – we've ever glimpsed. Drummond all but confirms this when she describes the process of writing the songs as a kind of re-meeting herself.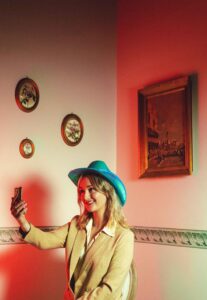 The EP is braided with arresting lyrical admissions and revelations, like on opener 'Crisis' – "All the things that ever kept me standing up have gone / And in everything I know's been proven wrong / I'm a firecracker going off in some strange guys back yard" – or on 'Bullet' – "No code of ethics, all co-dependence, my loyalty's a bitch 'cos it has no ending."
Also of note is the visual side of the project, which manages to hold a perfect mirror to the guitar-driven tracks. Much of the imagery has been made in collaboration with Melbourne-based photographer and director, Richard Clifford, and the result is an enigmatic visual landscape that carefully and spectacularly extends the world of the project. 
https://www.youtube.com/watch?v=W0eDRe_zxM0&ab_channel=ElizabethM.Drummond
Speaking on the release of EP, Drummond describes: "There's really nothing overly conceptual or cryptic about this EP. It's just a very real reflection of my inner world after a few big breakups and breakdowns."
"As dramatic as this sounds, I really was coming to terms with the fact that I had abandoned myself for most of my life."
Yet despite the fact that Congratulations draws from a deep emotional well, there is a triumph that lurks at the bottom. This is apparent nowhere more than in the title of the EP, in which Drummond offers herself, perhaps, a moment of recognition – an appreciation for the journey, as it was, as it is now and as it's yet to be.
https://www.youtube.com/watch?v=sznwOwaVGio&ab_channel=ElizabethM.Drummond
"These songs are me wading through all the details, the attachments, the drama and trauma, all to eventually meet myself fully for what felt like the first time in my life," Drummond describes. "I am grateful for the opportunity to have done so. I live a much healthier and happier life now."
Congratulations is out now through independent UK label Young Poet. Grab your copy here.