Right image via Andy C //
Anyone else up for a trip to the Gong?
Just one month out from its inaugural return, and Yours & Owls have managed to pull together two massive additions to its already stacked bill. Having been announced earlier this year and featuring the likes of Chet Faker, Oliver Tree, Golden Features and more, the South Coast event had already cemented itself as having one of the biggest lineups of the year. But now, it seems that they've managed to edge out in front, today announcing Aussie dance royalty in Flight Facilities and Pendulum for its two day dance next month.
Now, Flight Facilities will be closing the festival armed with their highly anticipated Decade's Mix of songs. It's set to be one of the nostalgic sets of the festival to say the least, with the Sydney groove shamans rattling through every major dance release of the past ten years with laser-focused precision and flare. Expect to hear the likes of Daft Punk, Tame Impala, The Presets and more, in what's a full melting pot of one of the biggest eras in music in recent memory.
Tying things all together in Pendulum, who've been making waves ever since their resurgence with their 2021 EP Elemental. Known for their signature blend of rock, heavy metal, drum & bass and various other dance genres, you can expect a bit of extra donk (and a whole lot of stank faces) to add some extra heat to the proceedings in October. They've also just released a new single in 'Colourfast', which is a perfect amalgamation of the above description. Just watching the music video you can already tell this number is going to go down a treat when Y&O takes to the University of Wollongong grounds in October.
It's set to be one of Yours & Owls' most memorable years yet, and luckily, there are still a handful of tickets left. Cop them here, and be sure to check out the full (and updated) lineup for the festival below.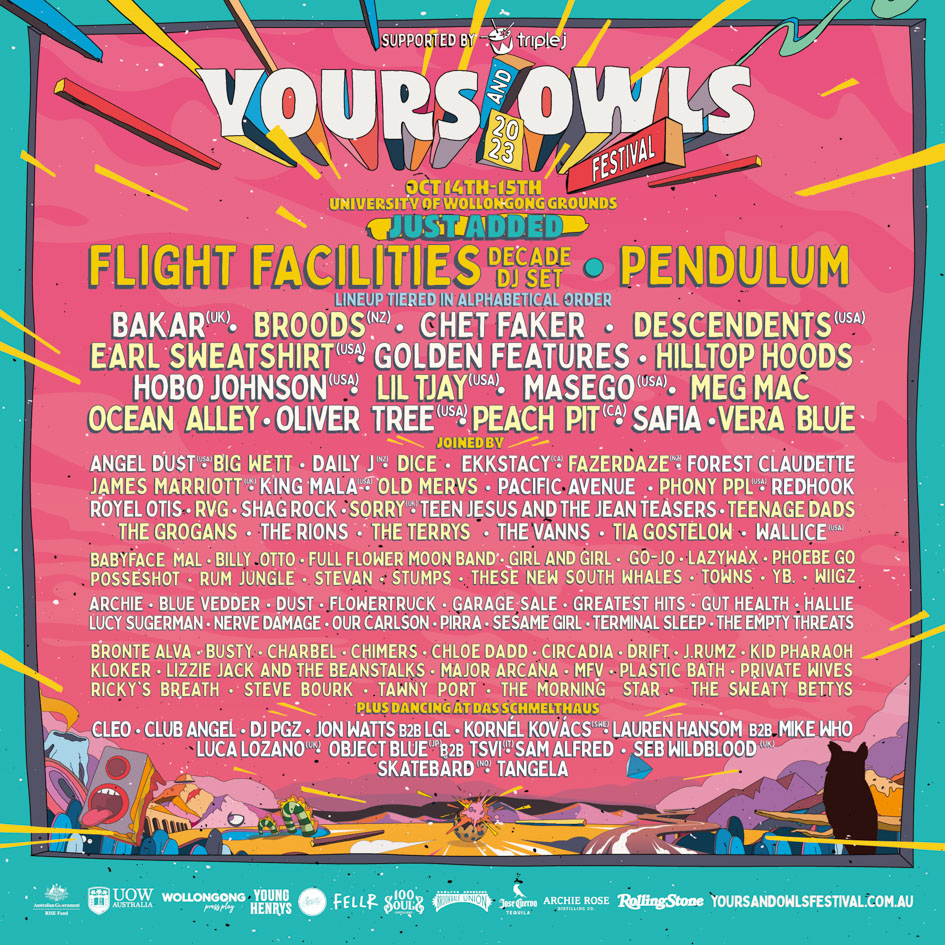 Our music news is powered by Boost Mobile.