Image via Mitch Lowe //
Hobart is definitely going to be a Vibe Town in late December…
Getting into the already competitive bloodbath that is the pool of end of year festivals, Vibestown Productions has up and pulled together some of the biggest artists in the country for Haydays Festival in Hobart. Set to take place at Kunanyi/Mount Wellington in Cornelian Bay, Hobart City, Tasmania, the NYE-adjacent shenanigans are set to take place from December 27th to 28th. So, if you didn't get hammered enough at Chrissy lunch and need another bender before New Years, it looks like a trip to Tassie will be in order.
It's a pretty big ask to fly down to Tassie, but thankfully, the lineup justifies it and then some, with UK rock legends Foals leading the lineup alongside SBTRKT Aussie dance veterans, PNAU. Between the three artists alone there's a whole lot of genre to be explored, with all corners of the indie rock, punk, electronica, and dance spectrums all in tow.
Joining them is a suite of Aussie talent, with the likes of The Jungle Giants, Genesis Owusu, Cub Sport and countless more all rounding out the bill. Confidence Man, in particular, is an act that will definitely be a set to be front and centre for, with the Queensland duo having achieved massive success in Europe as of late, most recently for their beloved collaboration with DJ Seinfeld, 'Now U Do'.
It's definitely a good way of getting in early on your NYE celebrations, and will no doubt be one of the standout festivals of the year, especially considering it'll be taking place in beautiful Tassie. Tickets for Haydays 2023 will be available via the official pre-sale which starts at 8am this Thursday, with the general sale opening at 8am next Tuesday. For now, check out the full Haydays lineup in full below.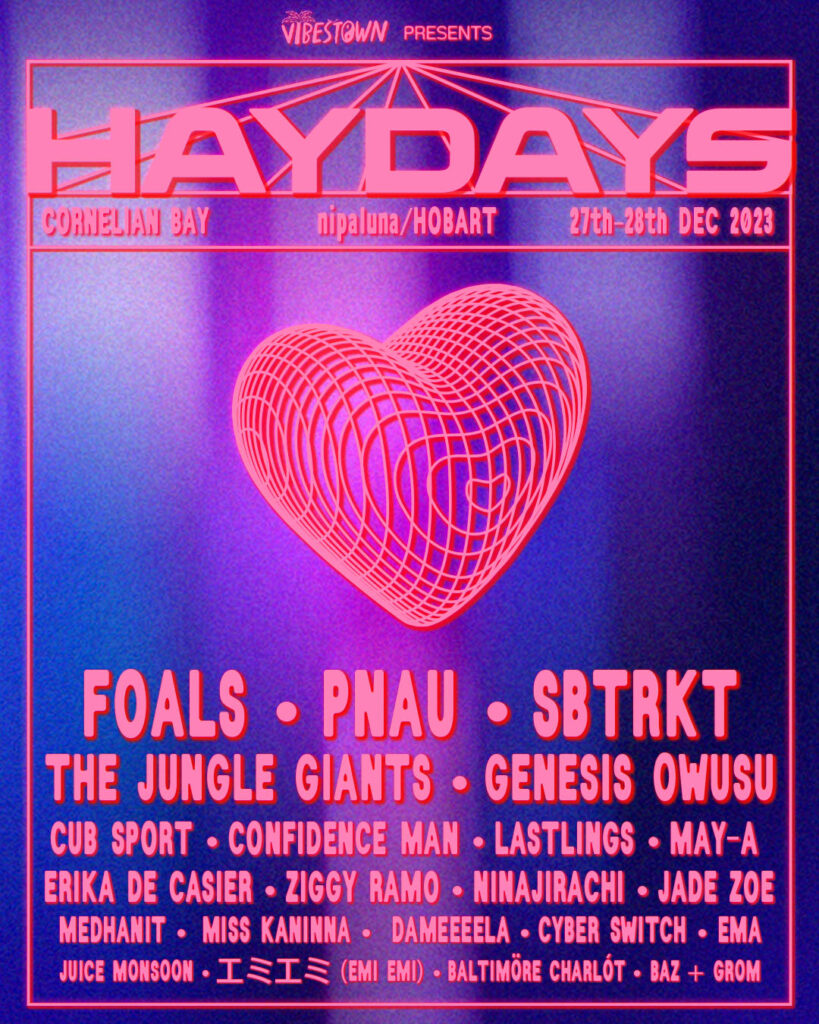 Our music news is powered by Boost Mobile.