J.I.D's the type of rapper to have you hearing things for the first time on the 25
th
listen.
Since signing to Dreamville Records in 2017, J.I.D has gone from strength to strength, flourishing under the guidance of J. Cole and co. Even before that, he was earning plaudits for his energy and meticulous arrangement of ideas and syllables. With DiCaprio 2, J.I.D levelled up again, dropping arguably one of the best hip hop releases of 2018.
He's got punchlines Big L would have been proud of and seems to genuinely relish any opportunity to mix it with hip hop's heavyweights with bubbling, fearless and for the f**k of it verses on tracks with ASAP Ferg, Method Man and, of course, J.Cole. We had the pleasure of catching up with him recently while he was in the country for Hidden Festival. Read the full interview below.
The timing of Hidden Festival is great for you because DiCaprio 2 still feels super new. This is the second time you've named a project after Leo, what's the story behind that title?
This is just a sequel. The first one was definitely named after him but this is just a sequel, so it's an addition, and it's like a mix-tape. So, I just wanted to keep rolling with that. This will probably be the last one.
Why did you name it after him the first time?
At the time he didn't have an Oscar, and I didn't have a deal. I didn't have a job. I was just working on music doing a lot of good stuff, but it wasn't really reaching the people like that. It wasn't doing what I wanted it to do, so I just kinda used the lines of symmetry there because he didn't have awards to his name and I didn't have a deal. So, it was real simple and he's one of my favourite actors.
And didn't you have some issues with the album artwork?
We just changed it. There really wasn't any issues as far as legal because it wasn't him. It was a doppelgänger. It was some dude from Sweden, so we paid for the likeness of his face and used it, put it out there, but we already wanted to change the cover 'cause the one I had posted initially wasn't the cover, it was just an option for it, but it all worked out fine.

Which songs from DiCaprio 2 are you most enjoying performing live?
For real like every song. The whole project was made while I was on the road, so I made it for performances. Every song that I do, you can tell the difference between the last project and then DiCaprio 2 when it starts immediately, 'cause just that energy and the production of it just adds for that type of energy.
Do you have a favourite track?
It changes like every day. It's hard, you know what I'm saying, to pick a favourite because you put so much work into each one of them. Today I would probably say "Slick Talk" is my favourite.
Mac Miller's loss was really felt not just in the hip hop community but throughout the music world. He assisted on one of my favourite songs from your album, 'Skrawberries'. J. Cole produced that track and you had BJ The Chicago Kid on the hook, but how was Mac involved?
He arranged the whole song, so we had the beat already. He literally took parts, dropped stuff, gave me little points, like, "You should do this, and switch this up," just little stuff like that.
https://www.youtube.com/watch?v=pdyYFp_Htxo
Let's backtrack. Before the album came out last year, you were named in the XXL Freshman Class of 2018, which is cool but kind of weird because a) you've been recording for so long, and b) your sound is super different to the rest of your classmates. You're a lot more lyrical, is that the kind of hip hop that you've always been into?
I like everything. I don't even have a favourite style of music. I was really bouncing around and trying to find the stuff that moves me, opposed to just sticking to one thing 'cause that's kind of boring. I like pretty much everything. I'm a super-rock kid, and I like electronic and stuff sometimes. It just depends on what mood I'm in.
People are quick to make comparisons between you and Kendrick, you and Cole, and Cole and Kendrick. You've mentioned that TDE-Dreamville rivalry before, is that something that motivates you?
No, I don't even think about that. I don't think about nothing for real when I make my music. I just try to keep it authentic and stay close to home with my subject, make sure it's relatable in every regard or at least try to keep my truth. I try to keep my truth within my words and stuff like that, but the rivalry thing was just funny because I feel like I was the first person to just mention, "Like, alright. We like on the same level. You know we should just talk about it." You know what I'm saying?
It's all love, right?
Yeah, it's all love. I'm on tour with Reason right now and I went on tour with Ab-Soul a few years ago. I met damn near all of them, maybe not Schoolboy and I don't feel like I met SZA before. I feel like I met everybody else then.
And isn't that how you linked up with J. Cole and Dreamville?
Yeah. When I was on tour with Ab-Soul, Bas was there from Dreamville, and Cole came to one of the shows and he saw me perform a song that I did with this group called EarthGang, if you know who that is, and yeah it was really simple as that.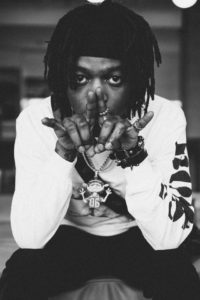 Dreamville seems like a family as much as a label and you all got together recently to record a compilation album, Revenge of the Dreamers III. Can you tell us anything about that?
Nothing. Not yet.
What was the vibe like in those sessions?
Lit. It was crazy. Just a bunch of people came through. It was like ego-less, and it was just a lot of creativity. You couldn't really put a word on it to name the feeling. It was just a great moment for music, 'cause nobody's ever done anything like that as far as I'm concerned. Like bringing that many artists through in one setting and then just being able to work effectively. I feel like that's the first time that's been done.
How different was that experience to what you're normally like in the studio?
It's different 'cause I don't even like being around people when I'm creating. Even being around there I was like, "I don't wanna write verses around y'all." I don't wanna feel like I'm trying out or doing a competition or anything like that. I make my stuff and it's always like my standards, you know what I'm saying? So that was different and I dropped a couple verses here and there, but it was great. I'm super particular about how I record and how I say stuff. It's hard for me to think around a bunch of people thinking, I guess. If that makes sense.
You've also got this extended family with Spillage Village. Can fans look forward to another instalment in the Bears Like This series?
It's on the way. I promise.
You're used to being part of a big family, right? You're the youngest of seven, what kind of lessons or traits did you pick up growing up as the youngest in your family?
I was always watching what the oldest person did or watching somebody else in the family to decide, "Oh, I probably shouldn't do that." I always had a super perceptive ideal, watching people and stuff like this, so I'm super in my head a lot, but I just watch stuff, you know what I'm saying? I learn from other people's mistakes opposed to me just making a mistake and moving on. But that happens.
Like a couple of crash test dummies before you.
Yeah, facts. I've got a lot of them.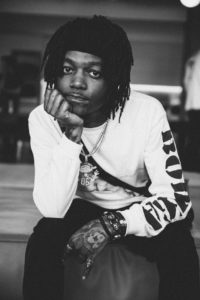 How did growing up in Atlanta shape you and your music?
Just being from A, it's already like a southern mindset. Atlanta is a city for black people, but outside it's a red state. It's below the Mason-Dixie, you know, racism is still alive. Growing up in Atlanta just taught me to stay close to your family. Atlanta is very particular, but you can see every level of success and failure in black people in the city because there's so many black people. You have a woman that could be mayor or something, but you see a junkie on a corner, so you could see every level of life that you wanna be in or what you could be in if you don't do something.
Last time you were here supporting J. Cole and this time around you've got your own sideshows. No Sydney show – so you'll have to come back for us next time – but are you excited to have that stage to yourself?
Yeah I got to come back. Yeah, it's tight though. It's gonna be super cool just to see people that wanted to come just to see me. Two Melbourne shows, we sold them out both times.
Before I let you go I'm curious about your interest in film. We've seen plenty of rappers make that crossover into movies and the film industry. Is that something you can see for yourself?
One hundred percent. I'm about to be a screenwriter. One hundred percent. That's next. That's the evolution of me. I started playing sports first, I got into music, but it's gonna end in film and I'll probably get tired and die doing like coaching or something like that but those are a couple of goals I've got for myself.
Are you trying to catch a Grammy or an Oscar first?
I gotta get a Grammy. I don't even care, if I just get nominated, I'm good. I just wanna be recognised, and I'm cool.