Check his file. On the mic or off it, Nooky can spar with the best. Lowering his guard on his new EP though, behind the bravado it's his honesty and artistry that shine. 
"Junction Court is me at my most honest. The good and the bad. It's based on the story of how Nowra got its name, which is a white cockatoo that went through fire. The fire burned and hurt him, but he didn't die and he made it out the other side. He made it out different though, definitely scarred, but he came out bigger, stronger, faster and more mature. Junction Court is my journey through the fire." Conceptually, Junction Court has a linear narrative, starting and ending with two emotionally-fuelled messages over the same instrumental. Baring raw truths, the project delves into Nooky's trials and tribulations following the loss of his cousin, Ryan. "I was like his little shadow. He was more than my cousin. That's my big brother, you know?" 
"He taught me how to rap and he passed away two years ago. I was sober three years before that but when he passed I just turned to drinking. Usually I'd go to music to let my shit out but because he was so attached to me doing music, the pain was entrenched in the music. So it was hard to go and then use that as a vehicle to get through it. I honestly didn't know what to do. I started drinking, it got pretty bad, and that's what I'm talking about on the project. That's my fire." 
Although the two tracks fit seamlessly together, they were actually written and recorded at either end of the process, and not in the order you might think. 'Nowa Nowa Pt.II', the last song on the EP, was the first track written for Junction Court, and while the concept came together for the EP and Nooky got his song tally up, he knew he couldn't tackle 'Pt.I' until the rest of the project was done. "I knew that if I had done that one first, I'd be a mess. It was always in the back of my mind to get it done but it just had to be the right moment. In the end, I went to the studio by myself, fired up the computer and just let whatever was going to come out, come out. I didn't write anything down. There was no re-dos to that. I told myself before that even if it doesn't rhyme there's no changing it. And I broke down. That was some of the hardest shit I've ever done but I felt a bit of that weight taken off."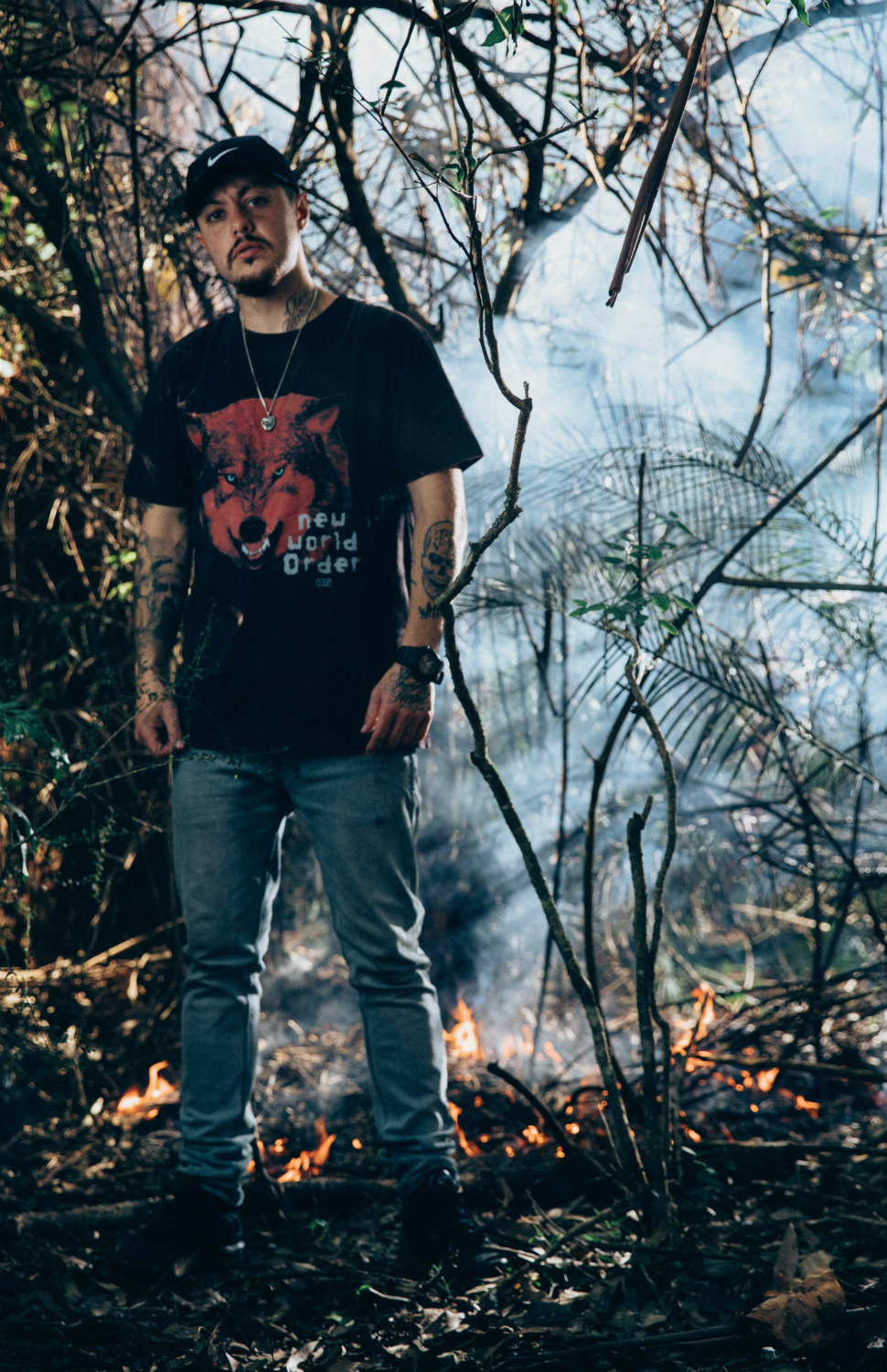 When asked about gaming references scattered throughout the EP, Nooky can't hide his excitement as his mind wanders to 'Christmas in Nowra', characterised by trips to a kleptomaniac Auntie's house which sounds pretty much like an EB Games minus the offensive sale signage. He beams, "She'd have all these games lined up so Mum and Dad would tell me to pick a couple and that was my Christmas present there… Games like Grand Theft Auto and Tekken. I've been on Tekken since day one but it's just something I enjoyed doing and something that probably kept me out of trouble. If I wasn't out throwing rocks at shit it was because I was playing Playstation." 
On the very next song (which also includes a Madden reference), 'Numb', Nooky experiments with a melodic flow. "On a surface level it looks like a party track but it's actually a lot deeper than that. With the rest of the project out, 'Numb' is going to make a lot more sense to a lot of people." A late-night number written with the help of a little Hennessy, 'Numb' represents a moment of realisation. "People would come to the Gladstone just to see if they could keep up with me. What people didn't realise was that I wasn't drinking to have fun and that's why I could go for so long. Because I was drinking to kill what's in my head, to numb the pain." 'Numb' and 'Charged Up' are in this way, inextricably linked. Listening top-to-bottom or back-to-front (Kendrick Lamar DAMN style), the two tracks represent two sides of the same coin: self-awareness and escape.
'Liberty City' is the next track on the project, and it's a flex that any fan of rap music can fuck with. Having studied rappers like Eminem, Tech N9ne and Royce Da 5'9, his flair and technical style are on full display as Nooky plays on a GTA inspired double-entendre conceived in a late night Uber. "I was just being a bit cheeky with the driver saying, 'if you want five stars, get a kill frenzy then. You want five stars or not?' So that's where those bars originated, being in the Uber and trying to get a kill frenzy." After getting those bars off, Nooky leads into the penultimate track on Junction Court, a politically-charged rejection of authority, 'Cuzn'.
Calling out issues of youth incarceration and injustice, Nooky shines a light on the cultural bonds that stand behind the track's title. Standing defiantly against a system stacked against his community, the track was inspired by his little cousin who got pinned for a punch he didn't throw, along with another Indigenous teen, while 10 others walked away from a brawl with a slap on the wrist. "That was me just frustrated, like what the fuck? I felt no love, like, 'Fuck they really don't love us. They're still trying to kill us and put us away.' That's where 'Cuzn' came from. I just had to take that home and show that yeah that's rough, but there's beauty in that as well. When we shot it, cops rocked up, stopped us and searched everyone. We left that out of the video because that wasn't the intent of the song."
Every song stands on its own, but at the same time, everything is tied together. "Everything's connected. With this project, every song relates. There's nothing out of place," he says with more than a hint of pride. Meticulously arranged, Nooky shares a lot on the 18 minute project and, in the same breath, Junction Court feels as much like a definitive body of work as the first instalment in what promises to be a lasting legacy. Most of all, it's conscious, contemporary and unapologetically Nooky. Give Junction Court a spin below:
To celebrate the release, Nooky is also hosting a series of EP Launch shows. Full details below:
Sunday, October 20 – Grace Darling, Melbourne VIC
Friday, October 25 – Waywards, Sydney NSW
Saturday, November 16 – Shoalhaven Entertainment Centre, Nowra NSW