We're taking the day off. Today, Allday is doing the interviewing, grilling his pal Tyne-James Organ about his debut LP Necessary Evil, his process and more.
Read it below and check out TJO's tour dates at the bottom of the page. Later!
ALLDAY: Yeah. Well, let's start. What's up and what's going on in your life and where are you?
Tyne-James Organ: I am currently in Wollongong at my mum's house. It's a chaotic time with the album coming out, it's my first so it's a lot to take in at the minute, I guess. It's exciting, but it's also pretty weird, if that makes sense.
AD: Is it weird because it's like your whole life culminating into making an album since you were a child? Is that why it's weird?
TJO: Yeah, it's pretty daunting. It's something I've always dreamed of doing and then I've worked hard to get it to where it's got and I'm super excited and proud of it. I'm just nervous at what everyone's going to think about it, I guess. But at the end of the day, I make music because it's my way of venting and healing, so it's helping that.
AD: Yeah, the process, you've done it now. You've written it, you've made it. That's all you can do and whatever the fucking people think about it, you can't change that. But I do want to say, I've listened to it now over the last couple of days, like a journalist, and I really love it. Every song has a purpose.
TJO: Naw, thank you, man. Putting these songs together, they had to really fit. You've made albums, you know what it's like putting it as a body. For me, I write in chapters I guess, and this is like Necessary Evil is the last five years of my life. There's good moments in there as well as all the weird ones, too.
https://www.youtube.com/watch?v=YyCH2HVE0qY
AD: There's the song 'Necessary Evil', and that's the one with, is it ukulele?
TJO: Yeah.
AD: What inspired you to use ukulele?
TJO: It was actually the first instrument I ever played. When I was 14… The ukulele I actually play on that recording is the first ever instrument I was bought. My dad got it for me and then I named him Mr. Ukupookalukey. Don't ask me why, I just did it back then. Yeah, being the first instrument that I was bought and then ever learnt I have a soft spot for it, but in putting a song with a ukulele on an album, that was something that was… It was very last minute call and that's why it's such a low-fi one-take.
I'm just sitting on a balcony thing because as much as Vance Joy is sick and stuff, I didn't want to go do another 'Riptide' or a Jason Mraz 'I'm Yours' or something. I wasn't trying to compete or make that. This isn't a single, I know it's weird because it's the title track, but it's like a little outro lullaby in my opinion, you know what I mean?
AD: Yeah, I enjoy that song. It's a nice little goodbye to the album. It reminds me of a scene inBlue Valentine. Have you seen that movie?
TJO: I don't think I've seen that, actually.
AD: All right, I'll send it to you, but he's playing ukulele and just singing and his girlfriend is just dancing around. I thought it was like a reference to that.
TJO: I wish.
https://www.youtube.com/watch?v=EMDhcNVwwCw
AD: And Necessary Evil, the songs feel like breakup songs, a lot of them. Do you feel like you've purged all that material and now are you going to move on to different stuff?
TJO: That's, I guess, why I'm in such a weird headspace about it all too, because I guess it is such a personal album. Some of these stories go back from 2017 and 16. It's quite some time ago… just bringing back memories. It's like reliving them again. I feel like I'm still in that processing stage.
Some of the new stuff I've been working on already definitely adds a different flavour to it. It's definitely a bit more happier. That's just my current climate and how I'm living at the moment, I'm feeling good. But yeah, in all honesty, I'd love to say, yeah, next one's going to not be an emotional train ride, but I am an emotional dude. [laughs]
AD: Yeah, I do the same thing, I'm always like, I'm going to write a party album next album, and then we just have our feelings and then out it comes… Let's talk about non album stuff. When was the last time you slept overnight in your van? Have you done it recently?
TJO: Nah, my van is actually down getting a fit out right now. I have no car at the moment, which is a bit shit and really shit because of the timing of everything. But yeah, it's down in Kiama and these dudes called South Coast Van Fit Outs are turning it into a caravan
AD: When I last saw you, you were sleeping in it at Chris Collins' house.
TJO: Yeah, it's just like that iLoad where I just had a mattress in the back, but now it's going to have a kitchen in it. They've cut a hole in the roof and there's going to be a fan thing in there. And then it's going to be able to power me, so if I ever want to play a gig out of my van, just an acoustic thing, I can. Eventually, yeah. I'll be able to live out of it except for showering and stuff… but-
AD: Are you going to have a toilet?
TJO: Nup. [laughs]
AD: Maybe you should think about getting one. [laughs'
TJO: In all honesty, I was looking at them the other night, but I was like, fuck, it's too small…
AD: In your driver's seat, underneath where you sit?
TJO: Not underneath [laughs] I'll just get a bucket, aye.
AD: Just cut a hole under the seat and you leave a bucket in there.
TJO: I can just cut a hole in the seat and then cut a hole in the floor of the car and just go on the road. [laughs]
AD: You'll be out of there by the time anyone figures it out, you'll be a hundred miles down the road. [laughs] All right. I'm sticking to non album stuff, just in case people want to be entertained. I don't know if people ask you this in interviews, but can you tell people about what your affinity for vacuuming is and tidying up, does that bring you peace?
TJO: Yeah, massive peace. I think I was 18 and I was still living at home, my mum and dad rocked up one day and they had this Dyson V6 cordless one and dad just said, oh, can you throw it together? I threw it together and then started hoovering around the house, and hoovering is vacuuming, but we're English and we just say hoovering just for other people.
But yeah, I just started going around the house and mom and dad are clean freaks, especially dad. At the time, there was nothing to really suck up from the carpet, but you should have seen this little container thing. It was just full and I lost my mind. It just blew me out. It was a little random epiphany and all of a sudden I just became a clean freak and now it's one of my favorite things, but also one of my biggest pet peeves, because I'm not smoking ciggies at all anymore, but when I feel stressed, I go hoover, which then can lead into more cleaning. Then I'll get distracted for like an hour and a bit cleaning, but I enjoy it.
https://www.youtube.com/watch?v=f-_U7iPBlnU
AD: There's worse hobbies. I remember, you used to smoke pot for your creativity partially. Did I remember you saying that, like it helps me zone and write?
TJO: Yeah, yeah, yeah.
AD: Do you still smoke pot?
TJO: Yeah, I do.
AD: Do you think you should go to rehab for that?
TJO: [laughs]You know what, I don't know what a weed rehab would be like, but fuck, it'd probably be an experience.
AD: You can go for anything.
TJO: I don't need that. Can you actually?
AD: You can go for anything and then yeah, it's a good hang, I think. People zen out it in there.
TJO: Yeah. A lot of people like it and seem to come out of it in a positive way. I don't have a habit if that's anything…. [laughs]
AD: All right. Let me circle back to the album. What can we say about the album to wrap it up? What would make you happy in terms of, in 12 months, where the album was at?
TJO: We've all got our dreams and I would love to get something certified. That's a big goal. But all in all, I just hope people can feel it. It'll do its thing. As I said, I made it for myself. I made it for people to hear and to listen to and do their thing with. But for me, it was a big part of my life. It's what I have to do at this moment. Yeah, I have my dreams and I'm going to do that, but I also, it's hard to dream right now with COVID at the same time.
AD: The dream killer. Well, honestly, I love the album. I think it's mega. I want to see it in an arena with you, just going big. Me watching side of stage on the beers drinking your rider, giving it the moves. Yeah, you've done a really good job, well done to you and Chris. Did Chris produce all of it?
TJO: Thank you. Yeah, he did it all.
AD: Yeah. Two beautiful boys and yeah, let's wrap it. Good to see your face.
TJO: Good to see you. I'll be down soon, so let's link.
AD: Let's hang. That'd be great. Well, I hope this actually recorded, but I've got a weird feeling it didn't but all right, we'll see.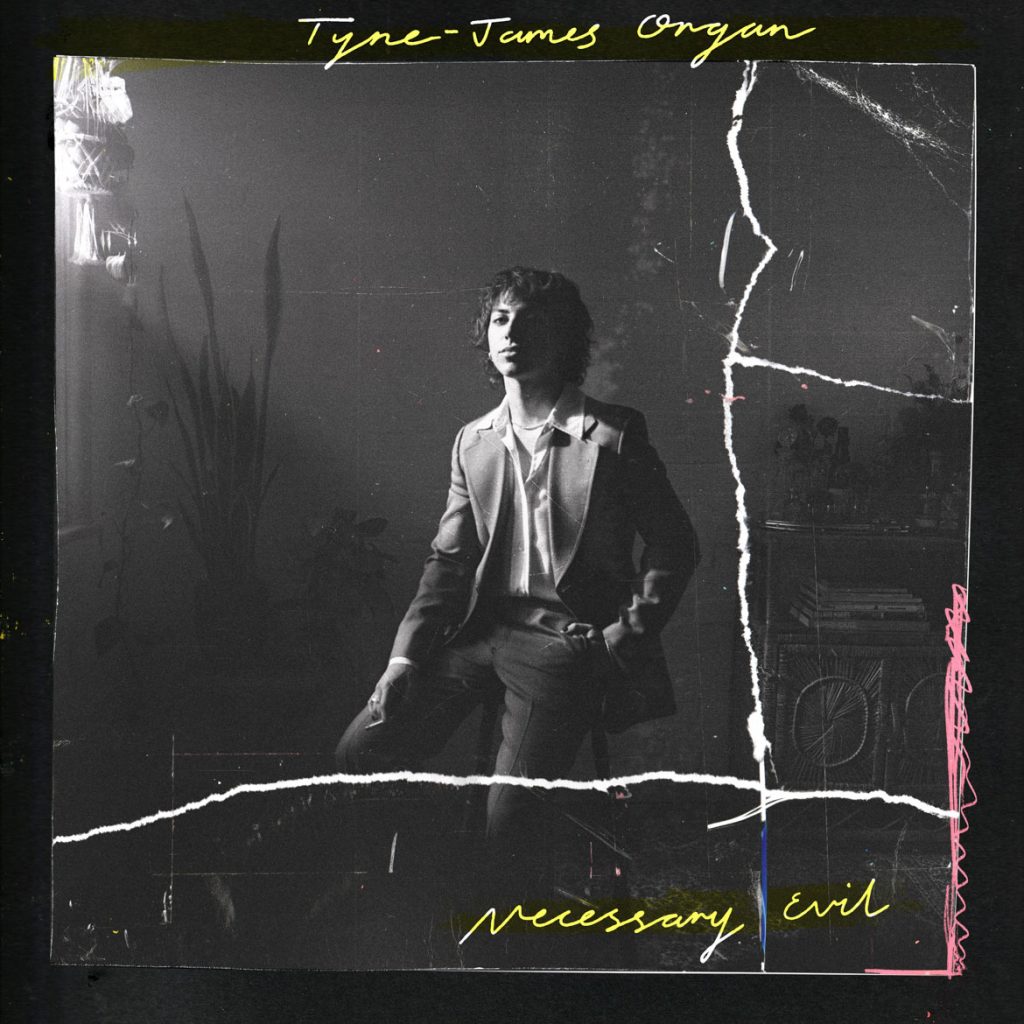 TYNE-JAMES ORGAN – NECESSARY EVIL TOUR
Presented by Select Music, teamtrick and Handsome Tours
With special guests Duclie ^, Hayley Mary * and Carla Wehbe #
Tickets on sale from www.tynejamesorgan.com
Friday 4 June – Lion Arts Factory, Adelaide SA ^
Saturday 5 June – Rosemount Hotel, Perth WA ^
Thursday 10 June – Wollongong Uni, Wollongong NSW ^
Friday 11 June  – Factory Theatre, Sydney NSW ^
Thursday 17 June – The Northern Hotel, Byron Bay NSW #
Friday 18 June – The Zoo, Brisbane QLD *
Saturday 19 June – Miami Marketta, Gold Coast QLD #
Friday 25 June – Corner Hotel, Melbourne VIC (early) ^ – NEW SHOW ADDED
Friday 25 June – Corner Hotel, Melbourne VIC (late) ^ – SOLD OUT
Saturday 26 June – Republic Bar, Hobart TAS ^
Thursday 1 July – Kambri, Canberra ACT ^
Friday 2 July –  The Cambridge, Newcastle NSW ^