Images by Renae Saxby //
WILDFIRE MANWURRK have just released their potent debut EP, The Next Future…
Hailing from remote Stone Country in Arnhem Land, between Maningrida and their ancestral home, Korlorbidahdah, WILDFIRE MANWURRK have just released their debut EP, The Next Future.
Drawing on thousands of years of ancestry and stories, the joyfully rich EP combines traditional songlines with scratchy, bush-infused guitar riffs and insistent vocals, with lead single 'Mararradj' sung in the age-old endangered language of Kune.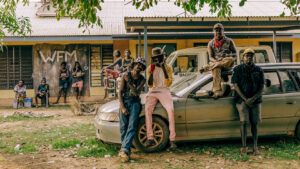 WILDFIRE MANWURRK is made up of five members of the Rostron family – lead singer and lead guitarist, Sires Rostron; lead singer and bassist, Johnson Rostron; rhythm guitarist, Ernest Rostron; rhythm guitarist, Leo Rostron; and lead singer, didgeridoo (Morle) and clapstick player, Victor Rostron – as well as backing singer and drummer, Scott Cameron.
Along with the EP release comes a powerful, cinematic video for the lead single 'Mararradj', filmed and edited by Robert Sherwood and co-directed by WILDFIRE MANWURRK, Sherwood and Natalie Carey (Valentina Brave), which depicts the band amongst their homeland in Dukala-Djarranj, Northern Territory, simply being themselves.
https://www.youtube.com/watch?v=5CXovCAj1u4&ab_channel=SunPeopleCreative
Speaking on 'Mararradj', Victor Rostron described: "'Mararradj' means, a love that can never die. It's like a fire burning that will never go out."
"It's not about me, that song, it's about everyone. It's about boyfriend and girlfriend going though break up, having argument, jealous talking, but then something tells you, you want to get that love back. You want to be sitting down together again. It's because of 'Mararradj'. It never finishes, it's an unbreakable love."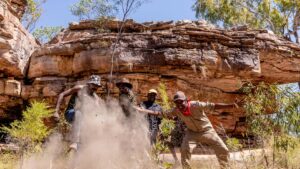 Check out some incredible images of WILDFIRE MANWURRK below, as captured by Renae Saxby, along with words provided by the band.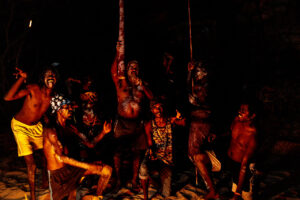 WILDFIRE MANWURRK: This photo was one of the last photos we took on the night we made the Mararradj music video. This is our family. Father, sons, uncles and nephews.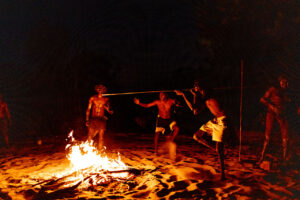 WM: We were dancing Mimih Kunborrk (traditional ceremony dance). This photo is Scott (drums) Mathias (dancer) Sires (Lead Vocals / Lead Guitar) and Johnson (Bass / Vocals) dancing with Mankole (spear).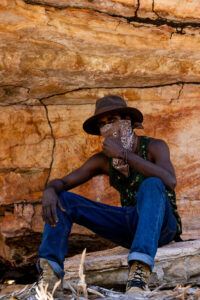 WM: Johnson Rostron (Bass / Vocals) at Dukala-djarranj after walking around, burning country getting ready for Yekke season (Dry season).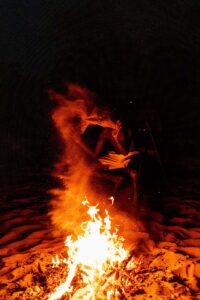 WM: Mathias our uncle and traditional dancer, throwing sand near the fire, dancing Mimih (Songline).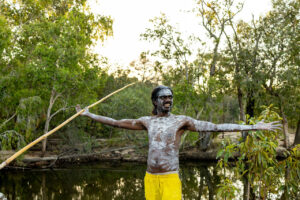 WM: Uncle Mathias painted with Delek (white clay) collected from the creek.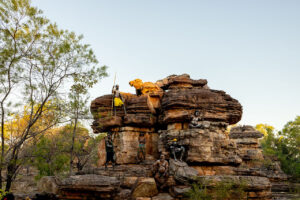 WM: WILDFIRE MANWURRK at Rocky Country, Dukala-djarranj.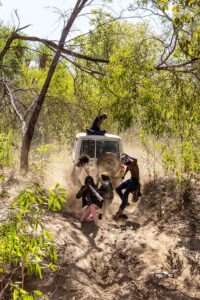 WM: Dancing all the way behind the Troupie, filming our Mararradj music video.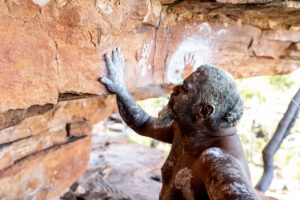 WM: Leaving my hand print behind at our camp place. I put Delek (white clay) with water and spray it onto the rock with my mouth. Us mob been doing this for thousands and thousands of years. My ancestors hand prints are all around.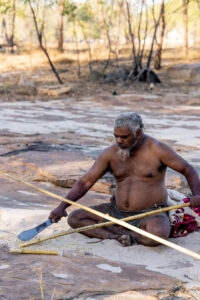 WM: Making Mankole (spear) for hunting fish and for dancing.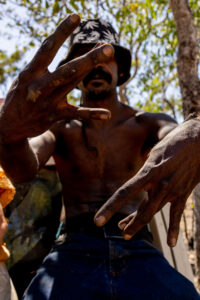 WM: The symbol we do for WILDFIRE MANWURRK Band making a M and a W with rock and roll hands.
With so much to offer, it's evident that WILDFIRE MANWURRK are only just getting started. The Next Future is out on all platforms today, grab your copy here.