Keeping this to just ten acts was beyond difficult…
So, unless you're living under a rock you're probably still reeling after the release of the Lost Paradise lineup yesterday, the return of the beloved dance wonderland renewing that age-old excitement that only a banger festival lineup can induce.
It no doubt has the best of both worlds. From rock and hip hop royalty in Arctic Monkeys and Lil Nas X to globetrotting deckslingers in Peggy Gou and hometown hero Mall Grab (we could honestly keep going), it's essentially everything you could ask for in a lineup and batch of headliners.
But as is always the case with the Glenworth Valley festival, and especially its dance acts, the bill is filled with an absolute abundance of local talent, serving up wide-spanning genres ranging from house to disco to techno and everything in between in what's a chasm of groove. So much so that we thought that we'd highlight a couple of those acts this year (trust me when I say keeping this list to just ten DJs was an absolute mission), to ensure you get the very best out of your Lost Paradise experience for 2022.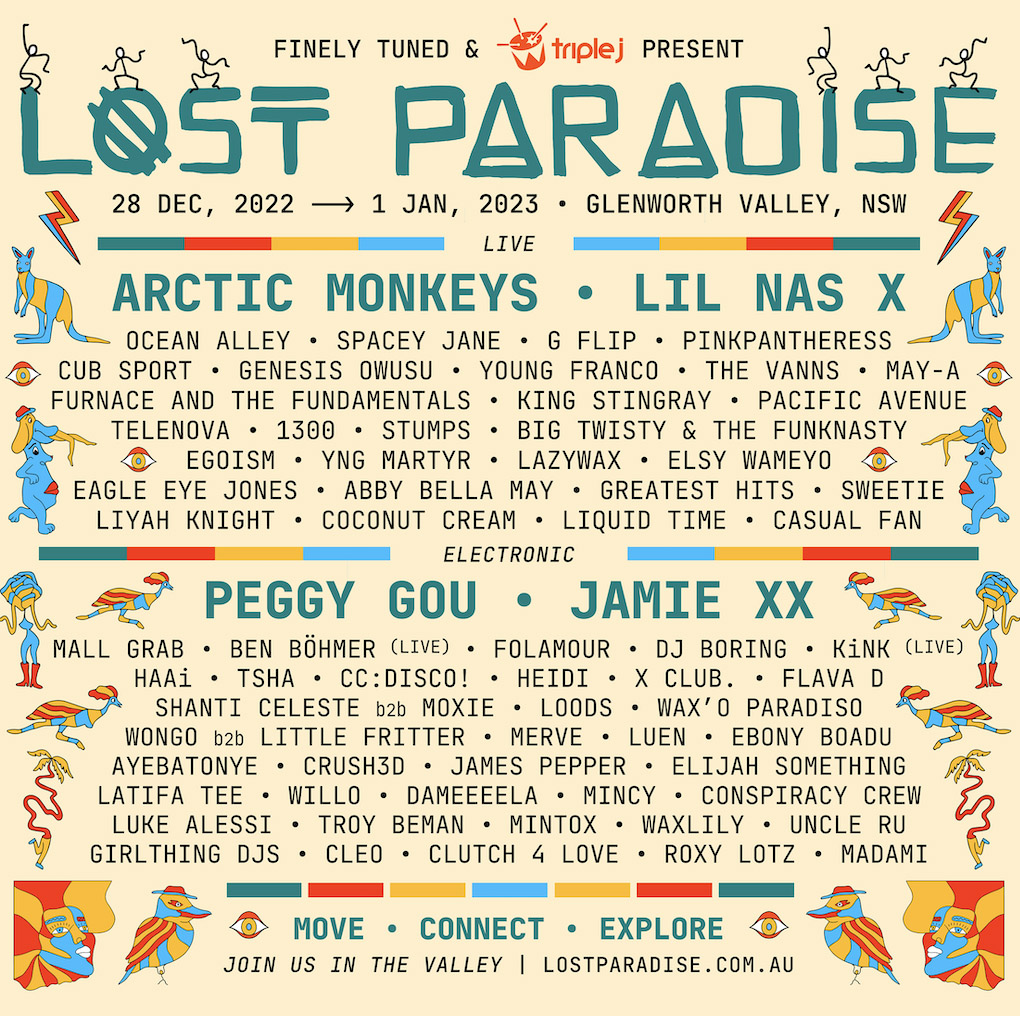 So, without adieu, here are ten dance acts you might have missed on this year's lineup, and that you definitely don't wanna miss. Check it below, and be sure to sign up for pre-sale to Lost Paradise 2022 here.
Elijah Something
The Conspiracy Music mastermind is a veteran deckslinger in the Eora dance scene, electrifying dance floors around the city (and country as a whole) for years on end. Odds are if you've at all dabbled in Eora's nightlife over the years (or even previous iterations of Lost Paradise), you definitely would've caught one of his sets at one time or another. He's a weapon-and-a-half, and just going off his recent appearance at Lost Sundays, he's going to be bringing some extra heat to the valley this year.
Latifa Tee
Mix Up host and queen of the decks Latifa Tee is another artist you don't want to miss at this year's Lost Paradise, her multi-genre sets and intoxicating energy making her one of the most captivating DJs in the country. From UKG to house to funk and everything in between, she can really do it all, and we're certain her appearance in the valley will be one to remember. For a nice bit of nostalgia, check out her debut on Mix Up from 2019 below.
James Pepper
Eora producer James Pepper is an artist who's slowly but surely risen to the top of the local dance sphere over recent years, his many DJ sets along with his explosive collaborations (most recently with EU producer Black Loops) helping to cement him as one to watch in the local scene. Most recently, he's opened for the likes of Peggy Gou and Maceo Plex and received critical acclaim for both, so there's no doubt he has this one in the bag come December.
Dameeeela
History-maker and future GOAT Dameeeela is without a doubt one of the breakout artists of 2022, her recent Boiler Room debut along with appearances at Pitch Music Festival and Lost Sundays cementing her as a total powerhouse behind the decks. Drum and bass, UKG, bassline, funk, she can well and truly do it all, and after seeing her at this year's Lost we have no doubt that you'll think the same.
Cleo
Cleo has quickly garnered critical acclaim for her explosive DJ sets in recent years, her affinity for disco & funk and all of the joy the two entail permeating her every appearance on the decks. Whether she's playing Marrickville rooftops, packed out Ivy Courtyards or throwing together a mix for all to indulge in, she's without a doubt a guaranteed dose of good vibes, and we're keen to see her throw down come this December.
Crush3d
Naarm-based producer Crush3d is a total dark horse in the local house and techno scenes, his intoxicating original releases and vivid DJ sets helping to establish him as one of the most promising local artists on the rise. His most recent release 'Fantasy' is a total journey into the depths of euphoria, and based on his recent appearance at Oxford Art with X Club, Lost Paradise attendees will be treated to a journey just as rich at the valley escape.
Ayebatonye
Ayebatonye is an absolute force to be reckoned with behind the decks, the Eora powerhouse serving up treasure troves of house, techno, breaks and plenty more with equal measures of grace and ease. A true veteran who's played everywhere from Berlin to Sydney's Lost Sundays and everything in between, we have no doubt she'll be one of the highlights of your Lost Paradise this year.
Willo
Few have had a year quite like Eora producer Willo, the 'Past Time' creator tapping into the heartbeat of dance and breaks for all to indulge in. She's supported such offerings with off the chain sets for Lost Sundays, Civic Underground and even opening for tech house lord Dom Dolla himself, and there's no doubt that plenty more will fall under her spell come this New Years.
X Club
Soon-to-be international exports X Club are a hot commodity in the local techno sphere right now, there unique mesh of 90s rave and naughties house resonating deeply with the masses. And if you caught their recent shows at the Oxford Art Factory, you'd know they're on a one way track to greatness. So, of course it makes sense that they play this year's Lost. Catch me front and centre screaming the lyrics to their Skin On Skin collab 'Don't Fuck Around' while slowly losing my hearing. Remember those earplugs folks!
Troy Beman
You've never seen a more high-energy DJ than Troy Beman, the walking house and funk explosion one of the most magnetic presences in the local scene. He not only hits you hard and fast with skilful mixing and uplifting track selections, but he's a performer in every sense of the word, and you'll be just as captivated come this years Lost Paradise.