Oli and Louis Leimbach AKA Lime Cordiale's sophomore record is finally here.
After landing four songs in the Hottest 100 countdown, a hugely successful 'The Squeeze' tour, and announcing their signing to Post Malone's management, it's fair to say that the past 18 months have been pretty huge for Lime Cordiale. It seems that the Northern Beaches duo, having released their debut record in 2017, have finally 'arrived' and claimed their spot amongst the cream of the Australian crop.
14 Steps To A Better You is jam packed with soulful indie tracks, big vocal hooks and plenty of funky moments. Balancing danceable, funky jams with heartfelt lyrics, the album is 14 examples of pop songwriting at its most consistent – they are comfortable in the studio and the fun of the recording sessions bleeds through the speakers. Or maybe we're just getting that vibe from the kazoo solo…
Either way, we caught up with Oli and Louis to get their thoughts on the record. Check it below: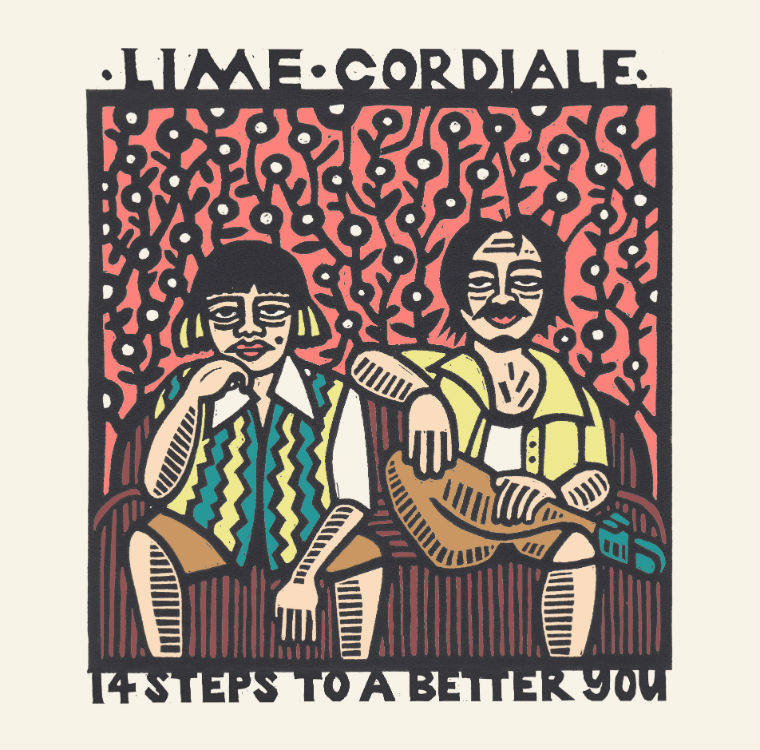 1. That's Life
Our introduction to the album. The album is our self-help guide to a better you. This song presents to you the tone of the entire album, "We're here 'til we die, that's life". You're gonna die, your life is meaningless, but this planet will continue to spin when you're gone so leave on a good note and be alright with that. Have fun, relax and enjoy the show.
2. Robbery
I love the '60s feel to the song. The whole song could just be a baritone sax and a snare and all the main elements would be there. The song all started with that line: "Hey, there's been a robbery". When you meet someone, even just for a moment, they make an impact and then they're gone. You're left feeling robbed. You feel as though you need to find them somehow but it's no use. We played the song at pretty much every show throughout Europe. We slipped it in as a little secret addition, and it felt great even though no one knew what the hell was going on.
3. No Plans To Make Plans
Some people get so hung up on their own lives and put all of their energy into their own plans, without thinking about doing something with meaning. Powerful people should think about how they're using their power to make a difference. With all of this comes a lot of seriousness. We definitely didn't take ourselves too seriously when writing this tune. It's just fun and even has a fucking kazoo solo at the end!
4. Inappropriate Behaviour
The song feels really nostalgic to us. Something that we would've listened to as teenagers in high school or at a house party on the Northern Beaches. The horns in the chorus ended up giving it a bit of a ska feel. It's like something you want to blast out of your shitty Toyota car speakers in a beach carpark somewhere.
5. Addicted To The Sunshine
We've already heard people call 'Addicted to The Sunshine' a very "summery" song (and they're not wrong) but with the sunshine, comes a little darkness as well. In Australia we love the sun. We love our sunny Summer activities. We love sun-baking, swimming and feeling the need for a selfie in front of a waterfall. The sun is our creator, it's our life source and we're addicted to it but we're letting it destroy us. It's heating the planet and we're cooking. This song is about getting up off our towels and changing bad habits. We need to consume less, offset our shitty actions and respect the sunshine and environment that we love.
6. On Our Own
This song spans the life of a relationship and the different stages of being on our own. The first verse is about finally finding some alone time together, away from friends and distractions. Just the two of us on our own. The second verse is the breakup. The relationship has gone stale and we need some time on our own. The bridge is full of regret. Lonely, on our own and there's no going back.
7. We Just Get By
It's nice writing a song entirely on acoustic guitar and the acoustic is definitely what drives this song. The rest of the production was built on top of that. It's so refreshing when you find someone that's happy just to hang out for the sake of hanging out. It sometimes feels like doing nothing at all is your little secret. 'We Just Get' By is about a simpler chilled life that's often more satisfying than something busier and more stressful.
8. Money
Some people have an obsession with money. This one is for those that think that money is more important than what really matters.
9. Screw Loose
We were just fucking about and joking around for the entire process of this song. I don't know if we ever intended for this song to be released. It's just something we had fun with and pushed it to the limit. It's wacky and possibly a little bit biographical.
10. Elephant In The Room
This one plods along like an elephant. The instrumentation on this track is one of our favourites with our Mum playing strings, Oli on the clarinet, sneaky little trombone lines, tack piano and a whole bunch of mellotron. It was heaps of fun recording this song.
11. Dirt Cheap
Dirt Cheap explores the situation of being with someone who is completely out of your league and what you can do to sell yourself to them. It was a single that we released without knowing if it would do too well. It was written in a day and sometimes when you don't slave over a song, it's hard to know whether it's good. We hadn't finished the rest of the album when this was released but I think the simplicity and weirdness of this one gave us permission to be ourselves when tackling the rest.
12. Can't Take All The Blame
Playing the blame game, blame game, blame game.
13. Dear London
This letter is not written about London itself, but the situation Louis was in when he visited the old town a few years ago.
14. Following Fools
Following Fools was influenced by an article on 'toxic masculinity' by Tim Winton.
We play shows to a lot of young kids. We're on a stage metaphorically as well as physically and our actions are bolder when there's literally a spotlight on us but you don't have to be on a stage to influence people. Young kids need guidance and there's no need to leave them following fools.