How did you initially get involved with the NFT space?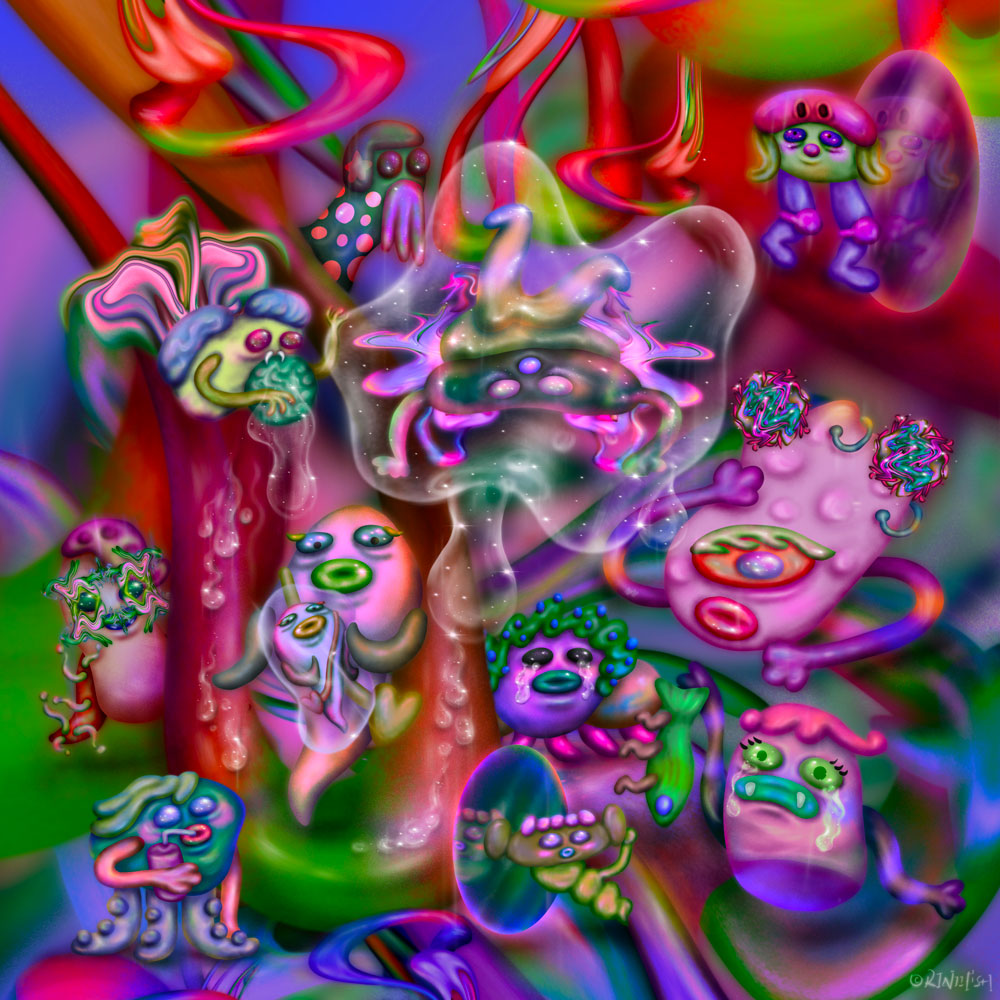 Bugs personality test, Riniifish
Probably like everyone else, I was on the internet , searching for the freshest and most interesting news, and trying things that intrigue people.Trying NFTs, entering this community, and connecting with strangers, artists, and collectors is the thing I think I will regret the least in 2021. The fact that the socially fearful me can still communicate about art on the internet is so valuable. It has also, as a result, brought me to the attention of some galleries.Being able to show in different countries and cities is something that is incredibly valuable for small artists in the current covid context of the world.
Another particularly interesting way for the NFT community to communicate is through Memes. Although I don't create them, I really enjoy Memes and I love to admire other artists creating Meme art. The NFT community is really so diverse and I love its huge inclusiveness.
As a homebody, what has it been like interacting with the online NFT artist community? Does it feel different from reacting to creatives with your local proximity?
I can't speak for most homebody's, but I'm one of those creators who don't really like to meet people face to face, so I've always had to stay on social networks. Traditional artists may have relatively more resources to connect with curators and galleries that I didn't have before I started NFT. So maybe the difference is that the different groups are closed, just like I didn't start out as a traditional artist, so I couldn't enter the art scene directly. I couldn't show more art to the outside world and collectors couldn't buy my arts directly.
In the future, what would you like to see change or innovate with the NFT space?
From the creator's perspective I hope there is an increasing diversity. The definition of art was labeled long before NFTs received attention.After NFTs received attention, digital creators, anti-socials, loners, art lovers… and creators from different cultures have produced many works that belong to the culture of the community.
Regarding the cultural impact of the community brought by NFTs, if it brings wave after wave of cultural thinking like memes, they are finally in the public eye and people start talking about it, they will have successfully innovated part of it.
Also, regarding the new series I am currently working on, M7 Planet, it will not stop. BUT, there is another new series being birthed. Sneakily the name of the series is Sense Slugs, they will not only feature new characters, but the senses will delve deeper into soft, delicate, negative emotions, and heal the soul with softer visuals.
It's going to be fun, so stay tuned!
Thanks to Riniifish for taking the time to chat with us! You can check our per pieces and NFTs here. You can follow her on twitter @riniifish and on instagram @riniifishw.