Middle image by Jack Phillips //
The humble bin chicken has been immortalised.
For many of us, wrapping our heads around the world of crypto and NFTs has been nothing short of a mindfuck. Half of the people who have crypto only know enough about it to talk a few nuggets of shit and the other half know so much that they've mastered the art of dumbing it down for us simpletons, to a level that's digestible for our little brains. Sydney-based mural artist and political provocateur Scotty Marsh is one of the latter.
Following the explosion of NFTs at the beginning of the year, he began working on his own collection, and along the way has become a master at explaining at least the surface-level basics to his thousands of followers. I'm not going to lie, the NFT ecosystem is somehow easier to understand when explained using Marsh's chosen subjects; the oft-maligned wetland trash hunters, the humble bin chicken.
View this post on Instagram
Now, Scottie From Muralling is sharing his 6969 Bin Kingz which are unique NFTs that each feature Australia's feathery punching bag, sporting a variety of characteristics. From ciggies to sunnies, the characteristics and their rarity affect the overall scarcity and (potential) value of each Bin King. He's also created 27 Bing Kingz legends that were designed in honour of Aussie icons such as Brown Cardigan, the Betoota lads, and Mike Nolan.
You can purchase a Bin King for .069ETH via Open Sea as of 9am today and enjoy a range of perks (outside of owning a one-of-a-kind piece of Scottie's work) including access to future releases, metaverse balaclavas, virtual gallery space in Decentraland: The Marshland and more. We caught up with Marsh to chat about the project, check it below and head here to mint yourself a Bin King now… if you still can…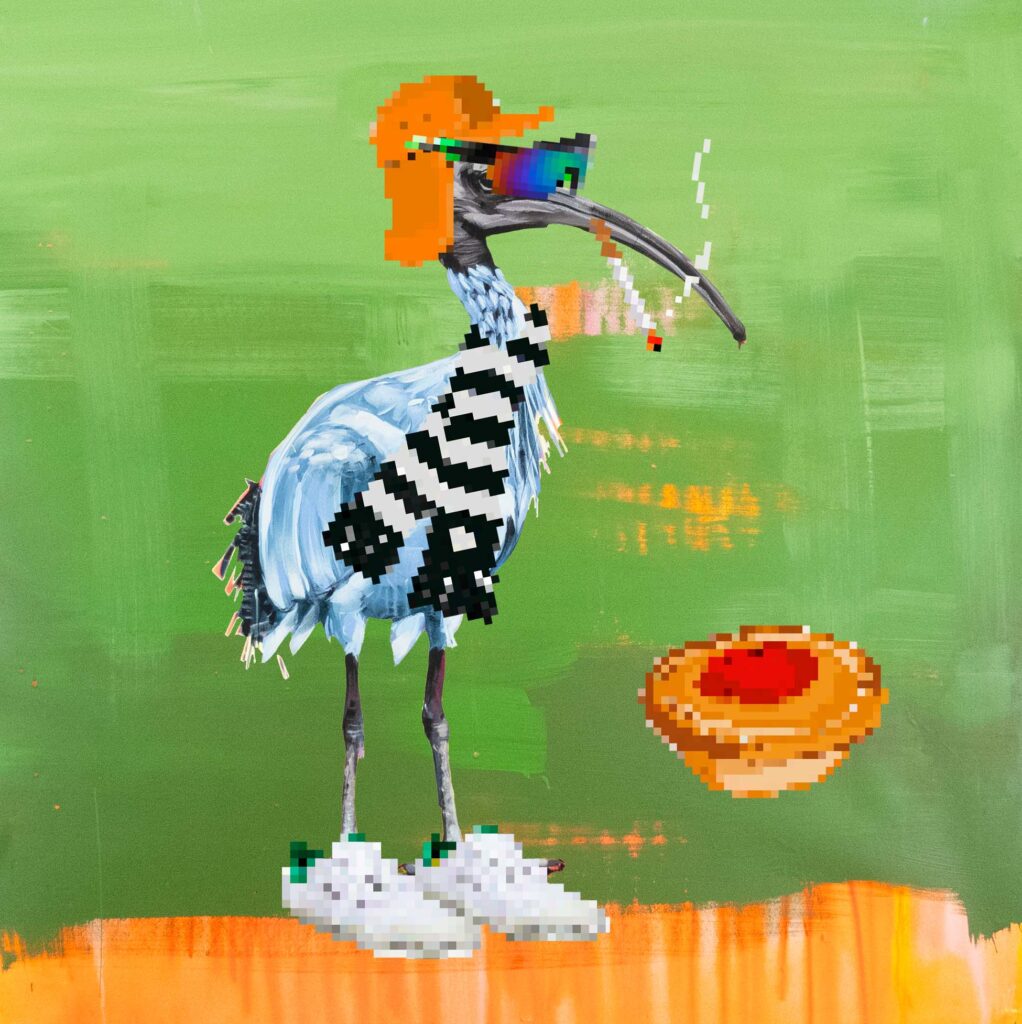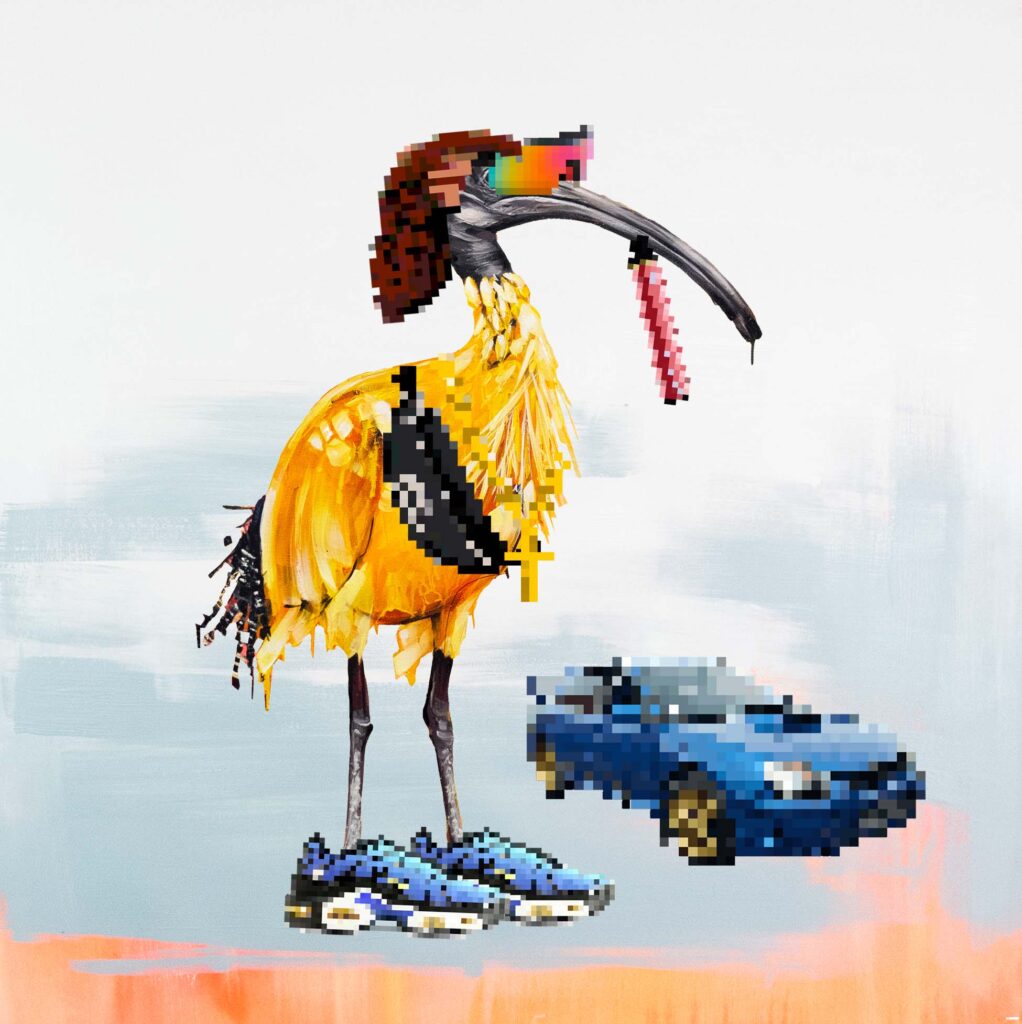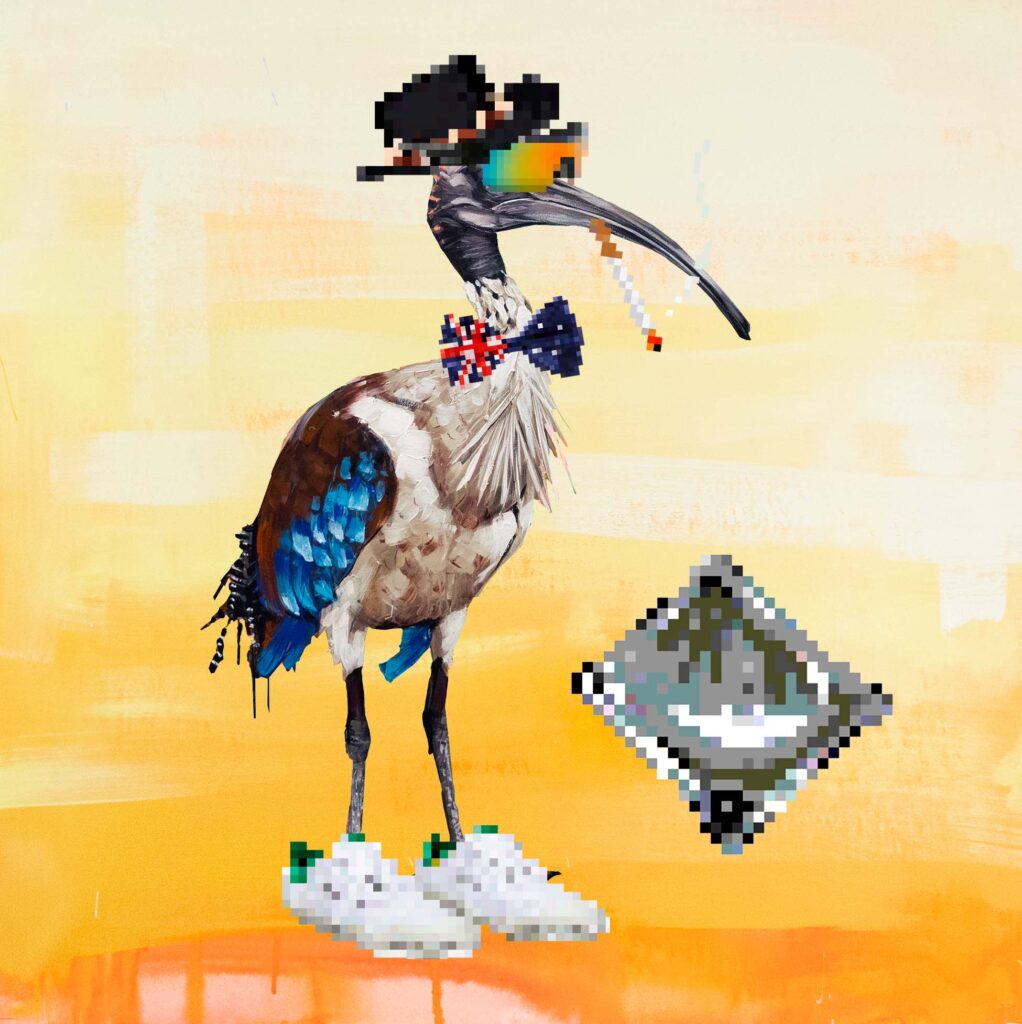 This is a big one… what made you want to do NFTs?
Well, originally at the beginning of the year, when the NFT art space was blowing up, I was on the sidelines paying attention and I realised that it perfectly fits the work that I'm already creating. I create these murals that get destroyed and they only really live in a physical space for a short amount of time.
My work finds its audience in a digital space on social media and online. So this fits exactly what I'm doing. I've always strived to create some sort of artifacts for my murals, whether it be a small print edition or a T-shirt or something. Because I feel like there needs to be something that exists after the murals are gone.
I actually had a collection of one-of-one animated versions of some of my favorite murals I've painted that no longer exist. I just slept on that for a while. And me and the Run It Wild guys, who are helping me with this project, we linked up and they're explaining these generative art projects to me. And at the exact same time in my studio, I was painting a bunch of a series of bin chicken paintings that had pixelated thug life sunglasses and ciggies and traits on them already. So as they were explaining these projects, I was like, I'm pretty sure I'm doing one of those right now in the studio… It's been a lot of fun, man, to be honest with you.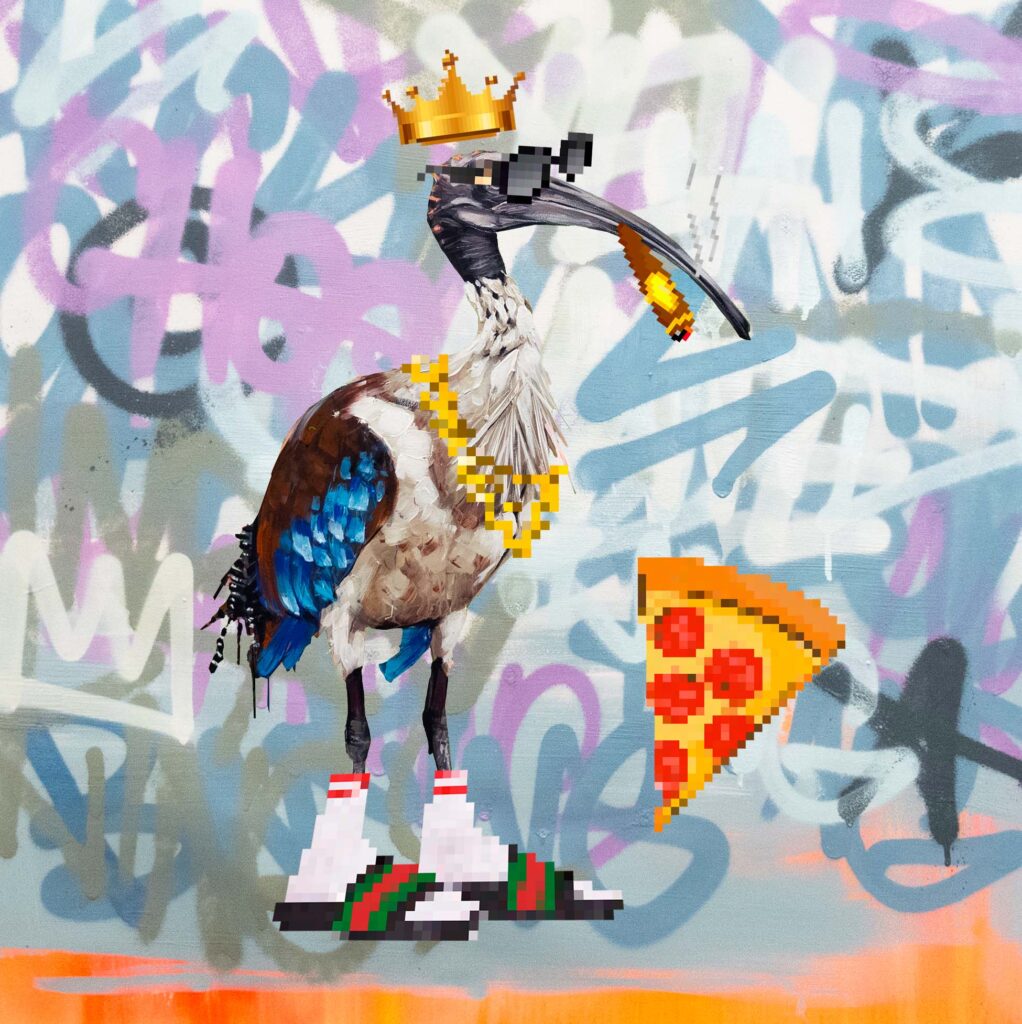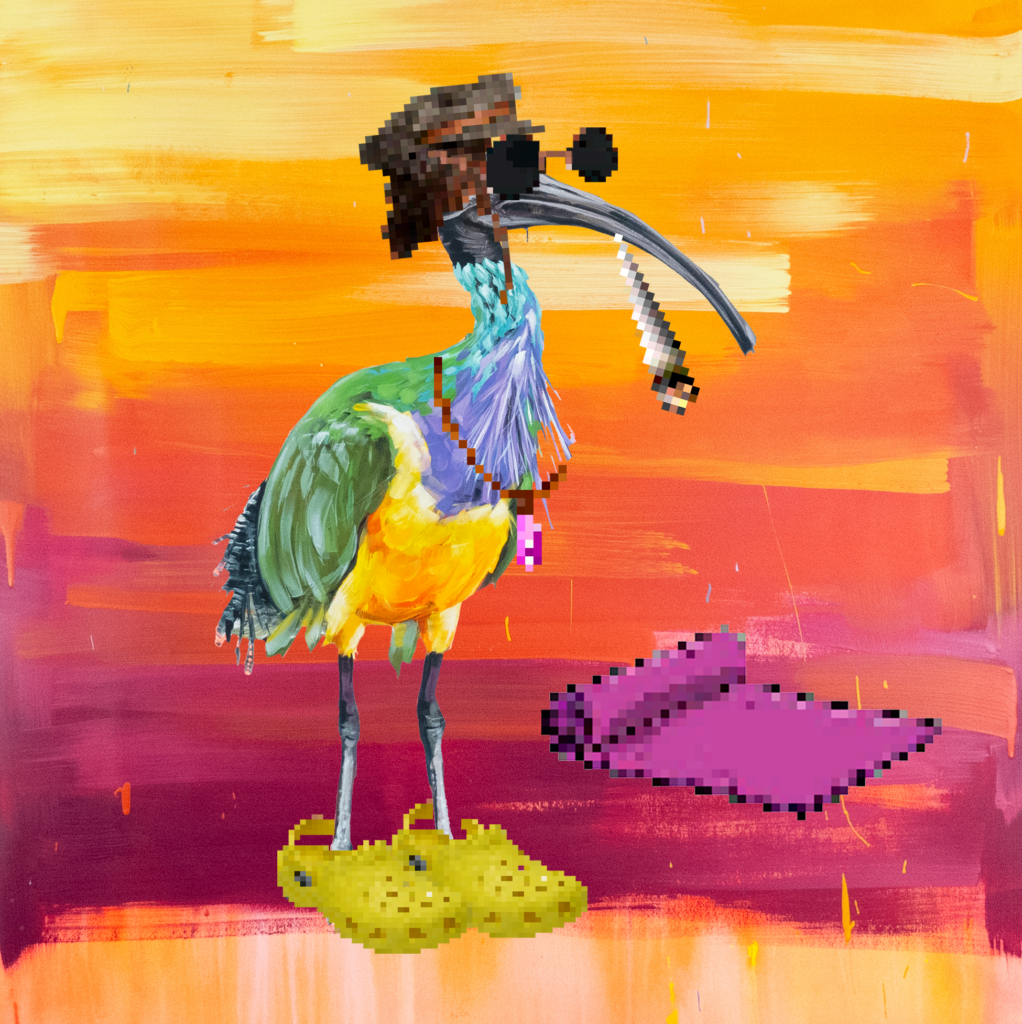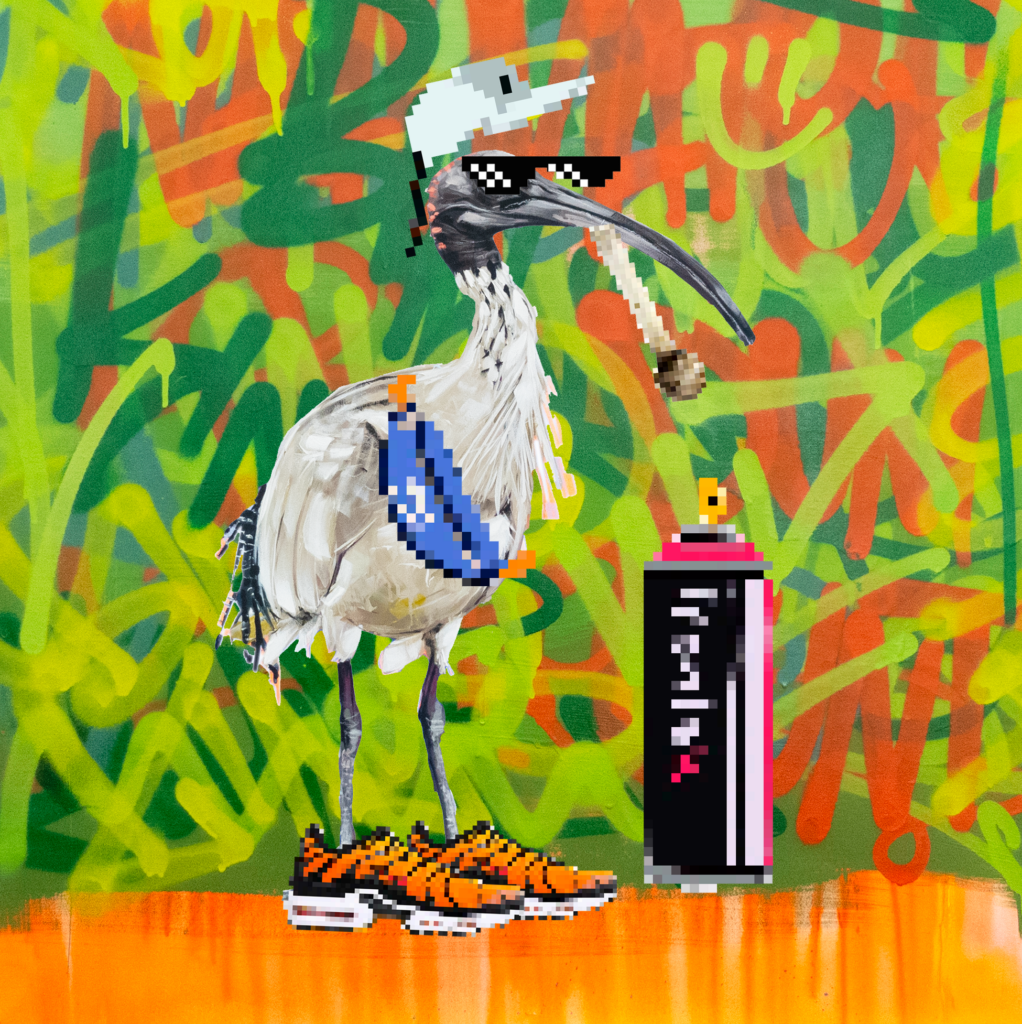 How long has it taken?
It's been months. I don't know exactly how long, but fuck, where are we in now? November? Since probably June or something, we've been working on it. It's taken a while, a lot of back and forth. A lot of the boys saying, "All right, we're done." And I'm like, "Can we just add menthol ciggies as a trait?"
Are there any characteristics or characters that you are most proud of? That you know people will love?
All the Bin Legends are fucking hilarious, I think anyway. There are a few custom ones that I've made for some friends. There's a Brown Cardigan Bin Legend, Briggs has his own Bin Legend, The Betoota boys have their own bin legend. There are some funny ones, like Shazza, who's the durry smoking chick on the pokies at the RSL. There's General Admission George, who's the classic punter that's sitting on the hill at the footy. There's a bong head… Those kinds of characters that you come across in your life.
Scott Morrison wandering around the G20 summit fishing for handshakes reminded me a little bit of a bin chicken looking for scraps – no offence to bin chickens – I wonder if you were to create a ScoMo Bin King, what traits would it have?
That's a good question… It's not one of the traits that exist, but ScoMo would have to have a massive turd in honor of Engadine Maccas, I think, and some sort of Sharks memorabilia and a lump of coal. Maybe a beer that he looks at like it's the fucking worst thing in the world. I've got great nostalgia for the time when we had prime ministers that actually looked like they enjoyed sculling beers.
Do you have any NFTs, yourself?
Yeah, so I bought a bunch of those Dick Butts. I've bought a Lushsux, who's another artist from Melbourne, a friend of mine. He recently sold all his Instagram posts. So I bought one of those and then a few other little bits and bobs, but the Dick Butts are the ones that I'm most proud of until I get my Bin Kingz.
Tell us about what perks will be available for Bin Kingz owners?
There are a few fun things that are following the launch. So we're doing a physical treasure hunt around Australia, different cities where there'll be QR codes and little gold bits hidden around different cities. People can go find them and scan them and they'll receive a free Bin King.
There are also six OG Bin Kingz, which are just straight bin chickens with the thug life sunnies and the little crown that don't have any other traits on them. If you're lucky enough to mint one, I have a physical painting, which was used to create all the artwork for the NFT set, that you'll be eligible to receive.
And then we've got a MetaWear giveaway. With all the news about Facebook turning themselves into Meta, I think the metaverse is going to be a fucking huge thing. So we've got wearables that characters in metaverse can wear, like a Scott Marsh balaclava. Then there's different merch, things like that. And then going forward with my work, I'm planning on releasing a lot of NFT digital artworks that are based around my mural work, and holding Bin Kingz will give you more access to those things and different giveaways and different digital art.
It becomes almost like a… I've got a mailing list, I've got an Instagram. These things are all communities, really. And this will become another one of those where I'll do everything I can to give everyone as much value as possible.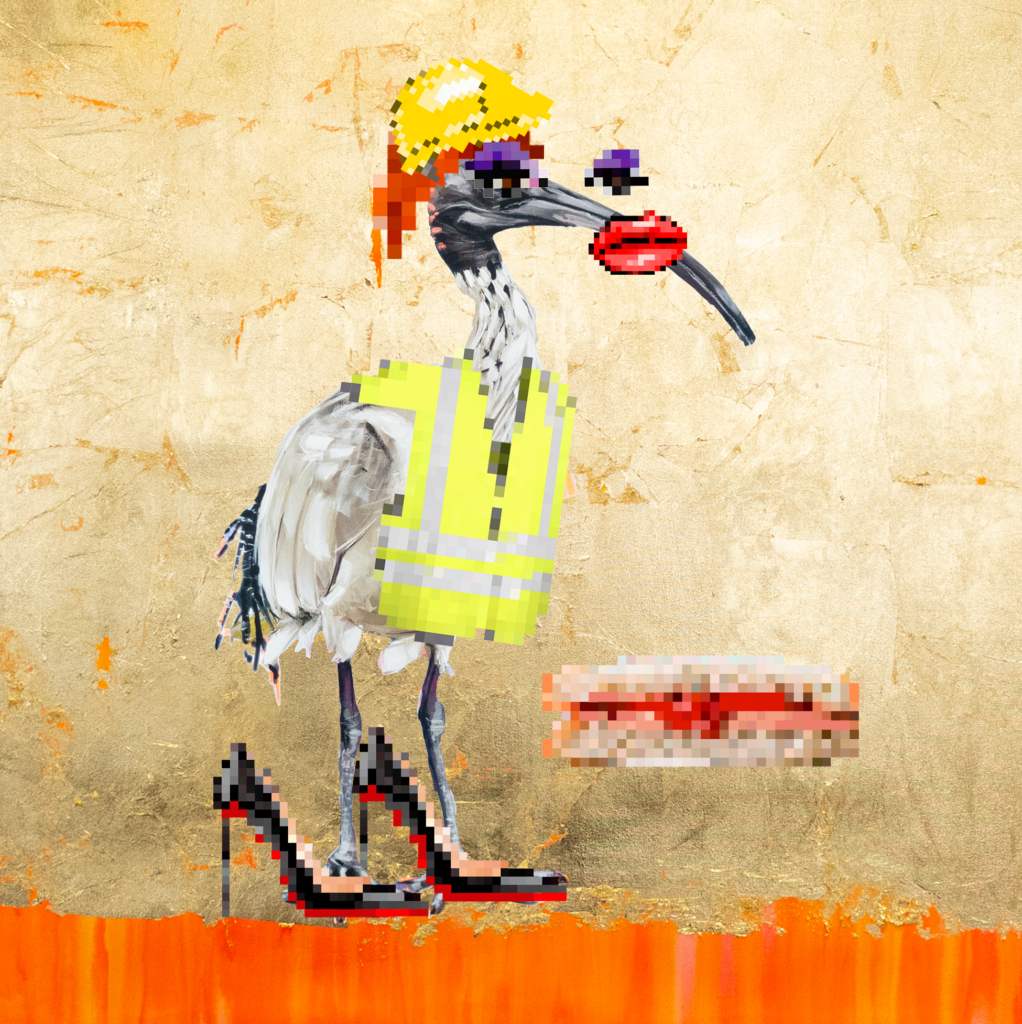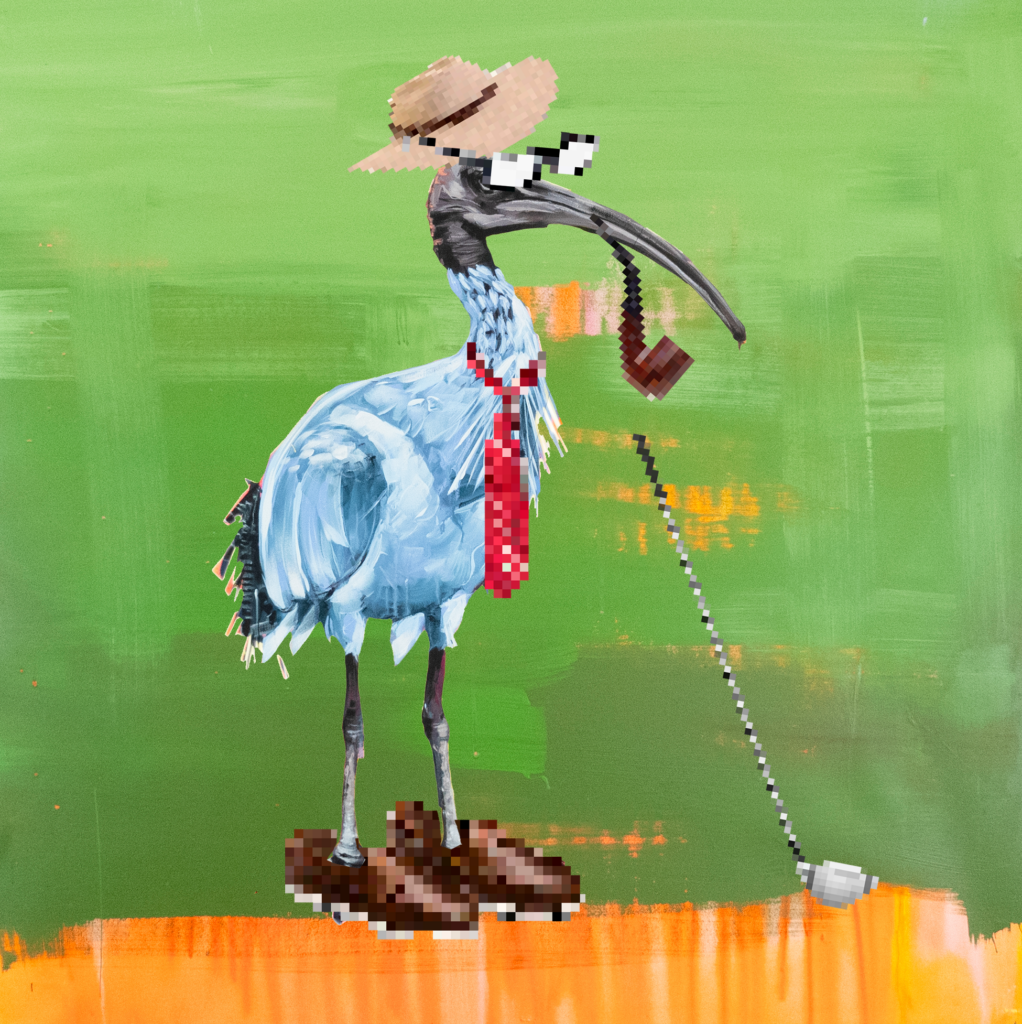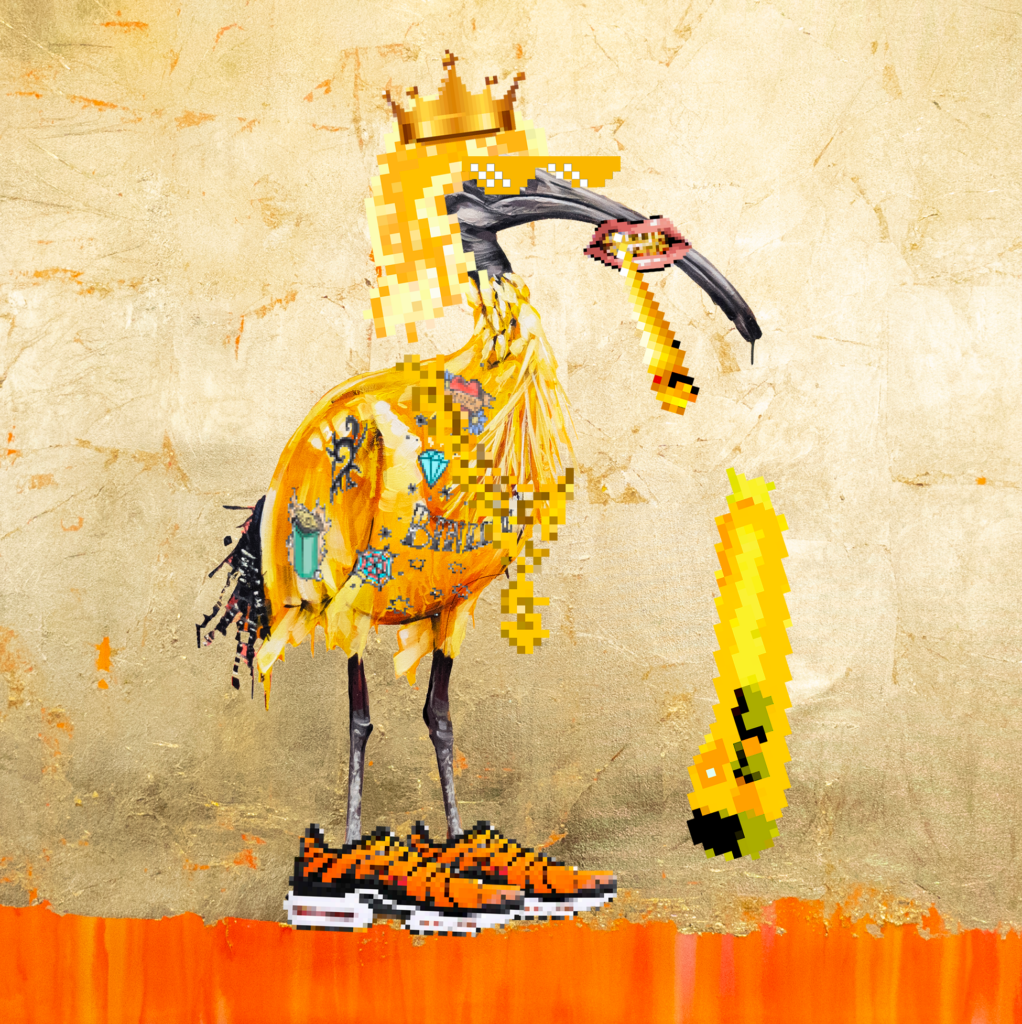 I did the math on 6969 pieces at .069 ETH. That's a fair bit of mullah. How do you plan on spending it?
Well, I don't really buy flashy things. When I get money, I just make more art. I'd love to, instead of saying, "Hey, I'm going to spend 500 bucks on paint and paint a mural of Pauline Hanson." I'd love to be able to say, "Hey, I'm going to spend 20 grand on building a 20 foot high bronze statue of Pauline Hanson and go plonk it in Ipswich." That's the difference when you've got money to create the ideas that you have in your head. If you're someone who loves my work and you want to see more of it, this is a good way of helping support that, I guess.
Where's the one place where you would like to do a mural around the world and what would it be?
It all depends on the wall and I love putting things in places that give it more context. I've got a few murals of Barnaby Joyce that I'd love to paint in the New England electorate somewhere. At the moment, that would be my goal, just because it makes it so much funnier when there's a context.
Head here to follow Scott Marsh on Instagram and let's get that Pauline Hanson statue erected!
Our NFT news is presented by Australia's best digital asset exchange, Zipmex. Get familiar with them here.