Physical Meets Digital is allowing attendees to stand on the bridge between traditional and digital art.
It's no secret that the emergence of NFTs over the past year has sent shockwaves through the art world. With digital art platform OpenSea having facilitated over $10 billion USD of sales this year, the age of NFTs is truly upon us. But what does that mean for traditional art? How will the two forms co-exist? That's the question that the people behind Physical Meets Digital will be exploring at their exhibition on Sunday at Burleigh Heads.
Featuring the much-anticipated genesis NFT collection from abstract and impressionist artist Cara Sanders AKA Owlet, the event will be both educational and immersive, giving attendees the opportunity to learn about the digital space within the traditional, physical space.
A painting by Owlet will be divided into 19 pieces and made available for sale as NFTs, alongside physical prints, but organisers are remaining extremely tight-lipped about the other happenings. You'll just have to get yourself there on Sunday from 4pm to see it all and also enjoy some tasty refreshments from Mr Consistent and Red Bull (FB event here, and livestream link coming soon).
We hit NFT specialist and brains behind the event, Scott Cleaver, with some questions. Check them out below: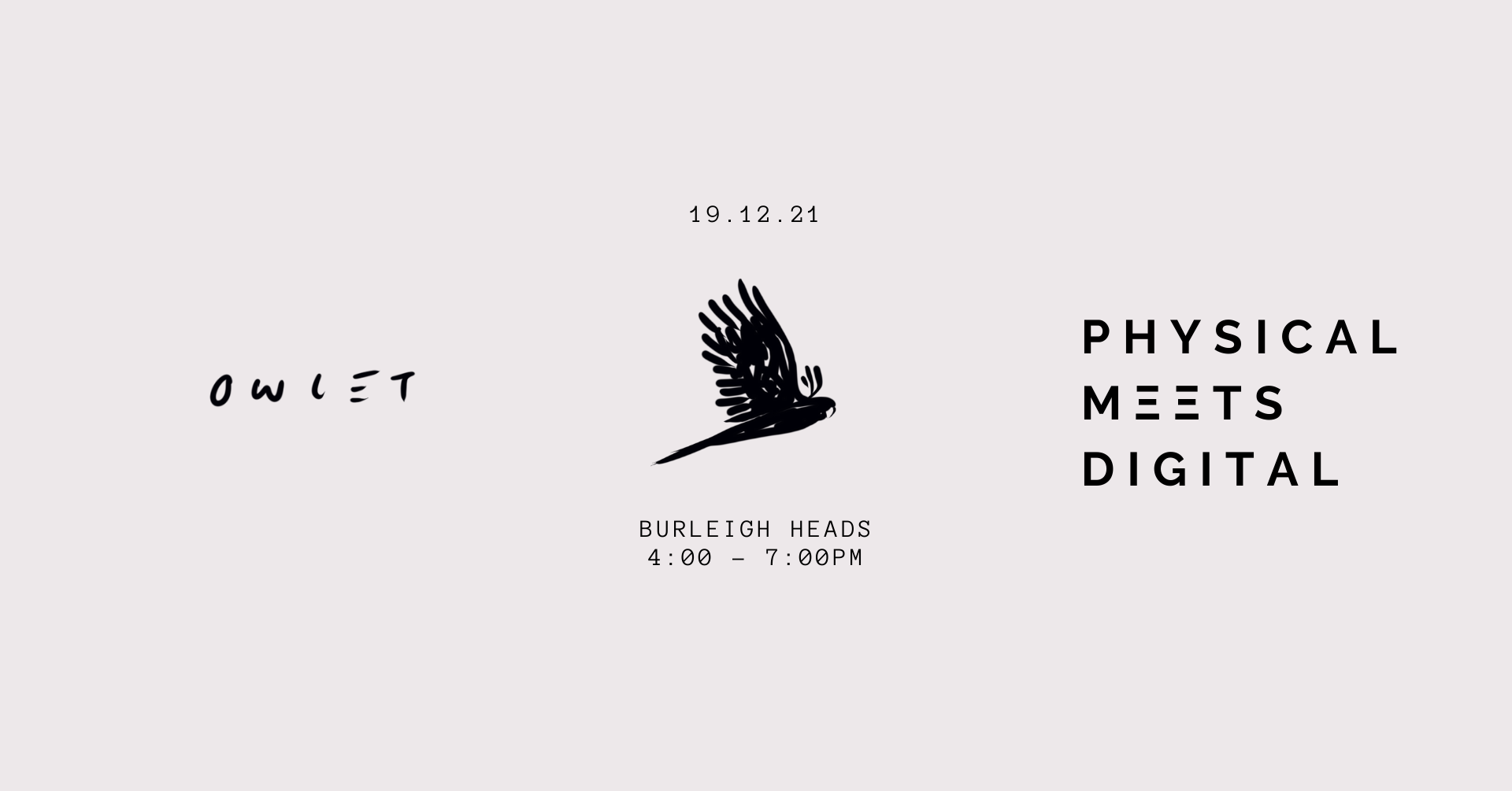 Firstly, how much do you have to know about NFTs and Crypto to enjoy this exhibition?
None at all!! The reason why we decided to create an event surrounding the NFT collection is to provide the opportunity for attendees to learn more about the NFT space, to ask us questions and to provide an in-depth insight into this exciting new world.
Owlet's artwork is yet to be revealed… How would you describe it?
Physical Meets Digital is an innovative collision of two worlds, which involves merging the lines of traditional art and the new world of NFT's. Owlet's signature style has always been an extension of the world around her, that is forever moving and evolving subject to the ebb and flow of life. The Physical Meets Digital project has allowed Owlet to further expand her creative concept Land Meets Sea into digital artwork that still holds the real world feelings.
Why did you want to work with her on this project?
Owlet and I have been friends for many years and I have always admired her and her art. When I made the decision to go all-in on NFTs, I felt the need to speak with her about what was possible as an artist in this space.
After many hours of brainstorming, planning and creating, we conceptualised and created the Physical Meets Digital collection which has evolved into something much more than we originally envisioned.
We know you've got something pretty wild planned. What can you tell us?
I think for a lot of people, it is hard to grasp the value of NFTs. We so often hear "I could just screenshot it", or "why would I buy art if I can't display it", and I believe the best way to learn is by being shown or through experience.
We have A LOT of surprises planned for the event, which aim to provide further understanding and showcase how physical art and digital art can co-exist. I personally believe a lot of people will have their lightbulb moment after this event..
I believe it will be something truly memorable and special…
Do you envision events like this that merge the digital and physical art realms becoming more common in future? Where is this space headed?
Absolutely! As NFT and blockchain technology becomes more widely adopted, we will definitely see more events that merge the two worlds. Every day we are essentially jumping between the realms through QR codes, but I think through utilising augmented reality, the metaverse and NFT innovation this experience will become a lot more immersive and user-friendly.
When it comes to events, I think we will see a lot that co-exist in the metaverse. If you can't make it in real life, you'll be able to head to a virtual world where you can watch a live-stream or something similar.
I also believe that physical collectibles, art and other important assets that need to have clearly identifiable proof of ownership will be represented as NFTs on the blockchain.
By the way, we've teamed up with Australia's best digital asset exchange, Zipmex, to give away three Praying Hands Club NFTs – all you have to do is sign up and register with them to go into the draw. Sign up here and read more about PHC and the comp here: