Words by Shelby Hamilton
Sydney's Carriageworks and its concrete grounds were filled with exclusive go-getters another day this week.  Sunny, sparkling Wednesday gathered everyone around to catch up with designer labels like Ginger and Smart, Cameo Collective and Vale Denim, just to name a few. Wednesday gets a tad more cheeky and even more comfier.
You can tell the week is nearly over when everyone slowly starts to retire the heels, Sneakers taking the crown. Red, black and a fairy floss fur coat along the way…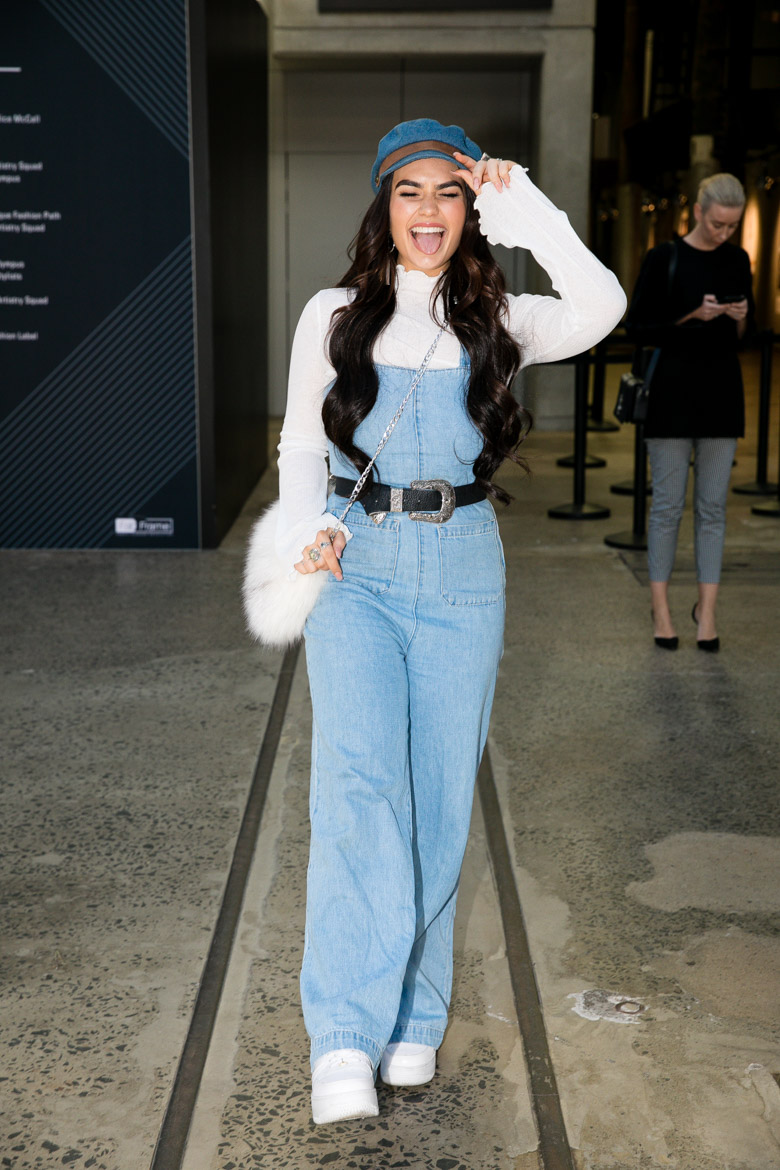 Blue baby, Cartia Mallan aka Rapunzel will always be trusted to bring the flares and the flow to the party.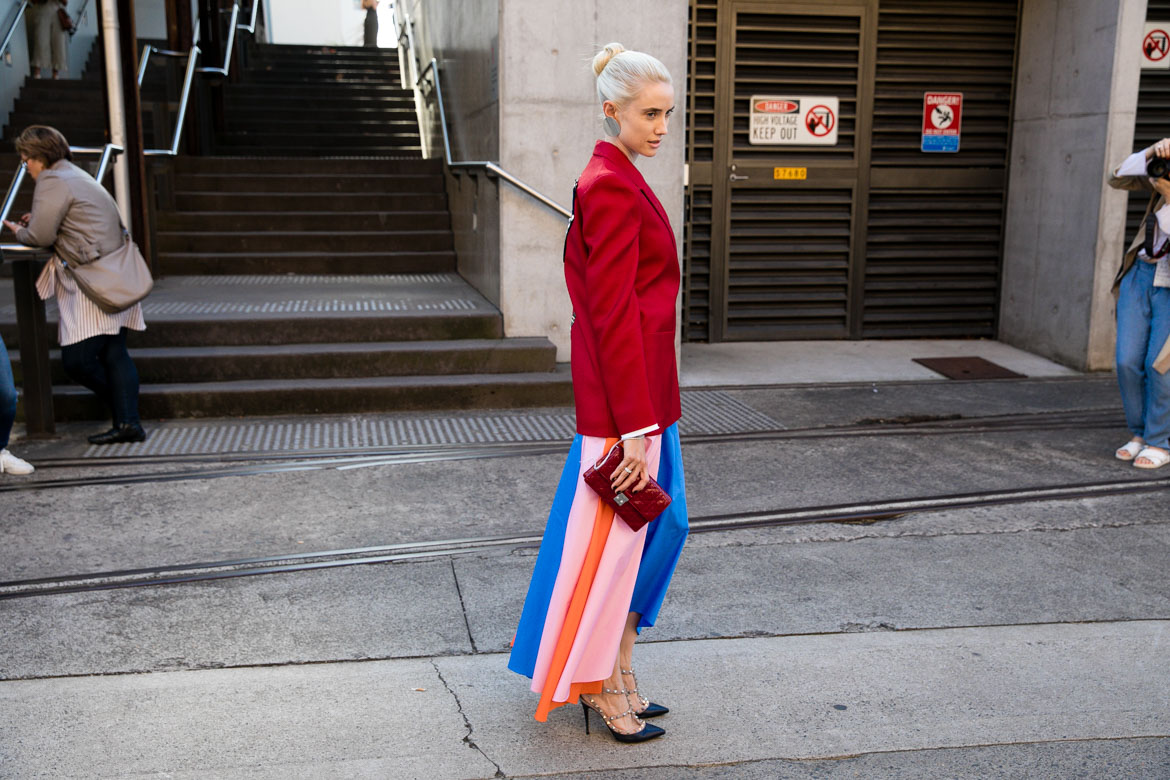 Candy coloured goodness. The pink and red combo is pretty nifty.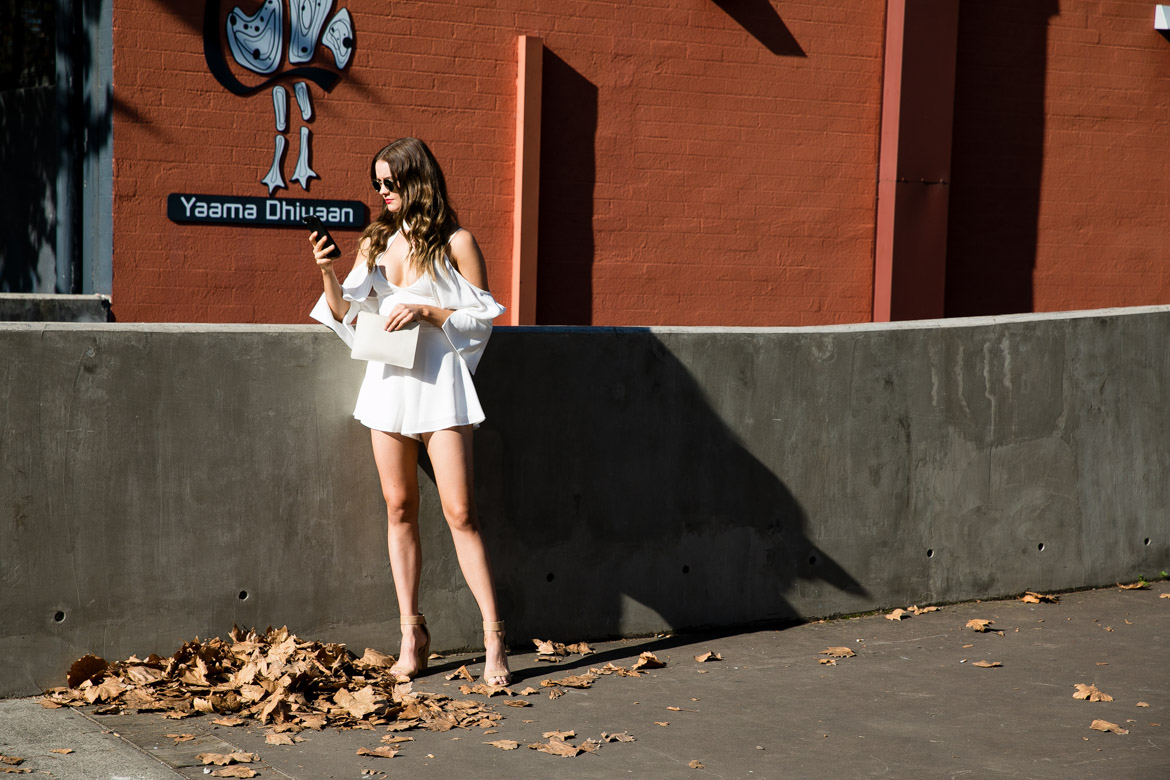 Hello angel! White, light and gleaming. Just a bit dreamily soaking up the sun in-between the shows.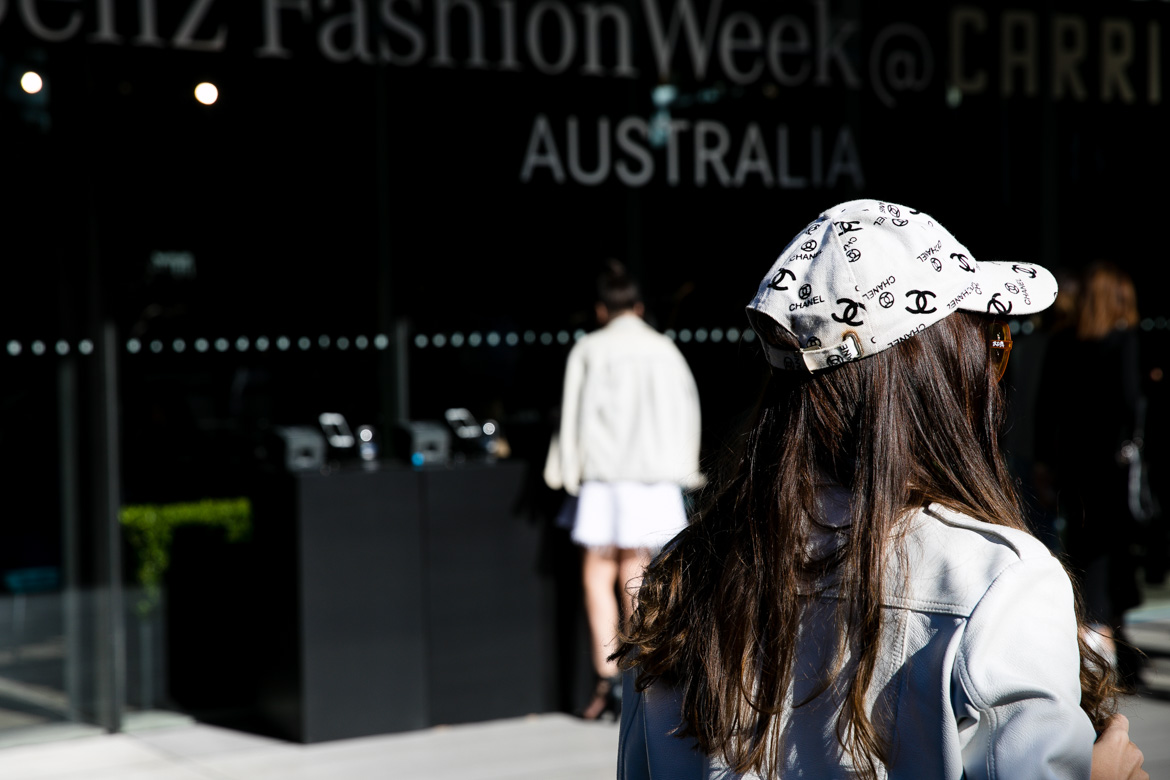 If you're going to wear a baseball cap to fashion week it obviously has to be Chanel.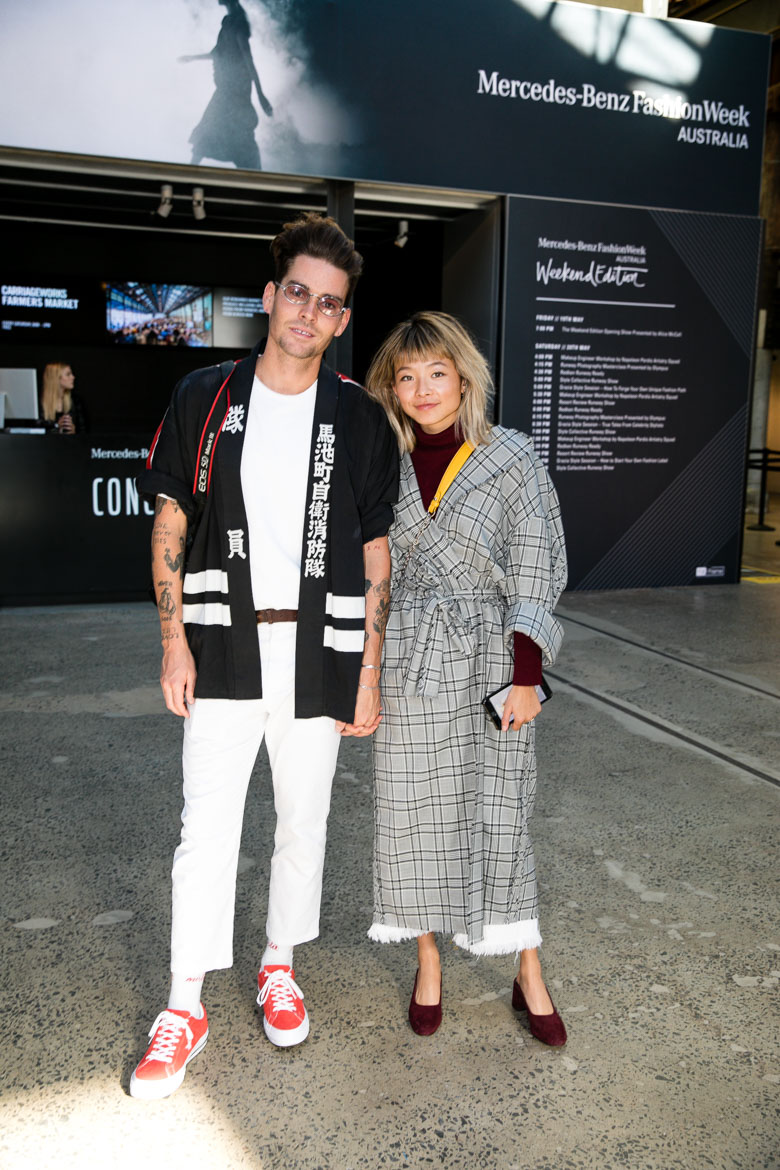 Partners in crime. Yan Yan and Nathan hand in hand with their fresh fits.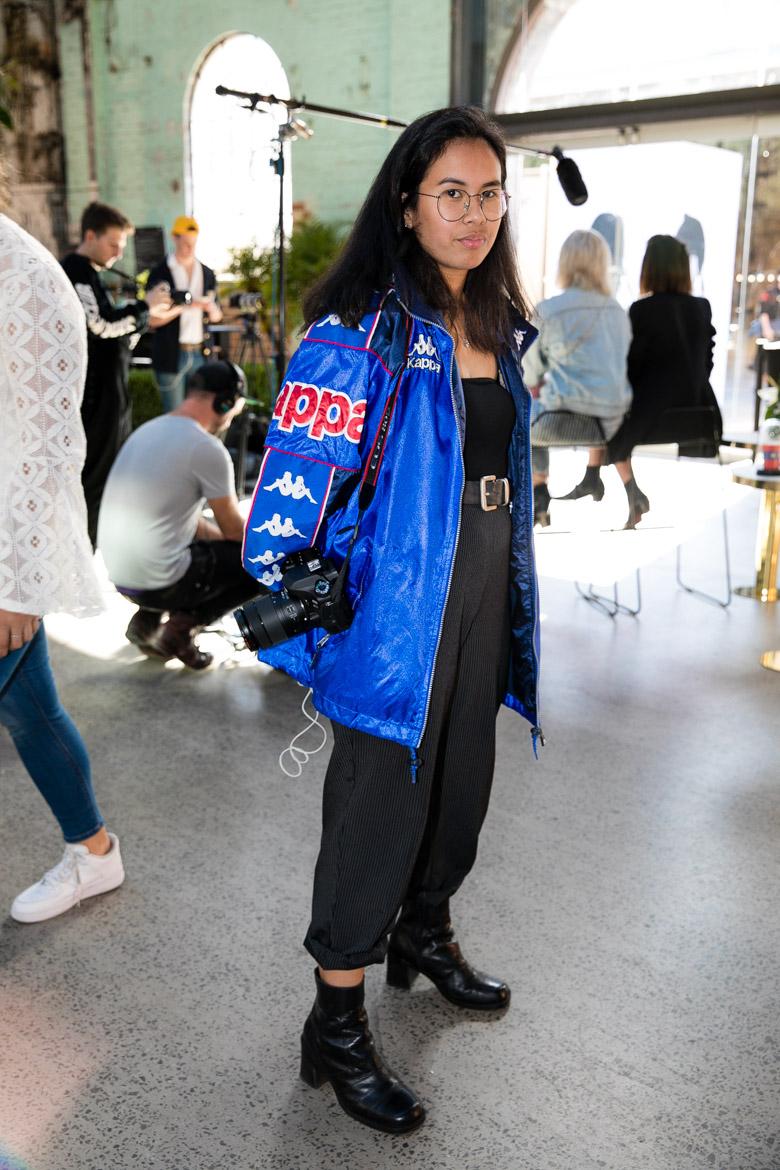 She gets it. Wednesday chiller in Kappa.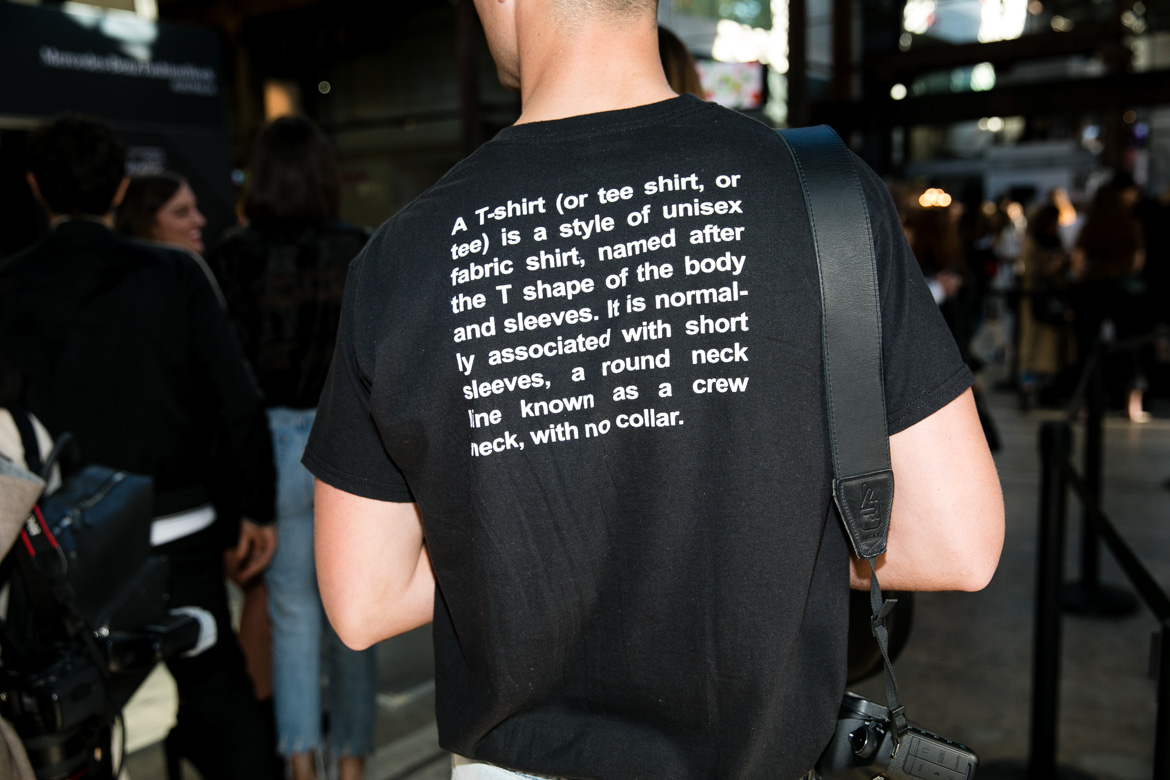 Less is more. A T-shirt that simultaneously teaches you a little something and more or less wastes your time. You were warned that Wednesday gets a bit cheekier.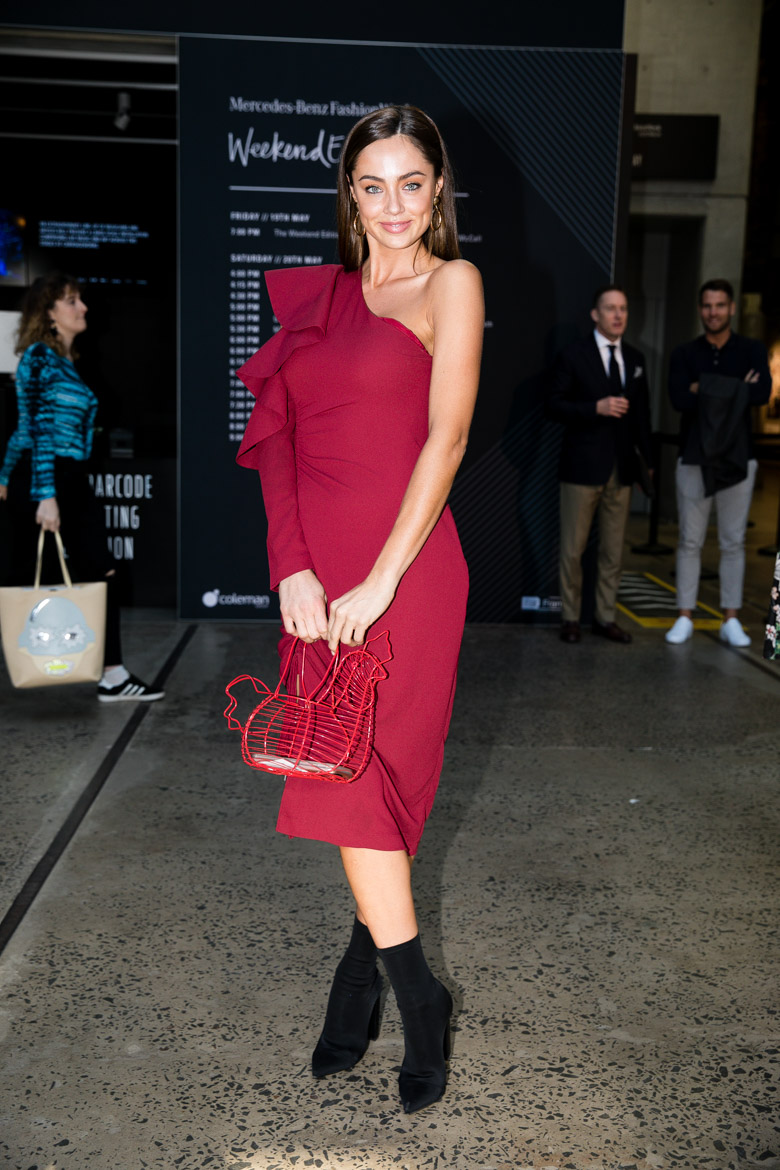 Women Crush Wednesday, Elle Morris in a pair of killer shoes, a fixed deep red Cameo Collective frock and I believe that's a wire chicken handbag to match. Cluck yes!
The stars have aligned and blessed us with Indy Clinton's Balenciaga boots and leather mini skirt. I wonder what her star sign is.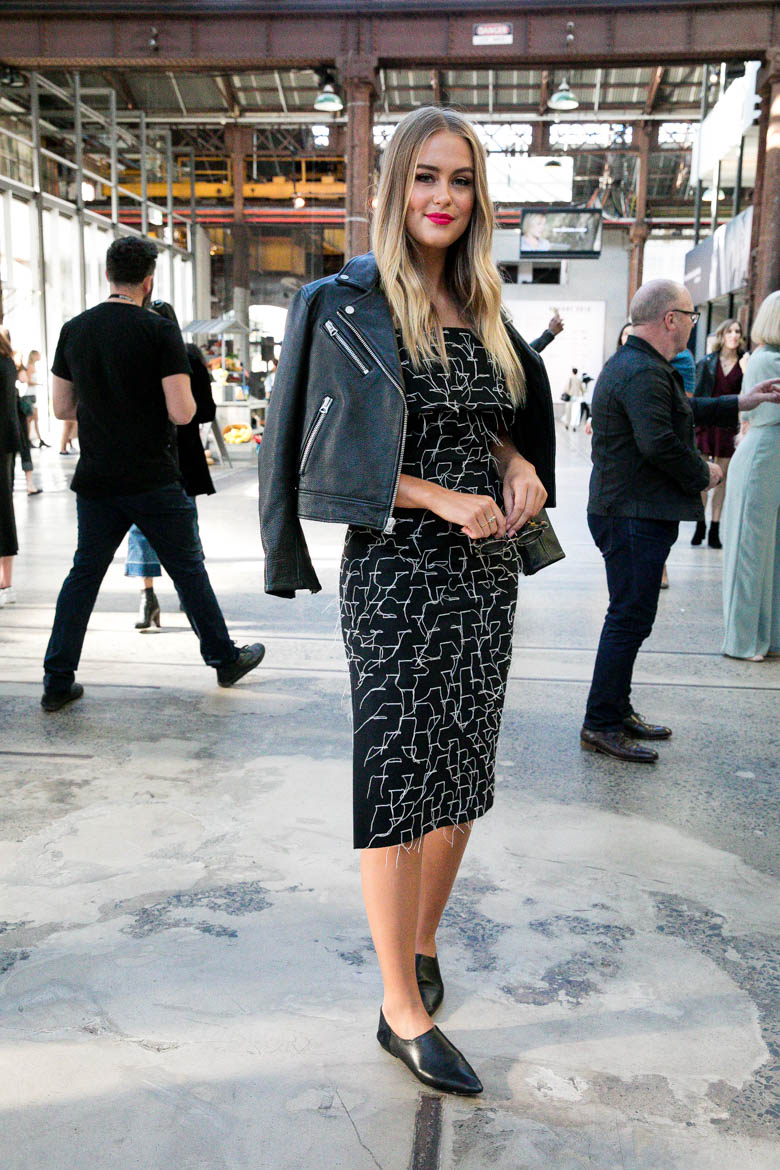 Proof that you truly can never go wrong with a black leather jacket. Ya girl Steph Claire Smith is mixing it up with a touch of a bright berry lip and a few loose threads.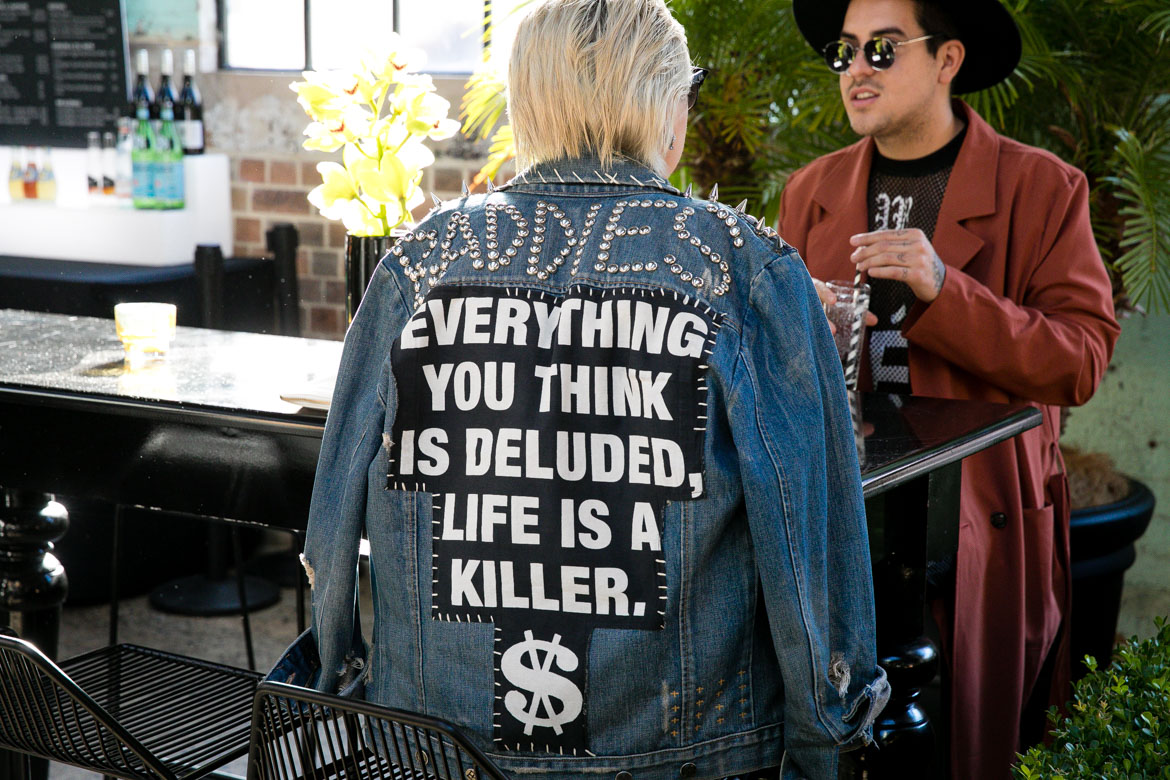 THIS JACKET IS A KILLER. Keeping people #woke and bursting a few bubbles along the way.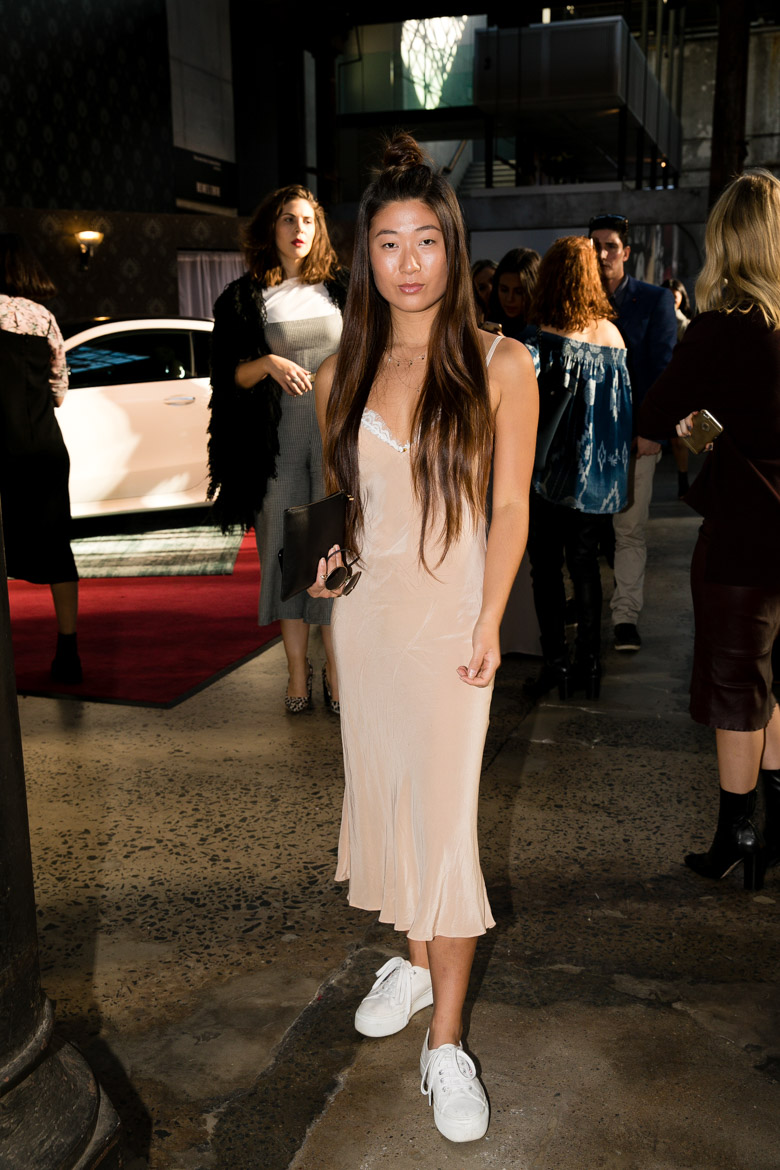 …It's not all hardcore. On the softer side of fashion week there are a number of goddesses with mermaid hair floating around Carriageworks. Silky, nude and sleek. Low key makes just as much of a statement as studded and distressed Ksubi denim.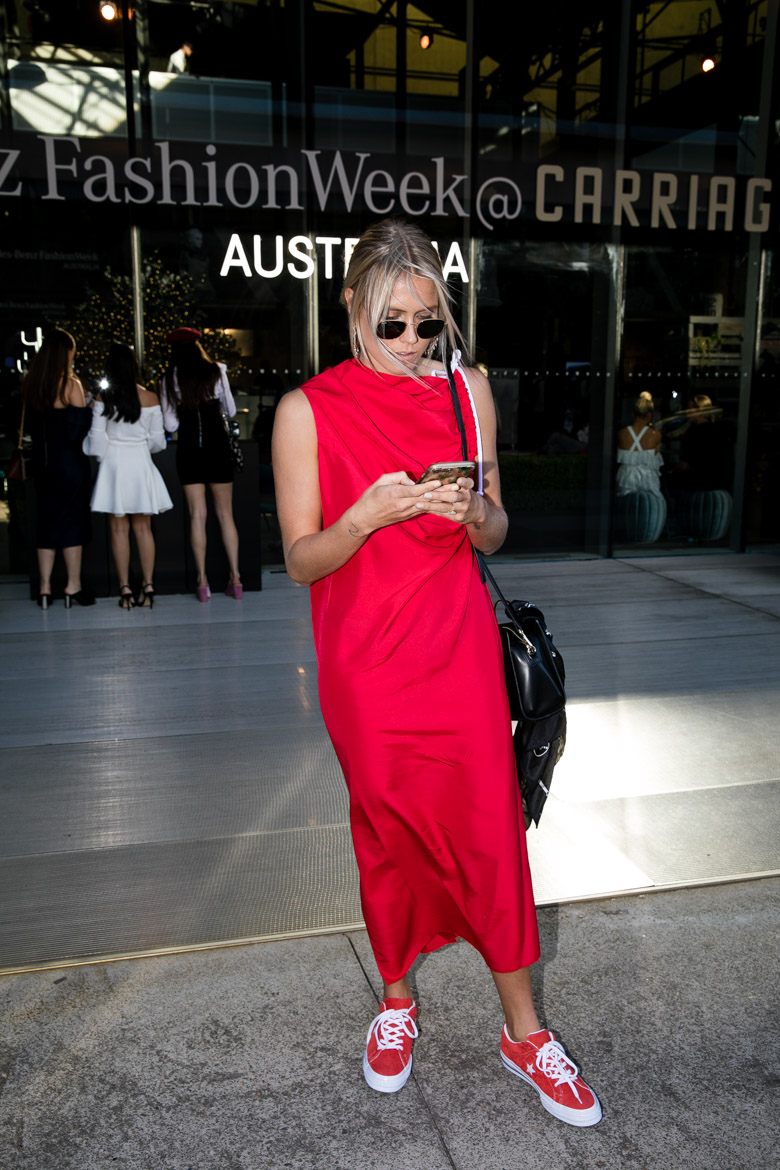 It looks like the colour red is trending today. Sporty and Posh spice combined. Comfort totally wins.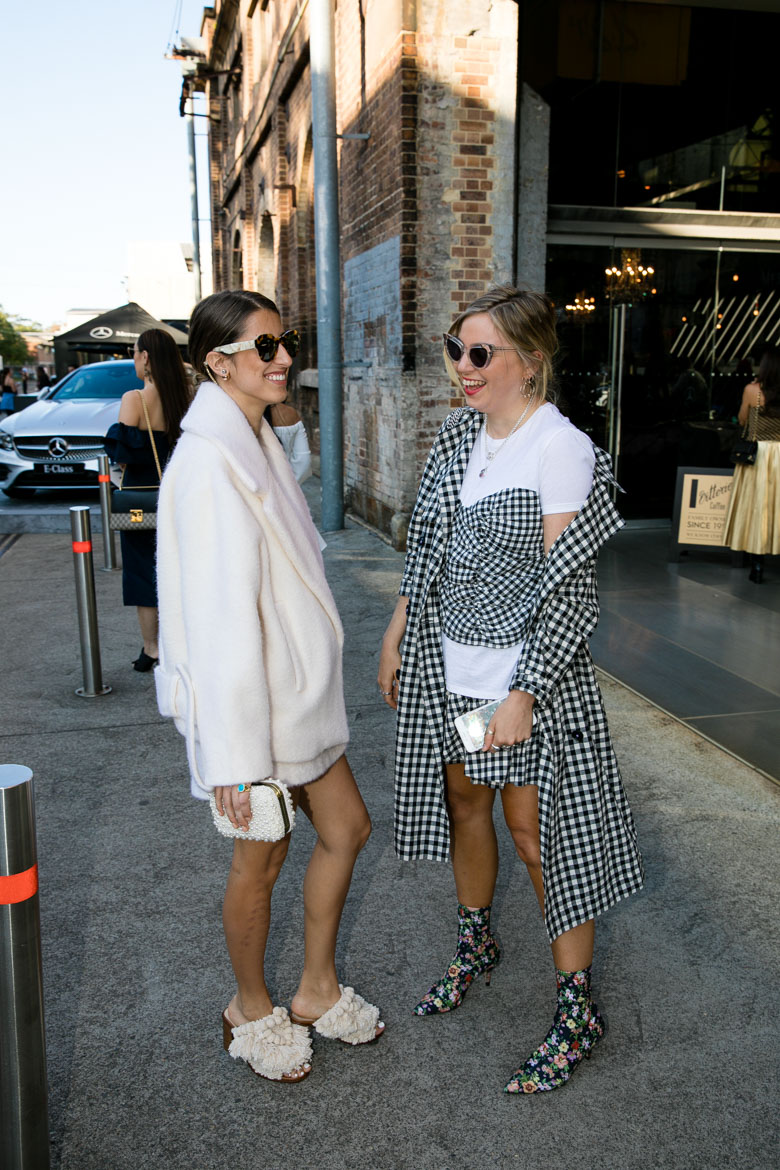 Eloise having a giggle in her gingham get up beside her cosy mate, Lisa. Lisa's outfit is sending sea shells vibes or as self proclaimed via her Instagram, a big marshmallow. It's still cool to believe that if you put your ear up to her pearly purse you could hear the ocean.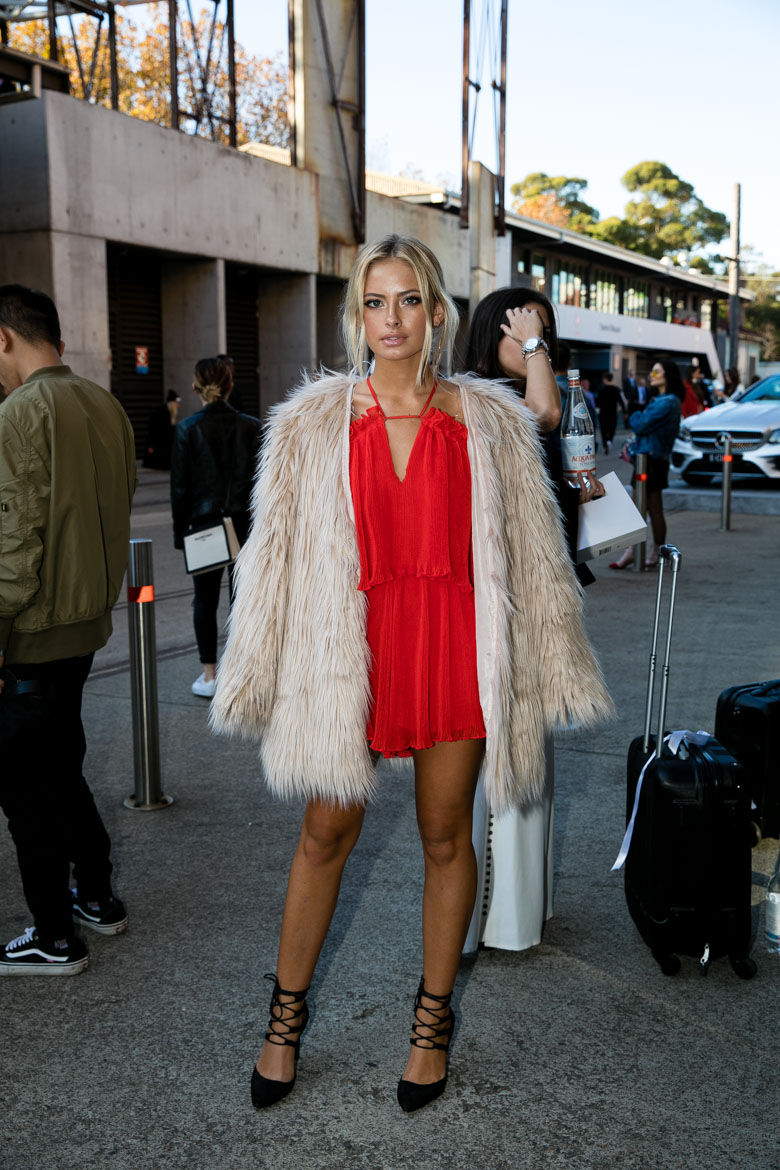 bombshell ˈbɒmʃɛl/ noun informal,a very attractive woman."a twenty-year-old blonde bombshell"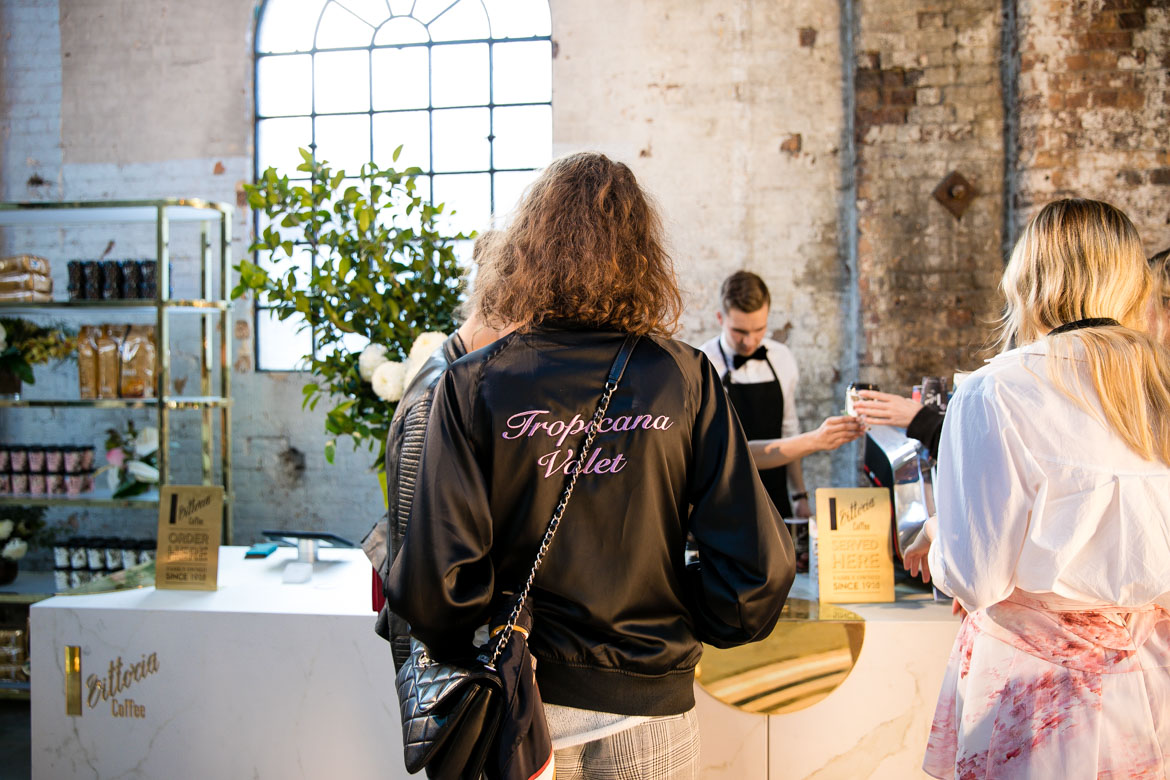 Menswear Tropicana Valet jacket by DearFriend, this jacket is making us want a holiday. Customised bombers are in everyone's wardrobe this season. Taking a personalised spin on Grease's 'Pink Ladies'. Fashion is funny like that, it always seems to come back around… so you better shape up!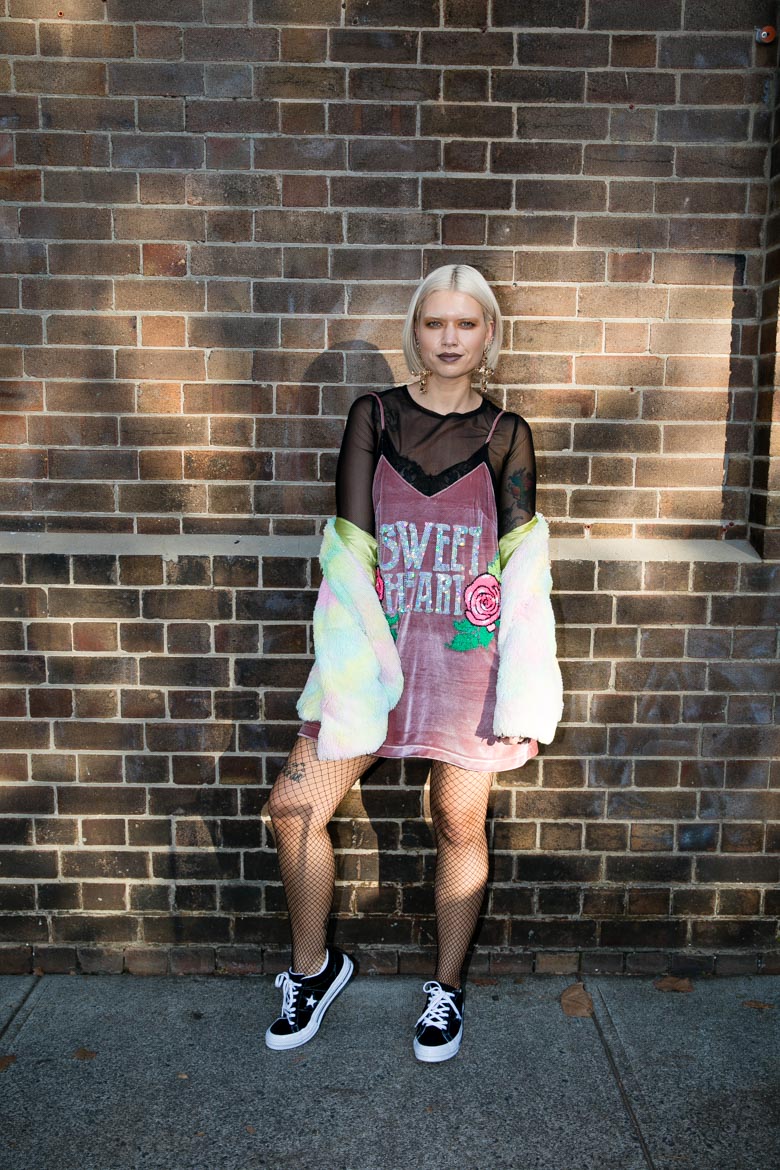 Here is the fairy floss fur that was mentioned earlier. On the subject of fairy floss, this whole outfit looks good enough to eat. The One Star Cons are back at it again but this time paired with some mesh and sequins.