The top tier of Korean hip hop begins and ends with four letters. AOMG.
The Korean mega label was initially founded by the godfather or K-hip hop and R'n'B Jay Park back in 2013. AOMG offered a refreshing alternative to the expected conventions of K-pop. The fluid combination of refined melodies and contemporary western rap sounds would define not just the label but the Korean hip hop scene at large for years to come. It's not unusual to hear bangers like 'Mommame' and 'All I Wanna Do' buzzing from Hongdae to Itaewon, becoming the unofficial anthems for weekends letting loose in tightly packed clubs. At present, the label consists of a who's who of chart toppers and noisemakers, including Jay Park as mentioned above, Hoody, Simon Dominic, Gray, Loco and Lee Hi -to name a few. 
AOMG have teamed up with Beatbites to bring the sounds of Seoul to you as a part of SXSW 2021 Online Festival, featuring performances from DeVita, Loco, Woo, Sogumm & DJ Wegun.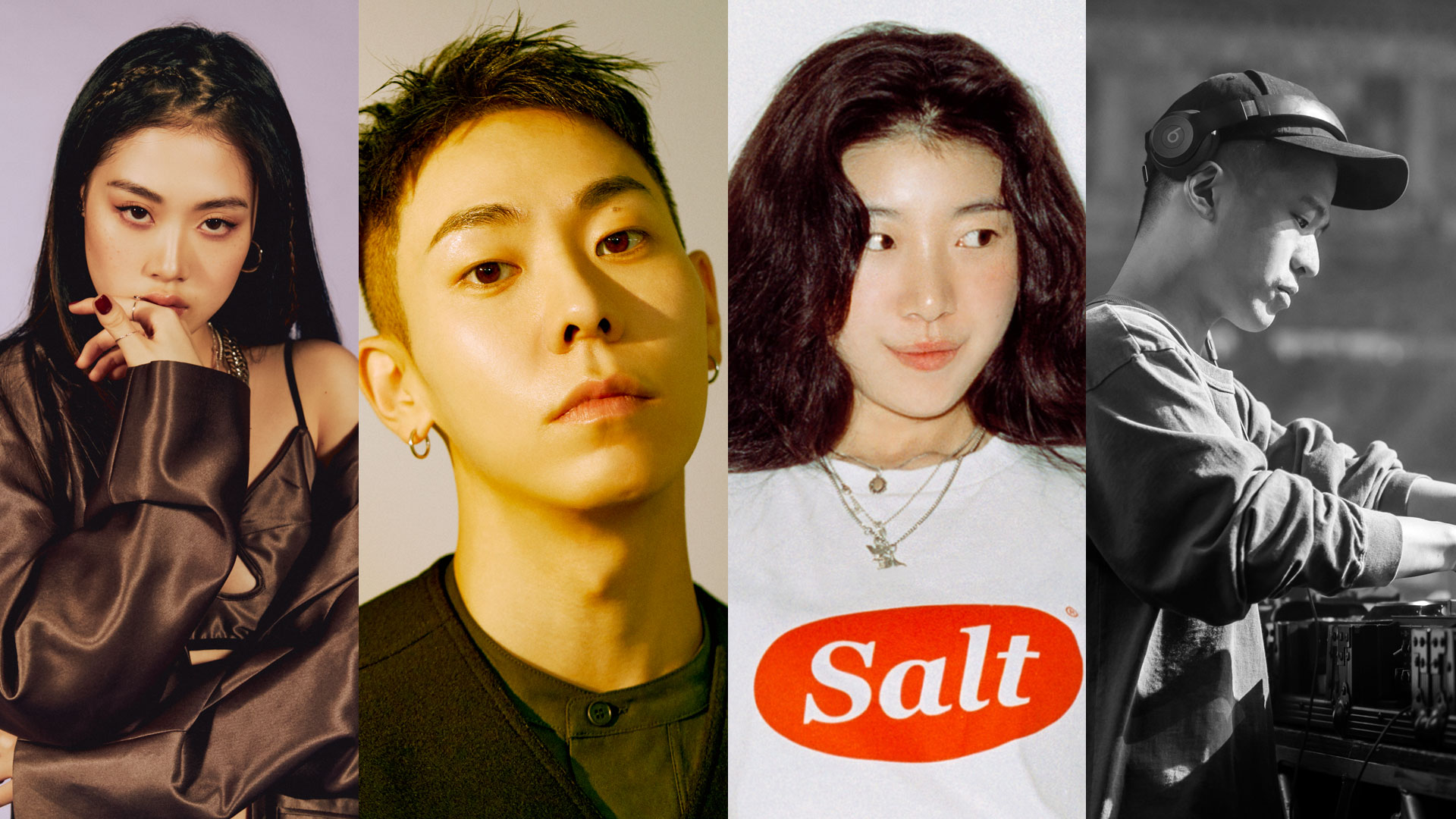 We thought it would be best to help you get familiar with this year's eclectic group of artists. Without further ado, here are our favourite moments from AOMG's SXSW 2021 line up!
'We Are'- Woo Won-Jae feat Loco (2017)
https://www.youtube.com/watch?v=20WRG_2r0QE
In 2017, AOMG raised eyebrows when they signed Woo Won-Jae. At this point, the label had mainly turned out club-ready anthems and melodic tunes. They couldn't have been further from the moody and melancholic sound the 'Show Me The Money' standout had showcased. To everyone's surprise, the label bucked all expectations with Woo's debut single 'We Are'. Enlisting the help of super-producer Gray and fellow label mate Loco, the three crafted an ear-wormingly addictive track about globetrotting tales and the heights of superstardom. With 'We Are' AOMG had reinforced its status as a hit-making machine and that the rookie would find his new home to be a perfect fit. 
sogumm signs here (2019)
https://www.youtube.com/watch?v=voaIxsUzcXI
In 2019, AOMG had seemingly done it all. The question arose: what's next? The answer: their very own broadcast reality competition series 'Signhere'. The program pitted several of Korea's brightest musicians in a competition to see who could rise above the rest and retrieve the elusive AOMG contract. Through all the broken hearts and checked egos, a one-of-a-kind talent inked her name across the dotted line… her name was sogumm. The Seoul-based crooner had garnered a cult following before as a part of the enigmatic collective Balming Tiger. However, this was her first opportunity to showcase her smokey vocals and carefree vibe on a mainstream platform. The audience and judges alike were in awe as her voice effortlessly drifted over pulsing beats like BBQ smoke wafting into the dark night.
DeVita makes her presence known (2020)
https://www.youtube.com/watch?v=aKl7-v-iCaA
Across AOMG's illustrious roster, they were always missing a sense of ferocity and rawness… that is until they signed hip hop soloist DeVita in 2020. DeVita returned to Korea from the windy streets of Chicago and immediately turned heads with her futuristic R'n'B offering 'Crème'. The AOMG standout has converted music fans into diehard devotees with her effortless swagger and take no prisoners attitude. DeVita's signing also marked the continuation of the Korean indie music scene's placement of women front and centre.
We interviewed DeVita last year! Have a read here.
'Everybody sucks' – DJ Wegun & Jay Park (2020)
https://www.youtube.com/watch?v=4nH2dMEWmk8
What happens when Korean hip hop forefather Dj Wegun and the boss himself Jay Park get together to flex their twenty plus years of combined experience? You get the experimental offering 'Everybody Sucks', released in late 2020. The record sets an eclectic mix of club sounds onto a collision course with some of Korea's heaviest rap hitters. Tracks like 'Wegun Is My Dj' and 'Twist The Plot' erratically switch between boom-bap beats, boiler room-esque bangers, new wave jazz instrumentals, and just the right amount of venom. The project marks one of DJ Wegun's biggest releases to date and a daring passion project for Park. As AOMG moves forward with an ever-evolving lineup of younger talent, it's always reassuring to see that the OG's are right there with them. 
Catch AOMG at SXSW 2021 Online Festival, see below for the streaming times:
Livestream on Saturday, March 20th at 7pm EST
Re-broadcast on Sunday, March 21st at 7am EST
To tune in, make sure to register and login, click here. You can find more info on the SXSW 2021 Online Festival program here. 
https://www.youtube.com/watch?v=30Iqjg4F4dU&feature=youtu.be
Special thanks to the good people over at Beatbites for helping put this together:
"BeatBites is a platform which collaborates with artists and creative communities. We make original content and share stories that celebrates artistry, creative process and culture. Based in New York and powered by award-winning digital media studio 37th Degree, we create fresh original content such as short-form videos, interviews, live events, mini-documentaries, and in-studio performances. We seek to build a community discovering new and exciting music and connect via our curiosity for art and culture".