We live in strange times. Uncertainty has become the regular. Our realities exist equally between the tactile and screens. We have set so many controls for ourselves it can feel like we are drowning in pre-automated machinations. The question is, how do we deal with it all?
James Hornsby suggests we embrace it.
Hornsby is a multidisciplinary artist based in Queensland who finds inspiration from the reciprocal relationship between the virtual and real worlds. His works combine both practical and digital practices to significant effect. Looking at any one of his striking photo collages, you can see traces of the 'real' photographed image swarmed with an augmented facade. Hornsby dares the viewer to question the authentic picture, or if it's all just one messy reality? His bold pieces have been recognised by an enviable list of clients and galleries, including Brisbane Powerhouse, BIGSOUND, the Centre for Contemporary Photography, Brisbane Art and Design Festival, the Adelaide Festival Centre, the Brisbane Street Art Festival, and the Queensland Museum. 
Hornsby returns with his latest solo exhibition Hi Vis Fumes Onespace Gallery. The show looks to continue his already prolific output:
"With a knack for artistic experimentation through contemporary material translations, Hornsby's work has been described as explosive, bold and hyper-real – these latest pieces see a refinement but also an expansion on the distinctive edge that Hornsby harnesses in his practice. Honouring previous bodies of work, Hi Vis Fumes will encompass a variety of elements, expand on a series of experimental prints but also be the launch pad for new vibrant and vivacious works on aluminium and steel."
We caught up with Hornsby to talk about everything Hi Vis Fumes and what role virtual worlds will play in our futures!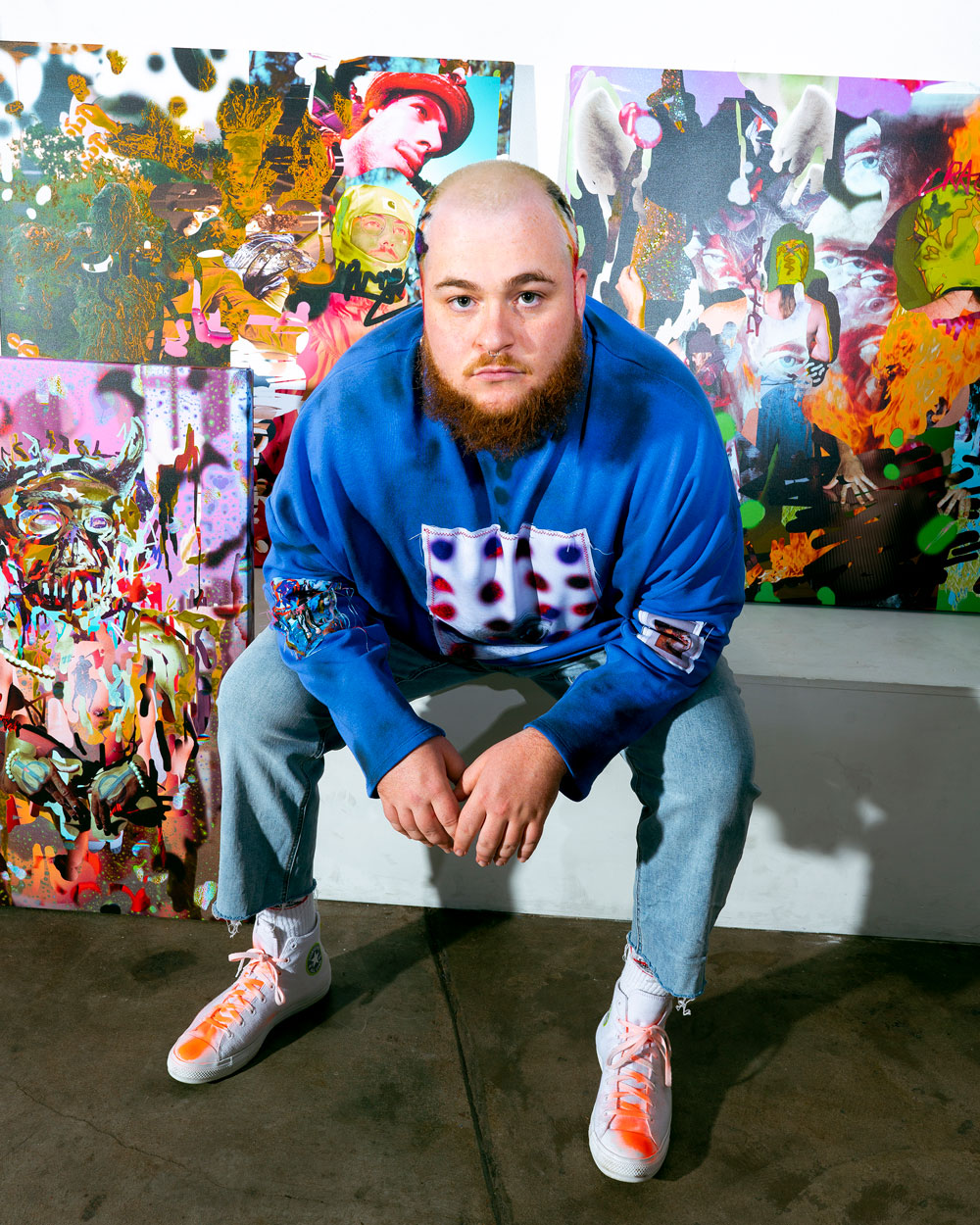 Photo: James Hornsby. Courtesy of the artist and Onespace Gallery'.
Hi James, congratulations on Hi Vis Fumes! How does it feel for the exhibition to finally be open to the public?
Hello, so good! It feels so good! This body of work has been a long time coming and I am so ready to have it out— feeling very cheery! With the state of everything right now, it's very exciting but sometimes a little scary to put so much energy into a project like this.
Taking it back to the beginning, what was your first art related memory?
Damn, if we really want to go back in time it's probably me, at a young age, struggling to draw inside the lines of a children's colouring book and deciding to make my own lines. It sounds kind of cheesy, but I think making my own lines was much more exciting to me than sticking to what was predetermined in the colouring book.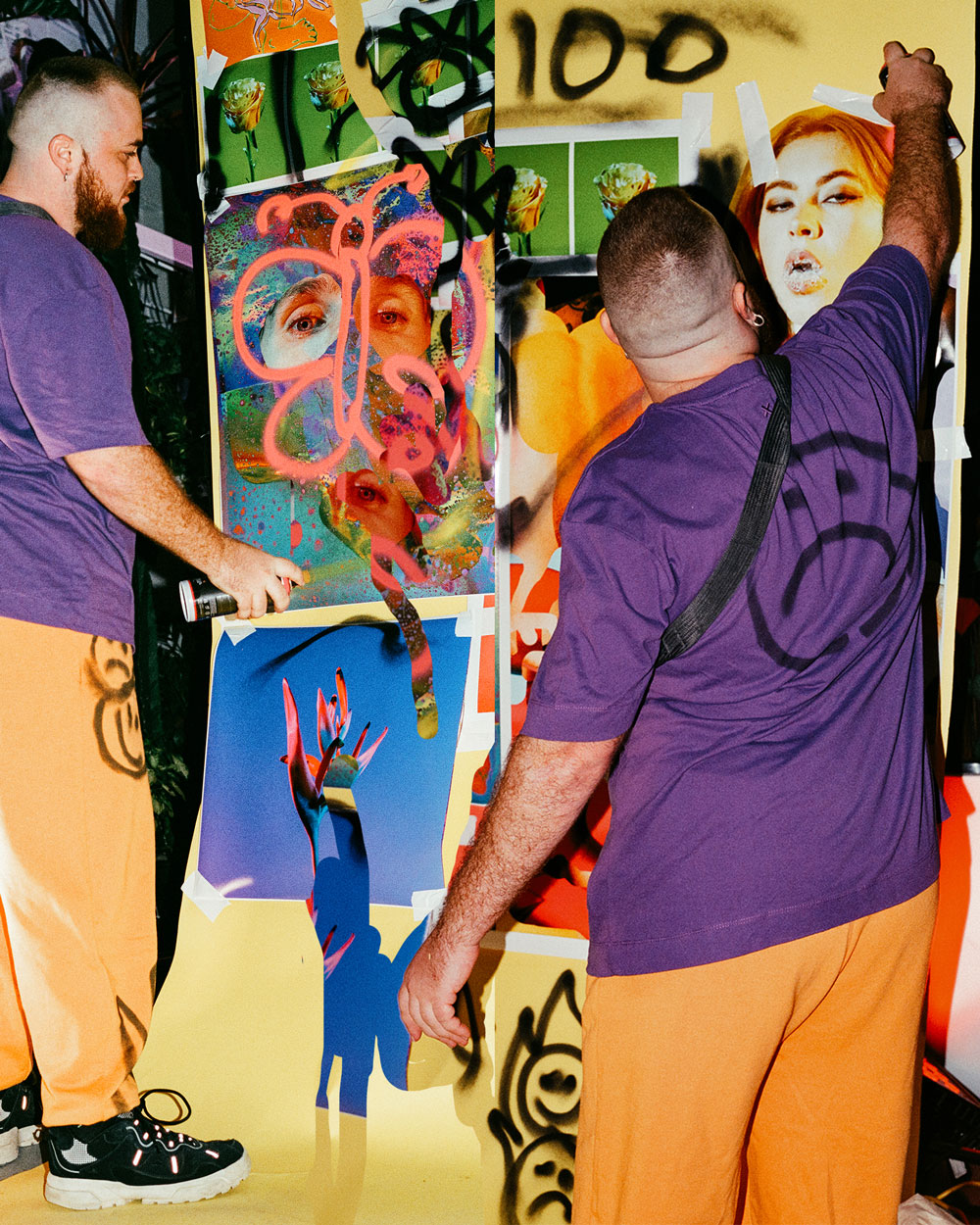 Photo: James Hornsby. Courtesy of the artist and Onespace Gallery'.
What initially inspired your passion for photography?
It honestly feels like I've always been into photography! I think when I really fell in love with the medium was a period when I had just graduated from high school. My friends and I would just generally hang out at carparks at night, skate, drink goon and just play up. A friend of mine gave me his new DSLR and I just stared snapping up all these wild moments that simply can't be recreated. Even reflecting on it is super nostalgic! Looking back, I would never have thought I'd end up having a shoot for the likes of Vogue magazine or having a solo exhibition at Onespace Gallery.
There is a specific chaotic and anarchistic energy to the artistic aesthetic. As writer Julia Scott Green described it, "a strange declaration of hope; a willingness to embrace chaos and resist passivity". Why is it important to you to communicate this in your work?
I feel it's important to take control, even if things are out of control. Then you are able to take control of being out of control— if you get me. In life I don't wanna just ride the bus, I wanna drive that thing. Even if I don't know how to drive it, even if there is no road, we can just 4×4 that rig. This is a message I like to transmit through my work. Simplified I guess it's just about believing in yourself, which is something I still struggle with. Also, I think there is just as much importance in breaking as there is in making. As much as I love working on something minimal and refined, I equally enjoy destroying things and making them chaotic and ugly. This can really bring forth a new perspective. I encourage people to push things until they break. The process of defacing or vandalising my work is self-affirming for me and brings my artwork back to reality. Embracing the chaos and destructive nature of life can be therapeutic and rewarding. It can really put in that driver seat.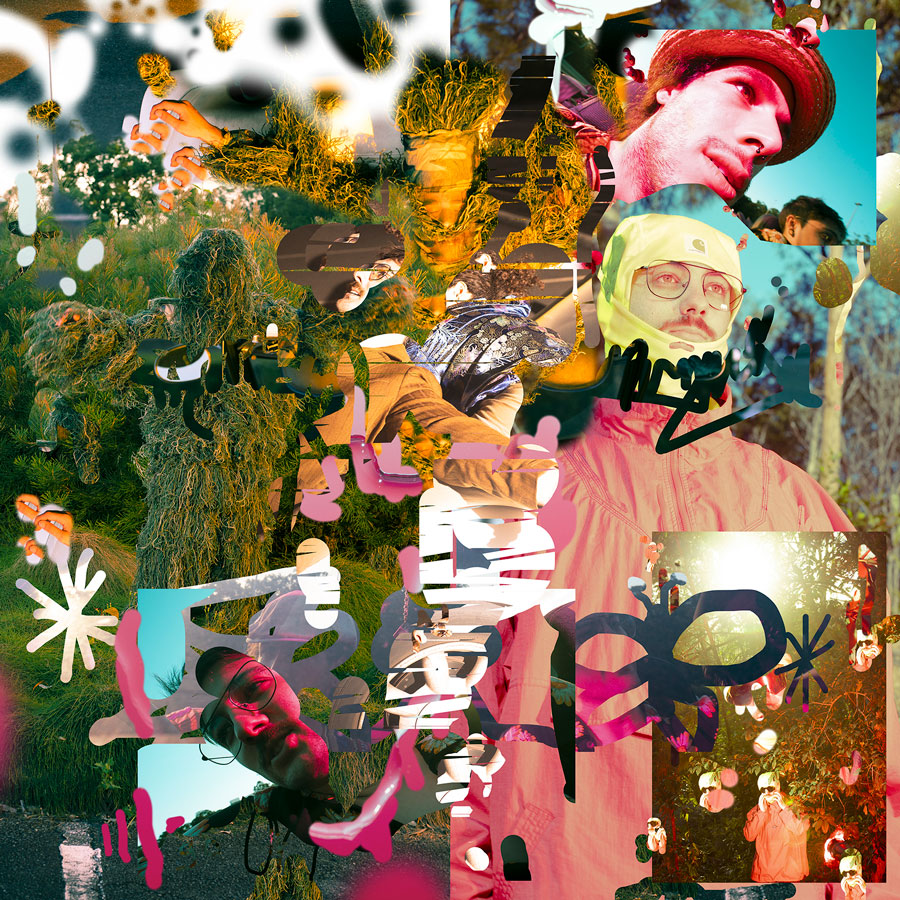 UPPERS AND DOWNERS WITH MY FRIENDS, 2021, Giclée print on Hahnemühle canvas, 90 x 90cm AP + Edition of 3.
Can you talk about the process of how Hi Vis Fumes came to be?