You can categorise musicians with two labels, Silica Gel and everyone else.
Silica Gel is a South Korean band consisting of Kim Hanjoo (keyboard/vocal), Kim Chunchu (guitar/vocal), Kim Geonjay (drums), and Choi Woonghee (bass). Trying to fit Silica Gel into any box would be kafkaesque in its pointlessness. However, describing them as a "band" feels like it would create an expectation of them merely making music. Their brand of sonic experimentation is alien yet warmly referential, pushing the sounds of neo-psychedelia to a practically hallucinogenic state. The outfit's eccentricity was validated in 2016 with their self-titled album, which won them the prestigious title of 'Rookie of the Year' at the Korean music awards. Upon receiving the accolade, they approached their acceptance speech with the mindset of, "We will continue to make music that rots the ears", a claim laced with the venom of a threat and the optimism of a promise. True to their word, they have continued to destroy boundaries with a slew of EPs, singles, and almost shamanistic live performances.
Silica Gel is back with their latest release, 'I'MMORTAL'. The song musically places you at the foot of the cosmic doorway, inviting you in with a simple, catchy refrain. What follows is a four minute journey through crunchy guitars, soaring melodies and lyrics wrapped in existential quandaries. The boys also reached out to AOMG's sogumm to bless the track with her smokey vocals. Her performance is simultaneously powerful yet vulnerable in its tender delivery. By the time the last note has echoed softy into silence, you might just achieve a state of near holy bliss. Don't be surprised to hear the anthemic rune ringing through your ears for days to come.
We caught up with the quartet to talk about their humble beginnings, 'I'MMORTAL', and what "teamplay" means to them!

Hi guys! Firstly congratulations on the release of your latest single, 'I'MMORTAL'. How does it feel for your fans to listen to it finally? 
Geonjay: Howdy, all good? Hope you guys like it!
Woonghee: I'm just grateful that you're taking interest in what we do despite the distance. Give 'I'MMORTAL' a lot of listens, along with our other songs.
Chunchu: Thanks! I'm happy to be sharing this, it's quite unique in terms of its structure compared to our previous releases.
Hanjoo: Saying hello with our new tune. Let's go on this tear-filled journey together with I'MMORTAL
Taking it back to 2013, how did you all initially meet? What made you realise you wanted to start a band?
Geonjay: Oh man, we get asked this a lot. I'll try my best to include all the little details.
In 2013, I was still in university, not interested much in my majoring discipline. So I naturally turned my eyes into other areas of study, the kind I felt would be hardest to learn by yourself, like Creative Writing, Visual Design, Fashion Design, Textile, Stage Design, Aesthetics, Advertisement, Kinetic Art, Physical Computing and etc., boy, that's hell of a list.
I didn't delve into it in much depth of course. More like a little taster.
Even in the final year, I was doing Kinetic Art related thing. While doing that, I found myself hooked in 'Projection Mapping' in the digital art department and I had to do a presentation on it.
So I did a little performance piece where there's an improv drumming and mapping with friends who did video art.
So I did a little performance piece where there's an improv drumming and mapping with friends who did video art in this small cafe called 'Jeong coffee shop'. My assigned professor chose this performance as one of works to be displayed in an art fair, Pyeongchang Biennale. Then it turns out to be a much much grander stage that I thought haha. So I reached out to then my friends, now the band's members, and invited them to put this performance together. That was our first ever showcase actually. I guess all of us enjoyed working together and from then we just kept gathering together and spending time together and now here we are!
Love you all and thank you for having walked into my life, haha.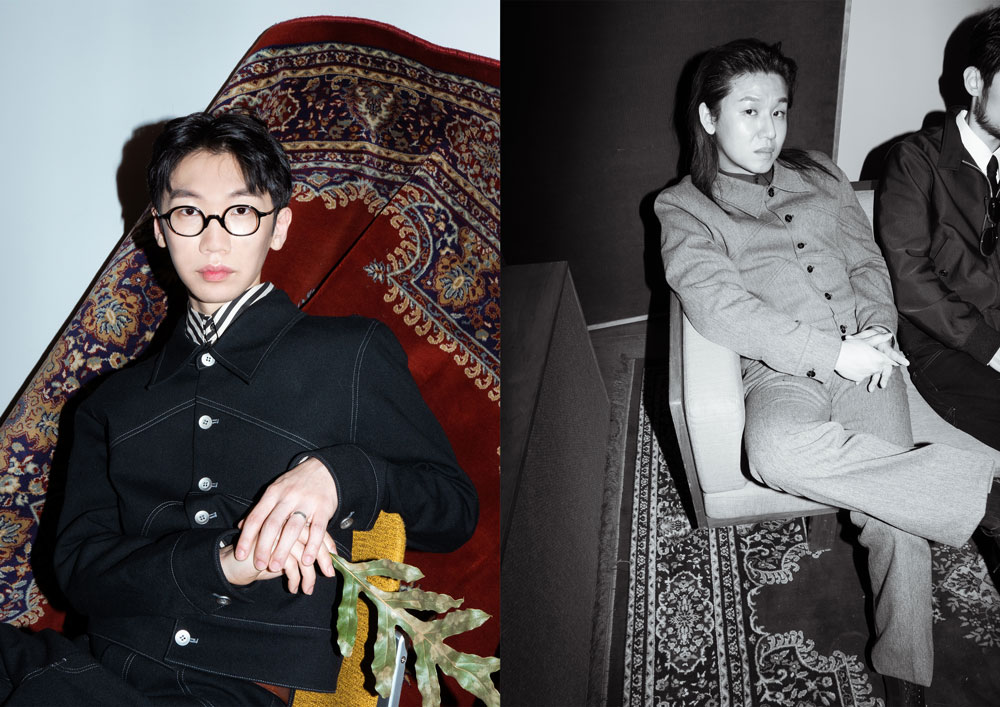 In your own words, how would you describe the sound of Silica Gel?
Chunchu: I'd say it's a mass of things made up of all of us, malleable and fluid, like a lump of clay.
Woonghee: Rock sprinkled with bits of what each one of us likes… 'Bibimbap Rock' may I call it?
Geonjay: I think deep down we are all attracted to beautiful sounds and that we are in a continuous practice to realise such sound. I don't like to overcomplicate things so I think describing it as beautiful sounds would suffice.
Hanjoo: I used to say, 'global village sound,' to describe our particularly ambiguous sound in a witty way but I'm not too sure these days. I guess Silica Gel is just Silica Gel!
Music fans have celebrated your wild and liberating live performances. How does the relationship between working in the studio and being on stage influence each other?
Woonghee: I think for live performances, you got to flood the room with a certain energy and tension so everyone there can feel it. In studio, you are bringing those songs into life and gotta make conscious effort to like, how you will deliver that level of energy in a recording. Songs like 9, Sister, like songs that are as old as our band, we still play them together and re-arrange in studio. Live performance and studio work take place separately but they are in a continuous, parallel motion to each other, complementing each other.
https://www.youtube.com/watch?v=TqTLa4vg2K0
In 2016 you guys received the award for 'Rookie Of The Year' at the Korean music awards. What was it like to be recognised on such a big and mainstream platform?
Woonghee: It was a huge motivation. It helps me through phases when I have doubts in what I do.
Hanjoo: Up until that point, there was no assurance that we were going the right direction, so it was sort of a relief to have that acknowledgement. I feel grateful for all interests shown in what we do.
Chunchu: I am deeply grateful that our music has had an effect to its listeners, other musicians or people in the industry, in whatever way that was. Receiving the award was a proof of that and provided us a big momentum. I hope we will continue to do something that will bring upon positive effect.
Geonjay: Woah, it's been a while, but I remember that pretty well. I guess it left quite an impression. Regardless of the degree of its reputation, this sort of achievement always comes with a weight and responsibility. Hm, what I'm trying to say is that it was a huge honour after all.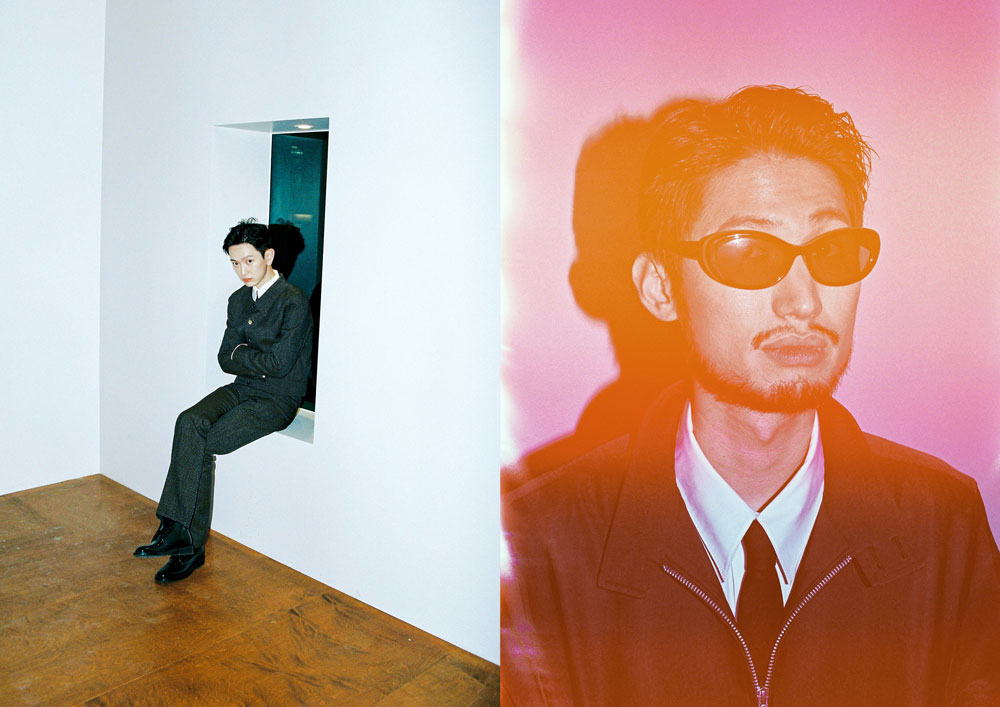 The single 'I'MMORTAL' is a sonic explosion of different styles, artists and tempos. What was the process of creating such an experimental and original piece of music?
Chunchu: Within Silica Gel, I aim to be more experimental. Instead of achieving musically advanced structure, I think Silica Gel's music truly shines as this beautiful mess. Hanjoo's theme, Chunch's theme and Woonghee's melody are all mixed in together. Different drums were used than in our previous recordings, we experiemented new ways to record the bass too. It came out to have a much fuller sound. Powerful drumming on a big set really brings out Geonjay's drumming. The song doesn't have a clear structure to it but its complexity is what makes it more precious in a way.
Hanjoo: Few months back, we did a headlining show with a title of 'Synthesize'. We were seeking to expand our resource pool outside us four and forming a collaborative network seemed like a key step to achieve that. This was reflected on the tour title and 'I'MMORTAL' is the first reflection of that in a recorded work. All four of us chipped into shaping motifs for the song and sogumm also took part in that process with enthusiasm. We built a process where we were like individual modules working towards singular outcome.
https://www.youtube.com/watch?v=1tbrUM0yYLU
The song features an amazing vocal performance from sogumm. What was it like collaborating with her? How did you guys initially cross paths?
Chunchu: We were all acquainted with sogumm in different ways. I first met her while working on her recent album – I did a small part of vocal recording in the first track. I thought that album was remarkable so when we first started discussing working jointly with another musician, sogumm naturally came into my mind.
She sent us a melody and lyrics after hearing out the demo and her honesty really moved me. I tried to create an environment and give directions to bring most out of that honesty while recording with her. And thankfully she said it was an enjoyable session and was very willing to try things out differently. She actually performed with us in a recent gig where we premiered the track in a live performance. It was really successful and hopefully there will be more opportunities like this.
Hanjoo: For me, we first crossed paths 5-6 years back. sogumm was working independently then, uploading her music on platforms like Soundcloud. She already had quite a cult following. She was friends with artists and DJs I was also close with so there naturally came an opportunity to meet. We've been following each other's works since then and fast forward to 2022. Her positive attitude affected the whole working process from the very beginning. She's a grounded and versatile person at the same time and it's inspiring to be around people like that. I'd love to work with her again whenever there's a chance.
'I'MMORTAL' explores themes of mortality, ambiguity, dissociation, and existential contradictions. What inspired you to delve into such challenging concepts?
Woonghee: It's not something I personally ever investigated in depth. So my approach to it was mainly based off my imagination.
Geonjay: I guess it's the kind of idea everyone carries in their mind. It's not like we wanted to enlighten people by discussing these concepts – I mean, I don't take it lightly either but considering life is made up of small happenstances and choices, perhaps it was just about time we discuss something of this nature.
Hanjoo: It didn't necessarily start with an awareness. Whenever I embark on a new project I tend to go backwards in the process – from how it will be perceived by others and then backwards to the point of ideation. In that process, I guess it sort of got loaded onto this existentialist vessel and surely there was sogumm's influence too, on navigating through that process.
Chunchu: We were trying to express something that was overwhelmingly incomplete and unstable, both in terms of music and its narrative. All of us have different ideals and goals in life yet gathered in a group making music together. Lyrics in this song have profound and challenging meaning of course but I placed more focus on that idea of diversity within the song itself.
In the past, you guys said you wanted to focus on teamplay instead of teamwork. How do you think this approach to creativity will shape the future of Silica Gel?
Hanjoo: I think it will ensure greater diversity and potential for growth in our music.
Woonghee: It definitely amplifies what each of us are good at. I believe I have grown in my own way compared to who I was in the past, and my growth probably influences everyone else too, you know? I'm set to be the motivational one here.
Geonjay: I think both team-play and teamwork have equal importance. I tend to always remind myself 'what is it I have to, or can do as a team, and for the team?'. I could be doing something good or bad, but I hope it leans more towards the positive side. The rest can decide, not me!
Chunchu: We all have different things in common with each other or understand each other in different ways. Team play might be the silliest and least efficient way of working together, but because it is, it will enable us to keep trying something unprecedented and push boundaries, eventually. To think it will make to someone's speakers in places unknown to us … that's what makes all this fun.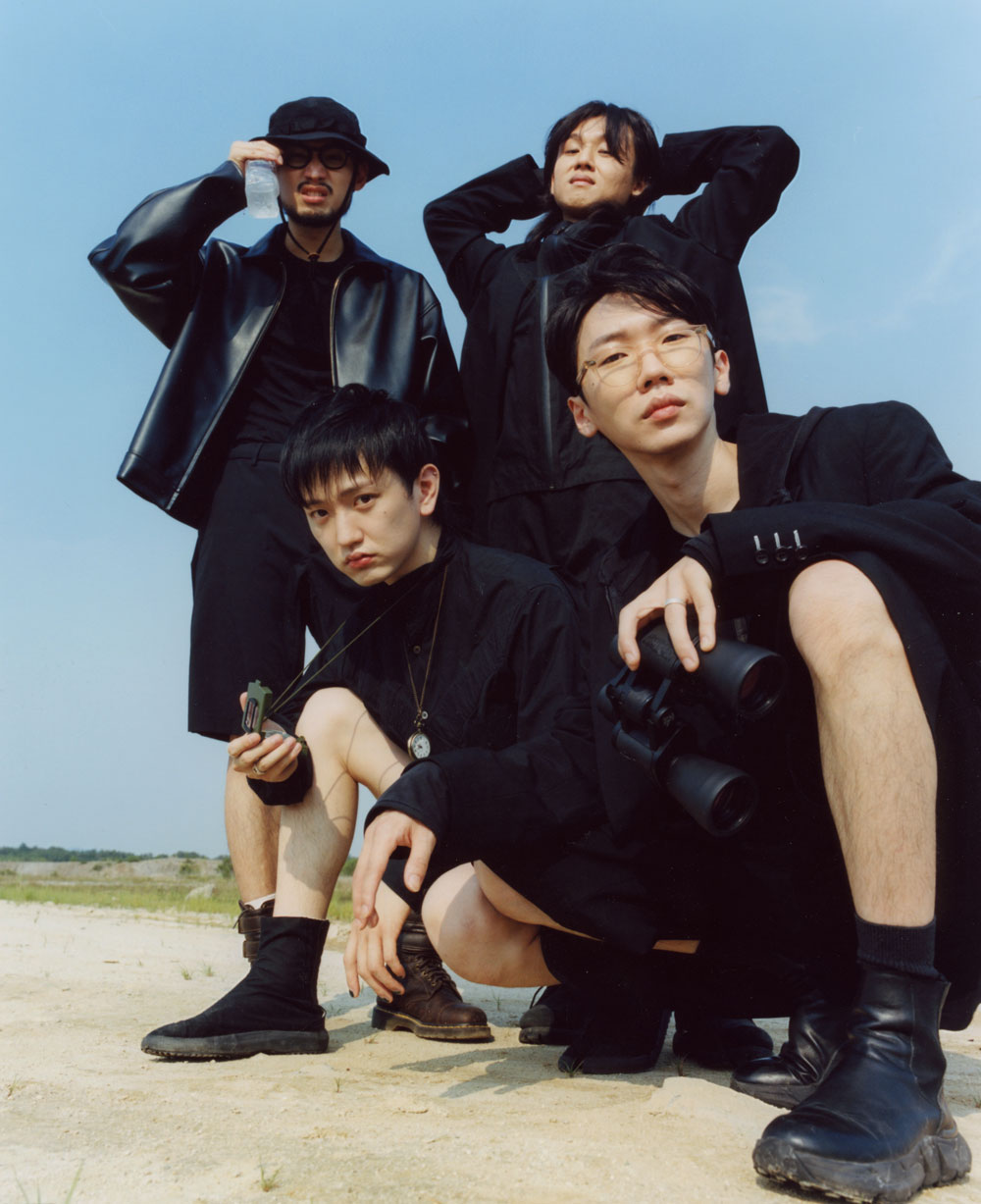 And finally, do you have a message for Australian music fans? When can we expect you guys to come down under?
Geonjay: Well I could only say that I love you sincerely. I've never been to Australia but yeah I'm ready to catch the next flight when I get a call.
Woonghee: I'm a fan of quite a few Australian bands so I'd love to go.
Chunchu: Australia would be the dream! There's nothing we hope for more than touring abroad.  There are so many musicians I look up to that are from Australia and I do hope to play in those cool live houses along with other talented bands one day.
Hanjoo: Greetings to those in Australia! I hope there will be a chance sometime soon. Catch you then!

Special thanks to Silica Gel for taking the time to chat. You can follow them @silicagel.official. 'I'MMORTAL' is out now on all streaming platforms. Have a listen below! 
Interview answers translated by Ash Hyuna Jo.