James Jirat Patradoon is a veteran
In a movie, Jirat would be a Clint Eastwood or Steve McQueen type, a grizzled old-timer. Perhaps, he'd be sitting alone at a bar on a warm afternoon and, in between sipping straight whiskey and sucking on cigars, would recant stories of intoxicating highs and regretful lows.
Fortunately, this isn't a movie (a cliché one at that) and Jirat is not Dirty Harry. In reality, he has been a practising artist for over 10 years and has created a body of illustrative work that is littered with artistic highlights.
Over the years, the Sydney-based illustrator has created a diverse catalogue of images that show a truly dynamic evolution as an artist. Jirat has sunk his teeth into thuggish Luchadores wearing skin hugging leather jackets, neon-lit cyberpunk bikers, imagery ripped straight from the pages of a black magic bible, and more. Every new aesthetic shift throughout Jirat's career signifies that he is an artist willing to redefine his artistic identity over and over again.
It's fitting to see that Jirat's next show is a collaborative effort between two other Australian artists, with bodies of work as revered and as recognisable as his own: Ken Taylor and Sonny Day (from Webuyyourkids).
We asked the dark prince of pop himself some questions about his career, views on art and the upcoming super show, Death Metal Hands.
First things first, what a line up this new show has! Ken Taylor, Sonny Day and you! James Jirat Patradoon! 
It's pretty good hey! Three infinite stones, three best friends, one last mission.
The themes of sexuality, erotica and the macabre are infused into the identity of your current work. What inspired this creative direction?
I'll be honest – I think a lot of the work comes from being attracted to cartoon and comic book women before I was attracted to real-life women when I was a kid, so I'm trying to work through a lot of those memories.
There's something fucked up about it but also quite poignant in that for me, I've been intrigued by campy and artificial hypersexualised imagery ever since, from hentai to Tom Of Finland etc.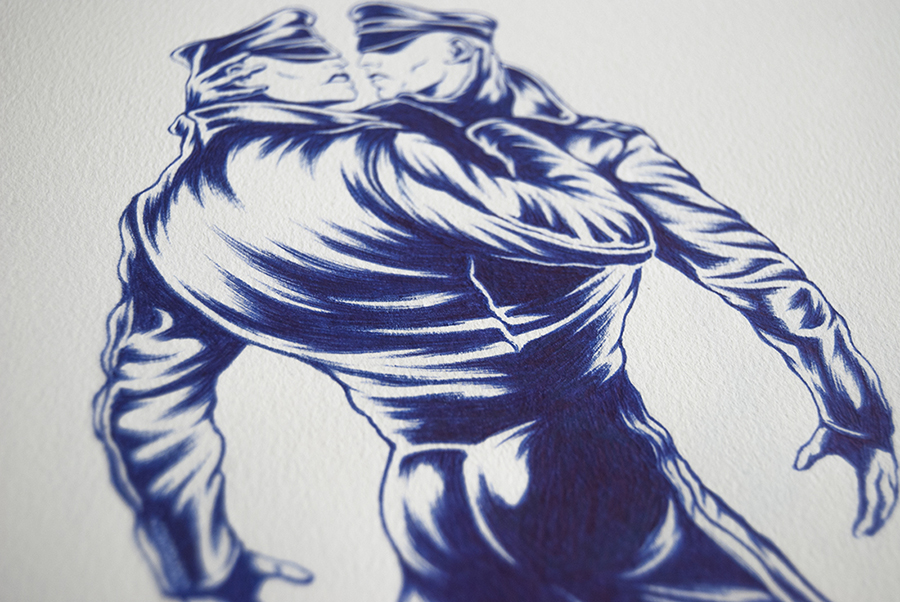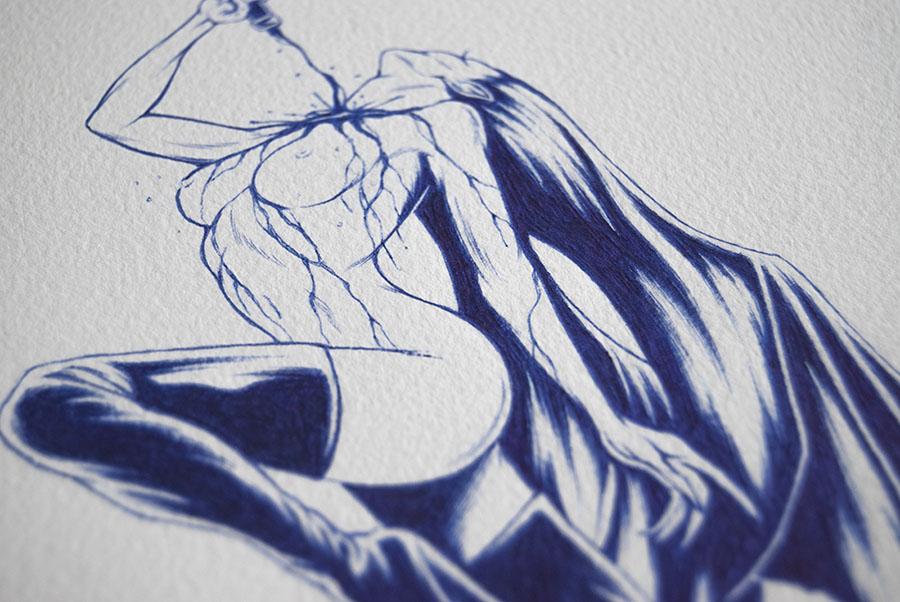 For Death Metal Hands you are working exclusively in biro pen, what made you decide to explore this medium?
I'm often regarding the digital as the original and perfect version of my work and the physical as the incomplete/inadequate copy,  so for this show I wanted to challenge that and make physical work I was happy with, even happier with than the digital version. Ballpoint's ability to create satiny blacks and velvety feathered lines managed to do that.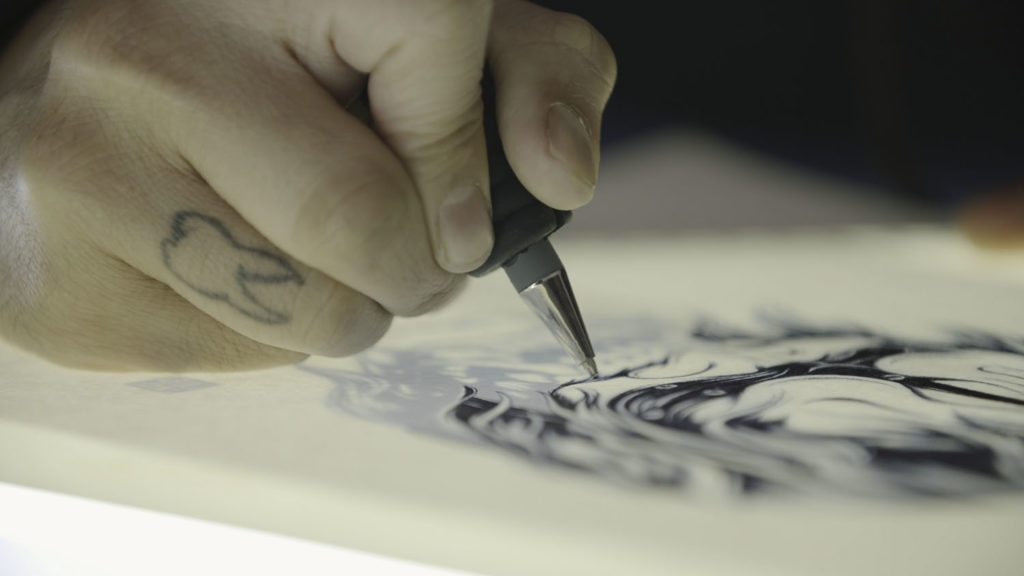 What are your thoughts on the clash between artist's aesthetic styles evolving versus staying static, and setting an expected standard?
I think it mostly comes down to the temperament of an artist rather than necessarily any kind of deliberate decision.
I'm very envious of artists with a consistent style and formula to their work. They're able to bang out work really quickly which means they're prolific and able to just nail projects one after the other. I'd imagine it to be quite liberating and conducive to work. It's never about a single work but the entire body of work itself, and it looks good in a grid and goes off on social media.
I get bored easily, so I can't really do that. I feel weird doing the same thing over and over. I still cringe every now and then when I draw skulls, which means I'm cringing a lot. I get crazy artist block sometimes because I just don't want to do something I've done before, and it sends me into this existentialist crisis each time I go to make something which can be stifling. I don't know what my work might look like years from now and that gives me something to look forward to yet makes me anxious at the same time.
I think artists should definitely evolve and explore new directions if they feel like it and shouldn't hold themselves back for the sake of consistency, but I can definitely understand the safety and joy of the familiar.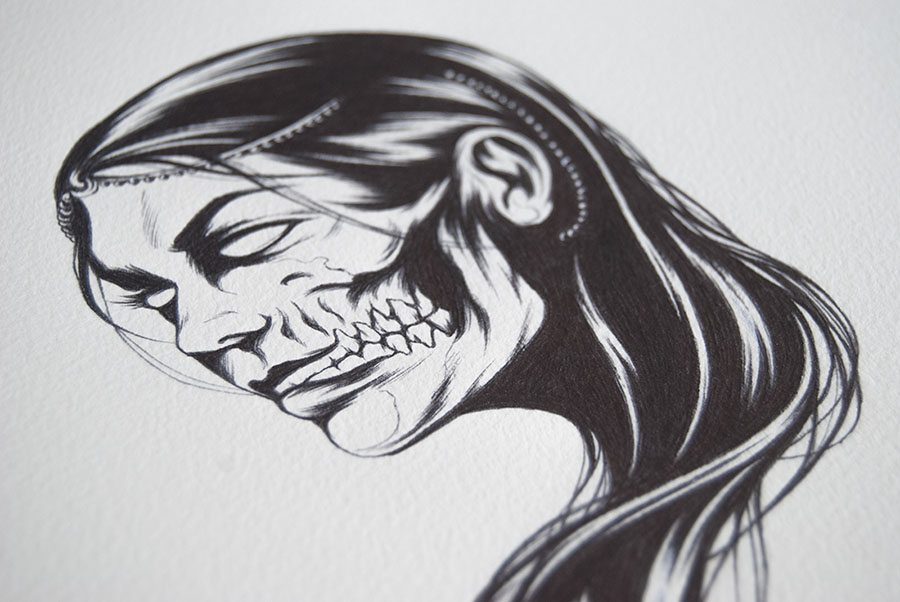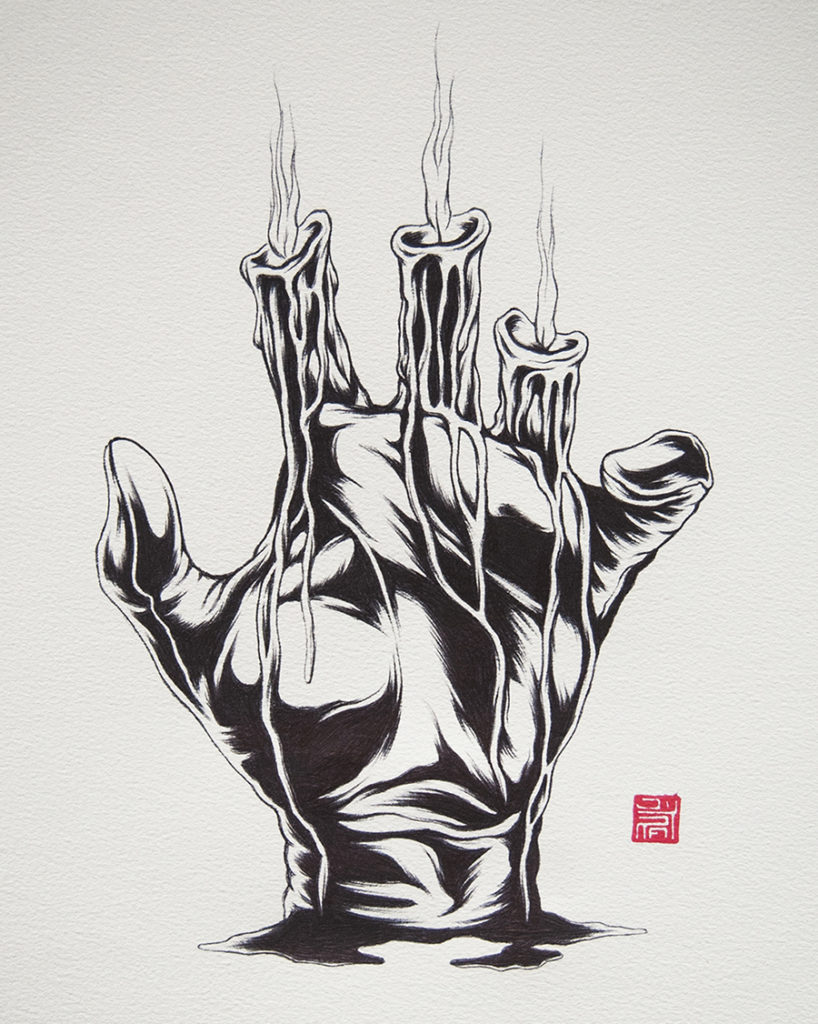 How have you seen the roles of promoting a show change with the inception of social media?
Despite being so instantaneous I've found it to be a lot harder. It used to be that you would just send out a press release and some flyers and certain blogs or publications would promote it and that's your show promotion done and ticked off the list, you could get back to your life.
Nowadays with people getting information from multiple feeds you have to become that pest of a person that keeps going on about it so it stays in people's attention or in their feed. You have to keep treading water and it's exhausting, I hate doing it.
I get the feeling that the more you put in details and tags the more Instagram suppresses it and pushes it to the bottom of the algorithm as well because they want you to spend the $$ promoting it.
I hate behaving like advertising, but as an artist/business you just have to suck it up. It's weird to think people do the same thing when they don't have to, but you know, self expression, 2018, all that shit.
What does exhibiting as artist mean to you after a decade plus long career?
Exhibiting has always been super autobiographical for me, a time capsule of how I'm thinking and feeling at the time. I find them really necessary to force out ideas so that they don't just fade away and go unrecorded, I'm afraid of forgetting. It's important for me that they show some kind of growth and evolution because I feel if the work doesn't evolve then I haven't grown as a person, I don't know if that's necessarily a fair connection to make.
Death Metal Hands opens tonight from 6pm, Lamington Drive, Melbourne. The Exhibition will run until June 9th. More info can be found here. 
Find James Jirat Patradoon at :
http://www.jirat.jp/
@jamesjirat