South Korean crooner Eric Nam is the complete package.
With his silky-smooth vocals, magnetic charisma and boyish good looks that tend to make his passionate fan base swoon, Nam has done it all in the notoriously tough Korean entertainment industry. The only thing missing was a headlining tour down under.
Well, come this March… that all changes.
As part of his upcoming world tour, Nam will finally play shows in Brisbane, Melbourne and Sydney. Nam looks to electrify Aussie audiences with his colourful catalogue including hits such as Can't Help Myself, Potion, Honestly and Cave Me In on which he soulfully features.
https://www.youtube.com/watch?v=MSKak-e3Cgs
https://www.youtube.com/watch?v=NQunCjYdAcU
Nam was originally born in Atlanta, Georgia but set his sights on Seoul when he began his career in music. After more than half a decade, Nam solidified his spot as one of the most hard-working and consistent entertainers in the South Korea. Whether it be hosting variety shows, interviewing some of the biggest stars in the world, or being one of the exclusive representatives during the recent PyeongChang Winter Olympics, Nam is a one-man force of nature who is turning heads the world over.
Make sure not to miss Eric Nam's sure-to-be unforgettable debut in Australia this March!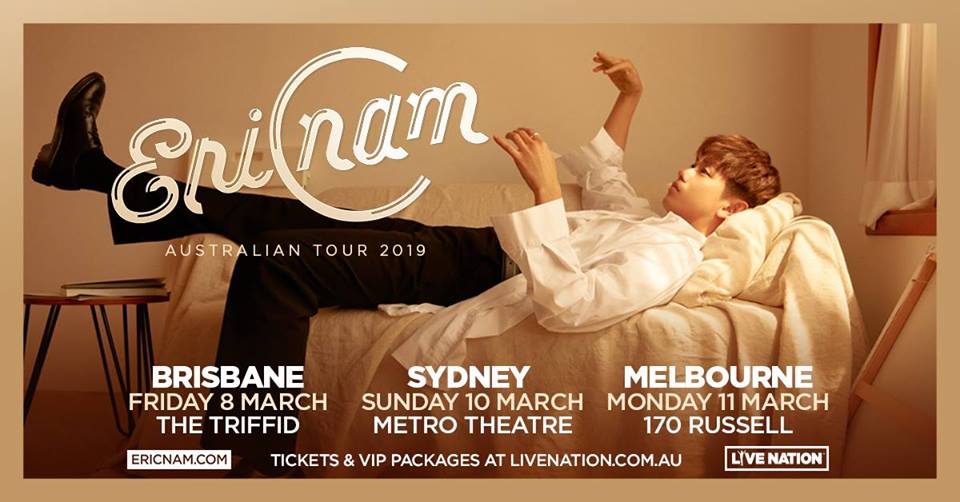 Eric Nam Australian Tour Dates
Friday, 8th March
The Triffid, Brisbane
Tickets: Live Nation
Sunday, 10th March
The Metro Theatre, Sydney
Tickets: Live Nation
Monday, 11th March
170 Russell St, Melbourne
Tickets: Live Nation