Who better to paint the Australian outback, than an American who's never really been there…
To say that I don't know much about art would be giving me more credit than I deserve. I know somewhere in between nothing and a little more than nothing. But I do know what I love. And when I came across the work of Gary Abkin, it was obvious that what he is doing is pretty fucking cool. And isn't that the meaning of art? Again, I really don't know…
My introduction to Gary's art – he goes by Abkin on Instagram – came one day when I was mindlessly scrolling. His painting Rider With Rifle, which depicts a gun-wielding woman riding a horse, showed up as an ad on Instagram and instantly lured me in. The depth of the ochre, the implied power of the woman's smoking gun, the vivid blue sky in the background – it hooked me big time.
View this post on Instagram
Within moments of scanning his IG I could sense (even through my tiny little screen) that there was this underlying outsider perspective which was completely engrossing. Gary masterfully encapsulates the isolation and peril of the Australian landscape, while simultaneously inviting us in with warm tones and a playful gaze.
I recently decided it was time to satisfy the intrigue around "Abkin" and get to know the guy behind these enthralling paintings. From our correspondence, I can confirm he's affable, generous with his time and cheekily self-deprecating. Check out the interview below and head here to follow him on Instagram: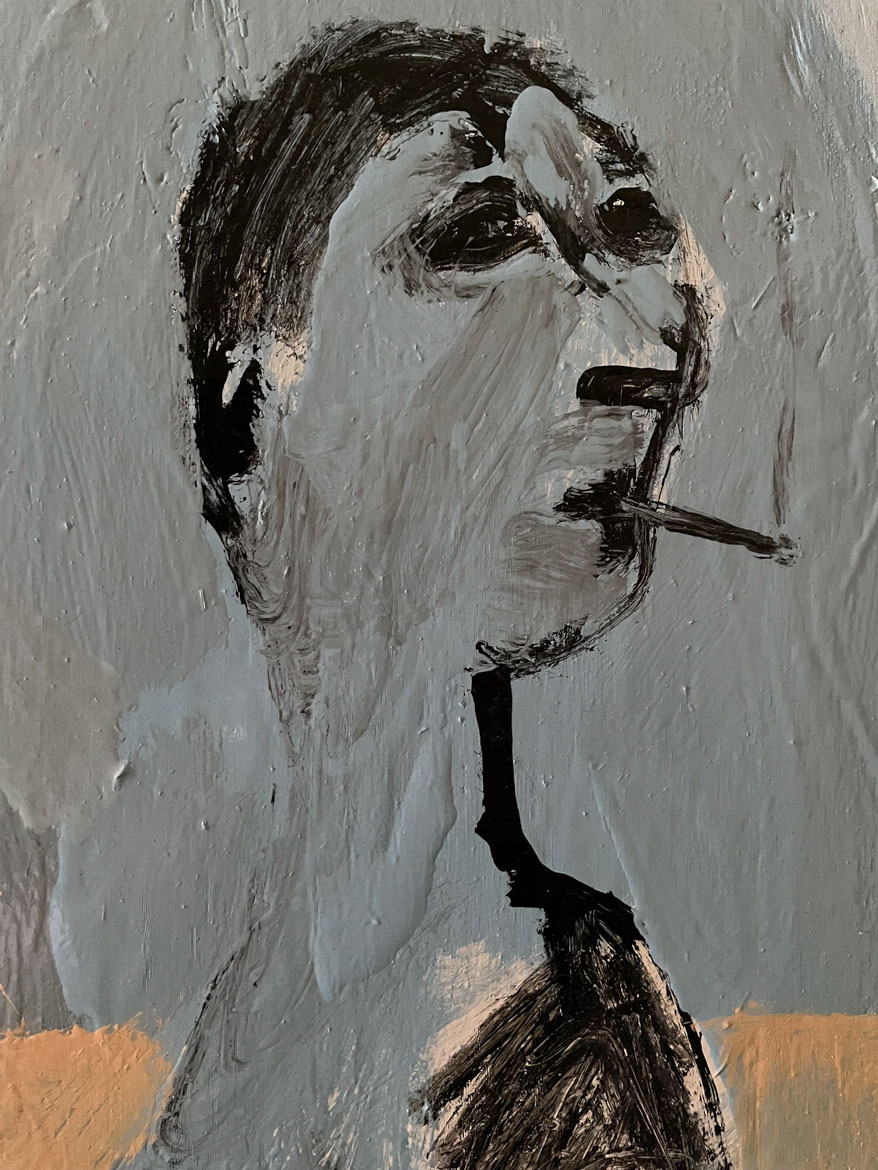 Over the past couple of years, I've seen you post pics of the desert and cowboys/girls as well as sharks – where do you live?
I live in Ipswich QLD (just outside of Brisbane). Not a lot of cowboys or cowgirls out this way, although I am sure there are a few hammerhead sharks in the Bremer River. The figures in the landscapes I am painting have evolved over the years and continue to do so. I am kidding about the hammerheads in the river.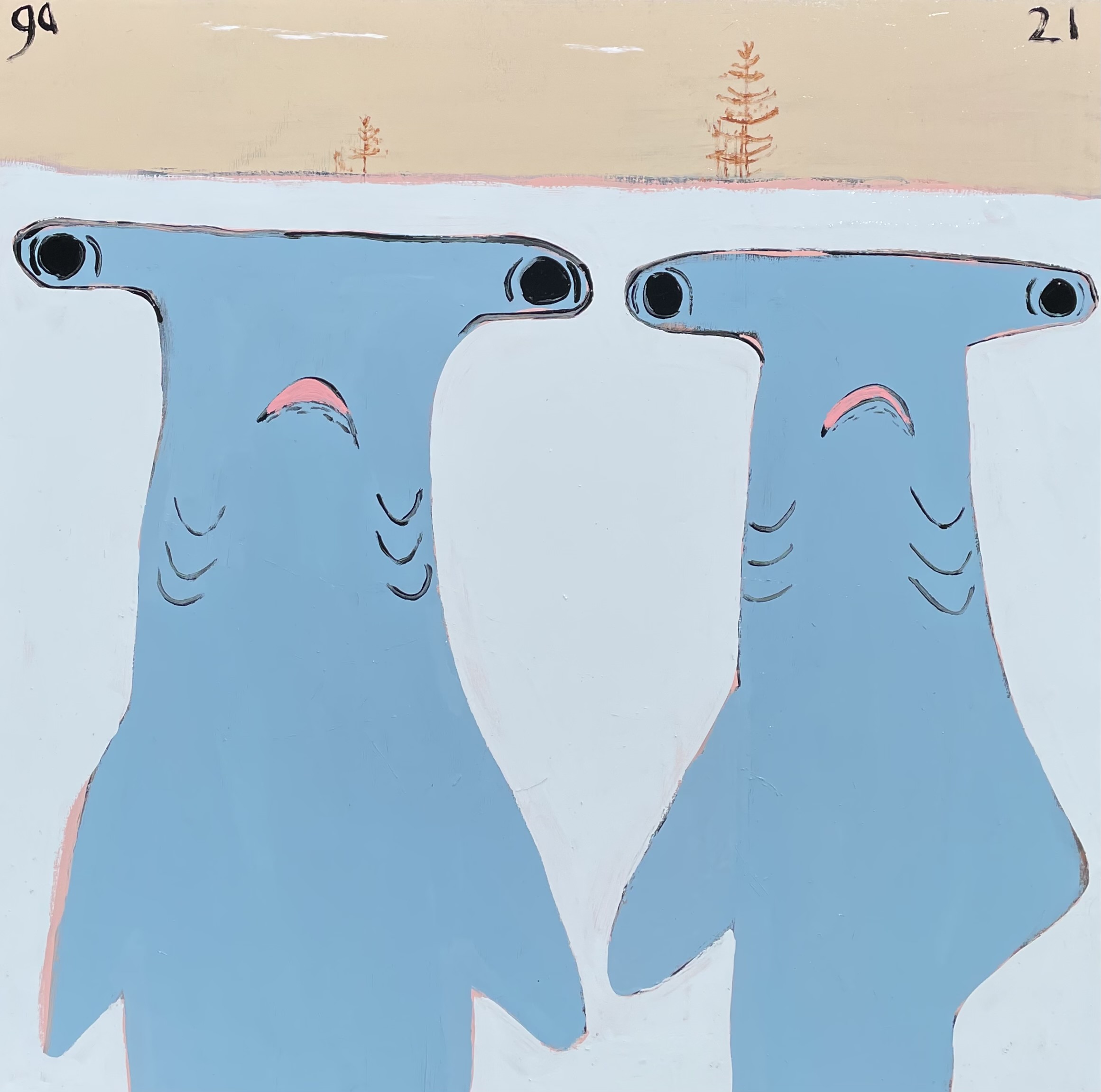 You spent five years in the US Navy as a steelworker, which isn't somewhere that I'd associate with a flourishing artistic mind. Generally speaking, how was that experience? Did that inform your art/style?
Yes, five years in the US Navy Construction Battalion as a steelworker, basically a steel fabricator or boilermaker here. I worked as a boilermaker here for the first few years after migrating to Australia in 2003. The mind is an interesting thing and life is continually packing it full of experiences. I am not sure what I would associate with a flourishing artistic mind. Bloody Koons was a Wall Street investment banker, then became a pornographer, HA! The mind can be a tricky place I guess.
The military experience was a struggle on a few levels, but it did give me insight into people and myself. How this informed my art, exact correlations are not evident to me at this point, but I have not reflected on the relevance too much. As an artist, I reflect the culture around me and even though it is partially of the mind, the 'normal' way of thinking or processing thought is not a large part of the creating process for me. There is another filter that supersedes the mind. This filter is what is in hand when I create.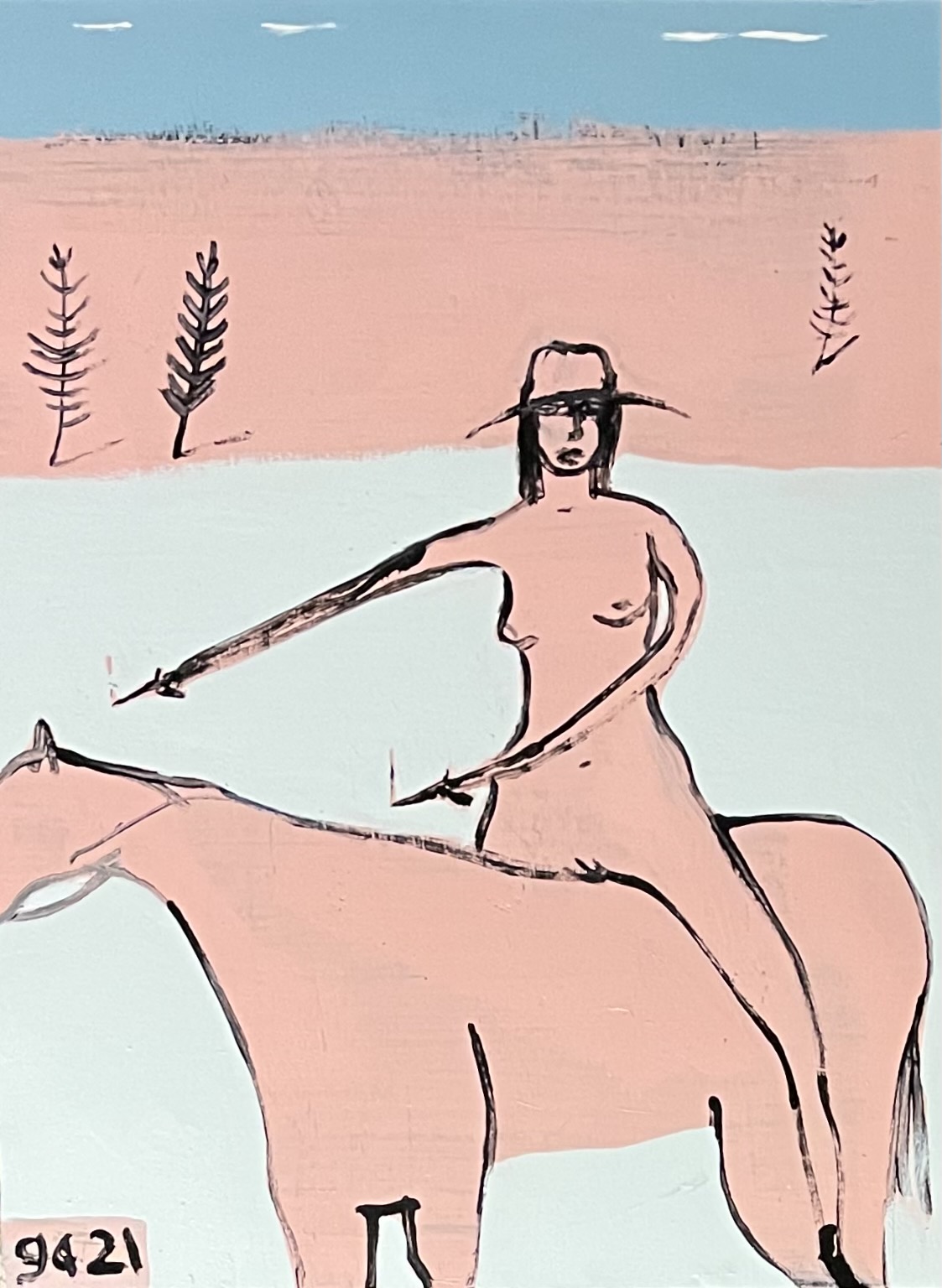 You moved here with your family in 2003, what did you know about Australia beforehand?
Before moving here I knew very little about Australia. I found the culture was heavily informed by Britain and the US after arriving the first time during a round-the-world trip in 2000. After living here for about 15 years I started painting the Australian landscape, or so I was told by a friend and natural history photographer Greg Harm. Before that, I was painting large figurative/abstract works. And before that, my work has always vacillated between pure abstraction and figurative work.
The Australian outback is fertile ground for expressionist artwork. What do you find so enthralling about it?
Well, I haven't really been 'outback'. I have been to a fair number of rural areas but these recent works are a new connection for me. They are places that have surfaced via that filter that supersedes the mind that I mentioned before.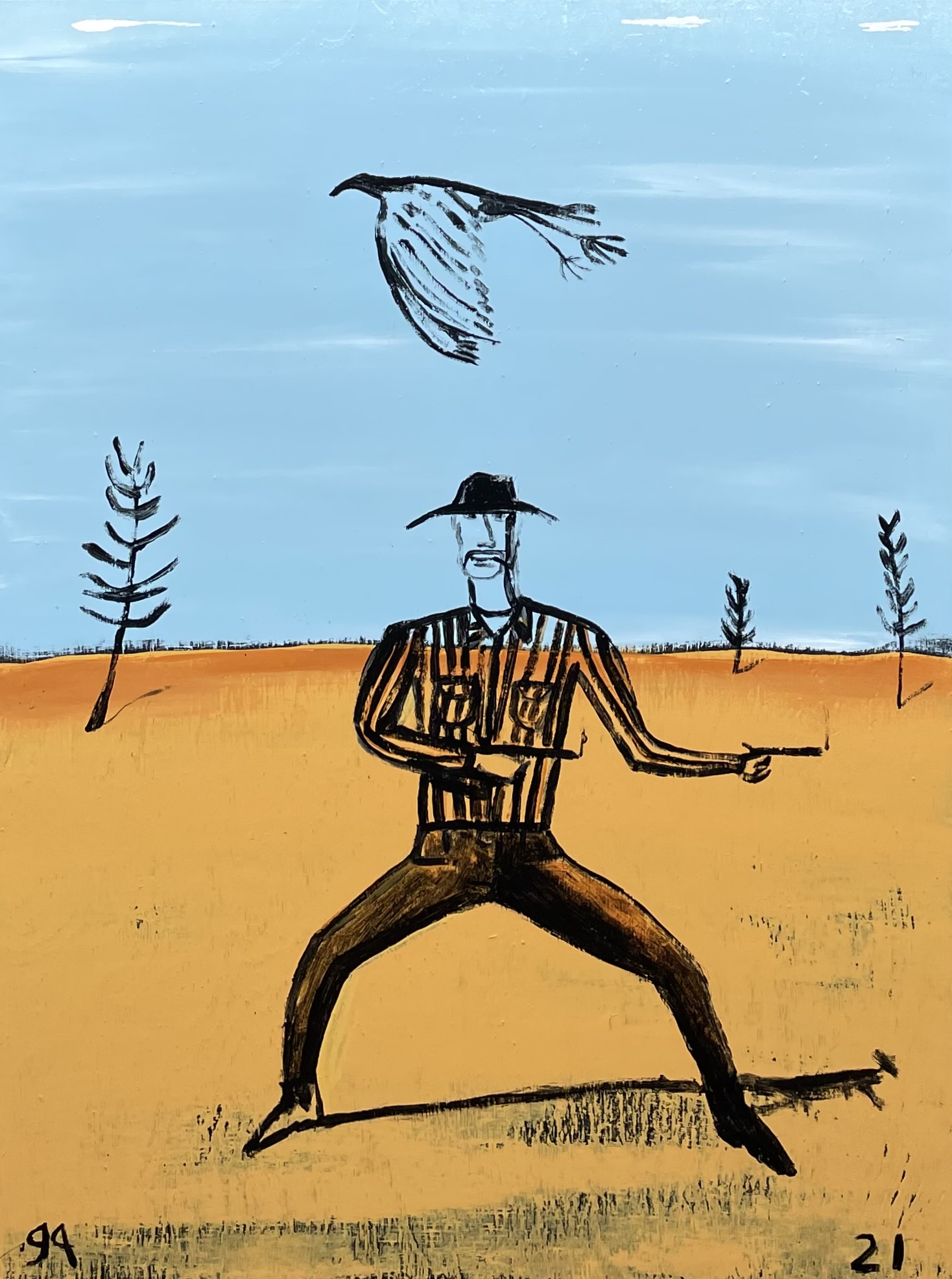 According to Instagram, your output is pretty impressive (3-4 paintings a week!). How do you keep up these numbers? Is it an automatic process or do you labour over each concept and idea?
Yes, Instagram, what a crazy place. My 'practice' is very intuitive and automatic. But this action takes place in a groove. So, I have an idea of what will come but not exactly what it will be. There are a couple of series I am working in and a few subseries within those and that is the groove I am in at the moment. There is no laboring over concept or idea, there is just an investigation of the groove. I paint every day.
How would you describe your work, in a few words, to someone who couldn't see it?
Hmm. I would describe the work as surrealistic landscapes with figures in them. Not all of the work is like this, of course, I paint portraits as well and sharks … and now some bush turkeys! Ha!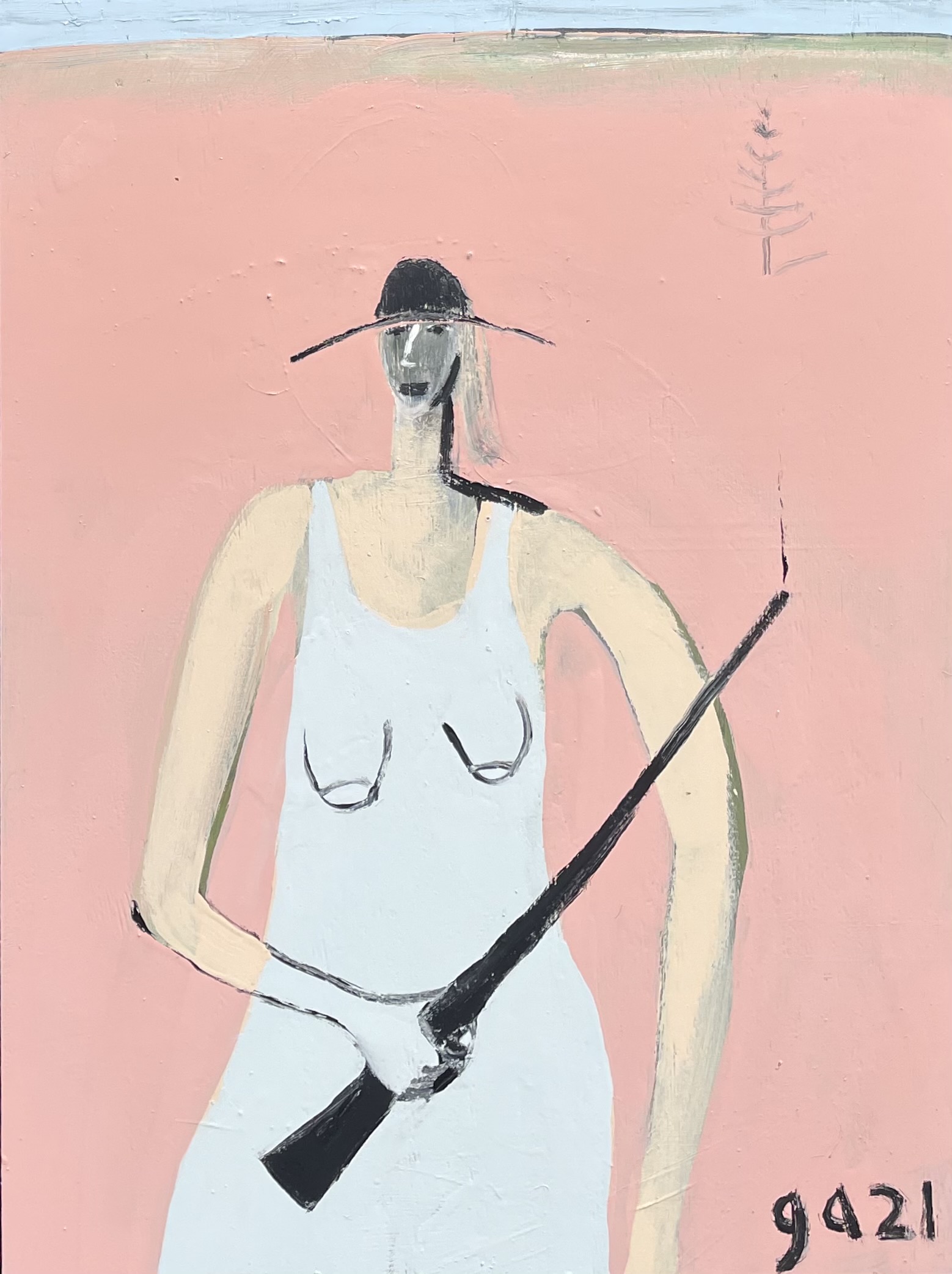 Who are your favourite Aussie artists?
I am influenced by a great many artists that I have been exposed to over the years. A few favorite Australian artists: Olsen, Boyd, Drysdale, Fred Williams, Blackman, Emily Kngwarreye and, of course, Nolan.
You play music too. Do you listen to music while you paint? If so, what's on your playlist?
I have played in a few bands over the years playing guitar, bass guitar and "singing", HA!
I do listen to music while I paint and over the past few years, I have been listening to the soundtrack to Lost in Translation, interspersed with some Queens of the Stone age, Stereolab, MBV and some blues, funk and soul classics.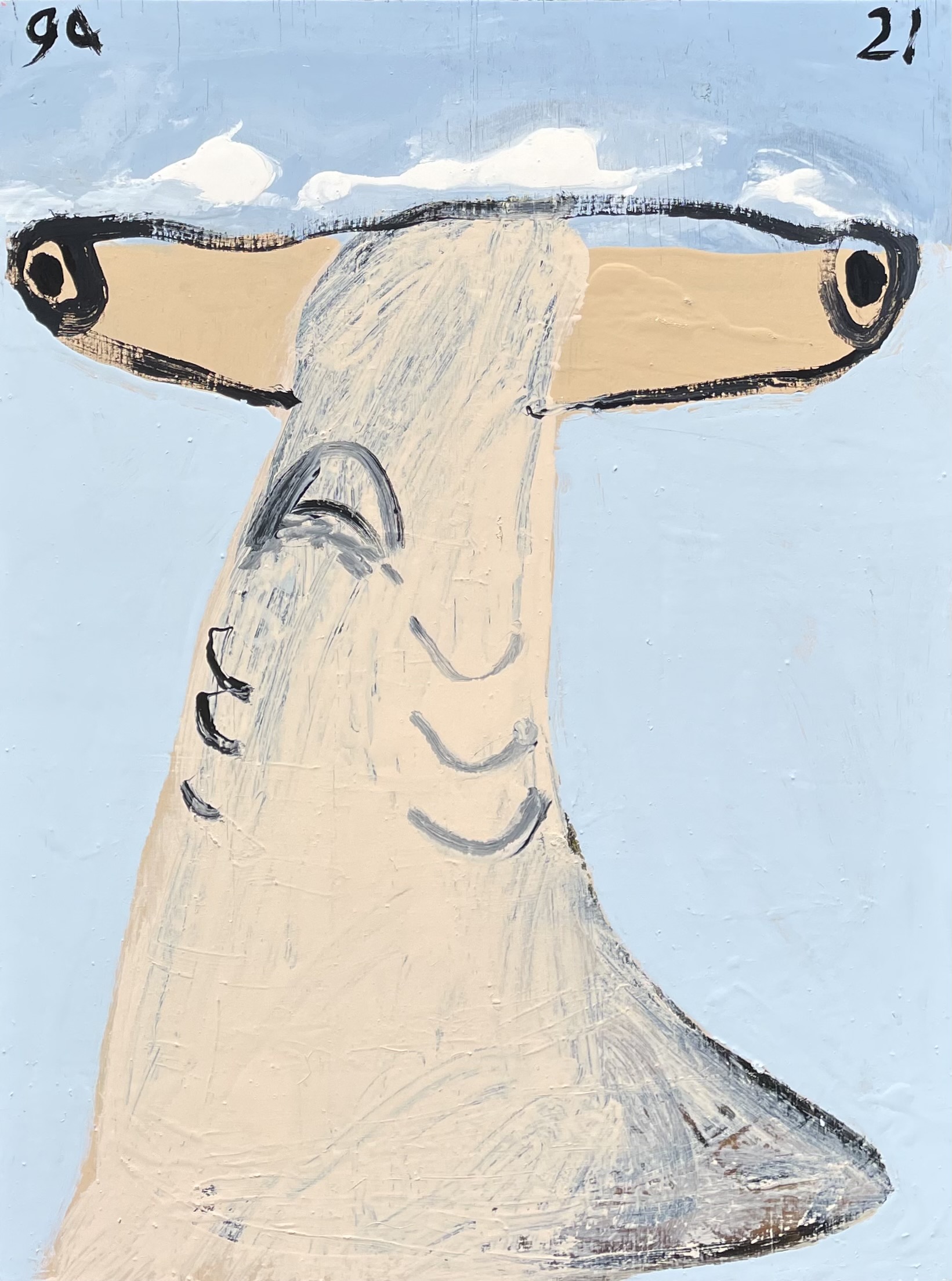 Do you have any projects/series on the horizon that we should know about?
Right now I am still exploring this series/groove. A few things are resonating right now and they interest me.
You can download Gary's catalogue via AK Bellinger Gallery here.