Here's what's spinning on Winston Surfshirt's record player.
As you would expect from a group that have delivered some of the smoothest neo-soul we've ever laid our ears on (yes we do that all the time), Winston Surfshirt's namesake has a very cool record collection. With the group's sophomore album, Apple Crumble, making waves around the country, we headed over the bridge to chat about some of his fave albums – here's what he had to say:
Presented by Jim Beam: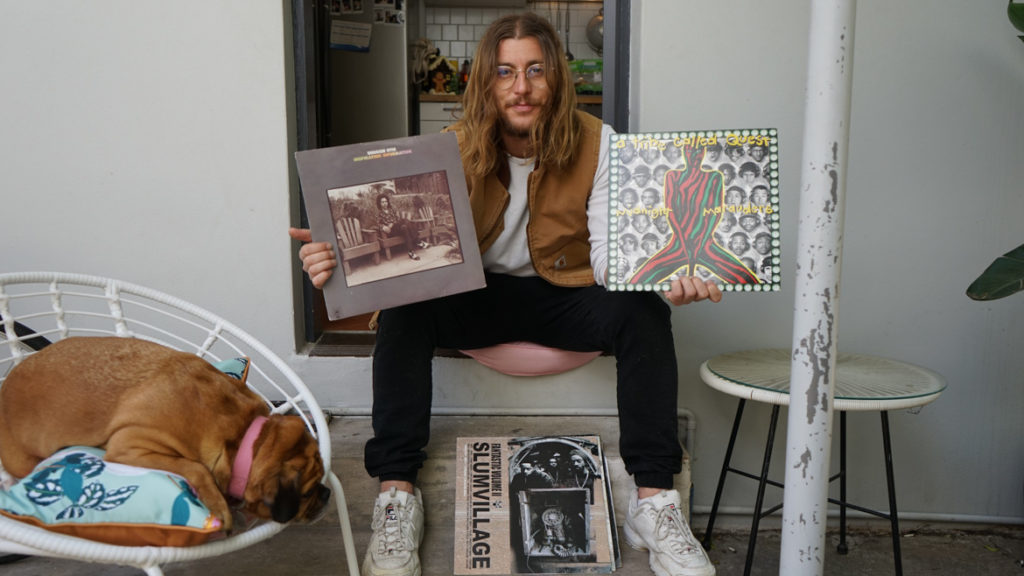 A Tribe Called Quest – Midnight Marauders
If I had to go any hip hop album I just want to listen to randomly, that'd be the first one I pick. Good front to back. The talkie samples, like they're watching tele. The talkie samples I like, I use that a lot. In the beginning of that one they got all the woman introducing the songs, she explains a bunch of stuff. That's really cool. I always use that sort of stuff. And then Q-Tip… He's your boy.
Shuggie Otis – Inspiration Information
I think this is Julio's. He put it on and I was like, "Oh my God, what is this?" I've probably got a few of his that he hasn't picked back up. It's like hidden R&B sort of soul music that I never would have found. Just one of my faves, really good record. I've tried to sample it about 10 times, unsuccessfully each time… It's always fun to sample, one of my go-tos. It's a good sound, I love his voice, it's so minor. He never got enough recognition when he was about.
Slum Village – Fantastic Volume II
Bustlip introduced me to Slum Village and J Dilla and that's it's 100% my favorite hip hop record. There's about two versions of it or three versions of the whole record. I don't know whether it's because of sampling and whether they'd released it and some of them weren't cleared…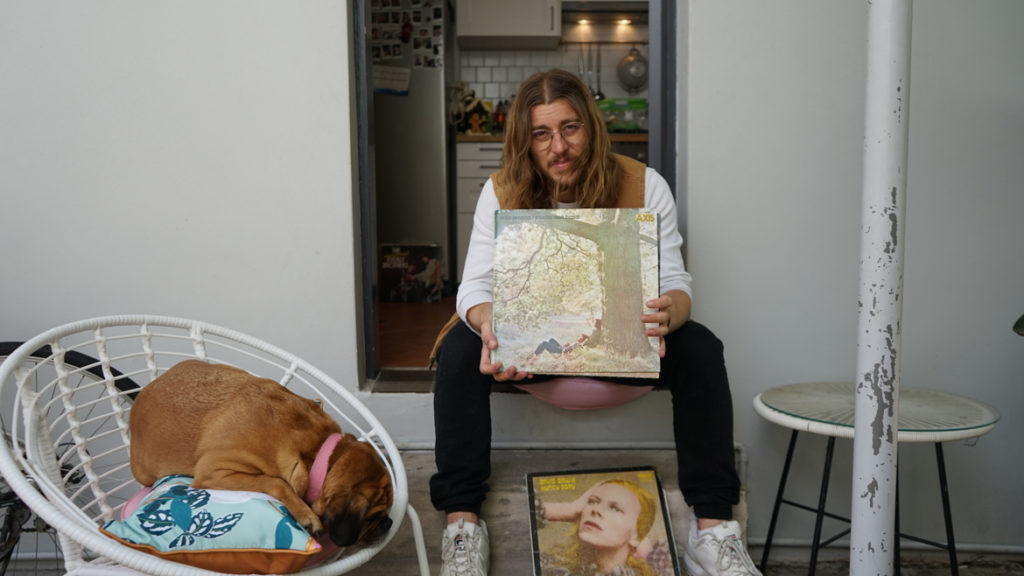 John Lennon – Plastic Ono Band
This is probably the first record I bought with my own money I think. Plastic Ono Band. Speaker I just love his songwriting. Writes lovely love songs. I can't explain it. I have to curb my obsession… I have, I promise… But we did listen to a Beatles album last weekend. So I haven't really. But yeah, I don't know. That's the first one he did after the Beatles and there's some really hectic shit on there.
David Bowie – Hunky Dory
This was my go to for the last seven months. This looks proper haggard though. Hunky Dory though. It's hard to say but probably my favorite Bowie record. That or Young Americans. I think that one would have been my dad's. A lot of these records are my mom and dad's. Anything that's haggard like that. Dad was obsessed with Bowie and Zeppelin… It's the easiest one to listen to, there's nothing like too intense or rocky. I don't really like the heavy stuff anymore….
He's such a weirdo. And he's like, "Yeah, that photo will do." Sort of see that I have a body…