We sat down with Steven Schouten AKA Misty Lanes to flick through some the psych singer's strangest wax pizzas.
Conjuring up the spirit of The 13th Floor Elevators with the vocal stylings of Ray Davies, it's no wonder Sydney outfit Misty Lanes are currently garnering a lot of attention both locally and further abroad. The brainchild of Steven Schouten who writes, records and mixes their music, the group have just dropped a new single, 'Charmer', taken from their forthcoming sophomore record which is due out midyear.
The melodically lush number furthers their reputation as low-fi wizards with a penchant for producing the vintage sounds of yesteryear, with Schouten's swooning vocals having something of a hypnotising effect.
They have recently been chosen – much to the envy of every psych band in town – to support Kikagaku Moyo when they hit Paddo RSL, March 5th. The show is sold out, so if you've got yourself a ticket, make sure you don't miss these guys. For now, let's take a look at some of their favourite licorice disks: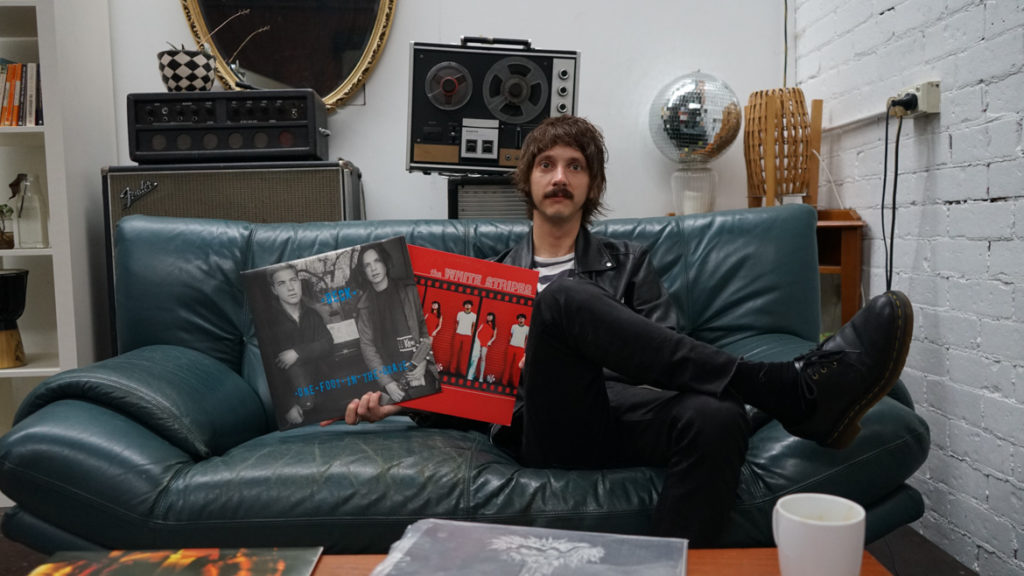 Beck – One Foot In The Grave
This was recorded in like '94, but then released after "Mellow Gold" got real big. It's him and I think it's K Records maybe? The owner is the other dude on the cover there. They released it under his label and it's a bunch of folk reinterpretations of people like the Carter Family.
There's a song on there 'Girl Dreams', that apparently almost didn't make it on there. And that was a Carter Family song, and it felt too personal or something and he wasn't going to put it on there. Then in the end just to make up numbers, they put it on the record and it's actually my favorite song on there.
The White Stripes – The White Stripes
This is pretty much what taught me to play guitar. When I met Sam from the Montes Jura, him and a bunch of other friends, they used to just jam in my friend Jarrod's garage. They would just do White Stripes covers just repeatedly. It's so simple. The drums and guitar and the songs are awesome. Even if you were shit at drums or shit at guitar, you can show the other person how to play the other part and just swap and just do that all day. Go for a swim, jump in the garage and just smash out a bunch of White Stripes covers. Then keep swimming. It's so good. Even just to sing, none of us could really sing. You'd just scream a little bit of the words.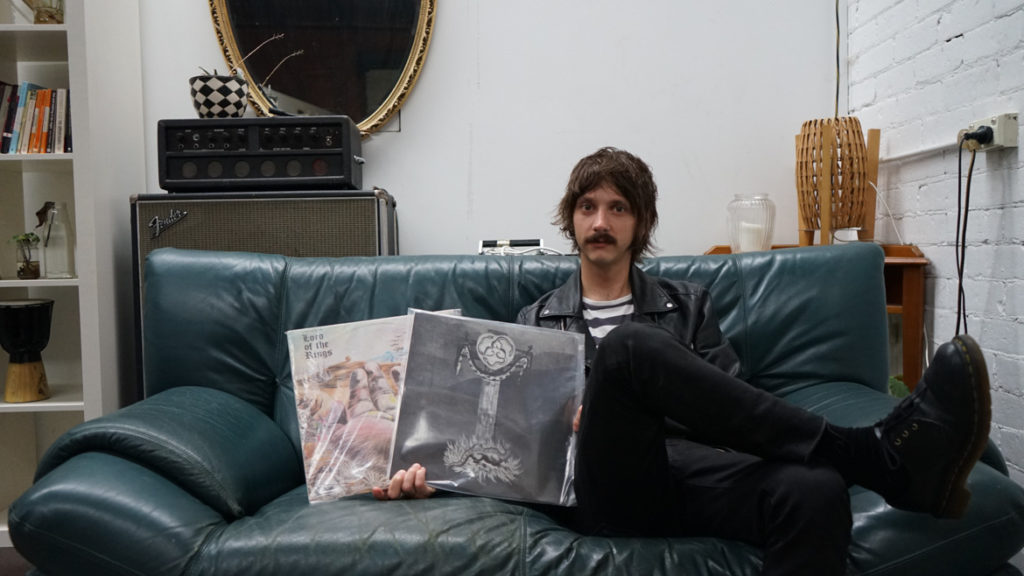 Circuit Rider – Circuit Rider
This is a pretty bizarre record that a friend of mine in London, Aaron, who worked in the basement of Rough Trade West. I lived in London for like two years and he used to give me a bunch of records kind of based off seeing that I liked Beefheart and stuff. And he was like, "Oh, check this out. It's like some weird desert blues guy.". I think it was recorded in the 70s but then not released till the 80s. It was just some dusty tape that some dude found. It's kind of Beefheart-esque… Just a biker rambling over these acid freakout, blues jams.
Bo Hansson – Lord Of The Rings
Bo Hansson is a Swedish guy that just wanted to make an interpretation of Lord of the Rings in the late sixties, I think. It's pretty funny- he wanted to make it all orchestral but couldn't afford to. So it's all done with cheap synths and moogs. So it sounds really futuristic but kind of cheesy as well. This was way before the films, so getting the interpretation before the films came out. It's funny how he interpreted it. It's just so different.

The Kinks – The Village Green Preservation Society
This was my most played album last year. When we did that Spotify wrap up, it was something ridiculous. I think it equated to about four weeks of last year listening to it. It started when I drove down to Melbourne with the Laurels. On the drive back, I was super tired. Kat, the bass player, was in the car with me and she was like, "You need something to wake up," and just started playing the Kinks.
I think we had this on repeat about three or four times, just singing it to try and keep me awake. And then after that I just had the Village Green stuck in my head for the next three or four weeks. I just couldn't stop listening to it.