We headed to suburban Sydney to chat with Josh, Steve and Mikel about their top records and why the lads are looking forward to a little break.
If you haven't caught a Crocodylus gig yet, you're missing out. The garage rock three-piece are well known for a rambunctious, high-energy (and sweaty) live show, and it's the reason the lads have been in high demand recently, touring non-stop all over the country since the release of their sophomore EP Christian Syrups.
Needless to say the guys are keen to recharge the batteries and are looking forward to having a tiny rest after their upcoming mini-tour to promote their latest single, the surf-punk 60's flavoured banger 'My Love.'
"We've been playing shows every weekend since late October last year, so it's definitely good to take a month off. We wanna take the time and record some stuff," drummer Mikel Salvador says.
A video for 'My Love' is on it's way too, with the guys looking to once again collaborate with director of their 'Sweaty Already' video, Jamieson Kerr. While they're holding onto some big ideas, the guys are more than capable of turning it on for the cameras with their instruments alone.
"We've had ideas for other videos and they just seem so far fetched. There was one about a lizard-girl," singer Josh Williams says. "And we're gonna need prosthetics, we're gonna need makeup. And then all we do is show up with a camera to some place and we're like, 'Yeah, whatever, let's just fucking record'," adds Mikel.
Stay tuned for that video, and be sure to catch Crocodylus tomorrow night at The Unicorn in Paddington with Scabz (info here) or on their 'My Love' mini-tour (info here). Check out the wax pizzas that get them going below: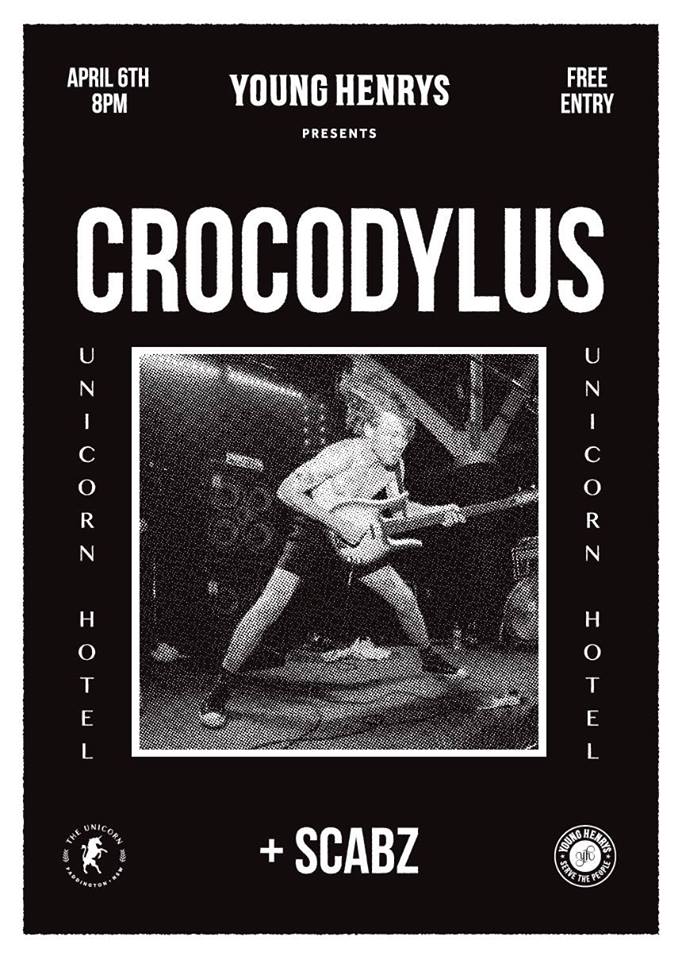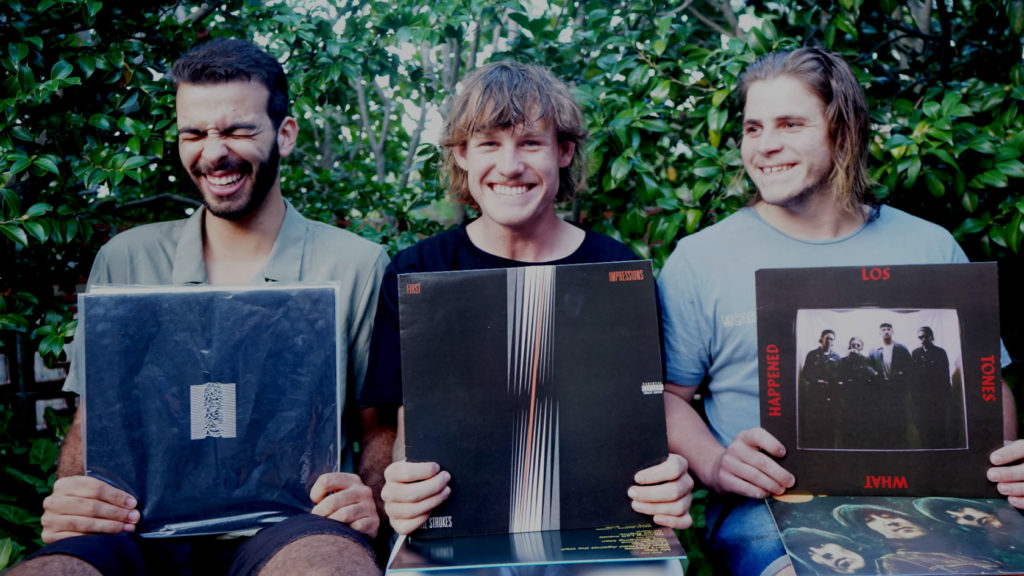 Joy Division – Unknown Pleasures
"This was what got me into music seriously. You can be happy and listen to it even though it's the most depressing album in the history of the world, and then when you're sad, it's the best thing ever because you can just wallow in it. It's literally a physical thing, it feels like you're in a soup. It's fucked up… but I love it," Mikel says.

The Strokes – First Impressions Of Earth
"The Strokes were when I got heavily invested into music. I would listen to them every day, to the point where I did nothing. You know when you're going through puberty and you're like, 'Everyone hates me'? I was doing that and no one would hangout with me. My friends would go out without me and I'd just be at home listening to The Strokes. Putting on this album and listening to the 'You Only Live Once' drum line is just so relieving," Josh says.
Los Tones – What Happened
"It's their second albumm but it's also the first album that we did our first ever big tour on. We met them in the van which was pretty cool and we just hit it off from there… Listening to some of these songs reminds me of when we used to get hammered in the crowd and dance so stupidly and annoy them on stage… Even when we're on different tours, we'll see something on the road and be like, 'Did you remember that with Los Tones?' It's special in that way. I'm pretty grateful for that time," Steve says.


Ty Segall & White Fence – Hair
"When we go down to Wollongong we always go to Music Farmers, a record store. I picked this one up because I love Ty Segall and I love White Fence and I was like, "Holy shit! I didn't even know about this." It came out in 2012 and I picked it up last year, and it's the best. It's so good, I love it, I can't get enough of it. It's the best parts of Ty Segall and White Fence combined," Mikel says.
Black Flag – My War
"The first girlfriend I ever had went away with her family, and she sent me a photo of the cover when she was in a record store. I didn't even collect records at the time but I was like, "Fuck, get it." I didn't even have a record player… Then we broke up and she was like, 'Yeah, you still owe me that money'," Josh says.
The Beatles – Rubber Soul
"It's an album that I never thought I'd get really attached to. I have the whole collection [of Beatles LPs] and it's definitely the one that I've played the most. The record covers every emotion or feeling, as corny as that sounds. It's probably the record I would save if my house was burning down," Steve says.